Las Vegas hockey fans get to see NHL team's home — VIDEO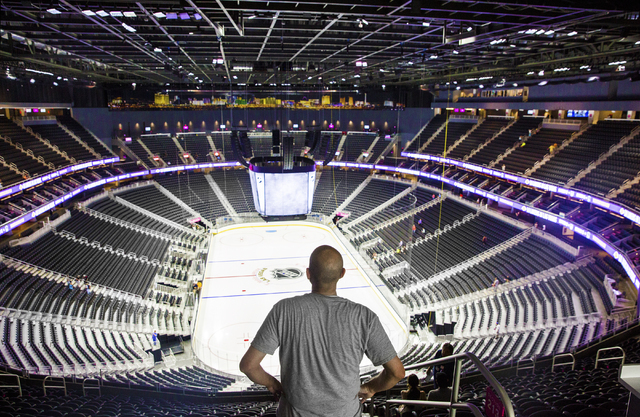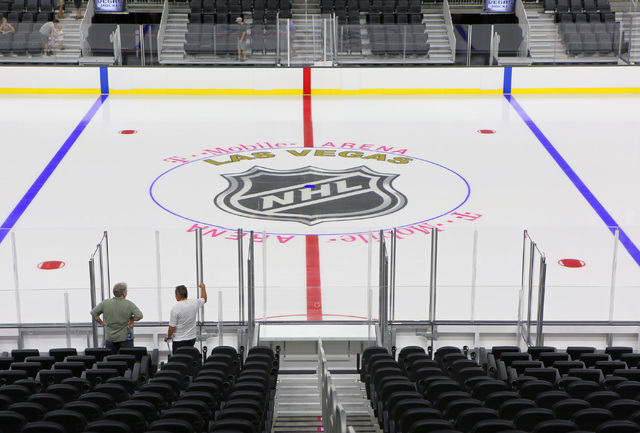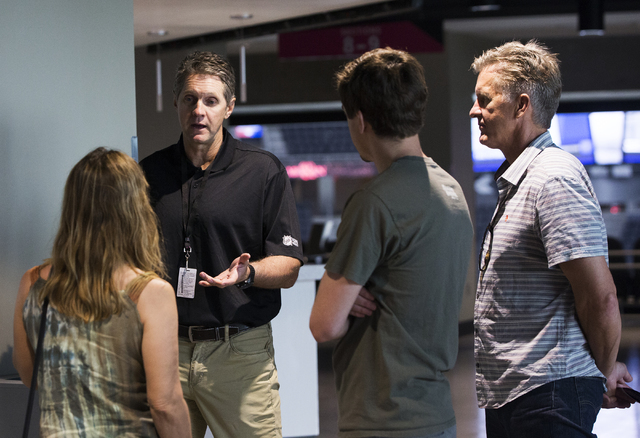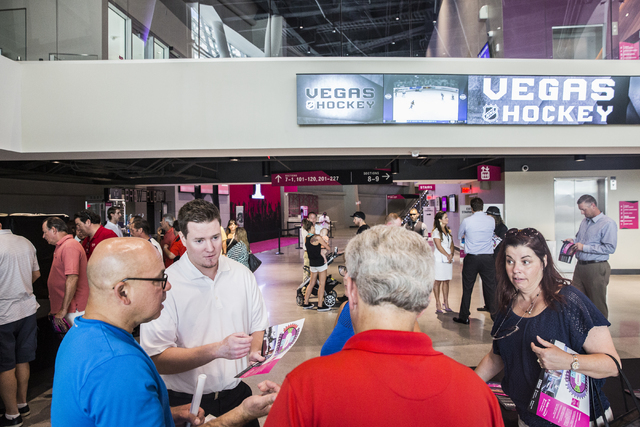 Steve Struve and his wife Sue looked down on the pristine ice surface below from the top of T-Mobile Arena and marveled at the view.
"This is a cathedral," he said.
The building, which will seat 17,500 for hockey, opened its doors Monday to the city's hockey fans, particularly the 15,500 season ticket-holders for Las Vegas' NHL expansion team, giving them their first look at the rink.
The 200-foot-by-85-foot rink, which was constructed Saturday, had its boards, protective glass and netting set up. The lines were painted so there was no guessing where you might want to sit when the seat selection process is done this fall.
There was a steady stream of customers throughout the day Monday, trying out different locations within the arena that corresponded to their purchase plan. If you missed the opportunity, there will be a second chance from 4 to 9 p.m. Tuesday.
"What it showed me was the commitment of our season ticket-holders is as strong as ever," said Todd Pollock, the team's vice president of ticketing and suites.
Season tickets downstairs in the corners and behind the goal are still available. Some fans sitting upstairs were looking to upgrade their seats to a downstairs location after seeing the arena.
The Struves, who elected to buy upstairs, tried out seats in Section 212, which is in the corner. From Row R, the last row in the section, they were able to see the entire playing surface.
"It's better than the Thomas & Mack," said Sue Struve, who had season tickets to the Las Vegas Thunder in the 1990s and also the Las Vegas Wranglers in the 2000s. "You can see everything from up here."
In Section 214, Austin and Sarah Johnson sat in Row L, which was two-thirds of the way up. They also loved the view.
"It's big," she said of the building."And it's cold. But it's nice."
Her husband said: "We bought tickets the third day they went on sale, and when I saw the ice was put down, I had to come here. It looks great."
Many of the fans have established allegiances. John and Lois York moved to Las Vegas two years ago from Long Island. They're lifelong New York Rangers fans. But they purchased seats downstairs, and from their vantage point in the corner of Section 8, they seemed happy.
"I never had a doubt," she said about waiting for the team to materialize. "When they sold 5,000 tickets that first day, I said, 'It's happening.' "
John said of the arena, "It's beautiful, really nice."
One section over in Section 9, George Fassois of Henderson was wearing a New York Islanders hat and T-shirt. He is ready to adopt Las Vegas as his other team after committing 10 years to season tickets, even though he works a swing shift at the Luxor and may miss a lot of games.
"I was a season ticket-holder for the Thunder and the Wranglers, but I can die happy now," he said. "I've missed seeing hockey in person."
Pollock said the next step in the process will be the distribution of a guide for season ticket-holders along with notification as to where they stand on the priority list. Those who made the longest commitment (10 years) for the most expensive seats ($220 per game) and put down their deposit the earliest will have first crack at where they want to sit. There are five-year and three-year commitments along with one-year commitments.
Once that is established, ticket-holders will be notified by email of when they can expect to select when seat selection takes place later in the fall. Pollock said the exact dates are still to be determined. Once you have your date and time, you will be sent to a link featuring a virtual seating chart where you will then select your seats.
"We want to make sure people are educated about the process so they can make the best decision," Pollock said.
Las Vegas' Ron Babcock, who has committed five years to tickets, said he can't wait to pick out his seats.
"I actually like the view from the top," he said from his spot in the last row of Section 213. "I don't know where I'll wind up choosing (to sit) but it looks like every seat is a good one."
Everyone was in agreement on that, unlike the name for the team, which nobody seems to agree as to what it should be called.
Contact Steve Carp at scarp@reviewjournal.com or 702-387-2913. Follow on Twitter: @stevecarprj

NHL in Vegas
Complete coverage of hockey in Las Vegas