Las Vegas NHL team could play preseason game at West Point
October 13, 2016 - 10:59 pm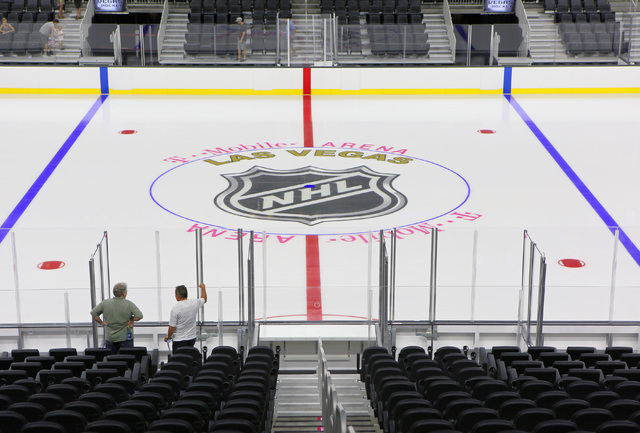 Bill Foley won't get to use the nickname from his alma mater, but the owner of the Las Vegas NHL expansion franchise might get to use the rink at West Point.
Foley has had informal conversations with Army athletic director Boo Corrigan about Las Vegas playing a preseason game at the Black Knights' facility, Tate Rink.
There has been speculation that Las Vegas could be an opponent for a proposed regular-season outdoor game against the New York Rangers at Michie Stadium, home to Army's football team. The possibility of an outdoor game at West Point was first reported on Hockey Night in Canada last week.
NHL deputy commissioner Bill Daly said it is way too early to speculate if there will be an outdoor game at West Point and who would play in it. The New York Post reported that if the Rangers were to participate, they would be the visiting team because they contractually could not lose a home game at Madison Square Garden because it would impact the Garden's tax-exempt status with New York.
"We would love to be involved in an outdoor game (at West Point)," said Foley, a Class of 1968 graduate. "But we wouldn't give up a home date to do it.
"I think for us, the best scenario would have us playing a preseason game on campus, either next year or 2018. I think (Army) is very open to it. For us, it would be great to do it. It would be fantastic for our players and coaches to experience West Point and all of its history."
Daly said the NHL has no problem if Las Vegas wanted to play a preseason game at West Point.
On Oct. 8, the Florida Panthers defeated the New Jersey Devils 4-2 at Tate Rink, which seats 2,648 and has a 200 feet by 90 feet ice surface (NHL regulation is 200 feet by 85 feet). Vincent Viola, the Panthers' owner, also attended West Point, and Florida has been mentioned as a potential opponent for the Rangers in a proposed outdoor game at Michie Stadium.
NEW UNVEIL DATE
The never-ending saga that is the unveiling of the team's name, logo and colors again has been pushed back to Nov. 22 at Toshiba Plaza.
One reason for the delay from Nov. 18: Foley said the color scheme still has not been finalized with adidas, which has been designing the uniforms. The other part is NHL commissioner Gary Bettman's schedule; the team is trying to find a date that Bettman is available to attend the ceremony.
"We're meeting with adidas Wednesday to finalize the color scheme for the uniforms," Foley said.
THUMBS-UP FOR ICE
The playing surface at T-Mobile Arena drew mostly positive reviews from players of the Los Angeles Kings, Dallas Stars and Colorado Avalanche after last weekend's Frozen Fury. It also got a thumbs-up from Dan Craig, the NHL's senior director of facilities operations, who was at the games as an observer.
According to the league, Craig found no issues with either the ice or the game operations at T-Mobile Arena.
Contact Steve Carp at scarp@reviewjournal.com or 702-387-2913. Follow @stevecarprj on Twitter.

NHL in Vegas
Complete coverage of hockey in Las Vegas
Want to keep up with all the hockey updates? Follow our Twitter: @HockeyinVegas