List in hand, Golden Knights set to pick players for expansion roster
Updated June 18, 2017 - 6:19 pm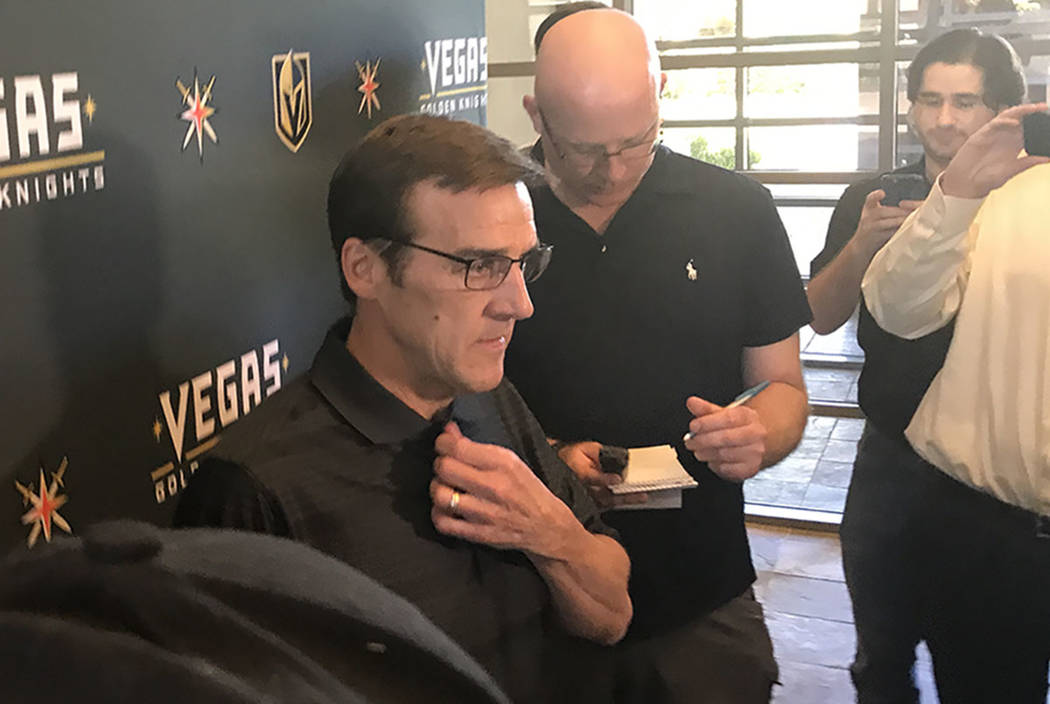 The lists came out. The names were finally revealed.
Time for the Golden Knights to begin picking their 30-man roster.
The 72-hour window for the NHL Expansion Draft opened at 7 a.m. Sunday, which meant teams could negotiate with Knights general manager George McPhee to try and protect some of their exposed players from being taken. In some cases, added inducement could be handed to the Knights to take a specific player.
"We really like where we're looking right now," McPhee said Sunday at the team's Summerlin offices. "We're talking to teams. We're involved with free agents, both unrestricted and restricted.
"We weren't surprised by the lists. It was what we expected. We now have some control over what's happening now. But we're on the clock and we've looked at the lists and we're going through the process of trying to put the team together."
McPhee claims he has not made any deals, despite rumors the Columbus Blue Jackets have agreed to give up their first-round pick in Friday's Entry Draft (No. 24 overall) in exchange for the Knights not selecting from a certain group of Columbus players.
"We don't have anything," McPhee said. "We have lots of things lined up. But until we see everything, we don't have anything."
What's McPhee looking for? Draft picks, both for 2017 and — preferably — beyond.
He has repeatedly said the key to building a successful franchise is through the Entry Draft, and McPhee would like to come to Chicago with more assets. Whether he uses those assets as picks or opts to trade them to acquire even more assets down the road remains to be seen.
Ultimately, the Knights must select three goaltenders, nine defensemen and 14 forwards. The other four players can be from any position. They must also spend 60 percent ($45 million) of their available salary cap for 2017-18, which Sunday was raised to $75 million after the NHL Players Association executive board and the league worked out an increase.
"It won't have any impact on us," McPhee said of the salary cap increase which now sets the floor at $55.4 million. "It impacts other teams much more than us."
The other 30 teams had the option to protect one goaltender, three defensemen and seven forwards or one goalie and eight skaters (which could be a combination of forwards and defensemen). Those lists were turned in at 2 p.m. Saturday to the NHL.
Down to the wire
Some of the more interesting available players: Pittsburgh goaltender Marc-Andre Fleury, a three-time Stanley Cup winner; Minnesota defenseman Matt Dumba, a right-hand shot who is just 22 years old; and Washington defenseman Nate Schmidt and backup goalie Philipp Grubauer, both of whom could help the Knights although only one of them could be taken.
Chicago left both Marcus Kruger and Trevor van Riemsdyk unprotected. The duo has been speculated to be part of a deal with the Golden Knights for some time.
McPhee also might select a player or players to trade on Thursday when the moratorium is lifted and NHL teams can do business with each other again. He would likely receive a trove of draft picks, which would set up the Knights for this year and beyond.
"People have identified people on other clubs that they'd like us to have and we have to establish the value for that and whatever you give us has to be better than what we can claim from that club," McPhee said.
"That is starting to happen and we're going to go to that club and say, 'We have an interest in this player. There's another club that has interest in this player. How do we want to do this? How can we protect your roster. But we will not make a claim with any club before we talk to the club."
McPhee said the Knights likely will go down to the wire before settling on their 30-man roster, which needs to be turned in to the NHL by 7 a.m. Wednesday.
"We're going to do what we need to do to build a team that can compete, both short-term and long term," McPhee said. "But we'll probably make our decisions late because we don't know what kind of calls we'll be getting late."
Contact Steve carp at scarp@reviewjournal or 702-387-2913. Follow @stevecarprj on Twitter.
NHL Expansion Draft FAQs
Who's eligible?
Any player under contract for the 2017-18 season who played in 40 or more NHL games the past season or 70 games the previous two seasons.
Who's exempt?
All first- and second-year professionals, any unsigned draft picks, players who have missed 60 consecutive games.
How many players can Vegas take?
The Golden Knights can select a maximum of one player per team. If they sign a free agent in the 72-hour window before turning in their selections, that player counts as the choice from that team.
Also, the Golden Knights must select a minimum of three goaltenders, nine defensemen and 14 forwards. The remaining four choices are at the team's discretion.
Are side deals allowed?
The Golden Knights can make deals with teams to either select or not select an exposed player from that team's unprotected list. Such moves are expected to yield additional players or draft picks to the Knights.
How about trades?
Teams can trade with the Golden Knights from 7 a.m. Sunday until 5 a.m. Thursday, when the moratorium is lifted and all 31 teams can trade with one another. Any players picked by Vegas cannot be traded back to their former team before Jan. 1, and any player picked in the expansion draft cannot have their contracts bought out until after the completion of the 2017–18 season.
Are there salary cap implications for the Golden Knights?
Yes. The team's 30 selections must total 60 percent ($45 million) of the allowable cap, which Sunday was raised to $75 million after the NHL Players Association executive board and the league worked out an increase for 2017-18.
What are the deadlines?
The Golden Knights must submit their list to the NHL by 7 a.m. Wednesday. Of that list, a minimum of 20 players must be under contract for 2017-18.
When is the official announcement on whom the Golden Knights picked?
The Golden Knights' picks will be revealed during the NHL Awards Show on Wednesday at T-Mobile Arena. The event is open to the public, and tickets, priced at $15 and $30, are available at the T-Mobile box office or NHL.com.