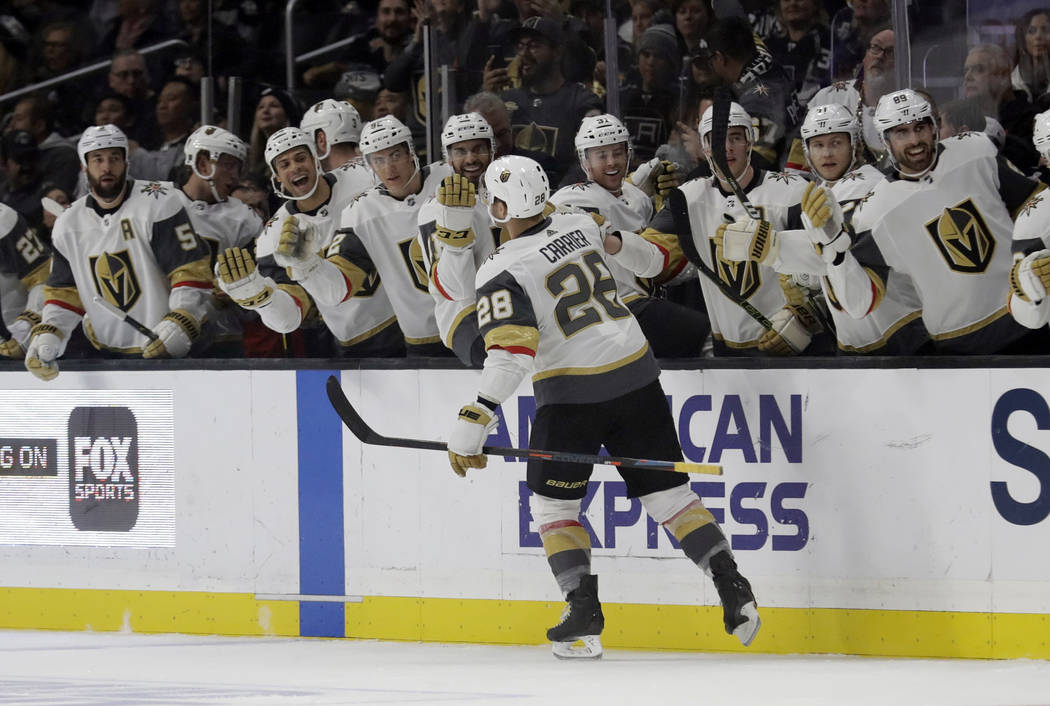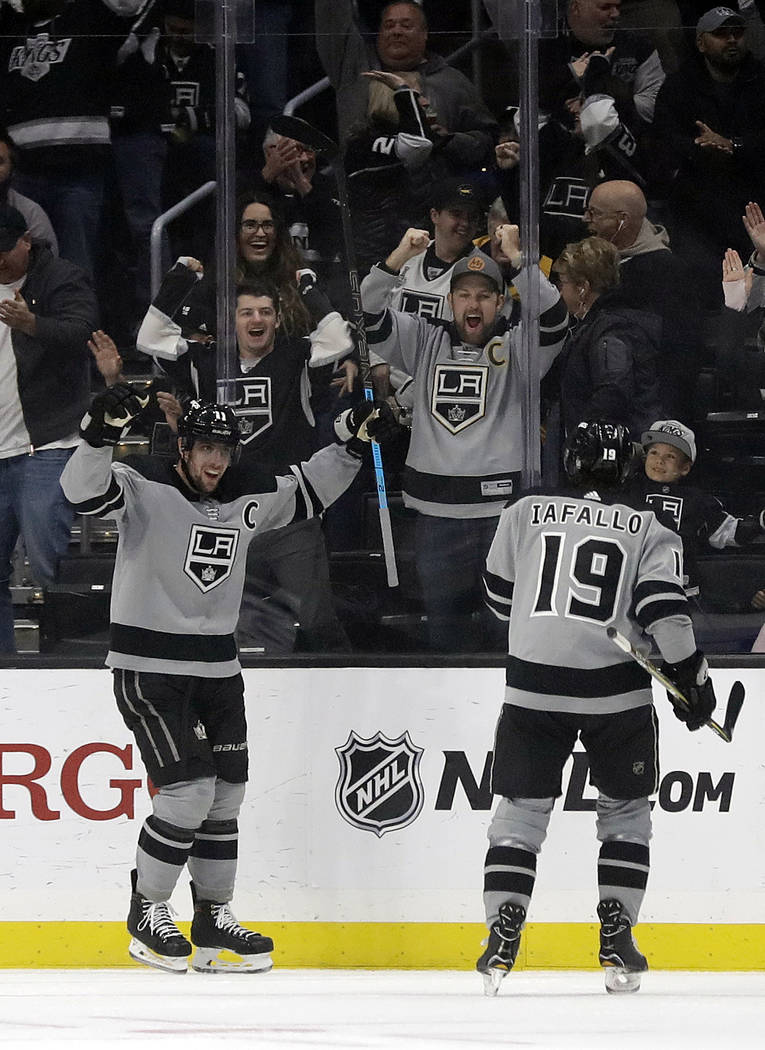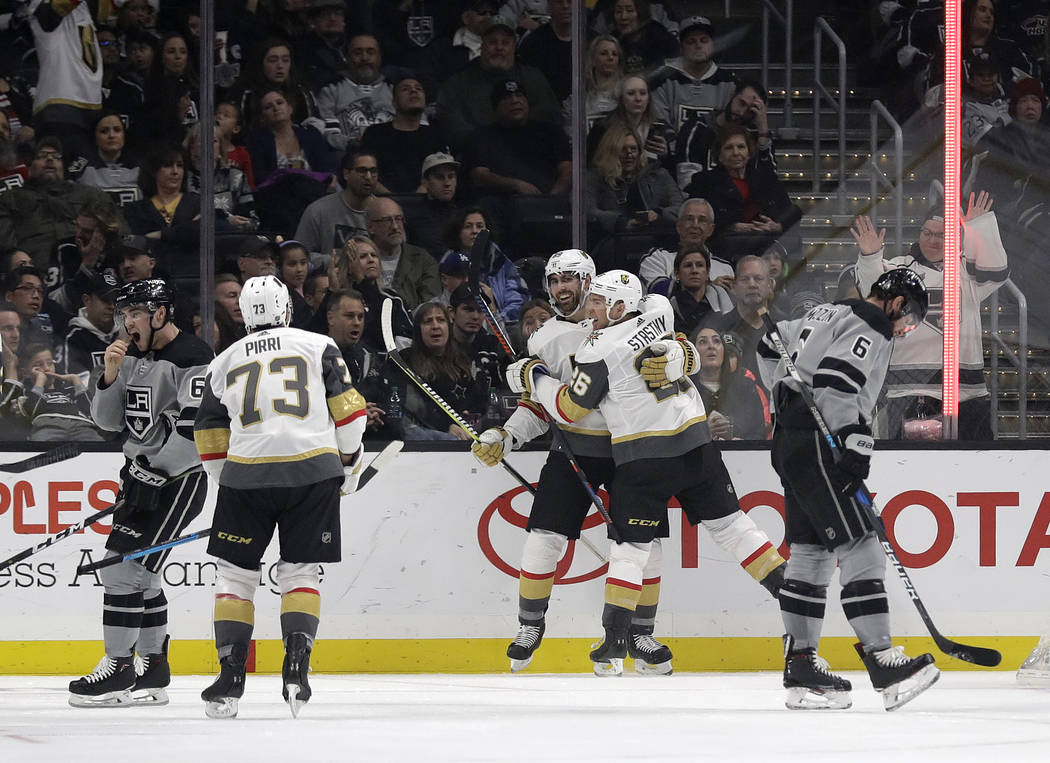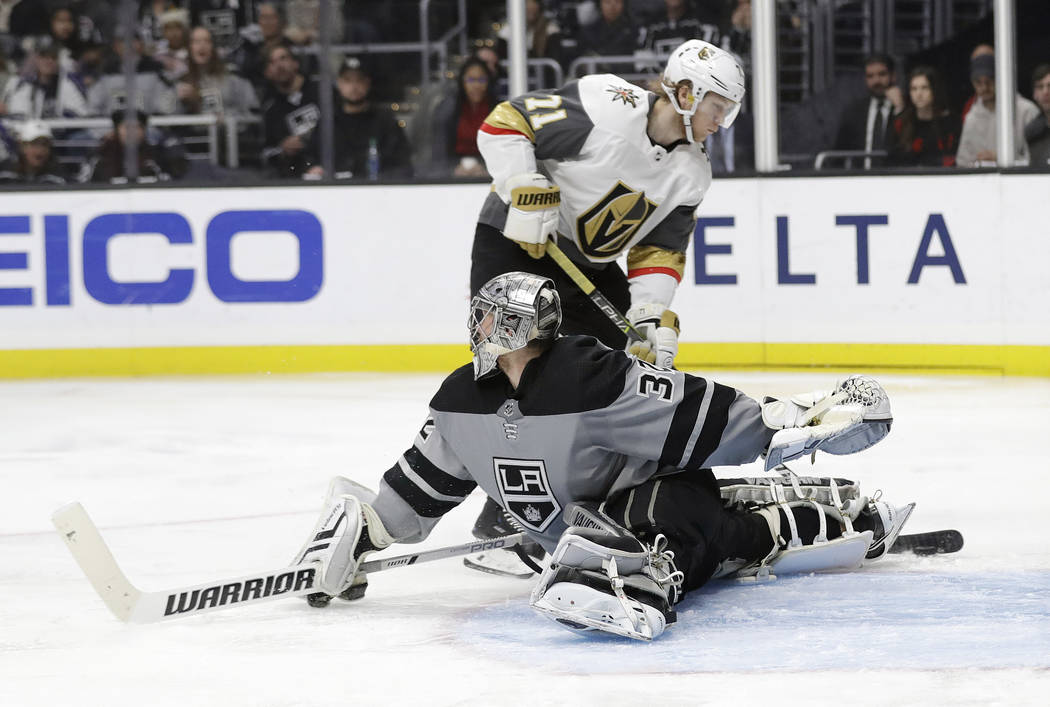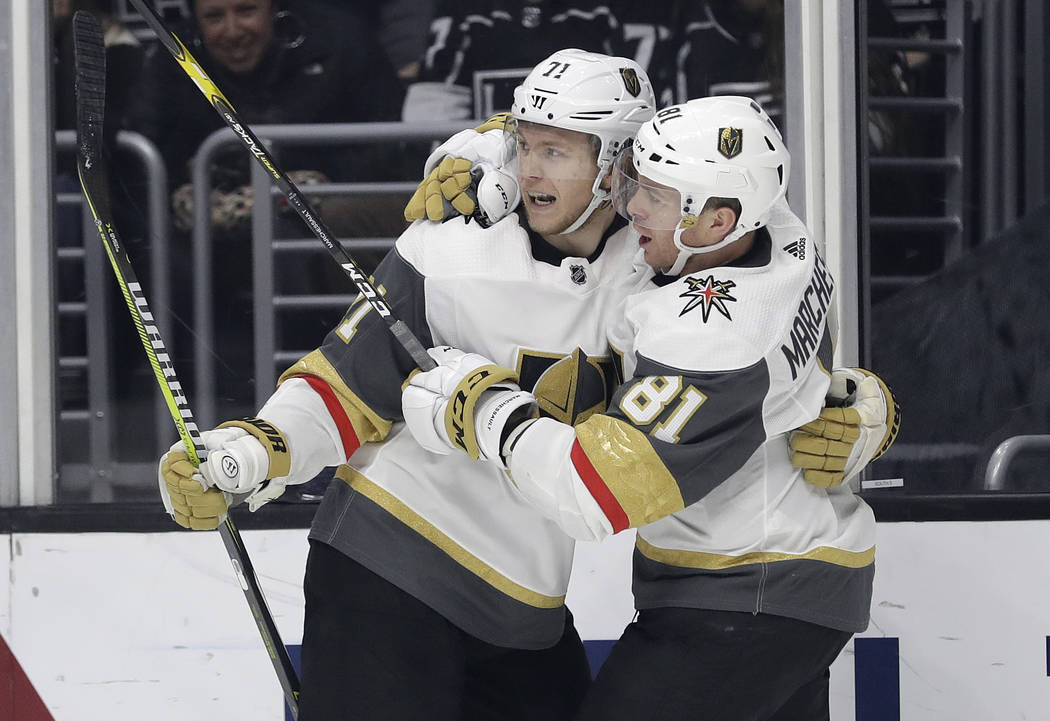 LOS ANGELES — Five words got Golden Knights goaltender Malcolm Subban to break into a huge grin in the locker room Saturday at Staples Center.
Good game. Excellent. Good job.
They came from team owner Bill Foley after Subban stymied the Los Angeles Kings with 30 saves in the Knights' 4-1 victory. After waiting on offensive support for almost half a season, Subban won his first game of 2018-19 and soaked up plaudits afterward.
"I can't say enough about how well the team played in front of me," he said. "I didn't have too many hard chances. It was a lot of stuff on the outside. It allowed me to get into the game pretty easily and get into a rhythm."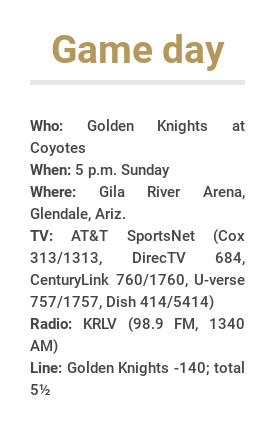 The Knights totaled six goals in front of Subban in his first five starts, but forwards William Carrier, Alex Tuch, William Karlsson and Paul Stastny scored Saturday as Vegas got at least a point for the fifth straight game.
That was enough for Subban to improve to 1-5 and leave Cory Schneider of the New Jersey Devils as the only winless goaltender with more than two starts.
In his past two starts, Saturday and a 1-0 loss to the Columbus Blue Jackets on Dec. 17, Subban has reduced his goals-against average from 4.02 to 3.10 and increased his save percentage from 85.9 percent to 89.5.
"I think everyone was pumped for him," Stastny said. "Long overdue. He's played great since we let him out to dry in Calgary (on Nov. 19), and unfortunately we haven't given him any (goal) support. He could pout about it, he could be negative about it, but he hasn't. Every day he comes in with a good attitude, and he's been awesome."
Subban cruised through most of the game and made one impressive save early, stopping Kings defenseman Drew Doughty's forehand with his left pad. Carrier put the Knights ahead 1-0 4:55 into the game by deflecting in a shot from center Cody Eakin, and Los Angeles struggled to find a response.
The Kings eventually did with 4.4 seconds left in the first period. Subban stopped a shot from defenseman Sean Walker, but the rebound stayed in the crease and center Anze Kopitar tapped in the puck for a 1-1 tie.
The Knights regained the lead when Stastny fed Tuch for a one-timer in the slot with 7:34 left in the second period.
Then, in the third, after a stretch in the defensive zone in which Subban made two saves, defenseman Nate Schmidt sprung Karlsson for a breakaway with a pass. Karlsson slipped the puck behind the right pad of Kings goaltender Jonathan Quick for a 3-1 lead with 16:40 left.
Stastny scored an empty-net goal with 2:32 remaining.
"I thought that this game was a lot like our game the other night against Colorado," Knights coach Gerard Gallant said. "We played a good, solid road game. We took care of and did the right things with the puck."
The Knights outshot the Kings 32-31 and defeated their division rival for the first time in three games this season. Vegas simplified things by focusing on throwing pucks behind the defense, getting on the forecheck and creating turnovers, and the team was largely successful.
Just as important, the Knights made things easy for their backup goaltender, and he responded with an impressive performance to push them to 22-15-4 at the halfway point of their season.
"Second goalie is like being a fourth-liner," Carrier said. "It's tough. You don't play a lot of minutes, but once you get the call, you have to show up, and (Subban) did."
More Golden Knights: Follow at reviewjournal.com/GoldenKnights and @HockeyinVegas on Twitter.
Contact Ben Gotz at bgotz@reviewjournal.com. Follow @BenSGotz on Twitter.
Three takeaways
1. PK shines: The Knights' penalty kill, which didn't allow a goal on two late Colorado Avalanche power plays Thursday, had another good day. The Kings didn't have a shot on goal on either of their power plays.
2. Schmidt stays active: Defenseman Nate Schmidt had two assists, the third time in 21 games that he's had at least two points. He had six such games last season.
3. Pirri goes quiet: Forward Brandon Pirri was held off the scoresheet after recording a goal or an assist in each of his first six games with the Knights. He played 12:57 and had one shot on goal.