Misha Donskov is Golden Knights' 'Mr. Versatility'
January 7, 2017 - 12:40 am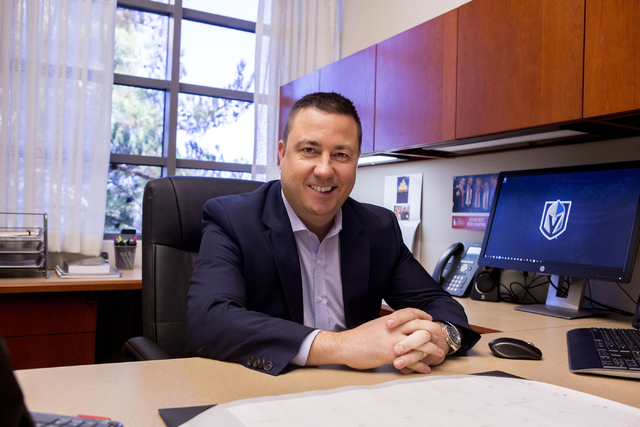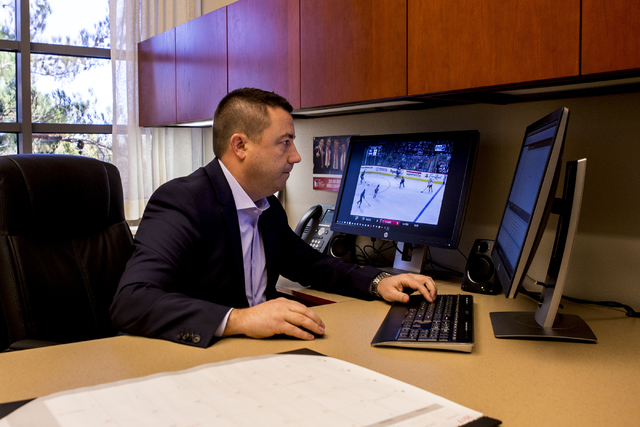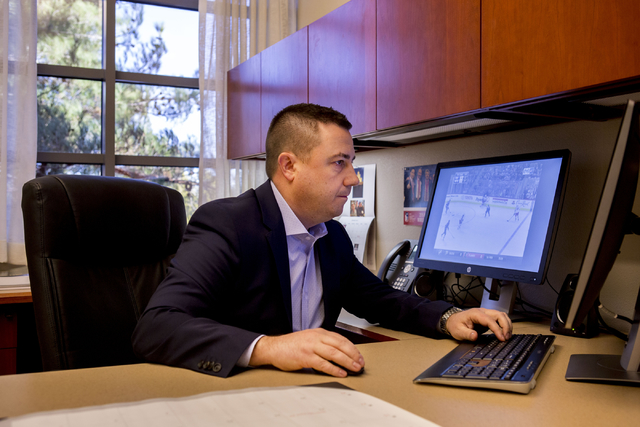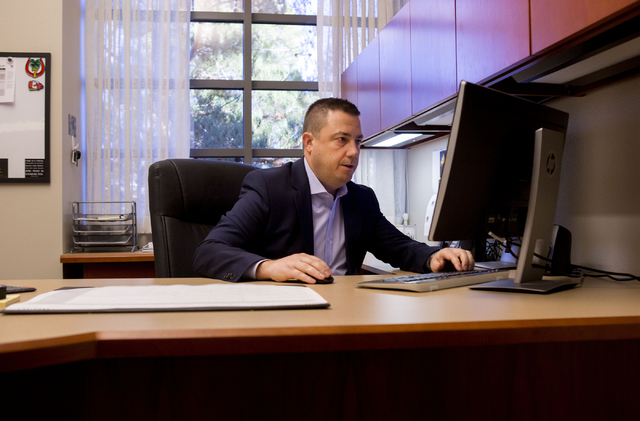 MONTREAL — Misha Donskov and Bob Lowes were sitting together at the Bell Centre, watching the same quarterfinal game at the recently concluded World Junior Hockey Championships. But they were watching through different lenses.
Lowes, 53, the veteran coach and scout who serves as the Golden Knights' assistant director of player personnel, was looking for the traditional things he wants to know about a player: Can he skate? Is a tough? Can he pass and shoot?
Donskov, 39, the Knights' director of hockey operations, was watching how long that player had the puck. What did he do with it? What did he do without it?
The two are close friends. But both will agree to disagree because their worlds are different. Yet when the Knights have to make a decision on whether to draft a player, general manager George McPhee will look at the many reports Donskov and Lowes have filed and give equal consideration.
Donskov has many tasks. He organizes staff meetings. He works with the team's scouting staff, pro and amateur. He assists McPhee. And, yes, he is the team's go-to man for hockey metrics and analytics.
Analytics in hockey is a relatively new concept. Time was analytics was the plus-minus statistic that determined whether a player was on the ice for an even-strength goal his team scored or was scored upon. Be on the ice when your side got one was plus-1. Give up a goal and it was minus-1.
There now are far more complex systems to gauge a player's value. "Corsi" is a formula that measures puck possession. "Fenwick," a variation of Corsi, is about unblocked shot attempts. "PDO" ties in a team's shooting percentage with its save percentage to determine how dominant it is.
It's "Moneyball" with a puck.
Donskov has his own metrics that he developed while working for Hockey Canada a couple of years ago. It got the attention of McPhee, who was with Team Canada after being fired as general manager by the Washington Capitals. When McPhee became the Golden Knights' general manager in July, he convinced Donskov to join him in Las Vegas.
"Misha's an exceptionally bright guy," McPhee said. "He can do anything. But what I like is you give him a task, and not only is it done on time, it's done right. And you can trust his work because he's so thorough with everything he does."
Scott Salmond, vice president for hockey operations for Hockey Canada, brought Donskov into the national program a couple of years ago. Despite having committed to working for McPhee in Las Vegas, Donskov was allowed to work for Canada during the 2016 World Cup of Hockey, which the Canadians won.
"What makes Misha special is his ability to connect with people," Salmond said. "In some ways, we're a lot like Vegas because we're building a new team, only we do it every year. When you do that, you want to surround yourself with great people, and Misha's the kind of guy you want.
"He's a coach. He's a manager. He's is a scout. He can be whatever he wants to be. Analytics is just part of what he is. I've used the term 'Swiss Army Knife' to describe Misha, and it really fits. There isn't anything on the management side that he can't do. He's that versatile."
Like a true scientist, Donskov won't reveal his specific formulas. He believes in the numbers and trusts them. But he also has plenty of traditional hockey evaluating experience.
"Analytics for our organization is another piece of the puzzle," he said. "We view it as another golf club in our bag to either support what we are seeing, or use it as a gap tool assessment to say, we need to dig deeper on this specific player or team and peel back the onion another layer. It is not used simply as a stand-alone decision-maker.
"Our scouts spend countless hours watching and evaluating players — they know and understand the players and their strengths and weakness better than anyone. Analytics provides us an additional perspective and data-driven information. Hockey is a passionate, high-energy, emotionally charged game that to me is a big factor in all of this. It's important to recognize the significance of all of these areas and the relationships they share."
Donskov and his family have run a successful hockey business in Columbus, Ohio, for the past 16 years. It includes a summer hockey school that attracts more than 200 players.
He hasn't decided whether to have such a school in Las Vegas, but don't be surprised if demand for such an enterprise results in the Donskov clan joining Misha at the team's practice facility.
"You never know," he said with a laugh. "But we want to have a great youth hockey program in Las Vegas. It's very important to help us grow the sport."
Donskov arrives early to the team's Summerlin office and stays late. He knows no other way.
"So far, it's been a great experience," he said. "Building an NHL organization with great people who know the game is an amazing learning experience for me. My time with Hockey Canada was incredible — four world championships in two years. But to have this opportunity to build an NHL team from scratch, it's the greatest opportunity of my life."
Contact Steve Carp scarp@reviewjournal.com or 702-387-2913. Follow @stevecarprj on Twitter.
THE DONSKOV FILE
Who: Misha Donskov
What: Director of hockey operations, Golden Knights
Age: 39
Hometown: Montreal
Playing experience: Norwich University (1995-96); Durham Huskies (1996-97); Balsta HC Sweden (2001-02); Comet Halden Norway (2002-03)
Coaching experience: Assistant coach, London Knights (2009-2012); Associate head coach, Ottawa 67's (2012-2014); Assistant coach, hockey operations Hockey Canada (2014-2016).
Education: B.A. Finance, Miami University; Masters kinesiology, University of Western Ontario