Multicultural Golden Knights feature strong French influence
November 11, 2017 - 5:54 pm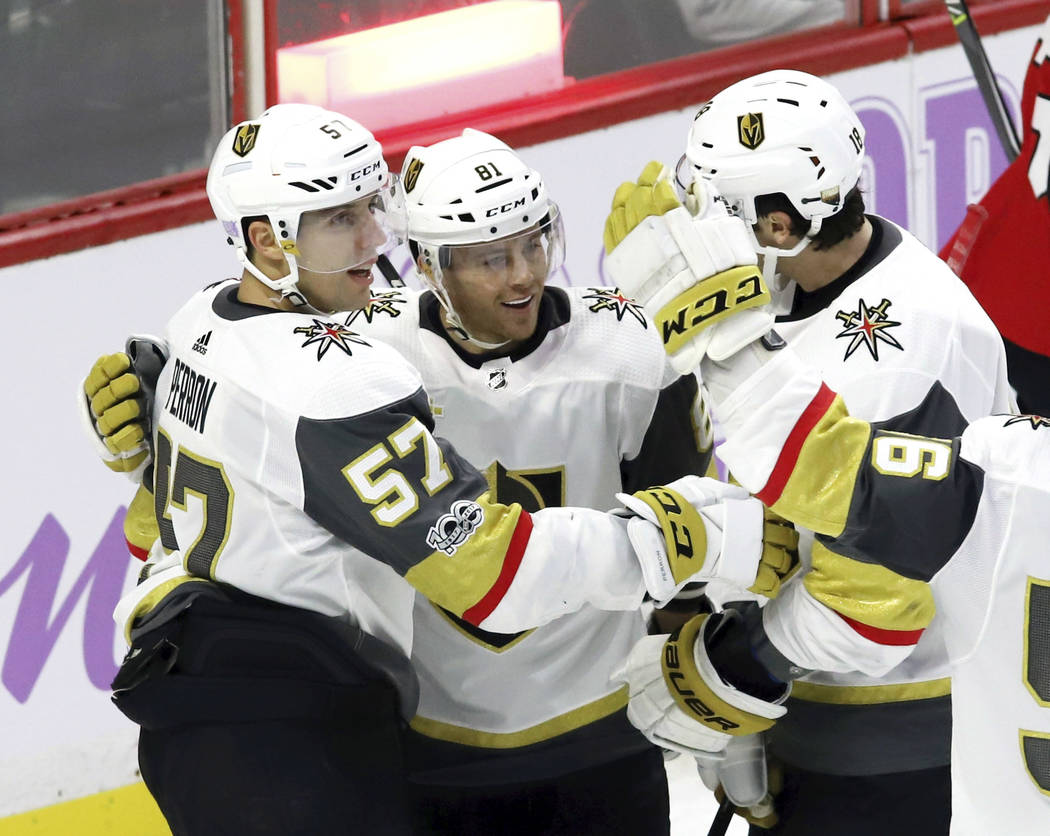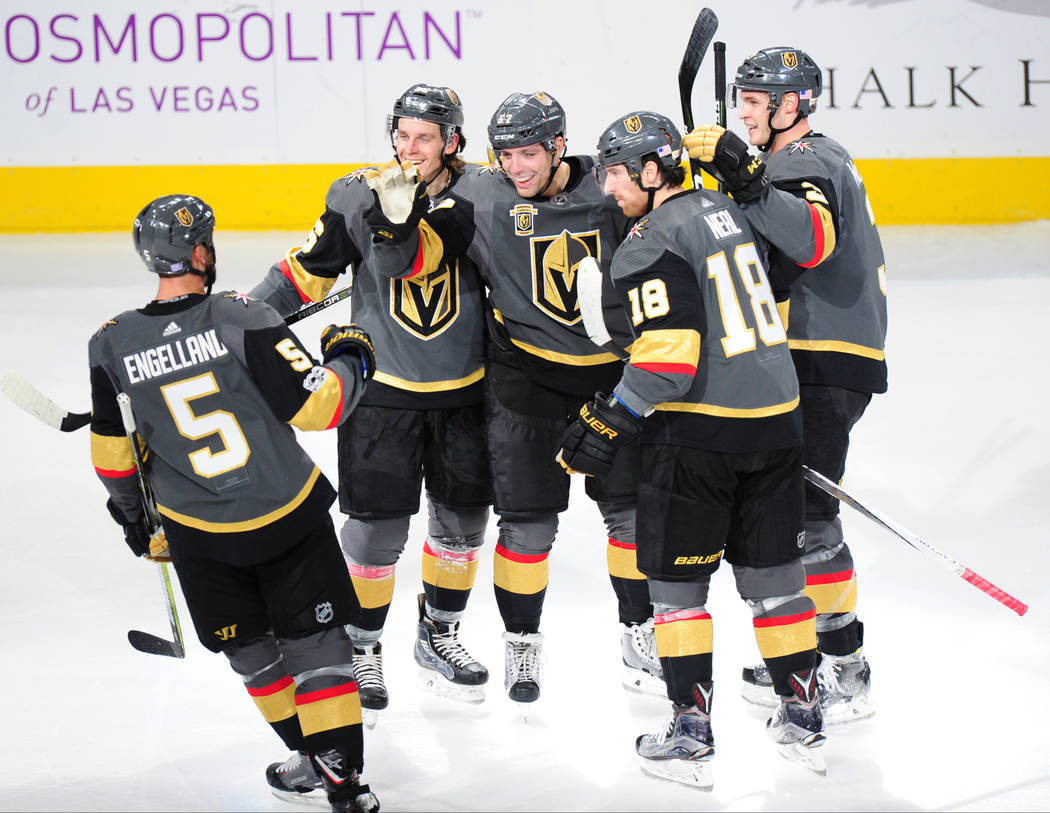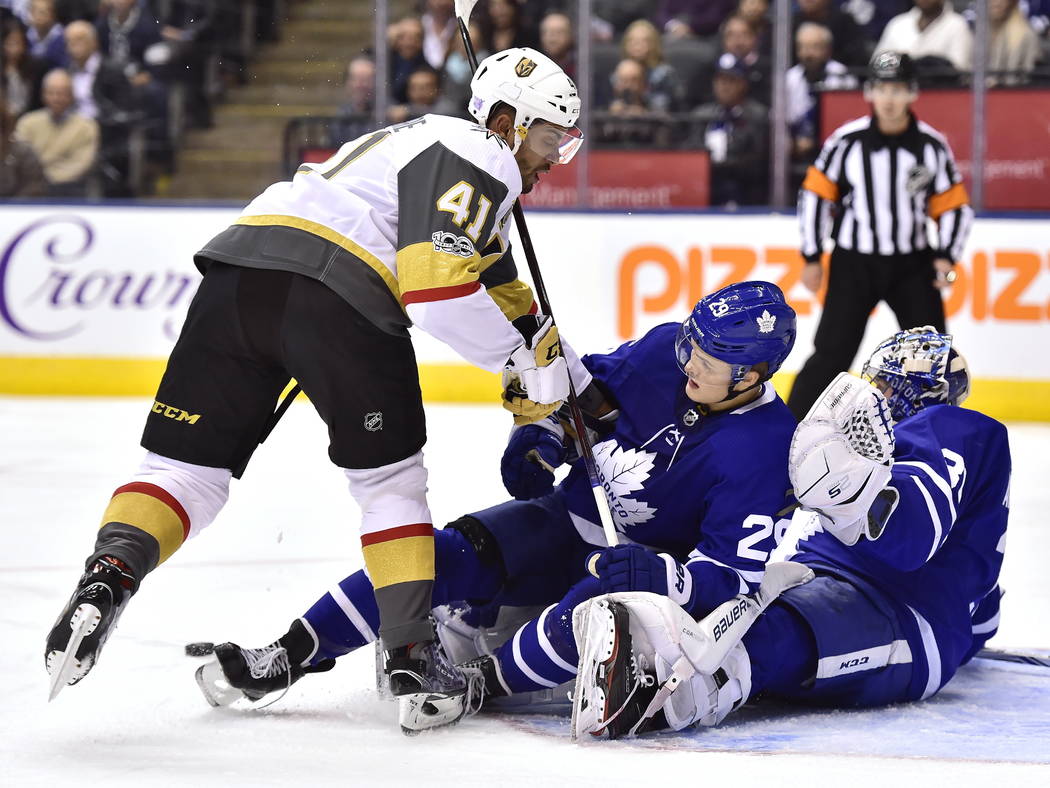 Take a hard left turn after entering the Golden Knights locker room at City National Arena and walk to the last stall along the wall. Then, look at the name plates.
From right to left: William Carrier, (Tomas Nosek), Pierre-Edouard Bellemare, Jonathan Marchessault and David Perron.
"It's not so often you have so many Francophone together," Bellemare said, using a term for a person who speaks French. "Usually they try to make it so they don't have them all together."
In many ways, the Knights mirror the modern, multicultural NHL, with seven countries represented on their roster.
But upon deeper examination, the Knights feature one of the largest contingents of French-speaking players in the league.
And while the players said it was a coincidence they ended up near one another in the locker room — stalls were assigned based on when the players arrived in the summer — the arrangement turned out to be an integral part of the expansion team bonding so quickly.
"I think all we're seeing from that side of the room is guys chirping at each other," said Carrier, who was born in LaSalle, Quebec. "It does help. I think what does bring everyone together is just working on the ice. Everyone's working hard, that's a big thing."
The Francophone players said they have a self-imposed, English-only rule in the locker room so as not to exclude any teammates from a conversation.
Perron, who hails from Sherbrooke, Quebec, and Carrier each said they were taught English during high school. Marchessault, a native of Cap-Rouge, Quebec, said he learned English as a child from his mother.
"My mom is English, and all her side of the family is English," Marchessault said. "Actually, my first language was English, and after, I kind of lost it living in Quebec City. It came back when I started being able to work in the United States."
The Knights roster includes French-Canadian goaltenders Marc-Andre Fleury (Sorel, Quebec) and Maxime Lagace (Saint-Augustin, Quebec), though their lockers are located on an opposite wall.
Bellemare, who plays on the International Line with Carrier and the Czech Republic's Nosek, was born in Le Blanc-Mesnil, France.
Knights coach Gerard Gallant does not speak French despite his surname, but played in the Quebec Major Junior Hockey League from 1980 to 1983.
He also coached in the league from 2009 to 2013 with the Saint John Sea Dogs and noticed that the language barrier no longer exists for many French-Canadian players.
Quebec Major Junior commissioner Gilles Courteau told the Canadian Broadcasting Corporation this summer that the league will continue to emphasize English communication between coach and players.
"When I was 17, 18 years old … it definitely was a tough adjustment for me going there," Gallant said. "The NHL guys now, there's so many teams in Canada that are English-speaking in the Quebec Major Junior Hockey League. There's a Maritime division that's all English, so a lot of those players that are playing there, they learn the language very early.
"Guys like (Florida's Jonathan) Huberdeau and those guys, when they joined the NHL, they spoke English almost perfectly. So, it's not as big of a difference as it used to be back in my era when guys were coming."
Strong Quebec influence
While Quebec is famous for producing some of hockey's greatest players, the decrease of Quebecois players in the NHL over the past two decades has been well documented.
Fleury (2003) is the last Quebec-born player to go No. 1 overall in the NHL Draft, and of the 14 players from the Quebec Major Junior selected in the 2016 NHL Draft — the lowest total since 2004 — six were born outside of the province.
That makes the Knights' situation all the more unique.
Including Fleury, who is on the injured-reserve list, the Knights are tied with Colorado for the most Quebec-born players in the league with five. Montreal (four), Florida (three) and Tampa Bay (three) are the only other teams with three or more.
Interestingly, Bellemare also is fluent in Swedish and owns a home there after playing in the country for eight years before coming to the NHL.
That's allowed him to communicate with the Knights' Swedish-born players, William Karlsson and Oscar Lindberg, in addition to the native French speakers.
"The language is a big part of right from the start who you're going to assimilate yourself with, and obviously guys are talking French, so when I came here, it was really easy for me to have something in common right away," Bellemare said. "And I have the Swedish guys, too, so for me it's been really, really easy to get into the team just because I could switch languages and talk to the guys."
Contact David Schoen at dschoen@reviewjournal.com or 702-387-5203. Follow @DavidSchoenLVRJ on Twitter.
Golden Knights' French-speaking players
— Pierre-Edouard Bellemare (Le Blanc-Mesnil, France)
— William Carrier (LaSalle, Quebec)
— Marc-Andre Fleury (Sorel, Quebec)
— Maxime Lagace (Saint-Augustin, Quebec)
— Jonathan Marchessault (Cap-Rouge, Quebec)
— David Perron (Sherbrooke, Quebec)