Naming ceremony arrives Tuesday for Las Vegas NHL franchise; docudrama in works
November 21, 2016 - 7:34 am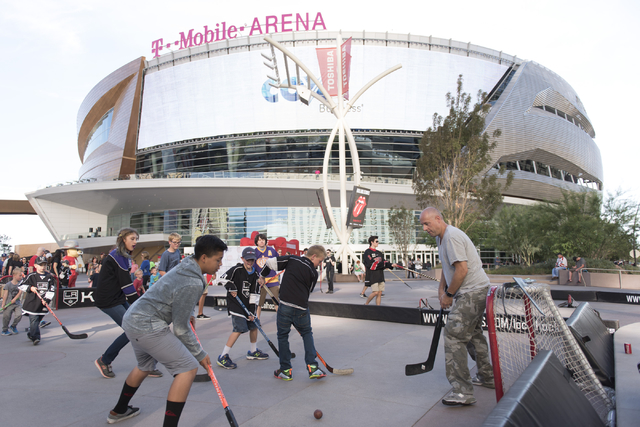 There may not be any players yet and certainly no games have been played, but that isn't stopping the Las Vegas NHL expansion team from having a documentary produced.
The franchise has contracted with Levy Production Group of Las Vegas to film "Behind the Vegas Ice," a 10-episode docudrama. The series, which premieres Dec. 7 on Cox Cable, will give a behind-the-scenes look at owner Bill Foley, general manager George McPhee and other team staffers.
"We think it's great exposure for the team and a way to connect with our fans and let them know what's been going on," said Nehme Abouzeid, the team's executive vice president and chief marketing officer.
The episodes will run monthly. For those who do not subscribe to Cox, the team will stream the episodes on its website, which will have a new name Tuesday when the nickname is officially announced at Toshiba Plaza. The current vegasishockey.com address can still be used and visitors to the site will be redirected to the newly named site.
PRACTICE FACILITY UPDATE
Senior vice president Murray Craven said Friday that concrete is being poured at the team's practice facility construction site at Pavilion Center Drive and that steel will begin going up around Dec. 9.
"I'm glad we're underway," Craven said when asked about the progress being made on the 120,000-square-foot facility which will also serve as the team's headquarters. "It's more of a relief than anything."
The outline of the two sheets of ice for the facility has already been set and work is moving along. The plan is for the building to open in time for the team's inaugural training camp in September.
TRY YOUR SEATS
For the 16,000 season ticket-holders, Tuesday's big announcement on the team name, logo and colors will also be an opportunity to sit in the seats they have chosen.
Following the announcement, T-Mobile Arena will open and fans can go to their seat location and get a feel for what they've selected. If you're not a season ticket-holder, you're still welcome to enter the arena and see it.
Team representatives will be on hand to answer any questions and resolve any potential issues fans may have with their seat selections.
IF YOU GO …
If you plan to go Tuesday, be on time. The program begins promptly at 5:30 p.m. and the naming of the team is expected to take place shortly after 6. The NHL Network will televise the event live and it also will be streamed live on NHL.com.
Parking at the New York-New York garage will be free and there is no charge to attend the name ceremony.
As for purchasing official team merchandise, the team's store at T-Mobile Arena, located on the west side of the building facing the Monte Carlo garage, will be operational and there will be other areas at Toshiba Plaza selling gear.
However, if you're looking to purchase a team jersey, you'll have to wait awhile. They are not going to be available for several months as adidas, which controls the production of the product, has to set up the templates to make them. It may not be until late spring that jerseys will be available for sale.
Contact Steve Carp at scarp@reviewjournal.com or 702-387-2913. Follow @stevecarprj on Twitter.