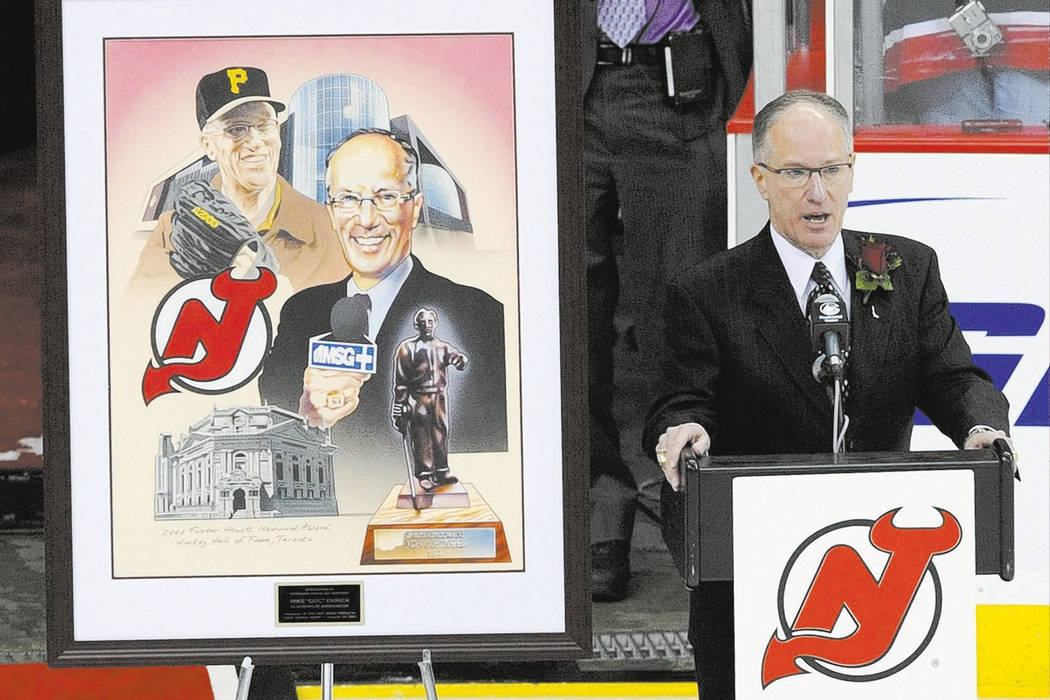 First he thanked the moderator.
He said how great it was to be working with NBC colleagues Eddie Olczyk and Pierre McGuire, now cancer-free.
It had been 125 years, he said, since Montreal AAA won the first Cup engraved with Lord Stanley's name.
Then the legendary hockey broadcaster Mike "Doc" Emrick said this:
"We anticipate the next page, and the story is about Vegas' initial year and the dominance of the Predators and the attempt of the Penguins to make it three straight, and the Flyers and the Avalanche joining the 16 teams on the last Saturday of the season."
Yes, he mentioned other teams, but Doc Emrick mentioned the Knights first — before you could even tap *1 during the teleconference to ask him and Olczyk and McGuire about what a great story the the team has been so far, and what it must do in the playoffs to make it an even greater story.
"I certainly like the notion they have strong goaltending," Emrick said after somebody asked executive producer Sam Flood about adding Islanders broadcaster Brendan Burke to NBC's playoff team. (Must have been a guy who still writes a radio-TV column).
"(Marc-Andre) Fleury, with the career-best goals against and save percentage, and all the experience he's had in making playoff runs, and the chemistry that they built, the fact they snapped the Ducks' dominance in the regular season within the division," Emrick said rattling off the Knights' playoff bona fides.
He spoke of the chip on the shoulders of Knights who were set free in the expansion draft. He referred to it as playoff "snarl."
"There is a certain belligerence about them in showing the world how good they are that has made them a positive story," Emrick said. "There are a lot more elements to it than that. But I don't see this snowball stopping."
So the Los Angeles Kings, the Knights' opponent in the best-of-7 opening round that begins Wednesday at T-Mobile Arena, should just stay home and sun themselves at the swimming pool?
Emrick quickly waffleboarded that one away.
"But if there is a team that can really slow it down, it's Los Angeles," he said.
Which is exactly what one thought he might say, because other hockey experts are saying the same thing.
Doc Emrick can call my funeral. In fact, i may put it in my will…

— Adam Wiggins (@wigginsadam80) March 22, 2018
Emrick mentioned how well the Kings performed down the stretch after earning a 2-2 split with the Knights in the season series. Hockey experts are arm wrestling about who is going to win this series, he said.
"So I didn't give you anything to hang your hat on," Emrick said. "I just gave you the excitement that I'm feeling about it."
McGuire and Olczyk didn't provide a nail on which to hang my hockey helmet, either. Or even the flimsy one that former Las Vegas Thunder coach Butch Goring wore with the Islanders, which only would have required a thumbtack.
For some reason watching hockey tonight made me remember Butch Goring's weirdo helmet. pic.twitter.com/r0NyHHP0p3

— Jason Diller (@jdiller) May 26, 2017
"I'll tell you this, I was there for opening night, and it's something I will not forget," McGuire said about hockey night in Las Vegas. "I made the remarks probably halfway through the second period, that this is a call to all National Hockey League teams, that this is going to be one of the most ferocious places in the league to play.
"I think one of the things that's going to help them is they do have home ice advantage in this series."
OK then. I'll hang my hat on that.
"If they lose that early, that would not be a positive thing for them."
Or maybe I won't.
Olczyk talked about developing a playoff identity, about playoff momentum — getting it and stopping it. He used horse racing analogies, because Olczyk likes the ponies.
"What do you do when you're on a roll? Do you press? Do you score a couple of goals? Are you able to get the crowd into it? All those type of things play into it," Olczyk said. "I do believe there is some pressure on this team going into the playoffs."
The conference call lasted about an hour. The best part was Emrick talking about the Boston-Toronto series, how those teams played for the Stanley Cup in 1939, how the logos had changed little, if at all. He said everything about the series featuring Original Six teams gave him goosebumps.
He said TD Garden in Boston has a great organist.
But of the 16 teams who still are working on playoff beards, Doc Emrick mentioned Vegas first.
As Garth said to Wayne, and Wayne said to Garth: "Game on!"
More Golden Knights: Follow all of our Golden Knights coverage online at reviewjournal.com/GoldenKnights and @HockeyinVegas on Twitter.
Contact Ron Kantowski at rkantowski@reviewjournal.com or 702-383-0352. Follow @ronkantowski on Twitter.