NHL commissioner Gary Bettman gets booed but happy to be in Vegas
November 22, 2016 - 7:24 pm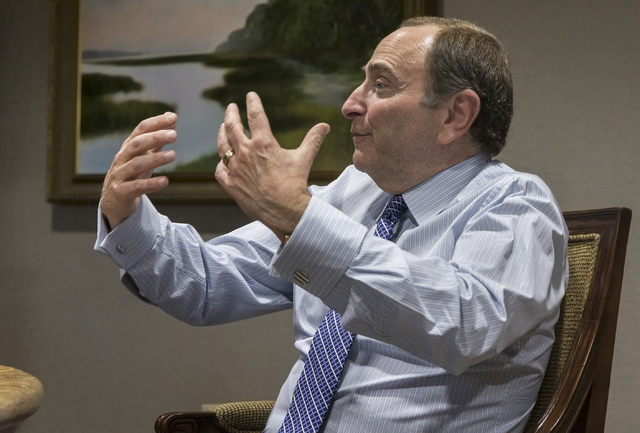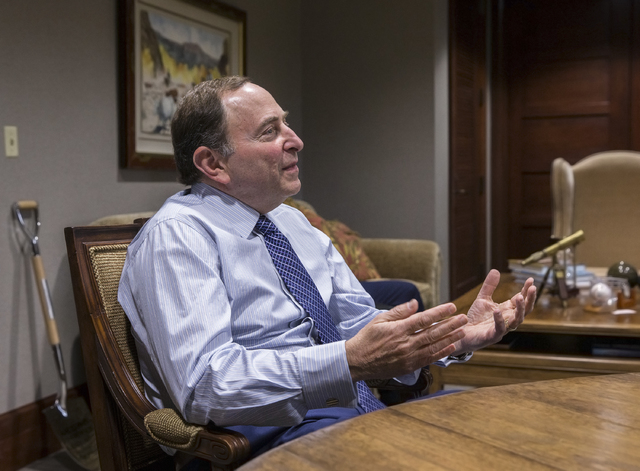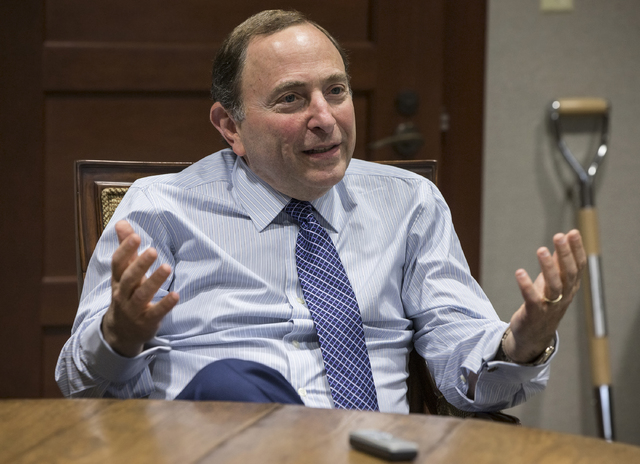 As soon as he stepped to the microphone Tuesday at Toshiba Plaza, many of the 5,000 fans on hand booed NHL commissioner Gary Bettman.
Right there, it proved Las Vegas was a hockey town.
If Bill Foley was the proud papa with the announcement of the name for his Las Vegas NHL team, Bettman was the doting uncle, heaping praise on Foley, his staff and the city as the Vegas Golden Knights were born.
"We're thrilled," Bettman said at the team's temporary office in Summerlin prior to the announcement. "Bill Foley is a star. He's smart. he has great values and has done an amazing job in a short period of time. He loves hockey and he's passionate about what he does."
Like Foley, Bettman was pleased with the nickname, the logo and the colors — black, gold, steel gray, white and red.
"I'm very pleased with the final product," Bettman said. "I think it's exciting. If I wasn't, it wouldn't have been approved."
Bettman didn't rule out the possibility of the NHL bringing its All-Star Game to town in the future. With a modern facility in T-Mobile Arena and more than enough hotel rooms to accommodate the fans and guests, Las Vegas would make sense.
"As you know, we've been coming to Las Vegas for years with our awards show," Bettman said. "As for the All-Star Weekend, we let the clubs know and have them go through the process. I can envision us doing other events in Las Vegas in the future."
With a new arena in Edmonton this year and one opening in Detroit next season, Las Vegas may have competition if it wants to host the All-Star Game. Foley has said it is definitely on his radar and he would love to have the opportunity.
Bettman said Foley's concern about a possible Olympic break during his inaugural season is shared by other owners and he's not sure how it will play out. The league must decide by January whether to participate in the 2018 Winter Games in Pyeongchang, South Korea, and Bettman said it will be discussed at next month's Board of Governors meeting.
"There's no question an Olympic break is disruptive to all franchises," Bettman said. "In addition, you're playing a compressed schedule and the chance for injury is greater when you have fewer off-days. Right now, my sense is there isn't a lot of enthusiasm among the owners to go to Korea."
Bettman also reiterated that no offer has been made to the Players Association to extend the current Collective Bargaining Agreement for three years in exchange for allowing them to compete in the Olympics.
"We have not even talked to the owners about it," Bettman said. "So how can we make that offer to the players?
"It has been discussed but the real discussion is what the framework will be for labor peace."
The NHL on Monday clarified rules on player eligibility to receive fan votes for this year's All-Star Game, which will be Jan. 29 at Staples Center in Los Angeles. A player must be playing in the NHL to be considered. The move was made to prevent a repeat of last year when fans voted John Scott as captain of the Pacific Division All-Stars even though he was playing in the American Hockey League at the time.
"We felt it was the fair thing to do," Bettman said, noting the 3-vs-3 format of mini-games leading up to the championship game will remain in place for LA. "What happened last year was magical and we're still going to give the fans the chance to vote and participate."
Contact Steve Carp at scarp@reviewjournal.com or 702-387-2913. Follow @stevecarprj on Twitter.
RELATED
Las Vegas' NHL team officially named Vegas Golden Knights
Fans share thoughts on name, logo of Vegas Golden Knights
Some will like Golden Knights, others won't, but it's about winning
Here's what people are saying about the Las Vegas NHL team name