NHL commissioner Gary Bettman impressed with Golden Knights' start
October 31, 2017 - 8:42 pm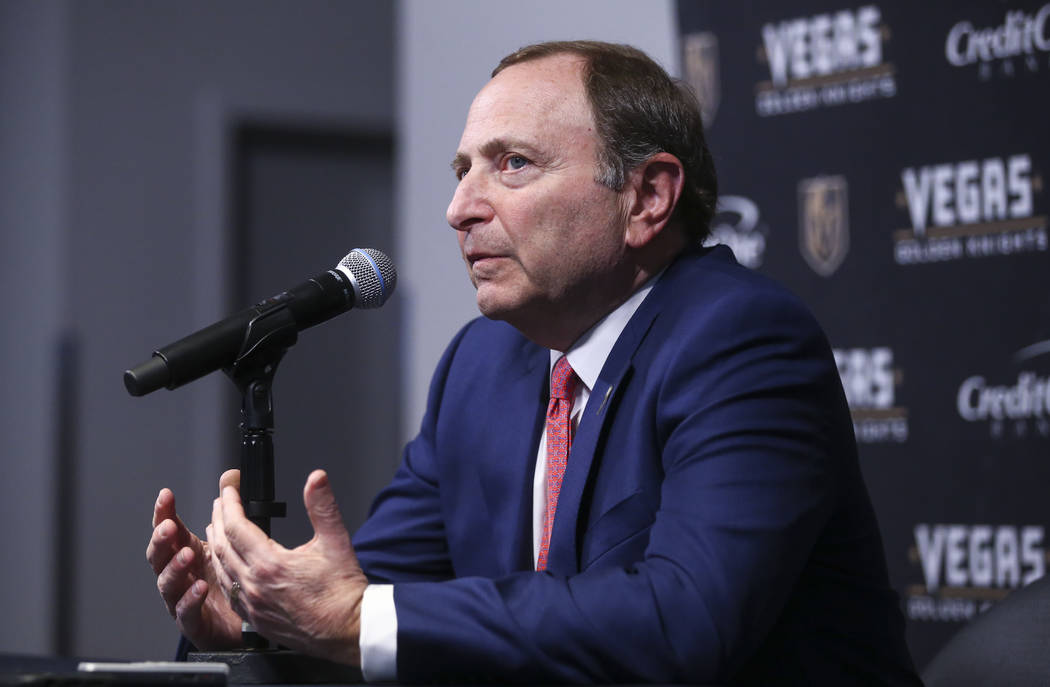 NEW YORK — Gary Bettman always believed the Golden Knights could be successful. But even the NHL commissioner was surprised by the team's start.
"It's fantastic," Bettman said Tuesday prior to the Knights' 6-4 loss to the New York Rangers at Madison Square Garden. "What's impressed me about the Golden Knights is the quality of the entire organization has been. It demonstrates the best in how professional sports can help bond a community. And we've seen that particularly after the events of Oct. 1."
Bettman said he thought some early success was possible.
"This was an expansion that was carefully planned out for the team to have success," he said. "We wrote the rules for expansion and put a lot of thought into it. Using the rules is a credit to (general manager) George McPhee who has put together a terrific team.
"We believed in (owner) Bill Foley. We believed in T-Mobile Arena and we believed in Las Vegas as a market. We knew Las Vegas was ready for NHL hockey."
Ferguson's journey
Dylan Ferguson was having dinner Monday night in British Columbia watching the Golden Knights-Islanders game when he saw Oscar Dansk get hurt in the second period. Shortly after, his phone rang and he was on his way to New York as the Knights' emergency goalie backing up Maxime Lagace.
Ferguson, 19, had been playing junior hockey in the Western Hockey League with the Kamloops Blazers. Now, he was back with the Knights on an emergency basis.
"Basically, I paid the check, went home, packed, flew to Vancouver and got on the plane to Toronto," he said.
Ferguson's red-eye flight to Toronto got him in Tuesday morning, then he connected to a flight to New York, arriving at the team's Manhattan hotel by 11 a.m.
Ferguson had been obtained in a trade with Dallas for defenseman Marc Methot. He was with the Knights in training camp and recorded a 4-0 shutout in a rookie scrimmage against Los Angeles and was in net for the team's first-ever NHL preseason game on Sept. 17, a 9-4 win over Vancouver.
How long will he be with the Knights?
"I have no idea," he said. "I'll stay as long as they need me."
Family reunion
Reilly Smith got a chance to go head-to-head against his older brother Brendan, a Rangers defenseman Tuesday night and Reilly may have won the battle after scoring with 39 seconds left in the first period to break a 1-1 tie and put the Knights ahead. Reilly Smith, 26, also scored in the second period to put the Knights ahead 3-2.
But Brendan, 28, won the war, as the Rangers rallied in the third period from a 4-2 deficit to win 6-4.
Coach Gerard Gallant chose to start Reilly Smith's line against the Rangers, who started Brendan Smith on defense.
Theodore debuts
Defenseman Shea Theodore got a good night's rest Monday and was in the lineup Tuesday against the Rangers. He was paired with Colin Miller, took a turn on the power play and saw 16:06 of ice time.
Theodore had been recalled Monday from Chicago of the American Hockey League and said he tried to stay positive when he didn't make the Knights' opening-night roster.
"I tried to use it as motivation," he said. "I understood they had options on me but I just tried to play well (in Chicago) and show them that I was ready if them needed me."
Theodore had five goals and 11 points in eight games with the Wolves before he was called up.
In addition to Theodore making his Knights debut Tuesday, defenseman Jon Merrill returned to the lineup for the first time since Oct. 17. It was Merrill's third appearance of the season.
Brad Hunt, Brayden McNabb and Brendan Leipsic were the Knights' healthy scratches against the Rangers.
Contact Steve Carp at scarp@reviewjournal.com or 702-387-2913. Follow @stevecarprj on Twitter.