NHL commissioner says Las Vegas expansion is still not a guarantee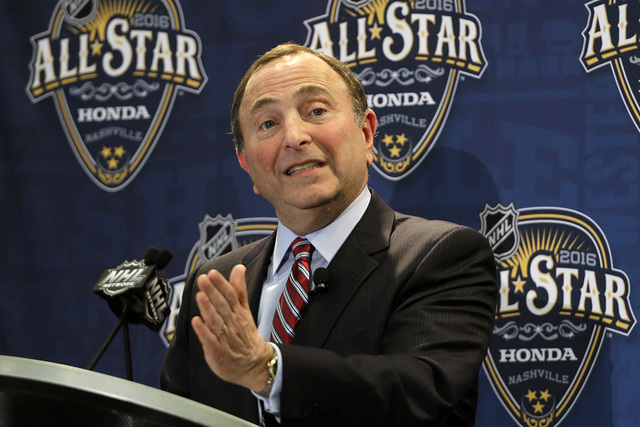 NHL commissioner Gary Bettman told a group of sports editors Friday that there was nothing new on expansion, which he again repeated wasn't a guarantee for 2017-18 or at all.
Las Vegas and Quebec City are the only cities in consideration for expansion, which has no timetable. Bettman also said there isn't an opportunity for Seattle to join the fray at this time.
"What's new in Seattle on a building?" Bettman said in addressing The Associated Press Sports Editors group in New York. "Even if you told me they were under construction tomorrow, it wouldn't impact this process."
The owners have been studying for several months whether to expand to Las Vegas and/or Quebec City for the 2017-18 season.
However, a decision is expected before the owners come to Las Vegas in June. If it's made before June, it would be done through a special meeting called by Bettman.
Billionaire businessman Bill Foley, who has been leading Las Vegas' bid for an expansion franchise, has said he is being patient in waiting for a team, especially considering he has 14,000 deposits for season tickets. He has plans to build a practice facility in Summerlin once he is given a green light.
In other league matters, Bettman is not in favor of fans throwing anything on the ice besides hats after a player scores a hat trick. That includes playoff traditions of faux rats in Florida and real octopi in Detroit.
Days after fans in Philadelphia threw light-up wristbands onto the ice during a Flyers playoff loss, Bettman said the league strongly discourages throwing anything onto the ice except for hats to celebrate a hat trick.
"Putting aside the hat trick, we don't think it's a good idea for fans to be throwing things on the ice for a whole host of reasons." Bettman said. "We don't think it's appropriate, other than the case of the hat trick, to throw things on the ice. Not only is it disruptive to the game, it's potentially dangerous."
Bettman was at Wells Fargo Center in Philadelphia on Monday when fans threw hundreds of wristbands on the ice during the third period of a 6-1 loss to the Washington Capitals. The commissioner called it an unfortunate incident, especially considering the wristbands were part of a pregame tribute to late founder Ed Snider.
When Panthers fans threw rats onto the ice during a March 31 game against the New Jersey Devils, the team was given two minor penalties for delay of game, a rule the NHL put in to cut down on such events. Bettman said he spoke to the team's executive chairman, Peter Luukko, immediately to express his concern about a tradition that dates to Florida's Stanley Cup Final run in 1996.
Detroit's octopus tradition goes back much further, but that doesn't mean it's league-approved.
"An occasional octopus, I'm not justifying it, is certainly different than 10,000 rats," Bettman said. "They do a good job at Joe Louis (Arena) of getting the octopi off the ice as quickly as possible. And they don't swing it around anymore because you can get octopus goop on the ice or on a player's jersey."
That won't be a problem until at least next spring, as the Red Wings were eliminated Thursday night. The NHL told the Panthers that fans can throw toy rats on the ice only after a game.
Bettman and deputy commissioner Bill Daly touched on other topics during the hourlong meeting:
On other topics:
* After Chicago Blackhawks forward Andrew Shaw was suspended a game for using a gay slur, Bettman said the league has tried to "raise the consciousness" about those kinds of issues. Daly said the league educates players and specifically rookies about the subject and sent out a memo before the season to make them aware of what's not appropriate to say. Shaw apologized the next day.
"If you focus on the quotes that the players gave after the incident, there's an awareness and a greater awareness on the subject than ever before," Bettman said. "And I think even Andrew's response was an acknowledgement of that. Perhaps this was a teaching moment."
* Bettman defended the league against criticism of the new coach's challenge system that has been at the center of controversy in a handful of playoff games. Bettman believes plays that are offside by even the slightest amount should be subject to review.
"We're trying to get it right," Bettman said. "And in the playoffs, you look at how close the games are. The Chicago-St. Louis series, they've played 96 percent of the time either tied or within a goal. Every goal matters."
* At playoff time, seemingly every banged-up player is day-to-day with an upper- or a lower-body injury. Don't expect that to change.
Bettman and Daly said neither the league nor the players' union has any interest in altering the injury disclosure policy. Teams must report all injuries, including concussions, to the NHL, but Bettman said it's not in players' interests to open themselves up to in-game harm from opponents knowing what's wrong with them.
Review-Journal sports editor Bill Bradley contributed to this report.
RELATED
One year later, Bill Foley admits he was 'naive' about NHL process
Las Vegas NHL bid standstill doesn't hold back Foley
Foley gets chance to sell Las Vegas to NHL owners
Las Vegas' Bill Foley considers training site options as NHL ponders franchise