NHL history shows Game 5 will be pivotal for Golden Knights
Updated May 3, 2018 - 6:43 pm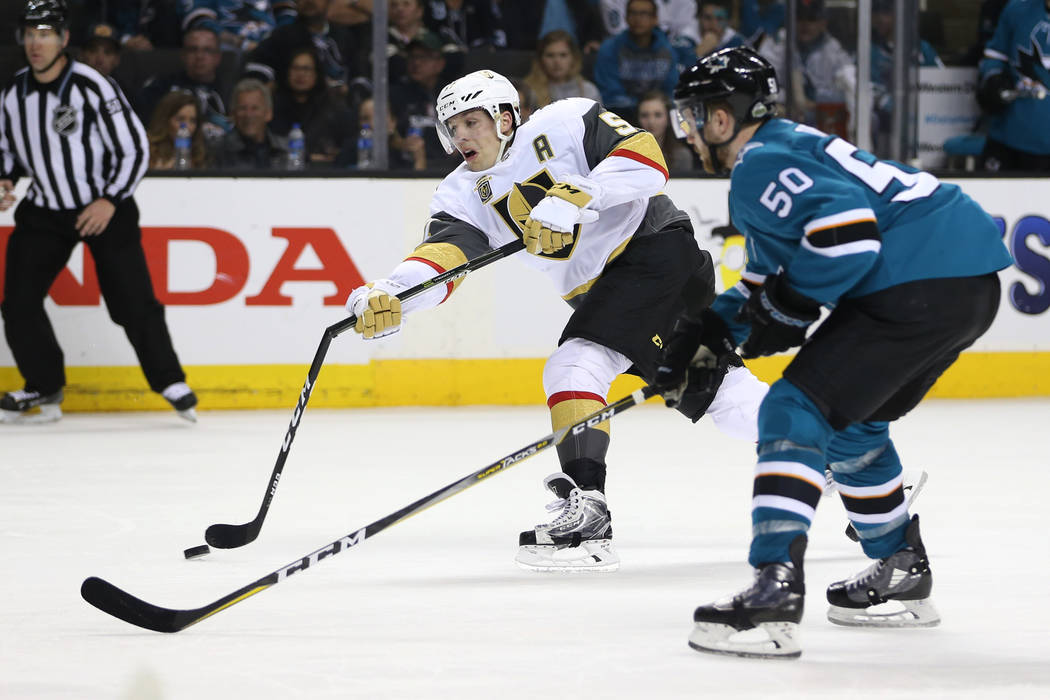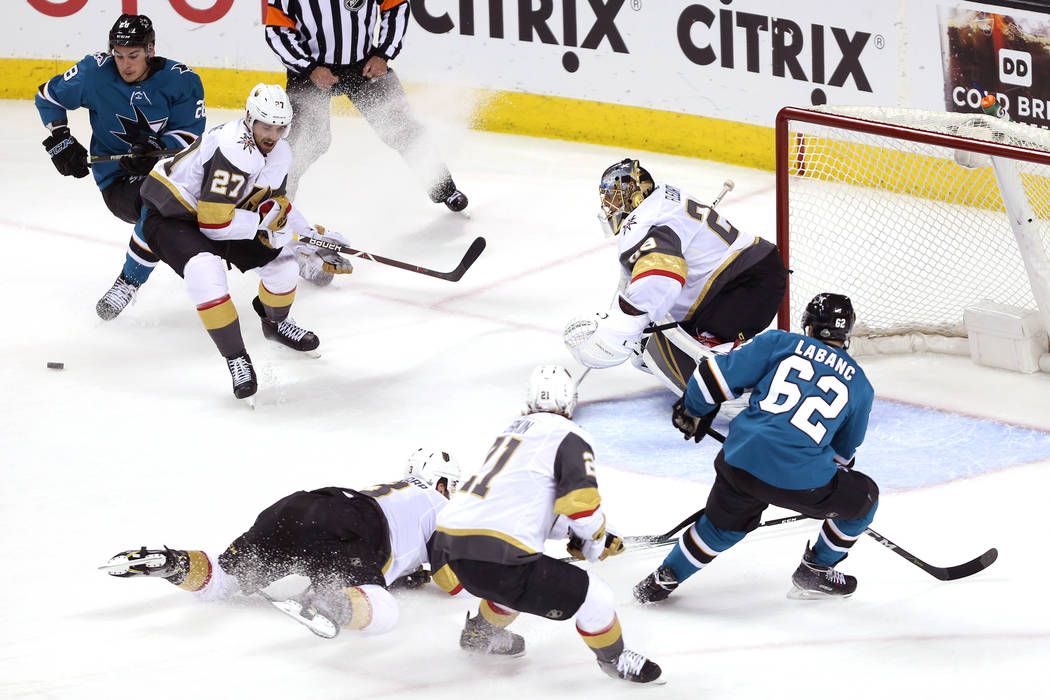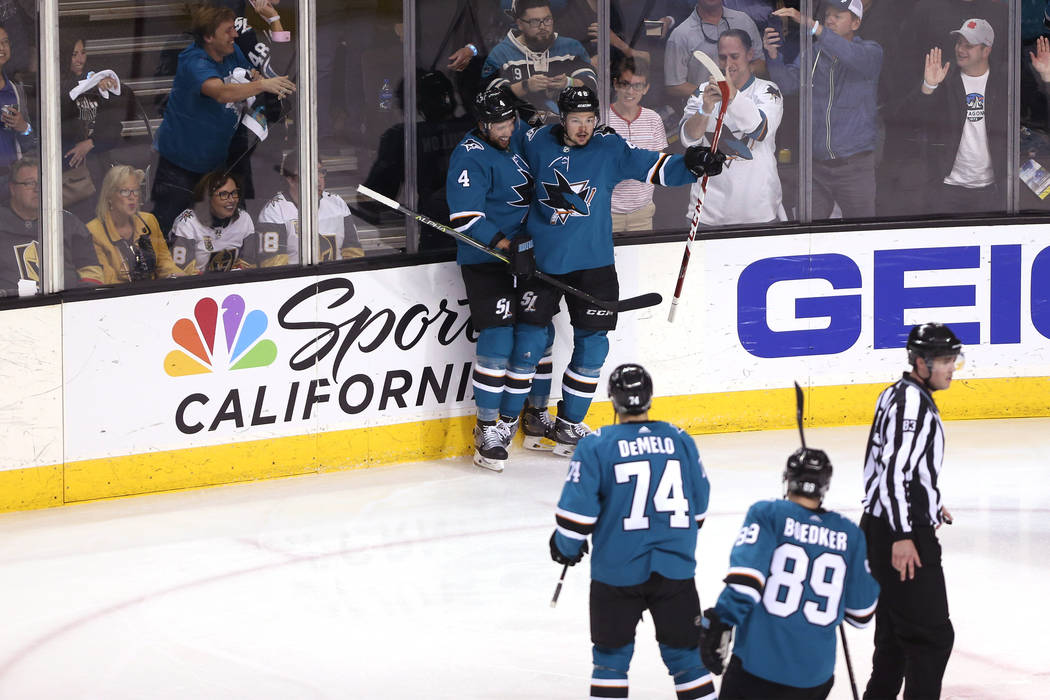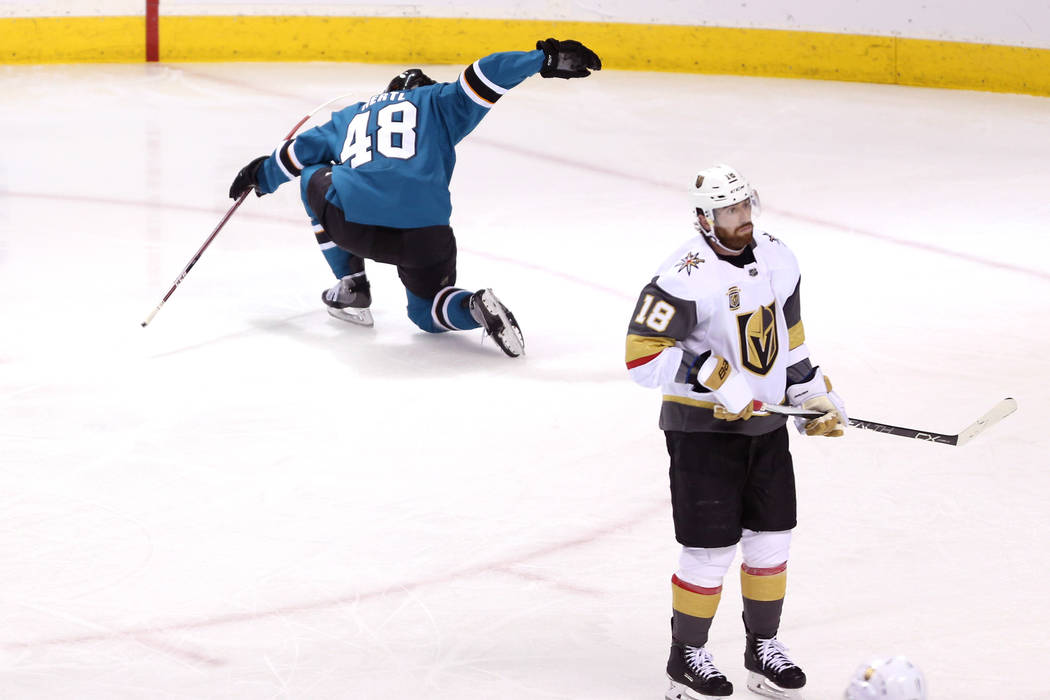 Marc-Andre Fleury stated the obvious when he characterized Friday's Game 5 as the biggest game to date for the Golden Knights.
The veteran goaltender knows from experience, having faced the same scenario four times during his career in Pittsburgh.
But there's also scientific evidence to support Fleury's assertion.
According to the NHL, when a best-of-seven series in the Stanley Cup playoffs is tied at 2, the winner of Game 5 has gone on to win the series 78.9 percent of the time (202-54).
"It's the biggest one yet so far for us, no doubt about it," Fleury said Thursday at City National Arena. "We're home in front of our crowd, and we've got to come out flying and ready to play that one."
The Knights and San Jose have alternated wins through the first four games of their Western Conference semifinal, effectively reducing the series to best-of-three.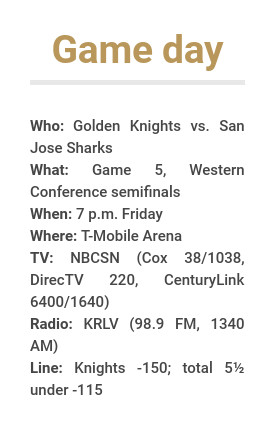 Opening faceoff for the pivotal Game 5 is 7 p.m. at T-Mobile Arena.
"It's been up and down for both teams. It's a tight series," Knights forward Pierre-Edouard Bellemare said. "You're kind of a fool if you come to round two and think it's going to go easy. If all the series would be easy, what would be the fun of being in the postseason, right?
"It has to be somehow tied. It has to be somehow crazy. There has to be some kind of adversity to make it worth. Nothing easy is fun."
The Knights and Sharks played three one-goal games during the regular season and have been closely matched through four postseason games.
Fleury and San Jose counterpart Martin Jones have one shutout apiece, while each team has a 4-3 overtime victory on the road.
The Knights have outscored San Jose 14-11 in the series; the Sharks own a plus-26 advantage in shots on goal (156-130), which is owed to their wide margin in Game 2.
"They're playing good. They're skating fast and they're getting the pucks in when they need to," Knights forward Cody Eakin said. "We could probably do a better job of valuing the lines, getting it in and getting our forecheck going. But it's a back-and-forth game. It's not always going to be perfect. It's not always going to be pretty.
"We've just got to maintain our consistency in our systems, getting the pucks in, instead of trying to make that extra play, make that extra hit."
The Knights' forecheck was noticeably lacking in Wednesday's 4-0 loss at San Jose in Game 4, and they struggled to establish it for long stretches in Game 3.
Bellemare said the Sharks were smarter with their dump-ins and placed them in areas that allowed San Jose's forwards to win back possession of the puck.
He added that the Knights' forecheck was unable to prevent San Jose from making defenseman-to-defenseman passes to start its breakout.
"It's about playing fast. When you don't play fast, you give San Jose's defense a chance to break out, and that's what happens," Knights coach Gerard Gallant said. "They played fast (Wednesday) night, and we didn't have a chance to break out. It all goes hand in hand. When our forecheck is good we play a real good game. When we've got some energy and our feet our moving, we're a good team.
"When 10, 15 percent don't show up and don't forecheck like the rest of the guys, that makes the biggest difference in the world. San Jose had 20 guys competing and playing hard (Wednesday) night and that's why they were the better team. We didn't have quite that every shift and that's why we lost, and still played OK."
This is the fifth time in Fleury's 14-year career he has started a Game 5 with the series tied at 2.
He is 3-1 with a 2.74 goals-against average, with his only loss coming in the 2009 Stanley Cup Final against Detroit. Fleury won the next two games of that series to help Pittsburgh capture the Stanley Cup.
"They played well (Wednesday) night, and we weren't good," Knights defenseman Brayden McNabb said. "But we've responded well with losses, and there's no sense of panic in here. It's best-of-three now with home ice, and we're comfortable being at home."
More Golden Knights: Follow all of our Golden Knights coverage online at reviewjournal.com/GoldenKnights and @HockeyinVegas on Twitter.
Contact David Schoen at dschoen@reviewjournal.com or 702-387-5203. Follow @DavidSchoenLVRJ on Twitter.
Three storylines
1. Stunted growth. The Golden Knights have struggled to find consistency, while San Jose has grown into the series and continues to gain confidence. The Knights can't afford to go down 3-2 with the series headed back to Northern California for Game 6.
2. Rolling deep. The fourth line of Pierre-Edouard Bellmare, William Carrier and Tomas Nosek made an impact in the opening-round series with its physical play but has been quiet against San Jose. The Knights need a strong effort from that group.
3. Jumbo back? Sharks forward Joe Thornton (knee) took line rushes in practice this week and is close to returning. The future Hall of Famer would provide a huge lift to San Jose, but coach Peter DeBoer might be hesitant to mess with a lineup that's been playing well.
David Schoen Review-Journal