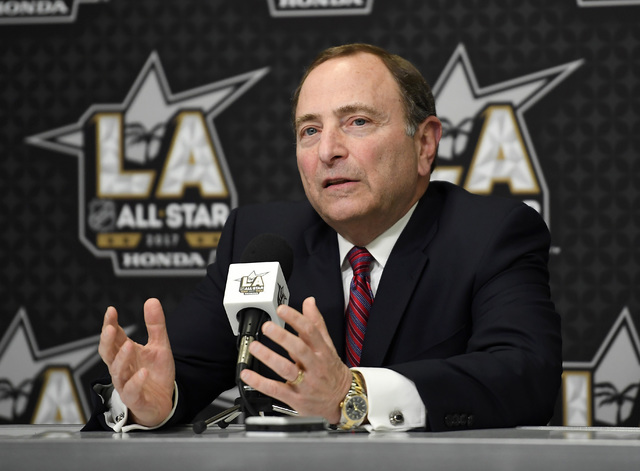 LOS ANGELES — While Las Vegas is preparing for the possibility of adding an NFL franchise, the NHL, which has established itself in the city with the Golden Knights, didn't seem concerned.
At his State of the League news conference Saturday at Staples Center during All-Star Weekend, NHL commissioner Gary Bettman said the Oakland Raiders possibly moving from the Bay Area to Southern Nevada doesn't change the NHL's decision to expand to Las Vegas.
"We're not focused on the Raiders," Bettman said. "We'll see if they ultimately wind up there.
"The thing that's true is the Vegas Golden Knights are alive and well. They're going to be there. There's no speculation. It's not contingent. There aren't a whole bunch of things that have to happen. This team is there for the community and will be there."
GRETZKY TO COACH
Wayne Gretzky will replace John Tortorella as the Metropolitan Division coach after Tortorella pulled out to attend to a family matter.
Gretzky, the NHL's ambassador for its Centennial season, also was named to the NHL's top 100 players of all time list Friday.
"Last night the commissioner asked me if I wanted to jump in, and I'm really excited about it," Gretzky said Saturday. "I get to coach (Sidney) Crosby and (Alexander) Ovechkin."
BAD ICE
The quality of the playing surface at several NHL arenas has come into question this season. Games have been delayed in Pittsburgh and Chicago, and a game was postponed at Carolina because the conditions weren't considered safe.
Players have complained about the ice in Brooklyn, Detroit, Florida and even Edmonton's new Rogers Place. Edmonton is surprising because the Oilers had what was considered the best and fastest ice in the NHL when they played at Rexall Place.
The league asked Dan Craig, its ice guru, to explain why so many buildings are having problems. Bettman said the NHL wants the best ice possible from a performance and player safety perspective.
"We pride ourselves on being vigilant and thorough, but every now and then, systems break down," Bettman said. "The point of our discussion was, 'Let's take a look at our ice systems; let's get our ice crews on top of what needs to be done; let's have our 'A' game and let's not get complacent.'
"We generally don't have ice problems. Maybe it was a full moon. Maybe it was coincidence. Maybe it was bad luck. But we've had a number of buildings with ice issues in a short period of time, and we're addressing it. "
LEARN TO PLAY
The NHL and its Players Association announced a joint initiative on Saturday to get kids playing hockey. The "Learn To Play" project will be expanded from eight markets to all 31 teams for next season.
Kids ages 4 through 8 are outfitted head to toe and receive six to eight weeks training from former NHL players. The cost is absorbed through an "Industry Growth Fund" to which all teams and the NHLPA contribute.
"This program is about overcoming cost barriers and casting a wider net on finding kids and families who want to learn to play," deputy commissioner Bill Daly said. "We think with this program we will lay a foundation for the game going forward."
For more information, visit learntoplay.nhl.com.
TOP 100 SNUBS
There was some surprising omissions from Friday's announcement of the NHL's top 100 players of all time.
Prominent players left out were Pittsburgh's Evgeni Malkin, a two-time Stanley Cup winner who has been one of the league's best scorers since 2006 (317 goals, 814 points), and San Jose's Joe Thornton, second among active players with 1,372 points and one of the best passers of all time.
Also omitted were Dale Hawerchuk (1,409 career points); Pierre Pilote (three Norris Trophies); Jarome Iginla (1,285 career points); and Phil Housley (1,252 career points).
The voting was by a panel of 58 former players, executives and media. One of the voters was Vaclav Nedomansky, a pro scout for the Golden Knights.
Steve Carp's weekly NHL notebook appears Sundays. Contact him at scarp@reviewjounal.com or 702-387-2913. Follow @stevecarprj on Twitter.
WEEK'S THREE STARS
1. Patrick Marleau, San Jose: The Sharks forward had five goals, four in win at Colorado. Any doubt why he's the No. 1 star this week?
2. Mitch Marner, Toronto: The Maple Leafs forward leads all rookies with 39 points.
3. Henrik Lundqvist, New York Rangers: The King recovered from a terrible slump in goal with three straight wins, including two shutouts.