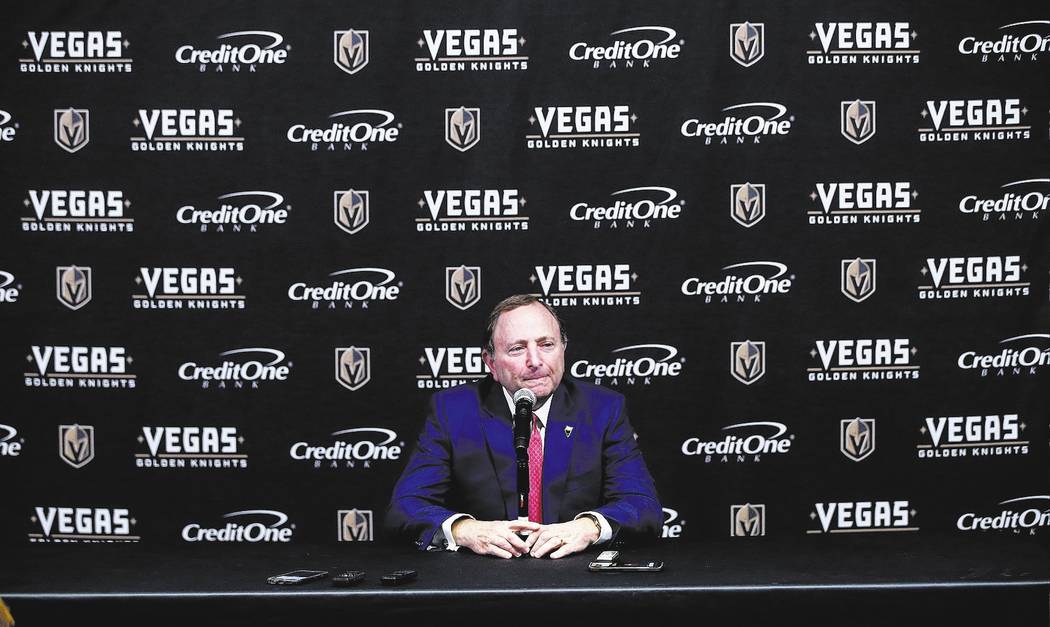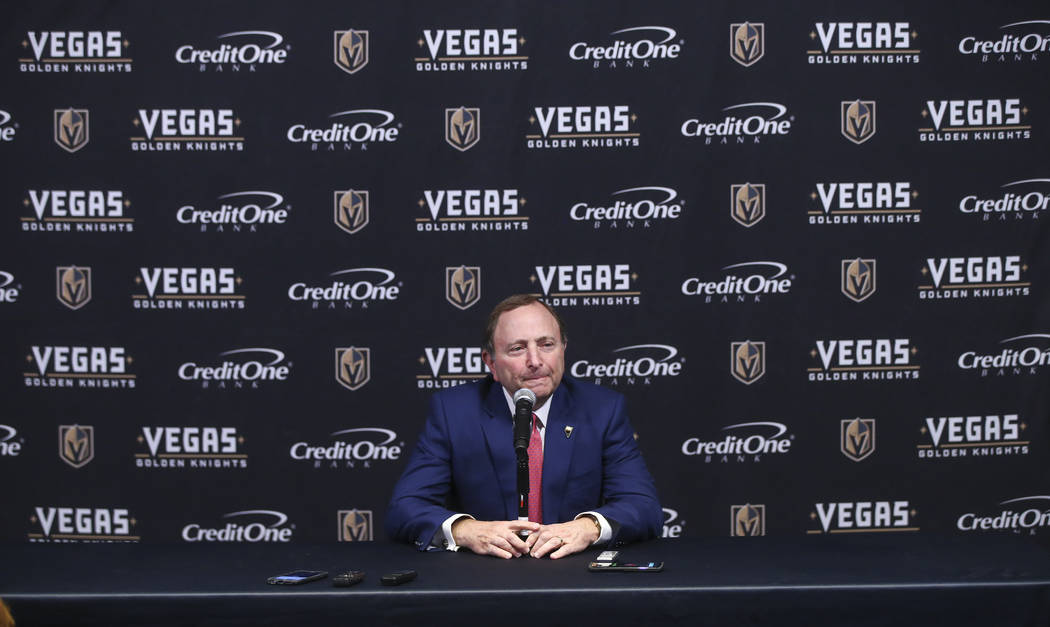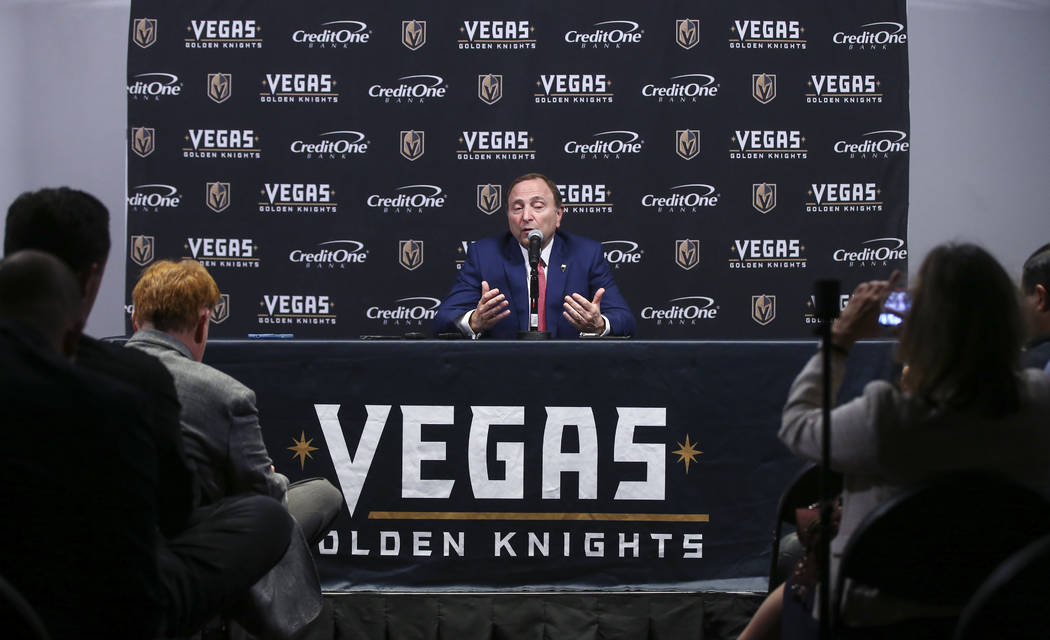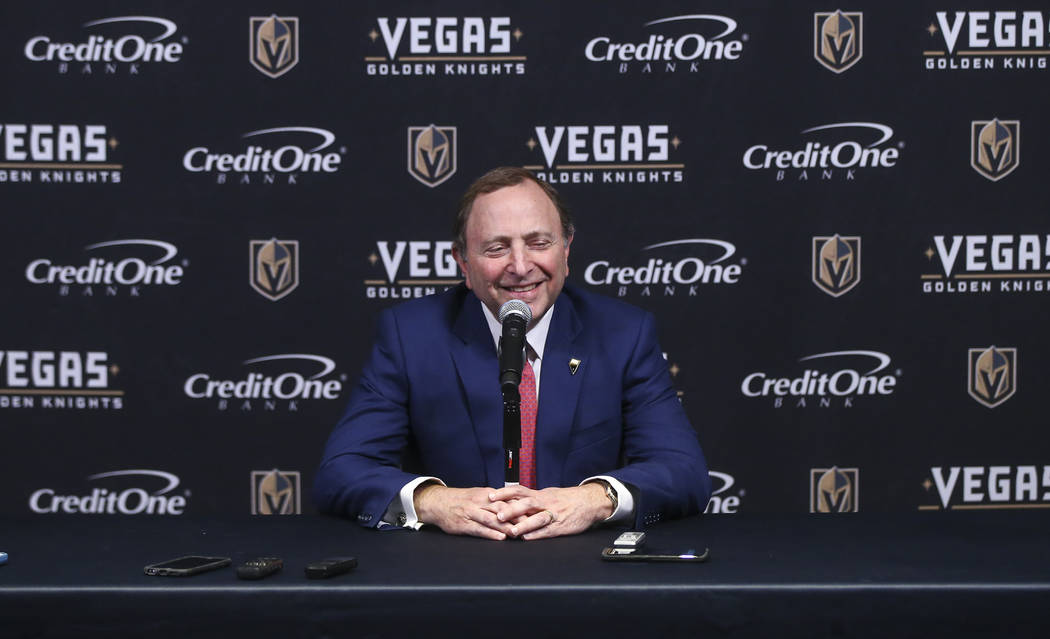 The Golden Knights' 2-0 start to their first NHL season didn't go unnoticed by commissioner Gary Bettman.
"I heard (Knights general manager) George McPhee say, 'We didn't play very well in the first game, and that (goaltender Marc-Andre) Fleury stood on his head," Bettman said Tuesday at a news conference before the Knights' home opener against the Arizona Coyotes at T-Mobile Arena. "I think it's a great start.
"My tongue is in my cheek. I'm a little nervous, because if the team plays too well, there may be a number of other teams who will be questioning how we did the expansion draft for the Vegas Golden Knights. But it's going to be a fun, competitive season, and that's what we wanted from the outset."
Bettman said the league supported the team's decision to change the tenor of the pregame ceremony and honor the victims from the Oct. 1 mass shooting on the Strip.
"It's an honor and a privilege to be here on what is an important date on the NHL calendar and an important date on the Vegas Golden Knights calendar," Bettman said. "A lot of people put a lot of hard work into making this franchise a reality. Obviously, having your first home game is a really major event.
"Couple that with the tragedy from last week. It obviously changes the focus and the tenor. But it obviously shows what a major league professional sports team can mean to a community, bringing people together, uniting them, helping them heal from a tragedy and showing the power of distraction when there's a game or series of games.
"This community has been remarkable in the face of what happened. It's my understanding this organization, the Vegas Golden Knights organization, has had its players be part of this community, whether it's meeting with first responders or going to hospitals, I think it's crystal clear that the Vegas Golden Knights not only have embraced the community but have been embraced by the community."
Bettman was first approached by then-Mayor Oscar Goodman in 1999 about the NHL putting a team in Las Vegas. But at the time, there was no suitable arena.
"For a number of years, there was talk of an arena, but that's all it was," Bettman said. "It took a long time for T-Mobile to become a reality, and that's a testament to MGM and AEG (Anschutz Entertainment Group) and their collaboration. It took somebody to make that arena the home for an NHL team, and that took (Golden Knights majority owner) Bill Foley.
"We did a lot of homework. We looked at it very closely. The season-ticket drive was extraordinary. It was about the local fan base. It wasn't about corporations or casinos or companies. It was about fans who live here, and I think we learned a lot about Las Vegas in that process, and I think Las Vegas learned a lot about the NHL, and it boded well for the future.
"You ask me if there was one magical moment for Las Vegas? The magical moment was really a series of moments."
More Golden Knights: Follow all of our Golden Knights coverage online at reviewjournal.com/GoldenKnights and @HockeyinVegas on Twitter.
Contact Steve Carp at scarp@reviewjournal.com or 702-387-2913. Follow @stevecarprj on Twitter.
Golden Knights key dates
Feb. 10, 2015 — Bill Foley announces season-ticket drive. The goal is 10,000.
June 22, 2016 — The NHL awards its 31st franchise to Las Vegas.
Nov. 22, 2016 — The team announces its name, "Vegas Golden Knights."
June 21 — The Golden Knights select 30 players in the NHL Expansion Draft.
June 23 — Cody Glass, a center with the Portland Winterhawks, is the Knights' first draft pick at No. 6 overall in the NHL Entry Draft.
Sept. 17 — The Knights defeat Vancouver 9-4 in their first preseason game.
Sept. 26 — Los Angeles defeats the Knights 3-2 in overtime in the franchise's first home preseason game at T-Mobile Arena.
Friday — The Knights defeat Dallas 2-1 in their first regular-season game.
Tuesday — The Knights play Arizona in their first home regular-season game at T-Mobile Arena.