One year later, Bill Foley admits he was 'naive' about NHL process
February 9, 2016 - 11:33 pm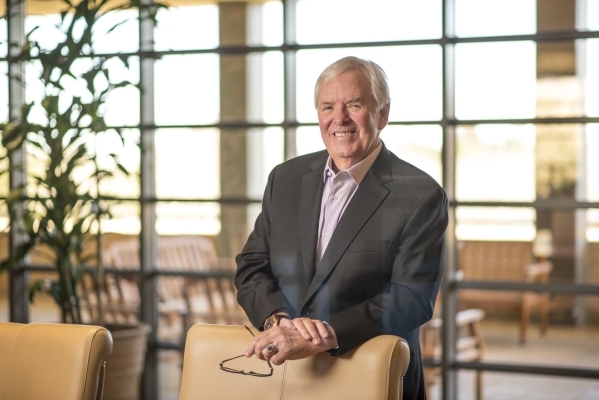 Bill Foley was sitting on a couch at his Las Vegas office across the street from TPC Summerlin and wondered, "Where did the time go?"
It was a year ago today when the billionaire businessman launched a season-ticket campaign at the MGM Grand for an NHL team in Las Vegas that didn't exist. NHL commissioner Gary Bettman was there. So were politicians, businessmen, civic leaders and members of the "Founding 75," a group of local individuals committed to getting 100 deposits each.
"I was hoping we'd get 2,500 sold that first day," said Foley, the chairman of Fidelity National Financial. "I honestly didn't know what to expect. But it was amazing to have several hundred businessmen, several politicians, having the commissioner on the stage, I thought it was impressive."
When Foley went to bed that night, nearly 5,000 people had put down a deposit of a minimum of $150 per seat. By the end of March, 10,000 people had committed.
And as Foley and the people at Black Knight Sports and Entertainment quietly celebrate the anniversary of their endeavor today, he still doesn't have his hockey team and there's no guarantee the NHL's 30 owners are going to let him join their exclusive club.
That's even though there are now more than 14,000 people with deposits for season tickets, a venue — the 17,500-seat T-Mobile Arena — that opens its doors April 6 and has sold out its suites, a lease that is solid and an application the NHL finds no fault with after having thoroughly vetted Foley and the Maloof family, his minority partners in the hockey venture.
"I thought we'd have the team in no time," Foley said. "It just shows you how naive I was."
The NHL has been cautious about expansion. The league hasn't grown since 2000, and times have changed since that year when St. Paul, Minnesota, and Columbus, Ohio, joined by paying $80 million each.
It's more than making sure the ownership group is solid and legitimately funded. It's about whether to share revenue — about $3.7 billion — with one or two more entities. It's about competitive balance and conference alignment. It's about the salary cap, currently at $73 million per team, and whether the first expansion teams with a cap in place would get full cap rights.
And it's about player movement and how an expansion draft would take place, along with where an expansion team would be positioned for the annual entry draft its first year.
"There's a lot of moving parts to this that I wasn't initially aware of," Foley said.
Las Vegas and Quebec City were the only two cities to apply for expansion in July. Since then, it has been a waiting game, and it has been hard for fans in both cities to remain patient while the NHL tries to decide what to do.
"Our fans have been terrific," Foley said. "I can't say enough about how great they've been. I get asked all the time, 'When are we getting a team?' All I can tell them is to hang in there with us."
At last month's NHL All-Star Game, Bettman said what he has been saying for months — the process is ongoing, the 10-member executive committee continues to study the expansion issue, and there is no timetable for a decision.
Foley has respected the process and has not done many interviews because he doesn't want to say something that might negatively impact the Las Vegas bid. He has already written the NHL a check for $2 million and is looking forward to the day when he can write one for the balance of the $500 million it is expected to cost to join the league.
"I don't ask a lot of questions," Foley said. "I understand they want to get it right. And I don't blame them. This is a huge decision that is going to affect the NHL for years to come. But I'm not a patient guy by nature. However, I've learned to be patient. At least for this project.
"I don't want to upset the other owners because I want to be one of them one of these days, so I try to keep my mouth shut."
But Foley is eager to get started. He wants to begin construction on his two-rink practice facility that will be built at Durango Drive and Warm Springs Road off Interstate 215. But he can't do anything until he knows he has a team.
In a perfect world, he would have broken ground last month and had the facility ready for the 2017-18 season, the year he wants to begin play in the NHL. But he realizes now that isn't going to happen, and if the team becomes reality, it will have to practice at either the Las Vegas Ice Center or the Sobe Ice Arena until it has its own home.
Foley said he can live with that.
"My No. 1 priority is to get the team," he said. "Everything else will work itself out over time."
That includes the team's name, who will oversee the hockey operation, what regional network would televise its games, where the farm teams would be located and dozens of other decisions. Foley has not hired anyone other than a director for ticketing and sales and someone to help with sponsorships, and former NHL player Murray Craven, who has served as an adviser on hockey matters. Foley said he receives five to 10 resumes a week for various positions, from hockey ops to scouting to marketing and public relations.
He does plan a public contest to find the name for the team. He likes Black Knights (Foley is a 1967 graduate of the U.S. Military Academy, which has that nickname). But he said he's keeping an open mind.
"We're going to give all our fans who put down a deposit on season tickets a vote," he said. "We'll run the contest in the Review-Journal, and we'll submit 10 names to the NHL. I'm guessing they probably won't want anything to do with gambling. But they'll have to approve whatever name we ultimately choose."
Foley said he thinks the process will take three months to get a name for the team. He said the colors will be black, gold and gray, which are the same ones as his alma mater. Several fans have been designing uniforms for what they think the team should wear and what various logos might look like.
Foley has been impressed.
"Some of the designs are very creative," he said.
Bettman said that a 2017 launch for expansion is still a realistic possibility. But he also said the league isn't rushing so that launch date can be met. Foley said he wants be ready to move forward once he gets the official word. His Vegaswantshockey.com website remains functioning, accepting deposits on season tickets.
The NHL hasn't announced when and where its annual awards show will be. But if it returns to Las Vegas as expected, perhaps the news Foley wants to hear comes in the third week of June, right after the Stanley Cup Finals and right before the Entry Draft, scheduled for June 25 and 26 in Buffalo, New York.
It would be logical for such an announcement to be made in Las Vegas, especially when the league's owners and top executives are in town for the Board of Governors meetings.
"I'd like to think we're going to hear something one way or the other in the next few months," Foley said. "In the meantime, we're still selling tickets. I believe the upper bowl is sold out already. We're talking to companies that want to be corporate sponsors.
"That's what has been great about this; we're seeing all this enthusiasm for a team we still don't have. That's why I'm convinced it's going to work here."
Contact reporter Steve Carp at scarp@reviewjournal.com or 702-387-2913. Follow him on Twitter: @stevecarprj