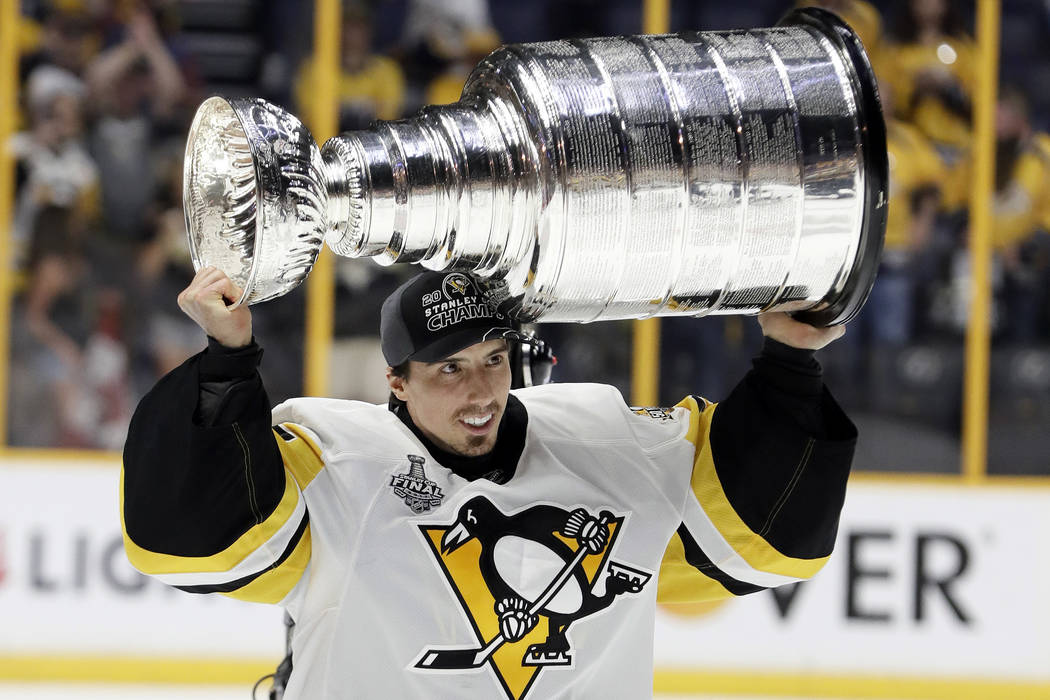 The Golden Knights may have found their starting goaltender after Marc-Andre Fleury informed the Pittsburgh Penguins he will waive the no-movement clause in his contract.
Fleury was first approached in February to waive the clause. His decision became official Monday, just hours before the NHL's 2 p.m. deadline for players to declare whether to waive their no-trade or no-move clauses, according to multiple reports around the league confirmed by the Review-Journal.
Unless Pittsburgh trades him, he will be left unprotected in the June 21 expansion draft since the Penguins will protect Matt Murray as their goaltender. All 30 teams must leave at least one goalie unprotected.
But just because Fleury waived his no-move doesn't necessarily mean he should be looking for a home in Summerlin. In addition to the possibility of the Penguins trading him before Saturday's pre-expansion draft deadline (they would have to get a goalie in return to leave unprotected in the expansion draft), the Penguins could work a deal with the Knights not to select Fleury. He would also be eligible to be traded by the Golden Knights if they were to select him.
Fleury, 32, who helped Pittsburgh win its second consecutive Stanley Cup with strong play in the first two rounds of the playoffs, has three championship rings, all with the Penguins (2009, 2016, 2017). He is a six-time NHL All-Star and in 13 NHL seasons has a career 2.58 goals-against average, a .912 save percentage and 44 shutouts. Fleury's contract has two years remaining at $5.75 million per year.
One reason he could be chosen by the Golden Knights and remain with the expansion team is his presence and leadership. Pittsburgh general manager Jim Rutherford said as much after the Penguins clinched the Stanley Cup on Sunday night in Nashville.
"Marc's probably the best team player in all of sports," Rutherford told DK Pittsburgh Sports. "We can debate it. Whoever you want to throw at me, go for it. But what he went through last year? He carried us at times this season. He carried us through two rounds of the playoffs.
"I talked about keeping two goalies. These guys did exactly what I'd hoped for."
While Fleury said yes to a no-move, veteran defenseman Keith Yandle decided to stay put in Florida.
The Miami Herald reported the Panthers did not pursue waiving the clause in Yandle's contract to expose him to the Golden Knights. Yandle, 30, has six years left on his deal with the Panthers at $6.35 million a year.
Also, Columbus did not ask veteran forward Scott Hartnell to waive his no-move. Hartnell, 35, has two years left on his contract at $4.75 million per year.
Contact Steve Carp at scarp@reviewjournal.com or 702-387-2913. Follow @stevecarprj on Twitter.