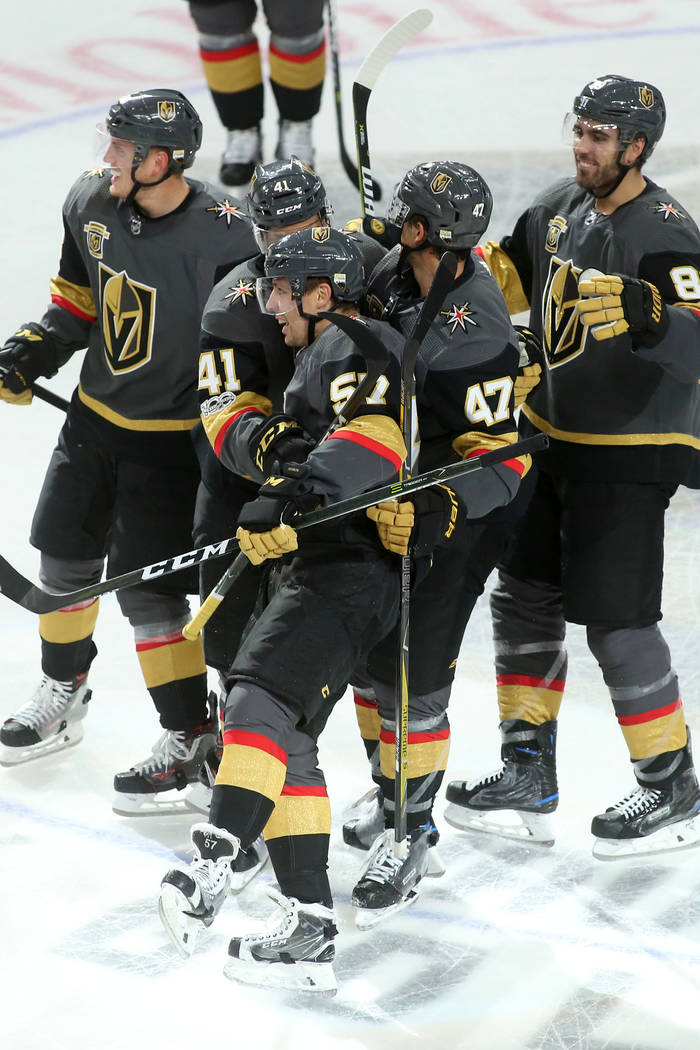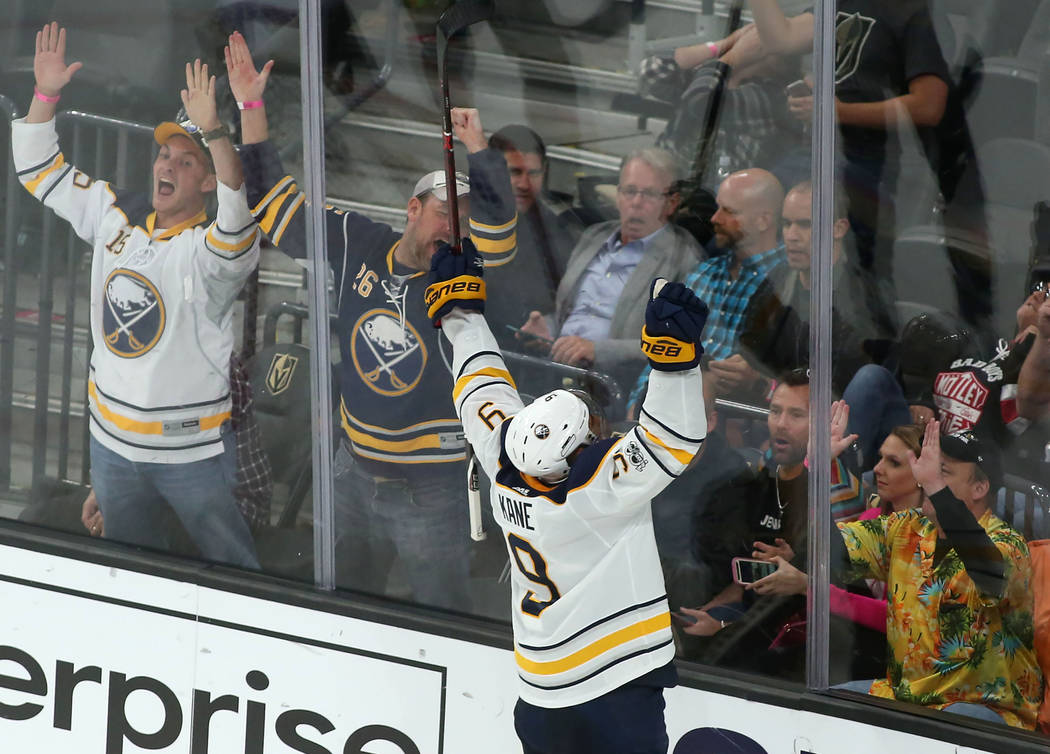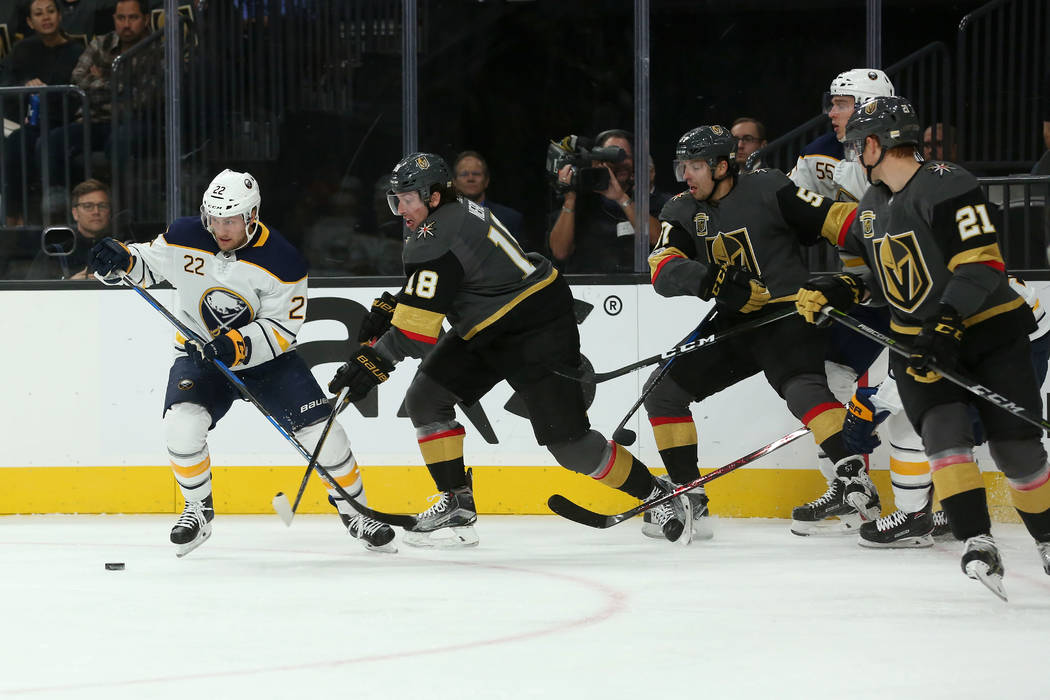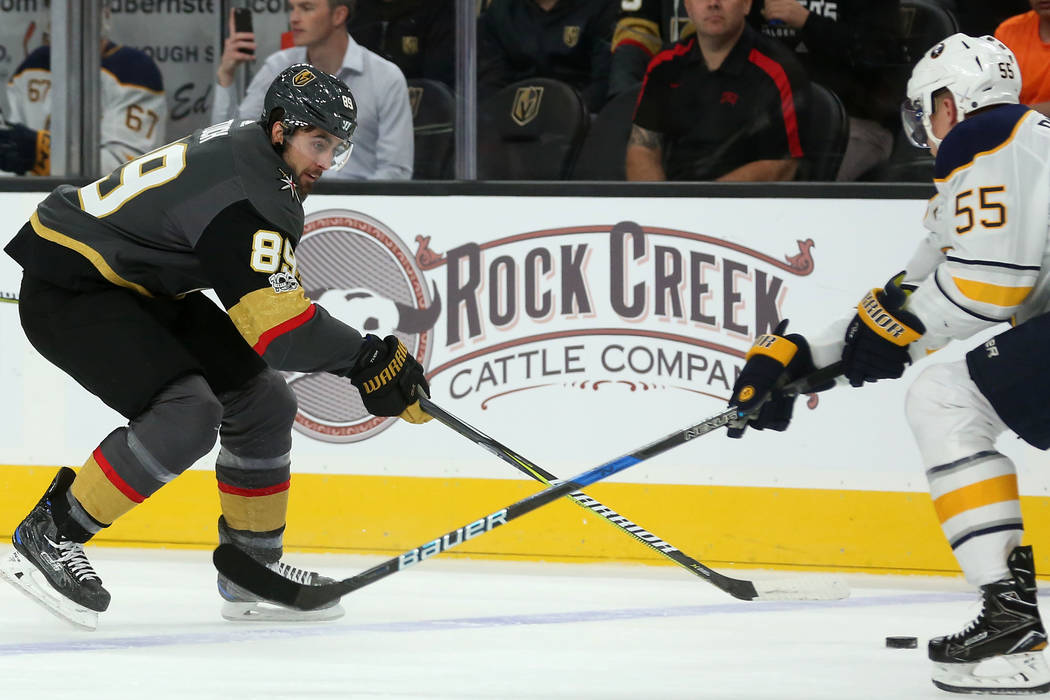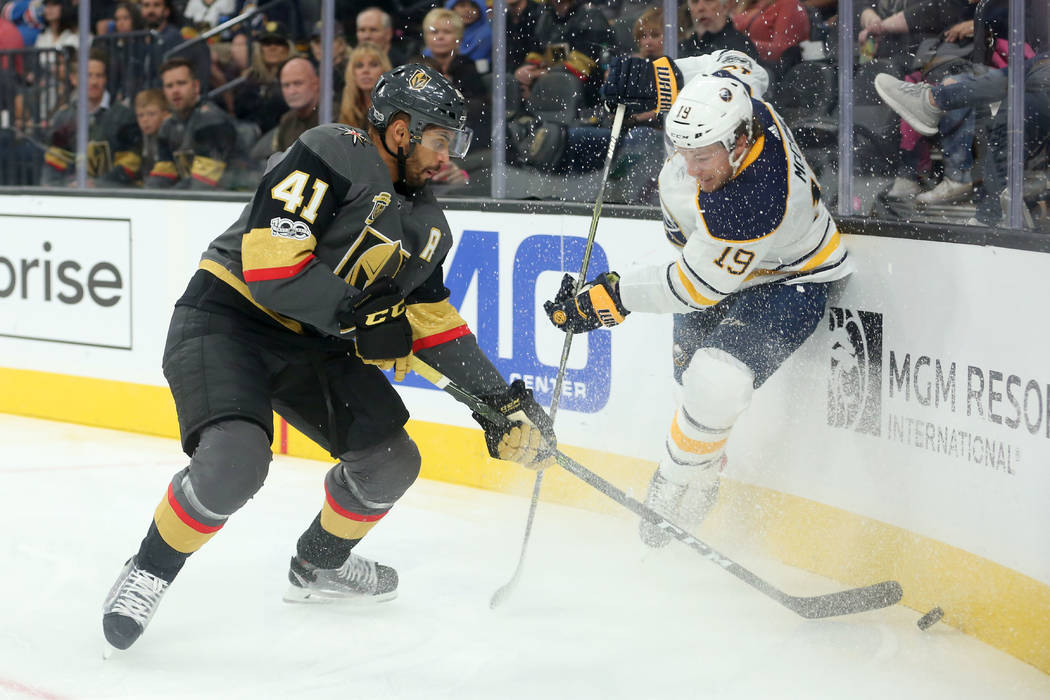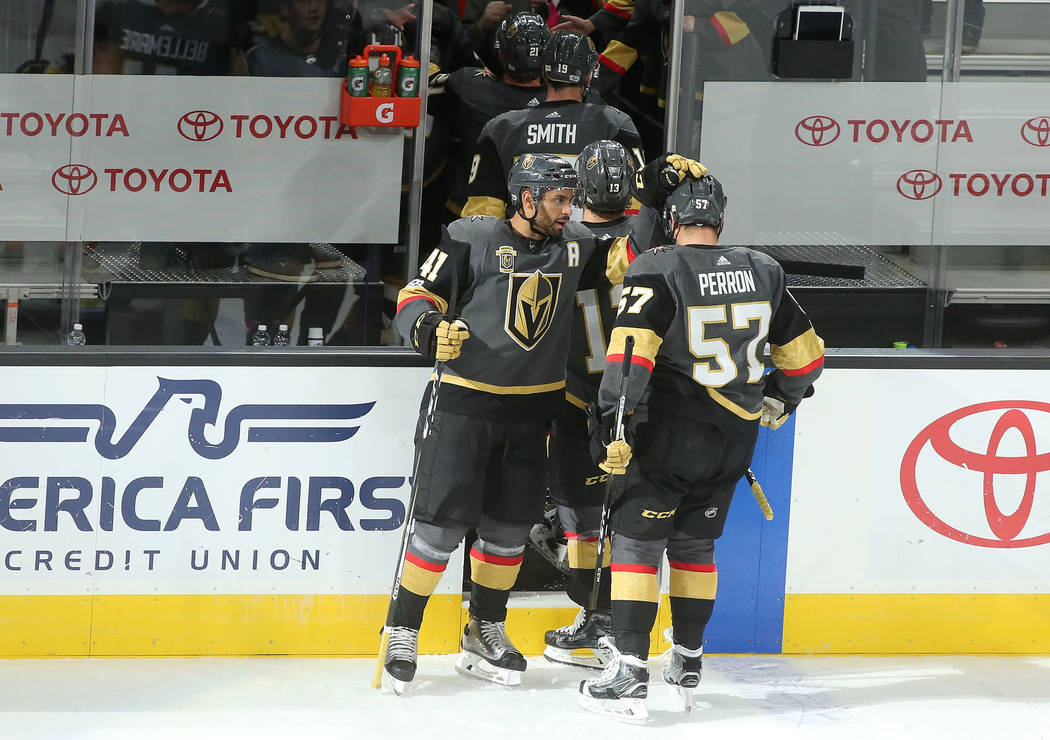 David Perron still has a ways to go before he catches James Neal. But the Golden Knights' right wing might be on his way.
Perron scored twice, including the game-winner with 1:08 remaining in overtime, to lift the Knights to a 5-4 win Tuesday over the Buffalo Sabres at T-Mobile Arena to improve to 5-1.
Neal, who has a team-leading six goals, was limited to a single assist Tuesday. But he's drawing attention from the opposition, and it's creating more opportunities for Perron and Cody Eakin, the other member of the Knights' top line.
"I had a little more room because the D was focused on Neal," Perron said. "If they come to me, I'll pass it, and if they back away, I'll look to shoot."
That was the case in OT. The Sabres gave Perron too much space, and he skated into the slot and let a wrist shot fly over the shoulder of Chad Johnson to send the majority of the announced crowd of 17,617 home happy.
"He's a veteran player, and when veteran players get that first goal, it's a big relief," Knights coach Gerard Gallant said of Perron's breakthrough.
They should have been able to celebrate earlier. But the Knights squandered a 4-1 lead over the final 10 minutes of regulation, and the Sabres, who had just one win in their first six games to begin the season, battled back.
Ryan O'Reilly got his second goal of the game during a 5-on-3 power play midway through the third period to cut it to 4-2. Sam Reinhart made it 4-3 as he scored on a power play with Johnson pulled for an extra skater and 1:58 remaining.
Evander Kane then forced OT after he batted the puck out of the air with 8.9 seconds remaining in regulation to tie the game at 4.
But Perron, who scored his first of the year 3:50 into the third period to make it 4-1, bailed his team out in overtime.
"We've had a few tough third periods, but we got into some penalty trouble in the third," Gallant said. "But I'm proud of our guys. They found a way to win."
Perron said it's a matter of staying out of the box and keeping to the task at hand.
"We need to learn to keep our foot on the gas and not back up," Perron said.
It was also a good night for Reilly Smith as he finally scored his first of the season in the second period on a wrist shot from inside the left faceoff circle. Smith also set up Oscar Lindberg in the first period as Lindberg tied it at 1 after O'Reilly put Buffalo ahead 1-0.
"It seemed like I was never going to score again," Smith said with a laugh. "But I think (Alex) Tuch did a great job screening the goalie on that shot. I'll definitely take it, and that's just the one thing is to help this team win."
For Malcolm Subban, who was making his second start in goal for the Knights, it was a tough evening given the third period. He faced 34 shots and was the victim of a tip-in on Reinhart's goal and Kane's batting the puck out of the air in the final seconds. But he was able to make several key stops
Tuch, who scored Tuesday for his second goal in as many games, said the team's ability to not fold after Buffalo came back was all about the veterans.
"We have a lot of experienced guys who know how to react when things get rough," Tuch said. "It's a hardworking group of guys, and there's a lot of pride in the room."
Smith said: "We've done a good job so far of just being resilient and coming back in games, trying to keep things simple. So, I think this is a tough place to play, and I think our fans are great. They definitely give us a lot of support behind us, and we've got to keep on riding that wave."
Contact Steve Carp at scarp@reviewjournal.com or 702-387-2913. Follow @stevecarprj on Twitter.
Three takeaways from Tuesday's game:
1. Alex Tuch should never have left Vegas. The big forward has two goals in as many games since being recalled from Chicago of the AHL. He's a force in the corners and in front of the net. General manager George McPhee should tell him it's O.K. to go find an apartment in Summerlin.
2. Will Carrier was amped up. The former Buffalo Sabres forward played with a little extra jump Tuesday. He drew a couple of slashing penalties and nearly scored on a breakaway in the second period. It was his best game of the year so far.
3. The $80 million man was quiet. We're talking Jack Eichel, the Sabres' star center who recently signed an eight-year, $80 million contract extension. You would have thought he could come in to T-Mobile Arena and dominate but the Knights kept him in check and he didn't have a shot through the first two periods and was a minus-1.
Steve Carp Review-Journal