Return of Nate Schmidt major, not magical for Golden Knights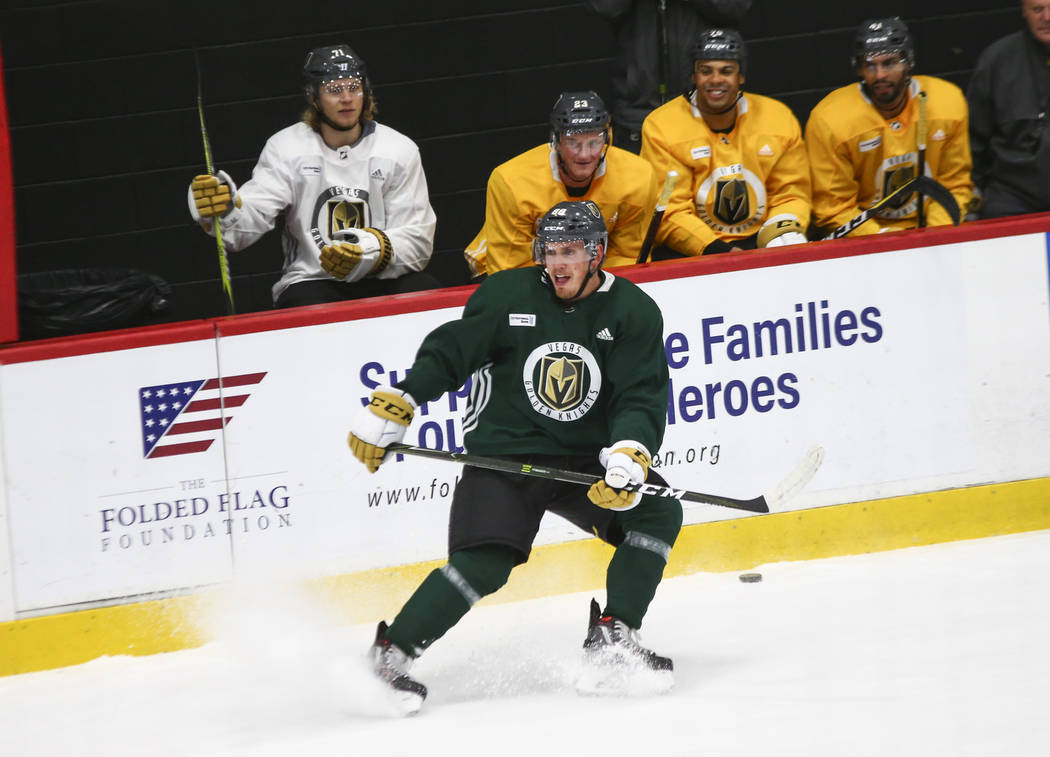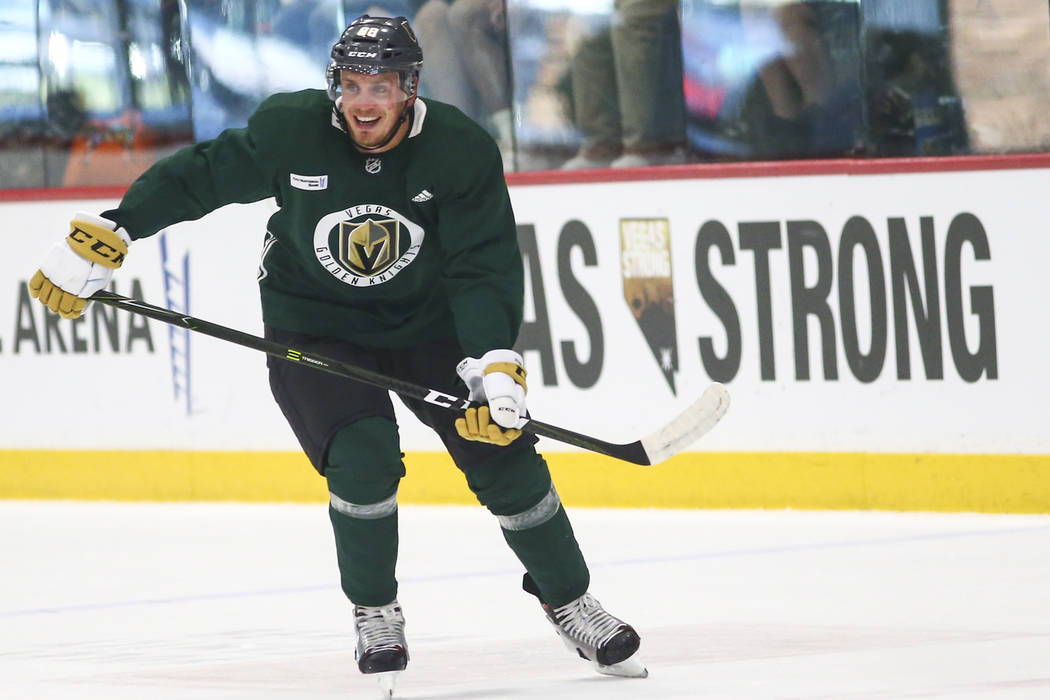 EDMONTON, Alberta — When the Golden Knights step on the ice to face the Oilers on Sunday night, they will again have the services of a dynamic, two-way playmaker who is as strong a presence in the locker room as he is on the blue line.
What they will not have is a magic elixir that will instantly solve all their problems.
Nate Schmidt's return from a 20-game suspension for a violation of the league's performance-enhancing drug policy comes at a pivotal time. The Knights have stumbled out of the gates this season and sit 8-11-1 at the hypothetical quarter point in the season.
The offense has been sporadic and the defense vulnerable. Schmidt helps in both areas.
"He's one of our best players so he's going to make a difference all over the ice — I hope," head coach Gerard Gallant said. "Always a solid guy, moves the puck, skates well. You know what kind of player he is and he's a big part of our group, so hopefully he's going to make a big difference."
The Knights know they must be careful to not believe the Band-Aid of Schmidt's return can fix a gaping wound that has left them with one of the worst records in the league.
"Sure, Nate is a guy that plays a lot of big minutes," goaltender Marc-Andre Fleury said. "He plays a lot on both sides of the ice. He plays in the defensive zone and contributes on offense, also. It will be great to have him back, but we can't rely on him to fix all of our problems and think we're going to win every game just because he's back. It's more than that. We've got to figure it out.
"We've got to find a way together, not wait for anything to save us or anyone to save us."
Schmidt was a major part of last season's success.
He played in all situations, often paired with Brayden McNabb against the opponent's top line.
It's unclear how quickly Gallant will choose to fully integrate Schmidt back into all his regular roles.
McNabb said after Friday's loss he wasn't even sure they'd be paired together right away, but he knows how valuable Schmidt can be to a team searching for answers.
"Everyone knows how good he is and he brings a lot of energy to this team," McNabb said. "It's a spark we're going to need. It's been a frustrating first 20 games, but we've got a positive thing with him coming back and I know he's excited. So we're excited, too."
Schmidt's return will allow the rest of the defensemen to settle into more comfortable roles, but he also plays a valuable offensive role as he is adept at pushing the puck up the ice and starting the transition.
The Knights are scoring just 2.45 goals per game after averaging 3.27 over 82 games last season. They are allowing 2.85 per game this season, up from 2.74.
"He's got speed and he moves the puck really well," McNabb added. "When you combine that, he kind of keeps everything going and allows our forwards to use their speed with him moving the pucks to them and him getting up on the ice helps offensively. Plus, he's got a great stick and he's good defensively so when you've got a two-way guy like that coming back, it's huge for us."
Schmidt, who led the Knights in time on ice, had five goals and 31 assists last season. He was behind only McNabb among defensemen with a plus-19 rating. Shea Theodore and Colin Miller lead all Knights' defensemen in assists with six this year.
"It's more than just hockey-wise, too," forward Pierre-Edouard Bellemare said. "We all know he's a great player. But locker room-wise with his attitude and everything, this is always a guy you miss. It's fun to have him back."
The Knights know Schmidt can't fix everything, but his return comes at a valuable time.
"He's a real good player," Gallant said. "He makes a big difference in your lineup, no doubt about that. But we've got to be better.
"To a man, we've got to be better."
Schmidt will be in the lineup at Rogers Place when the puck drops Sunday at 5 p.m.
More Golden Knights: Follow all of our Golden Knights coverage online at reviewjournal.com/GoldenKnights and @HockeyinVegas on Twitter.
Contact Adam Hill at ahill@reviewjournal.com or 702-277-8028. Follow @AdamHillLVRJ on Twitter.
Game day
Who: Golden Knights at Oilers
When: 5 p.m. Sunday
Where: Rogers Place, Edmonton, Alberta
TV: AT&T SportsNet (Cox 313/1313, DirecTV 684, CenturyLink 760/1760, U-verse 757/1757, DISH 414/5414)
Radio: KRLV (98.9 FM, 1340 AM); ESPN Deportes (1460 AM)
Line: Oilers -115; total 5½
Three storylines
1. Back in the mix. The Golden Knights have to be thrilled to get defenseman Nate Schmidt back in the fold after a 20-game suspension. He was used in so many situations last season, but it will be worth monitoring just how quickly he is integrated back into so many roles.
2. Dominate the division. A huge part of the Knights success last season was their ability to dominate divisional foes. Their 20-6-3 mark against Pacific opponents helped them capture the crown in their inaugural season. The Knights are 2-0-1 to start this year and Sunday's game marks the beginning of five straight within the division.
3. Where's Will? Fresh off a 43-goal season and headed into a pivotal offseason contractually, top line center William Karlsson has scored just four times this season and once in the last 10 games. Karlsson has 10 assists and has just missed on several opportunities, but the Knights could use a hot streak soon.