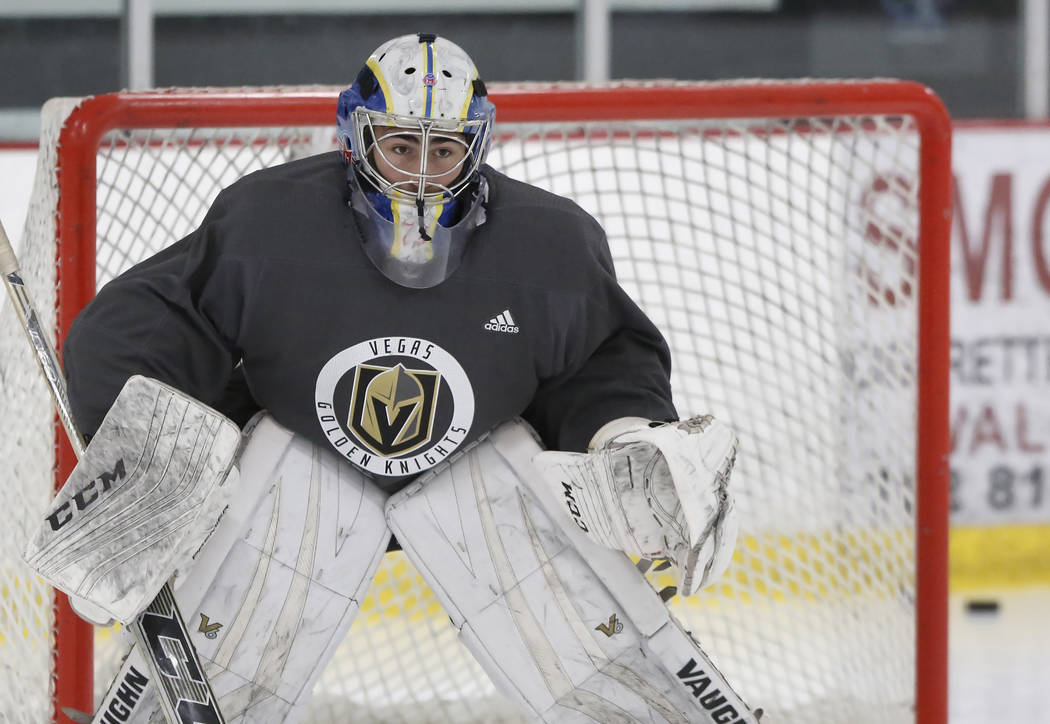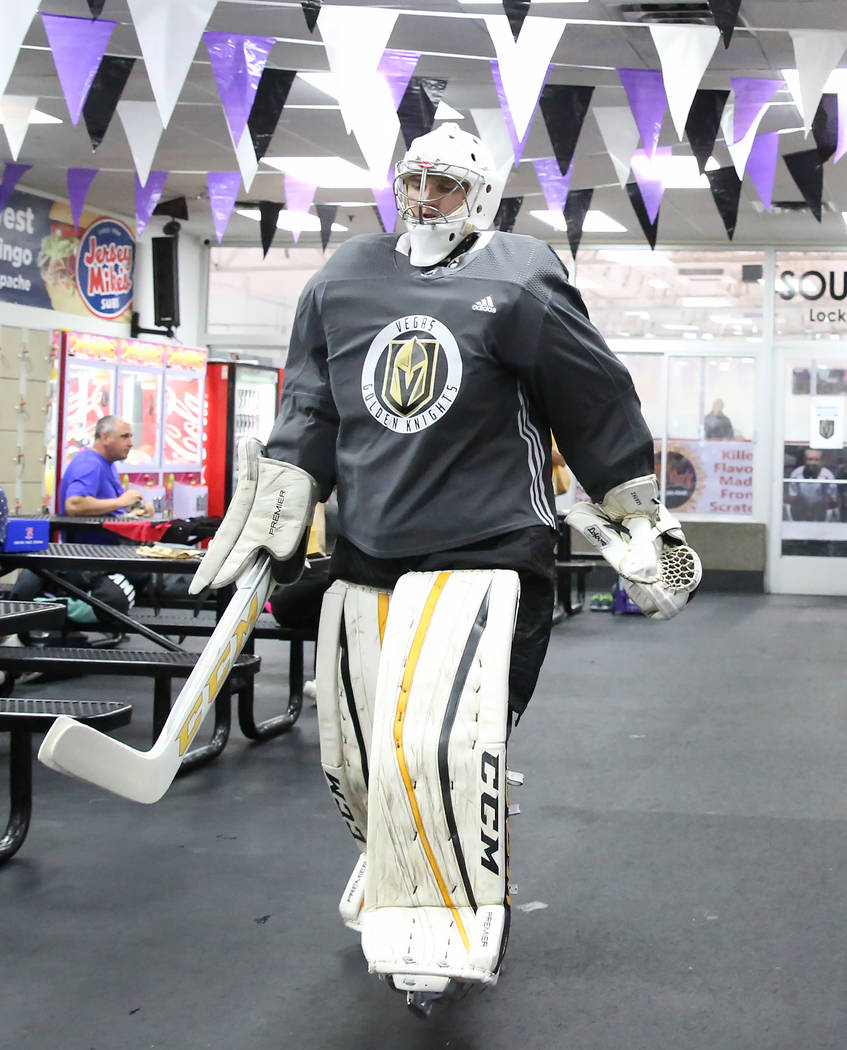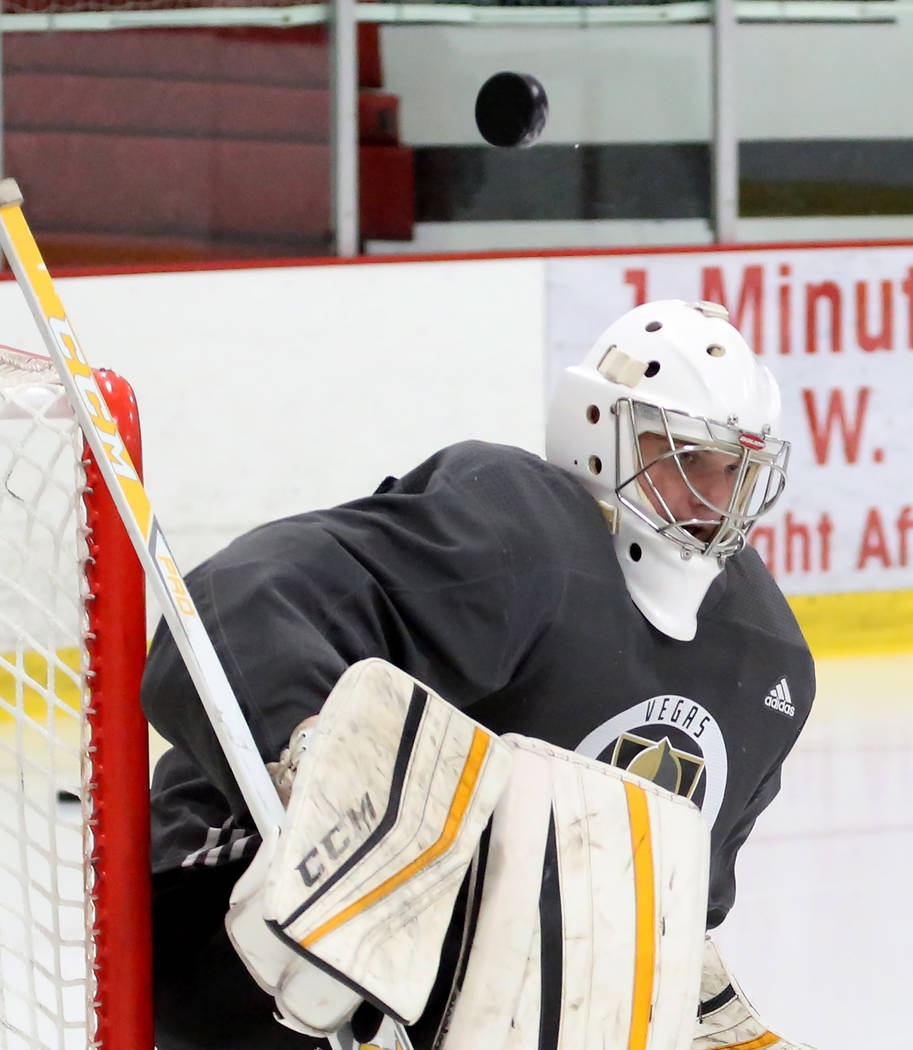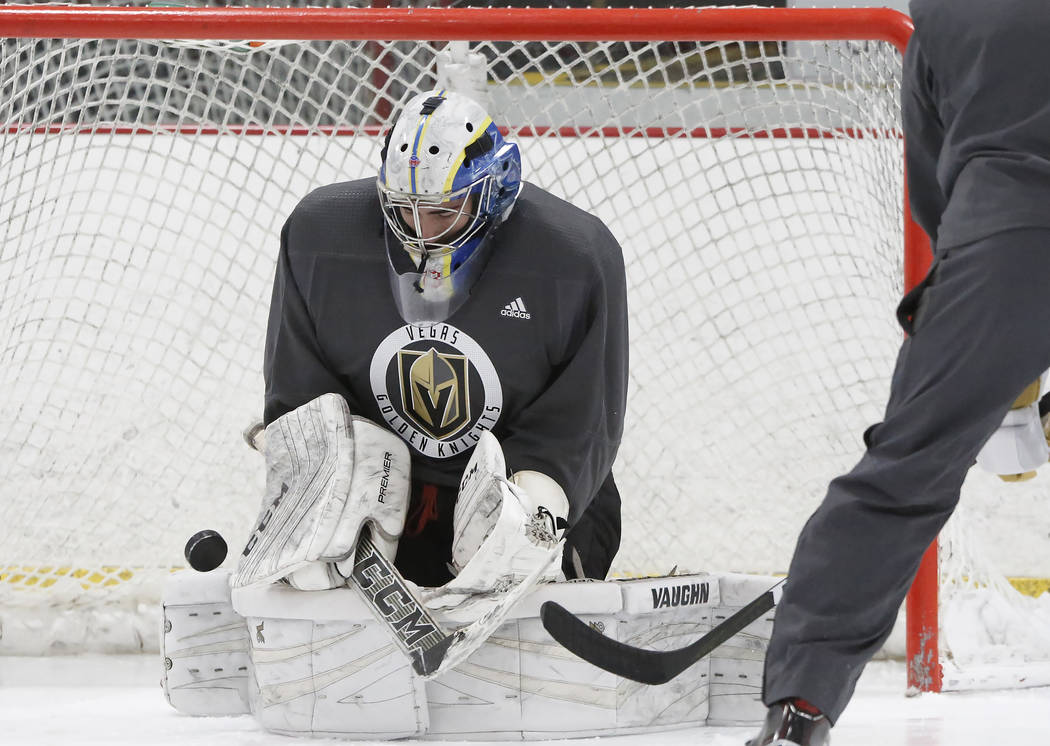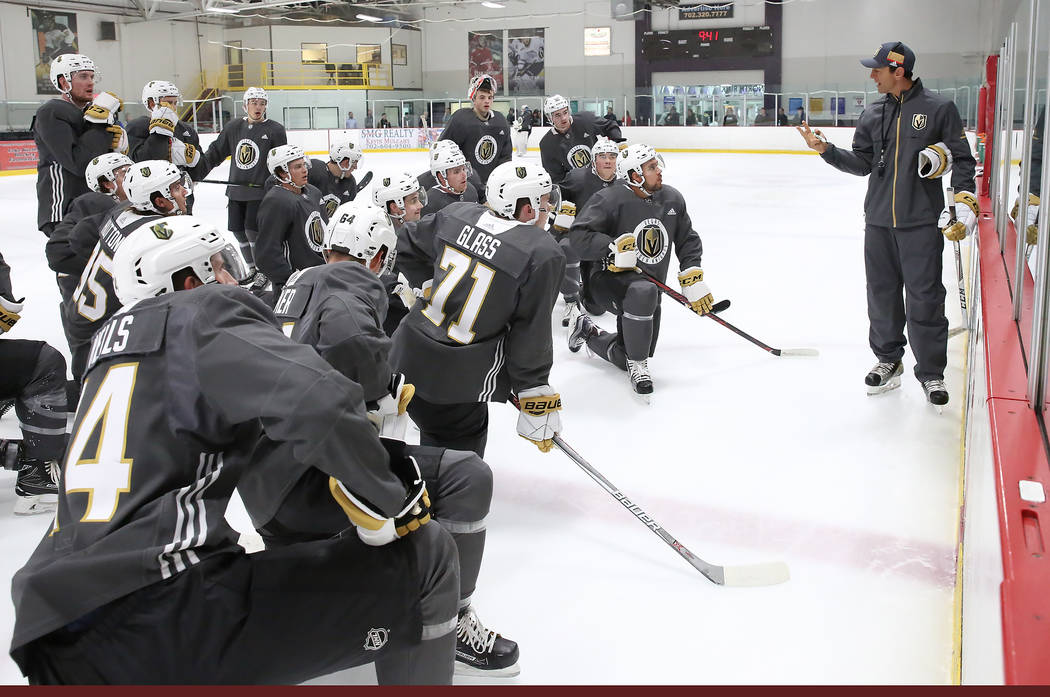 He's listed at 6 feet, 3 inches tall. But the way Maksim Zhukov covers the goal, one wonders if he's 6 feet, 3 inches wide.
The 17-year-old goaltender from Russia is obviously not that rotund. But even with the scaled-down equipment goalies are required to wear these days, he still takes up a lot of space. Throw in the fact he has a quick glove hand with good fundamentals, and Zhukov appears to have a bright future.
He has shown glimpses of that future this week at the Golden Knights' development camp at the Las Vegas Ice Center. He's facing some very good shooters with hard, accurate shots, and he stops the majority of the pucks fired at him.
"It's a new team and an opportunity to get to the NHL because there's less competition," said Zhukov, who played for the Green Bay Gamblers of the United States Hockey League last season and was selected by the Knights in the fourth round of last week's entry draft. "The players here are the best I've played against."
Jiri Patera said the same thing Thursday as the five-day camp reached the midway point. Patera, 18, who was a sixth-round pick, has played in the Czech Republic. He, too, is a long way from home, and the Knights wisely paired the two goalies as roommates this week.
"I'm learning a lot here," Patera said. "I've seen shots from every angle. There's some very good players here."
David Prior, the team's director of goaltending, works with Zhukov and Patera daily. Both goalies have a similar style, a hybrid butterfly which sees them drop to the ice quicker to cover the bottom of the net. Prior wants his goalies standing on their feet rather than flopping.
"We're looking to tweak their games to help them prepare to one day play in the NHL," Prior said. "They're both good fundamentally. But I want them to react to what's happening."
Zhukov's basic skills were cultivated playing in Russia for Lokomotiv's under-16 and under-17 teams. He said the training he received helped him immensely.
"In Russia, we'd practice with the goalie coach a couple of times a week," he said. "I learned a lot."
In Green Bay, he had a 2.25 goals-against average and a .913 save percentage. But he really stood out at the under-18 World Championships, where he helped Russia win the bronze medal and was named the tournament's outstanding goaltender.
"I played OK," he said modestly. "We didn't win the gold medal, so it was just OK."
Patera played in that same tournament and went from backup to starter for the Czech Republic. He played well despite his numbers (3.40 goals against average, .870 save percentage).
It attracted attention from Prior, who continued to watch Patera the rest of the season.
"He played through some adversity as his team struggled at the worlds," Scott Luce, the Knights' director of amateur scouting, said of Patera. "But we had him high on our list along with Zhukov."
Both Zhukov and Patera will likely play in the USHL next year. But Prior doesn't want either to become complacent.
"The reality of this business is you can't wait," Prior said. "You have to take advantage of your opportunities.
"I'm trying to fast-track them to the NHL. But it's up to them. If they take what they've learned here this week back home and work hard on what they need to in order to get better, they'll have a chance at some point."
Contact Steve Carp at scarp@reviewjournal.com or 702-387-2913. Follow @stevecarprj on Twitter.
Maksim Zhukov file
Position: Goaltender
Age: 17
Height/weight: 6-foot-3, 187 pounds
Hometown: Kaliningrad, Russia
Previous team: Green Bay Gamblers (United States Hockey League)
Jiri Patera file
Position: Goaltender
Age: 18
Height/weight: 6-foot-2, 209 pounds
Hometown: Praha, Czech Republic
Previous team: HC Ceske Budejovice (Czech U-20 League)
2016-17 stats: 38 GP, 2.61 GAA, .933 save percentage
2016-17 stats: 31 GP, 2.25 GAA, .913 save percentage