Ryan Carpenter sparks Golden Knights' fourth line
Updated February 16, 2018 - 8:07 pm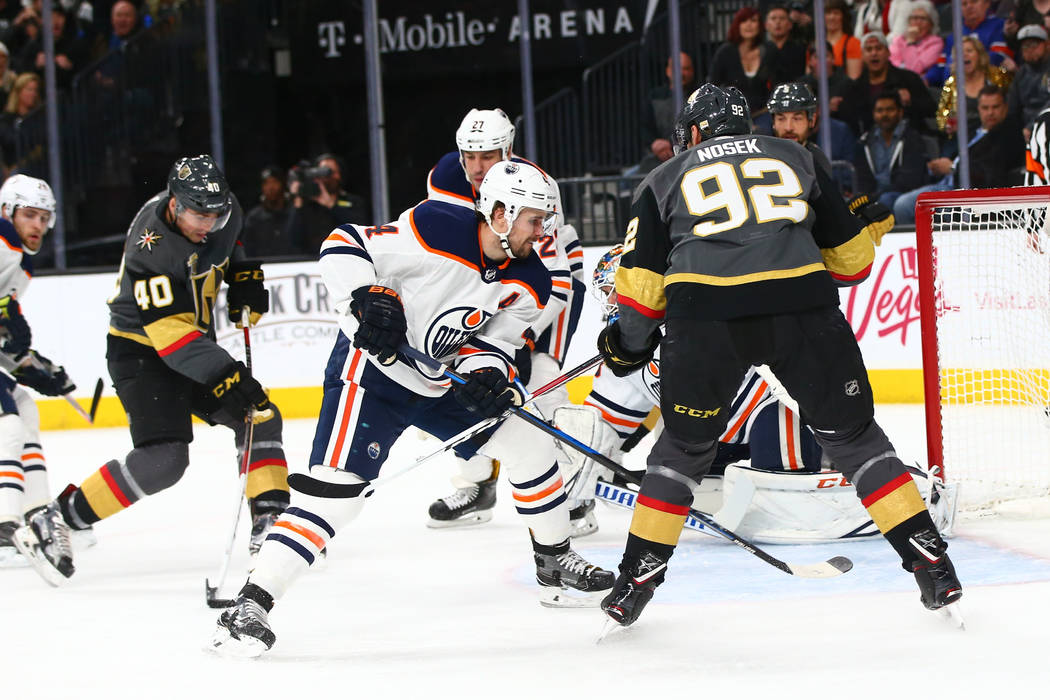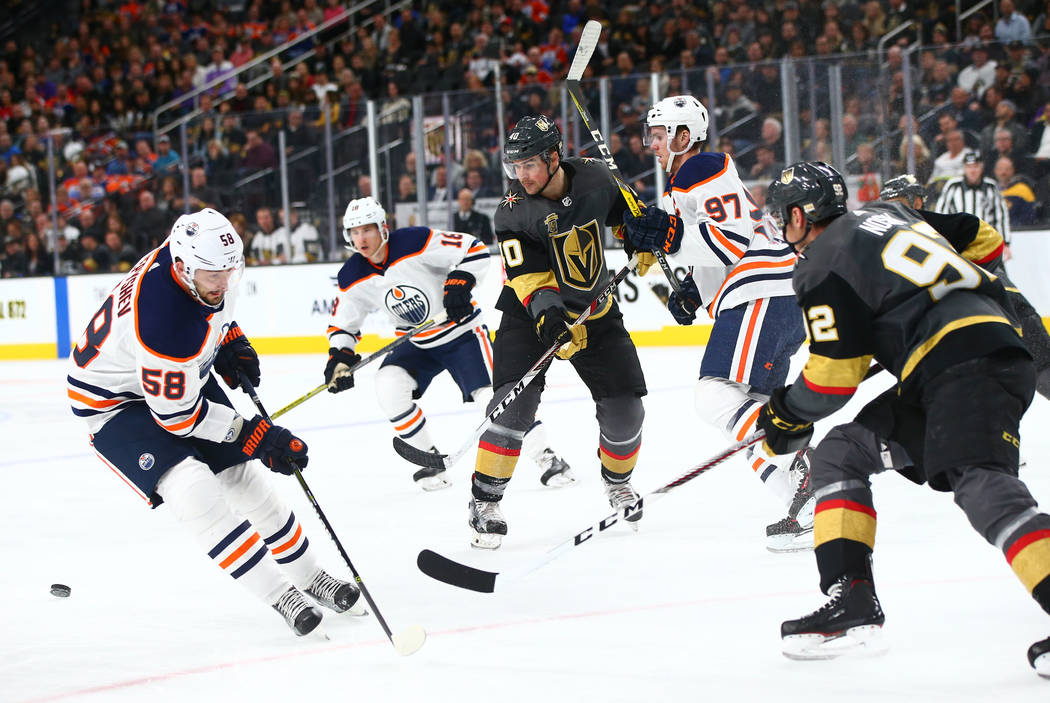 Ryan Carpenter didn't make the connection at first.
The Golden Knights forward grew up in a nontraditional hockey market, a product of the NHL's expansion into the Sun Belt.
And now Carpenter has the opportunity to influence a budding generation of fans with the league's newest team.
That's when it clicked.
"Yeah, it's cool, whenever you can grow the game in other places, and you see Auston Matthews from Arizona probably with the Coyotes being there," Carpenter said Friday at City National Arena. "Hopefully more and more kids come from the nontraditional markets."
Carpenter, 26, has revitalized the Knights' fourth line with his play over the past two weeks.
The hard-working wing opened the scoring Thursday in the Knights' 4-1 victory over Edmonton and has four goals in his past six games entering Saturday's 4 p.m. game against the Montreal Canadiens at T-Mobile Arena.
"He didn't play for a long time, and it's real tough when that happens," Knights coach Gerard Gallant said. "He's caught up, and he's been real good. Like I said, he works hard, he skates real well, he shoots the puck well. We're happy with him. He's definitely a good player for our club."
Carpenter is a native of Oviedo, Florida, and said he was drawn to the sport as a youngster watching the Tampa Bay Lightning and the Orlando Solar Bears, who played in the International Hockey League from 1995 to 2001.
"That was the big reason I started playing ice hockey and watching them," Carpenter said. "And then when the Lightning won the Cup (in 2004), that was really cool and really exciting and great just for the state of Florida."
Carpenter was claimed on waivers from San Jose on Dec. 13 and was scratched for 16 of his first 20 games with the Knights.
Since Gallant inserted him in the lineup alongside fourth-line center Pierre-Edouard Bellemare starting with the Feb. 2 game at Minnesota, Carpenter has four goals and an assist.
"I didn't play for a while, so it was nice to practice and watch the games and watch the systems," Carpenter said. "The guys are all real close and close-knit and have a lot of fun at the rink, so it's easy to come to the rink every day even if you're not playing."
The 6-foot, 200-pound Carpenter has provided speed on the forecheck in place of injured wing William Carrier and a willingness to go into high-traffic areas to score.
Carpenter crashed into Pittsburgh goaltender Matt Murray after a rebound goal Feb. 6 and pounced on a rebound at the top of the crease against the Oilers on Thursday.
His four goals have traveled a combined total of approximately 15 feet.
"Right from the first day he came, he's been working hard," Bellemare said. "He was not complaining and was taking whatever he can get. And suddenly, he gets his chance to break through with the team, and a lot of the goals we are scoring on our line, there shouldn't be anything going on, really, and he's the one who goes to the net and creates that bounce."
Carpenter skated with Bellemare and Tomas Nosek the past two games, and that line is expected to be together against the Canadiens.
Gallant showed his trust in the group, using them against Edmonton's Connor McDavid on multiple shifts Thursday.
"We are not the line that's going to do toe drag after toe drag and cross-seam pass and top nets. No," Bellemare said. "But we've been working well because we trust each other with the puck, and we just try to play with each other and have fun.
"A lot of nights, we are playing against good lines and we can frustrate them, which is a big goal for our line. And he knows all of that."
Contact David Schoen at dschoen@reviewjournal.com or 702-387-5203. Follow @DavidSchoenLVRJ on Twitter.
Game day
Who: Canadiens at Golden Knights
When: 4 p.m. Saturday
Where: T-Mobile Arena
TV: AT&T SportsNet (Cox 313/1313, DirecTV 684, CenturyLink 760/1760, U-verse 757/1757)
Radio: KRLV (98.9 FM, 1340 AM)
Line: Knights -235; total 5½ over -125
Three storylines
1. At the top. The Golden Knights (80 points) can take over the top spot in the league based on points with a victory over the Canadiens and a loss Saturday by the Tampa Bay Lightning (81 points). The Knights also can tie the 1979-80 Hartford Whalers for most home victories by a team in its inaugural season (22).
2. Still surging. The Knights have a power-play goal in 11 of the past 12 games (14-for-34 during that span), and look for Nate Schmidt to quarterback the top unit if defenseman Shea Theodore can't play because of illness. Schmidt took line rushes with that group before practice Friday.
3. Hobbling Habs. Montreal has lost five straight on the road and has an NHL-low 17 points (8-18-1) away from home. The Canadiens are expected to have plenty of fans for their first visit to T-Mobile Arena, so they'll have that going for them.
David Schoen Review-Journal