Senators owner Eugene Melnyk threatens to relocate NHL team
December 16, 2017 - 6:13 pm
Updated December 16, 2017 - 6:21 pm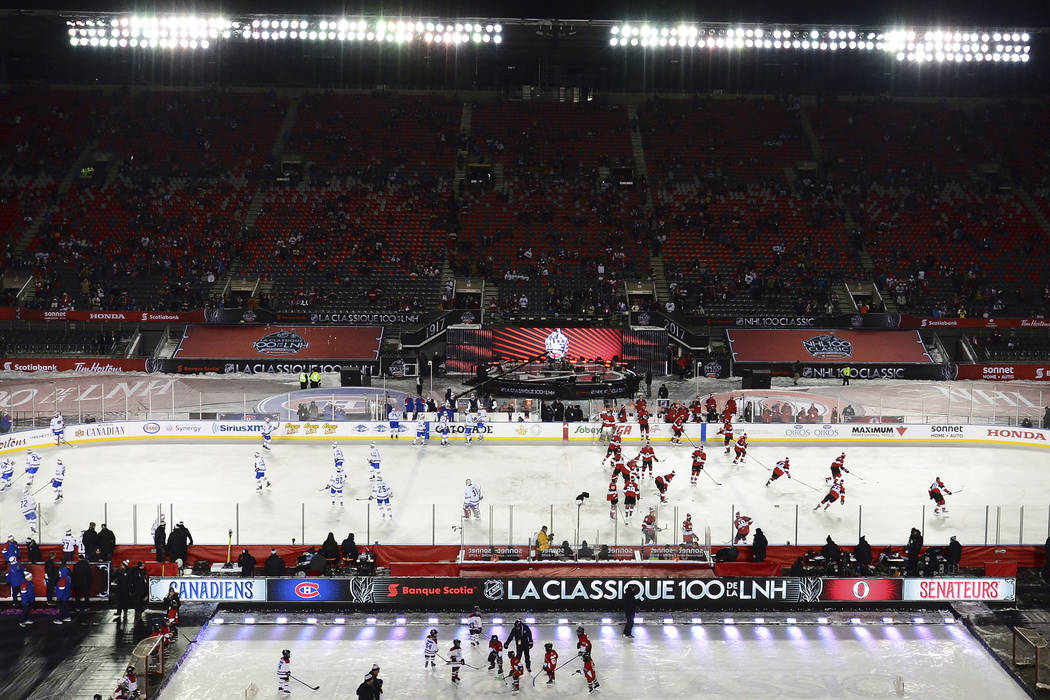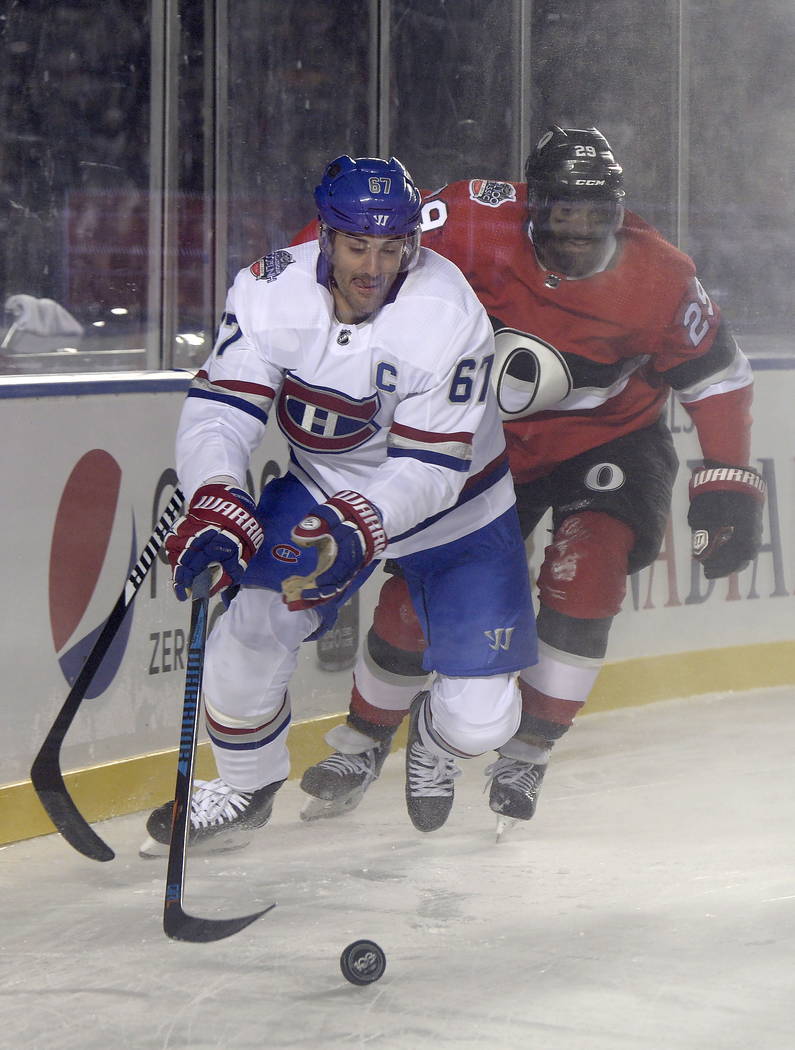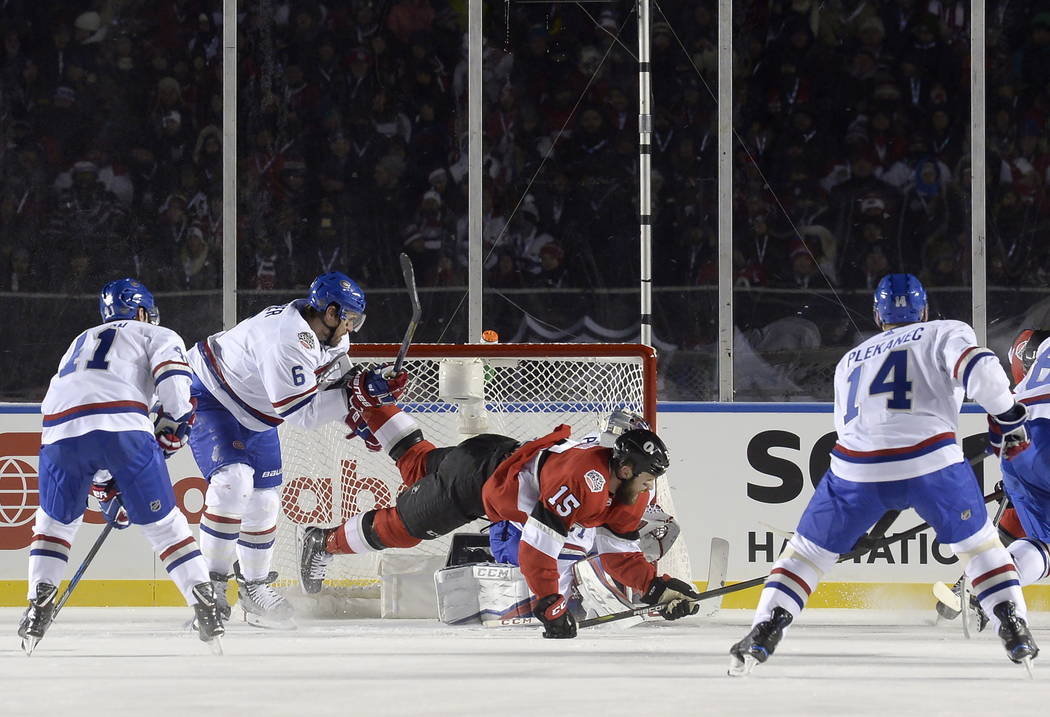 It was supposed to be a festive occasion for the NHL, with an outdoor game Saturday in Canada's capital to help celebrate the 100th anniversary of the league's first games.
Then, Ottawa Senators owner Eugene Melnyk sneezed all over the birthday cake and spit in the punch bowl.
Melnyk made a not-so-veiled threat Friday to relocate his financially struggling franchise, less than 24 hours before the NHL 100 Classic between the Senators and Montreal Canadiens at Lansdowne Park.
"If it doesn't look good here, it could look very, very nice somewhere else, but I'm not suggesting that right now," Melnyk told reporters Friday at Parliament Hill during the Senators' alumni game. "That's always the possibility with any franchise. If you open a grocery store and nobody comes, but one opens two blocks down and there's a line outside, where are you going to have your store?"
Melnyk's comments came a little more than a week after the NHL announced it would accept an expansion application from Seattle. Quebec City and Houston also are seeking teams.
Melnyk, who purchased the Senators in 2003, denied the team was for sale but said "the market here has to prove itself."
The Senators are 26th in the league in attendance based on percent of capacity, averaging 15,281 fans through 15 games.
The team struggled to sell out its three home games at Canadian Tire Centre in last season's Eastern Conference finals against Pittsburgh.
"You can't keep spending at the top end and getting the lowest revenues. It just doesn't work," Melnyk said. "Here we're fighting every day to sell a ticket, honest to God. When you get to the third round of the playoffs and you're begging people to buy a ticket, something's wrong with that picture. So, we're just hoping that changes."
Melnyk downplayed the possibility of a downtown Ottawa arena and has been seeking to refurbish the team's current arena in suburban Kanata, Ontario.
The owner admitted he previously slashed the front-office budget and also hinted at cuts to the player payroll. The Senators rank 11th in the league this season with a projected salary cap hit of nearly $73.3 million, according to CapFriendly.com.
Former Senators center Kyle Turris said last week that Melnyk decided against re-signing him. Turris was traded to Nashville on Nov. 5 in a three-way deal for Matt Duchene and signed a six-year, $36 million extension with the Predators.
Two weeks ago, star defenseman Erik Karlsson told reporters he wasn't taking a hometown discount from the Senators as he approaches free agency and also could be traded.
The Senators entered the NHL 100 Classic at 10-13-7 and in second-to-last place in the Atlantic Division.
"Imagine if you own a McDonald's franchise, but you can move it," Melnyk said. "Why would you sell it? It's something that's very difficult to buy. We're doing OK here. We're not doing great, but we're doing OK."
Birthday bash
The Toronto Maple Leafs will celebrate their centennial when they host Carolina in the "Next Century Game" on Tuesday at Air Canada Centre. The game features a special 2 p.m. local time start.
The Maple Leafs will wear special jerseys to commemorate the Toronto Arenas, one of four teams to play the NHL's first-ever games on Dec. 19, 1917.
Trending up
The Pittsburgh Penguins were the NHL's most-searched team in 2017, according to Google's "Year in Search 2017."
It was the second straight year the Penguins were named the top trending team by the internet search giant.
Penguins center Sidney Crosby was the top player on Google's list for the second consecutive year.
Contact David Schoen at dschoen@reviewjournal.com or 702-387-5203. Follow @DavidSchoenLVRJ on Twitter.