Sharks' Brent Burns would rather talk about travel than hockey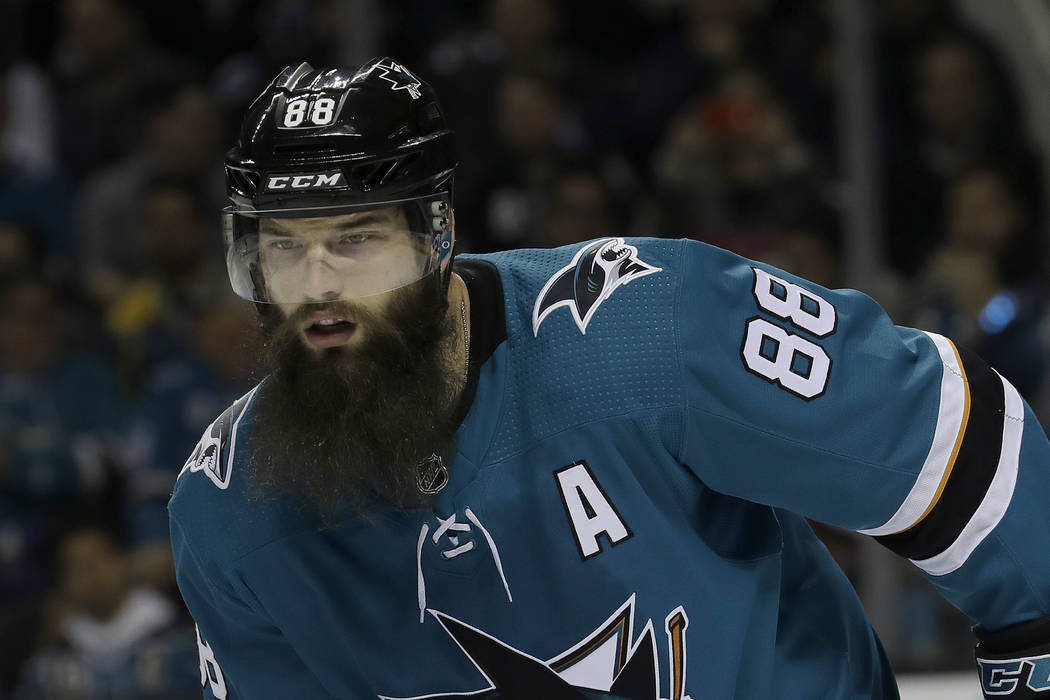 SAN JOSE, Calif. — With a giant unkempt beard, 6-foot-5-inch frame and a smile with gaping holes where teeth used to be, Brent Burns looks every bit the part of an All-Star defenseman.
His skill set backs it up. Sharks coaches and players rave about how well Burns uses his size and athleticism to not only lock up his own zone, but contribute as much or more than any defenseman in the league to his team's offense.
"He's all-world," San Jose coach Pete DeBoer said of the player who led his team in points during the regular season and has added six through seven playoff games. "He's a linebacker with the touch of a small skill guy. It's a great package. He drives our offense almost every night."
The accolades also come from outside his own locker room.
"He's so unpredictable, which makes him such a great player," Golden Knights defenseman Nate Schmidt said. "He does things you don't expect him to. Ask any goalie about how he shoots the puck. You're not sure when and where it's coming from. A lot of guys have tendencies, but he's a guy who doesn't have a whole lot of them.
"With him, it's about expecting the unexpected."
That applies even more to Burns off the ice.
His outfits, louder than a Game 7 crowd, cover up a body with even more elaborate tattoos. Yet he enjoys the peace and relaxation of surfing and drinking wine in nearby Napa Valley.
The native of Barrie, Ontario, is an animal enthusiast who has been known to keep snakes and other reptiles along with his cats and dogs.
Burns, 33, a first-round draft pick of the Minnesota Wild in 2003 who was traded to San Jose before the 2011 season and has spent time with the Sharks as a forward, has been referred to as everything from eccentric to mysterious to standoffish. But much of that appears to stem from his lack of desire to pore over the details of what he does on the ice with the media on a daily basis.
He's much more willing to discuss his favorite books or travel destinations.
"Turkey," he told the Review-Journal after practice on Tuesday, well after the rest of the media contingent covering the Western Conference semifinal had departed the team's practice facility.
"It's a beautiful place. The food was amazing and the people were great. Maybe it's different now, I don't know. I was probably there before it got a little bit dicier, but we never felt unsafe at all. I've always loved Italy, but then (Turkey) was just special. It's really an amazing place. The history is just all around you, and the food really did blow me away. Everyone always loves Italy, and I do, too, but Turkey when we went there was all those same things. And it's just like the gateway to the other side of the world. It was just unreal."
While his teammates go on and on in detail about how great a player Burns is, they are far more vague about his personality.
"He keeps it interesting around here," goaltender Martin Jones said. "He's definitely an interesting guy. You just have to meet him."
Joe Pavelski is a longtime friend and teammate. He and Burns form a connection Schmidt believes is the best in the NHL between forward and defenseman in terms of tipping shots and getting free on the power play.
Asked about Burns off the ice, Pavelski laughs. "I think you guys know what Burnsy is like," was the answer he finally settled on.
Joakim Ryan, who is often paired with Burns defensively, was full of accolades.
"He's great," Ryan said. "He's always having fun. It seems like he genuinely loves being at the rink and around the guys. The media might not see it as much, but he's definitely a good teammate and a great guy to be around.
"Burnsy is into certain things maybe a lot of people aren't, but he's very open about all those things around us. You guys just get a different side of him."
Burns, who lists Africa and Japan as the places he still most wants to visit, wonders whether and why anyone is even interested in who he is off the ice.
He does offer a recommendation for anyone looking to step up their fashion game.
"I'm kind of into the tux thing right now, but you definitely need a good suit guy to help you out," he said. "Giovanni has taken good care of me for a long time."
Burns has been holding down the Sharks' blue line nearly as long — even if he's not all that interested in talking about it.
Contact Adam Hill at ahill@reviewjournal.com or 702-277-8028. Follow @AdamHillLVRJ on Twitter.