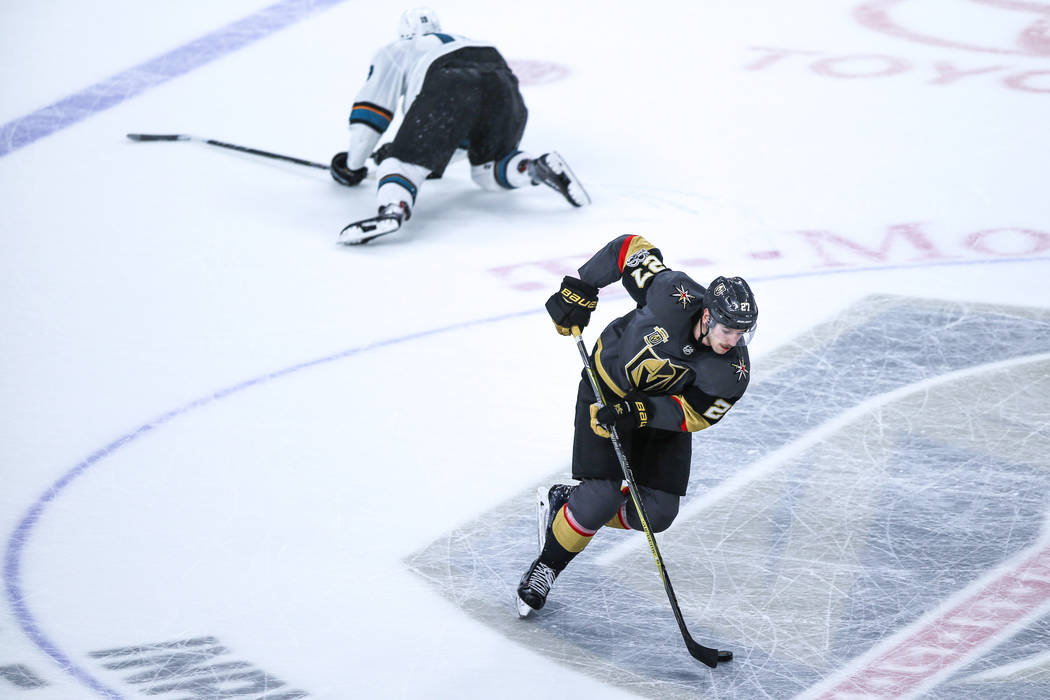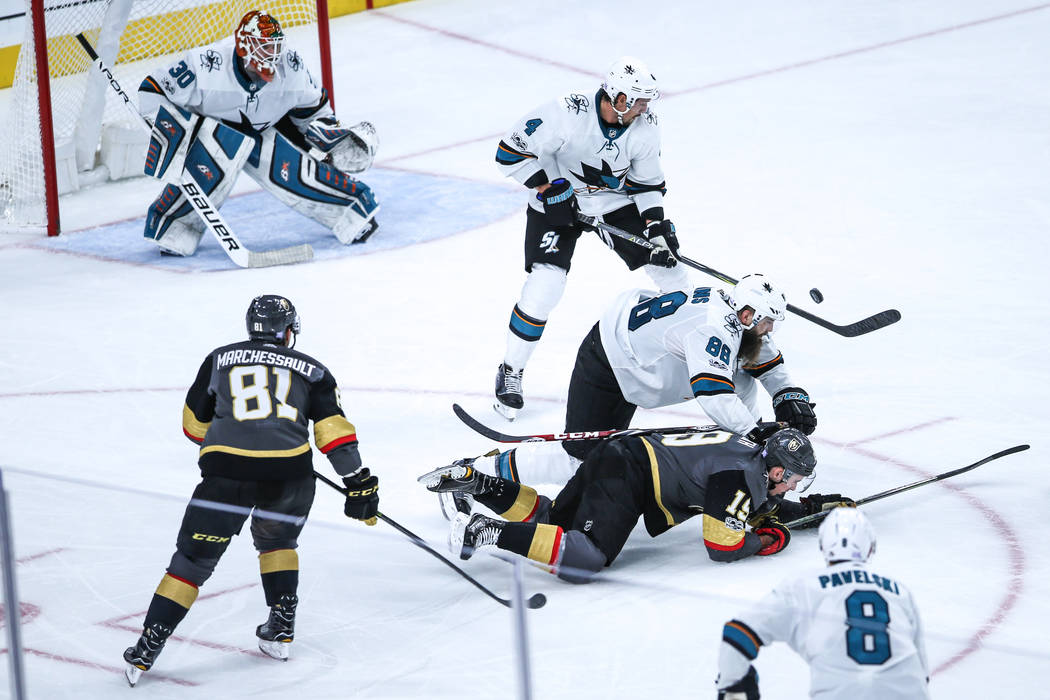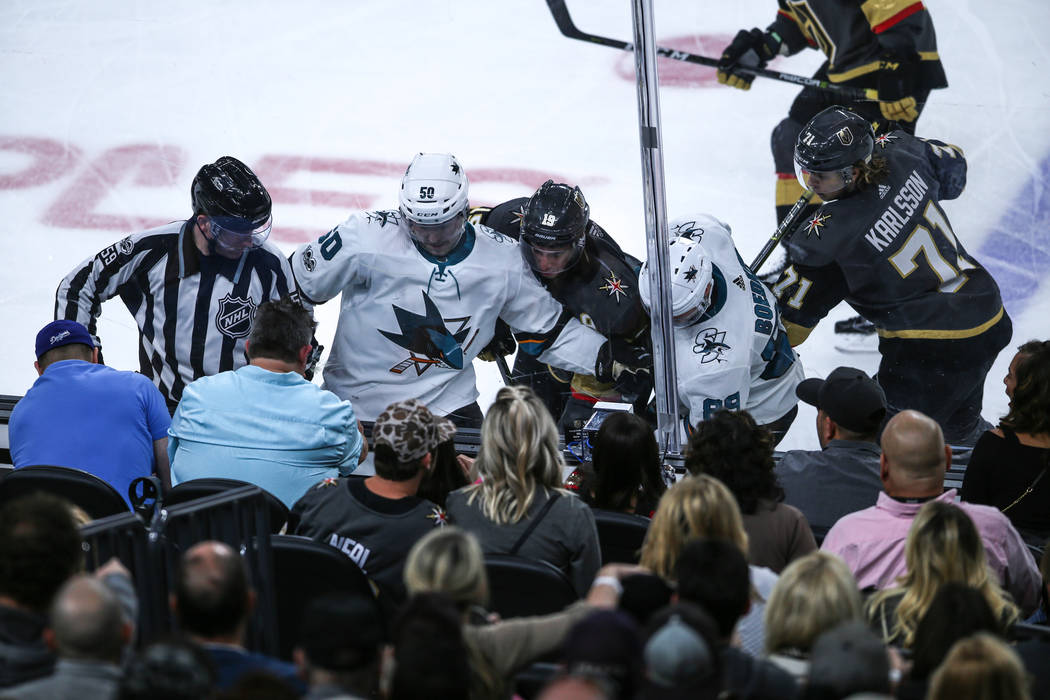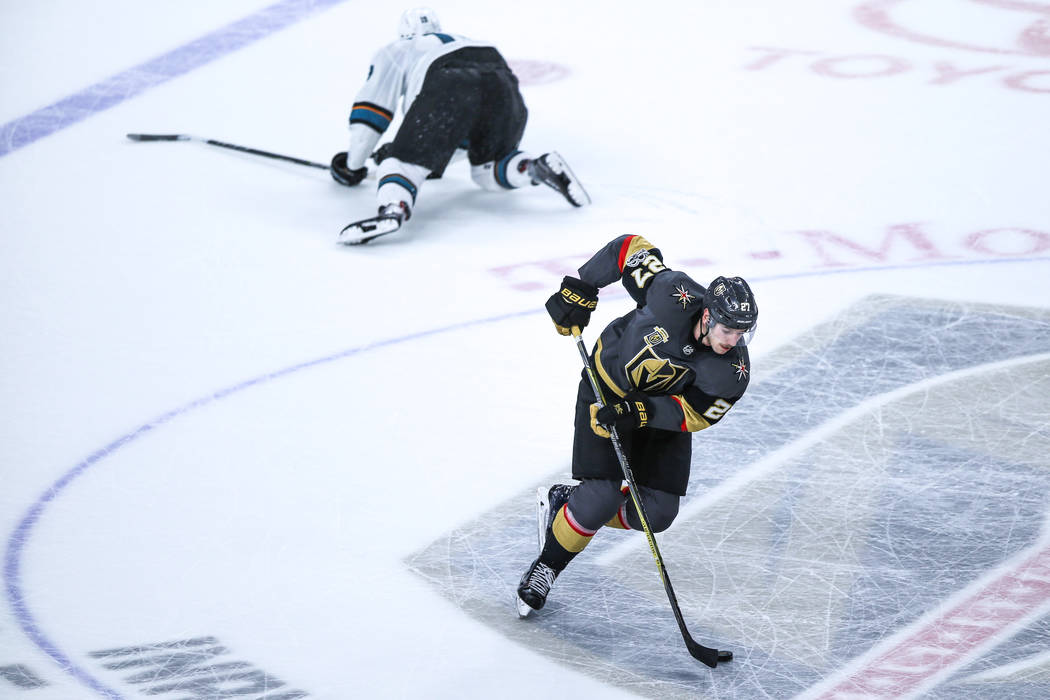 The message from San Jose Sharks coach Peter DeBoer has remained consistent all season.
Stick with it. The goals will come eventually.
Heading into Saturday night's home game against Winnipeg, the Sharks were 28th in the NHL in scoring (2.52 goals per game) and trying to stay afloat in the Pacific Division.
A combination of age, lack of depth in the organization and a struggling power play have conspired to turn San Jose from a Stanley Cup finalist in 2016 to a team fighting to make the playoffs this season.
"I think we knew when Patty Marleau left that we were going to have to replace some goals by committee," DeBoer said before Friday's 5-4 loss to the Golden Knights.
"When I look at our offense through (20) games, if we could get our power play to where we feel it belongs, that goal total is significantly better and we're probably not talking about it. But it hasn't been, and we've got to find an answer for that."
Marleau signed with Toronto after 19 seasons with the Sharks, and they've struggled to replace his 27 goals from last season.
Joe Thornton had offseason knee surgery, and the 38-year-old's two assists Friday marked his first multi-point game since Oct. 17.
Joe Pavelski, 33, is playing through an unspecified injury and went nine straight games without a goal heading into Saturday. Defenseman Brent Burns, 32, scored his first goal Friday after totaling 29, 27, 17 and 22 goals the past four seasons.
"From a 5-on-5 scoring point, our big guys have dealt with some injuries early and production-wise probably aren't where they feel that they should be, but we're starting to get some secondary scoring," DeBoer said.
The Sharks were fourth in the league in goals scored and third on the power play (22.5 percent) when they advanced to the Stanley Cup finals in DeBoer's first season as coach.
Last season, the Sharks again won 46 games, but were 19th in goals scored and slumped to 25th on the power play (16.7 percent) before an early playoff exit against Edmonton.
Those power-play woes carried over into this season. Entering Saturday's game, San Jose was tied for 25th in the league on the man advantage at 16.0 percent.
But the Sharks have remained within touching distance of the postseason wild-card spots thanks to their stingy defense.
San Jose is No. 1 in goals against (2.33 goals per game), and its penalty kill was No. 1 in the NHL until allowing two power-play goals against the Knights.
"I think our veteran guys know how to play that way," DeBoer said. "They've had success doing it, so I don't think it's new for those guys. But it's not easy playing with little margin for error. You let in a bad goal, you miss an assignment and you're potentially losing games. That's not a lot of fun to play that way, but our guys have embraced it and done a good job."
Price saves
Montreal goaltender Carey Price returned to the lineup Saturday against Buffalo after missing 10 games with what the team called a "minor" injury.
Price's return put a temporary end to a wacky stretch for the struggling Canadiens.
General manager Marc Bergevin's seat is at Flamin' Hot Cheetos levels of warmth, and the mystery surrounding Price's injury — he was hurt in pregame warmups Nov. 2 but played anyway — fueled several rumors among the Canadiens notoriously rabid fan base.
Price's wife, Angela, had to post on Instagram last week denying rumors that she was trying to force a trade. Or a divorce.
Meanwhile, the Habs are hoping Price can return to his Vezina Trophy form of 2014-15, rather than the guy who went 3-7-1 to open this season.
Montreal entered Saturday in sixth place in the Atlantic Division, five points out of a playoff spot.
Contact David Schoen at dschoen@reviewjournal.com or 702-387-5203. Follow @DavidSchoenLVRJ on Twitter.
Playoff bound?
The Knights surged to a 14-6-1 record and were on pace for 113 points through Friday, which would have made the playoffs every year since the NHL changed to the three-point game during the 2005-06 season.
2016-17
Flames (45-33-4) 94 points
Predators (41-29-12) 94 points
Missed playoffs
Jets (40-35-7) 87 points
2015-16
Predators (41-27-14) 96 points
Wild (38-33-11) 87 points
Missed playoffs
Avalanche (39-39-4) 82 points
2014-15
Wild (46-28-8) 100 points
Jets (43-26-13) 99 points
Flames (45-30-7) 97 points
Missed playoffs
Kings (40-27-15) 95 points
2013-14
Wild (43-27-12) 98 points
Stars (40-31-11) 91 points
Missed playoffs
Coyotes (37-30-15) 89 points