Shutouts becoming a habit for Capitals goalie Braden Holtby
Updated May 26, 2018 - 11:39 pm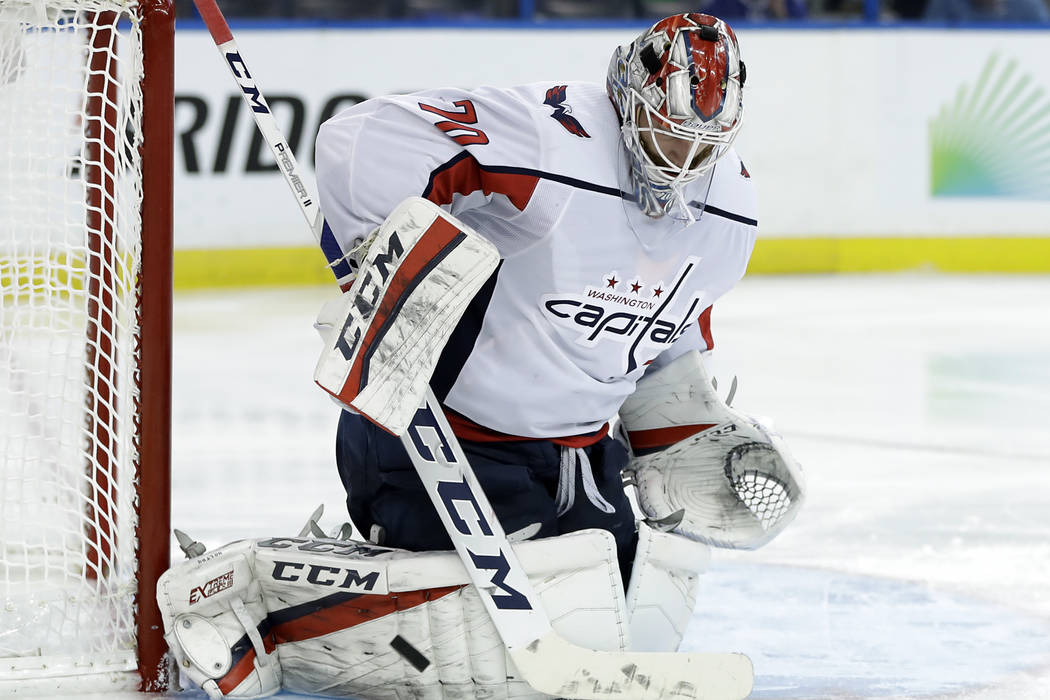 TAMPA, Fla. — Washington goaltender Braden Holtby recorded his first shutout of the entire season with his team facing elimination in Game 6 of the Eastern Conference Final against the Lightning.
He couldn't have asked for a better encore.
Holtby shut out Tampa Bay again in Game 7 on Wednesday to help lift the Capitals to their first appearance in the Stanley Cup Final since 1998.
Not bad for a netminder who was benched at the start of this postseason.
"I felt like (Tampa Bay) played an awesome game. We just had 'Holts' shutting the door back there," forward T.J. Oshie said after the Capitals advanced to play the Knights.
"We've always had all the confidence in the world in him. When he wasn't feeling it there for a bit, it was rare for us because he was on his game for about two and a half years straight. It was weird for us, but we knew he'd get his game back."
It's been a wild ride for the normally consistent 28-year-old Canadian.
Holtby was a Vezina Trophy finalist the past three years, winning the award as the top goaltender in the league in 2015-16.
He looked rather ordinary much of this season before a sustained slump over the last two months led to the decision to bench him in favor of Philipp Grubauer for the playoffs.
Holtby got the job back after the Capitals dropped the first two games of the opening round to Columbus. Washington won the next four games, before finally exorcising their postseason nemesis Pittsburgh in the second round.
Washington trailed the Lightning 3-2 in the series before Holtby turned hot. Before Game 6, his last shutout had come on April 5, 2017, and the last time he blanked an opponent in the playoffs was April 24, 2016.
Marc-Andre Fleury, who has never finished in the top five in Vezina Trophy voting, already has four shutouts for the Knights in this postseason.
Holtby has been outstanding since reclaiming the job, but insists his demotion didn't affect his attitude.
"I've been around long enough to know that you just have to be a good teammate," he said. "You have to work and set the right example and support your teammates. You prepare and when it's your turn to help the team in any way, you're ready. I think we as leaders on this team wanted to show the whole group you put egos out the window. We're here to win as a team no matter who gets credit."
The Capitals are winning and Holtby is drawing rave reviews.
"When he makes a big save, the energy on the bench is unbelievable," forward Alex Ovechkin said. "He saved a breakaway in the second period (of Game 7), and then bench was just all excited. I don't think they had any chance after that.
"He was a wall."
He'll need to be just as good, if not better, if the Capitals are to reach their ultimate goal of winning four more games.
"I've always thought a big part of your success if you want to win the Stanley Cup, you need your goalie to be your best player," Oshie said. "'Holts' is doing that for us right now."
More Golden Knights: Follow all of our Golden Knights coverage online at reviewjournal.com/GoldenKnights and @HockeyinVegas on Twitter.
Contact Adam Hill at ahill@reviewjournal.com or 702-277-8028. Follow @AdamHillLVRJ on Twitter.