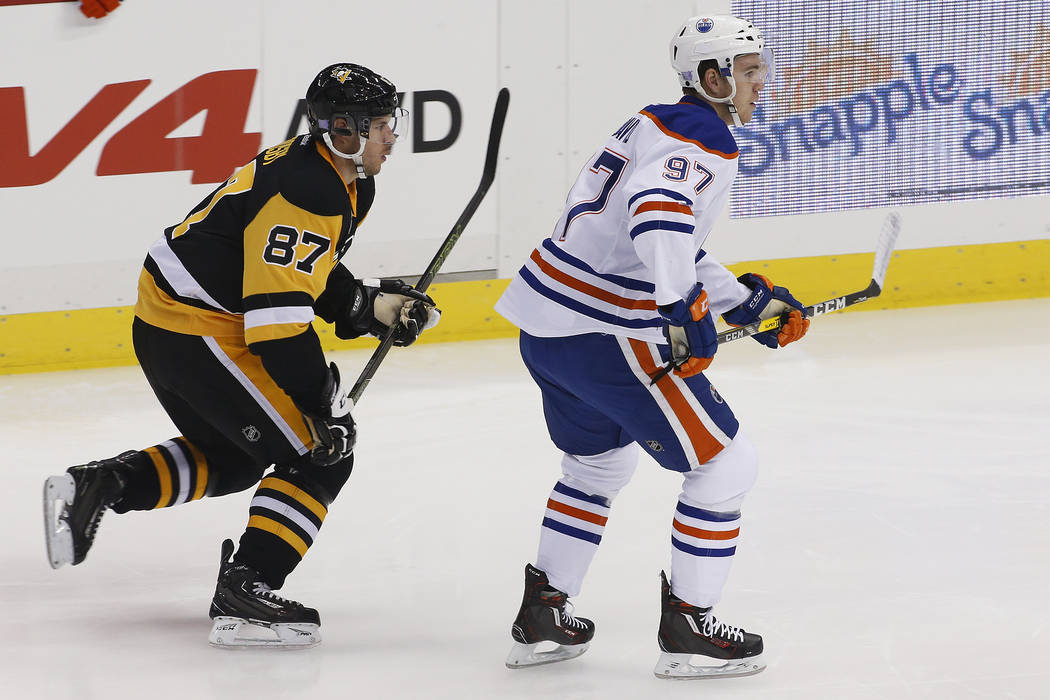 Considering this is the era of hot takes and "embrace the debate" — Disney or Pixar? Red Vines or Twizzlers? Are hot dogs sandwiches? — it's no surprise hockey has its own question to argue.
Sidney Crosby or Connor McDavid?
The Associated Press recently asked 30 NHL players to name the sport's best player, and Crosby came out ahead with 21 votes.
But in the TSN Top 50 player poll, McDavid was selected No. 1 by the Canadian cable network's panel of 22 experts. It was the first time in the eight-year history of the poll that Pittsburgh's superstar center wasn't ranked in the top spot.
So, who is better?
"I think that's fantastic to have those debates. That's what makes it fun," Golden Knights broadcaster Shane Hnidy said during a promotional appearance Friday for the NASCAR Truck Series race Saturday at Las Vegas Motor Speedway.
"But Sidney Crosby has earned that (NHL's best) with back-to-back championships and what he's been able to do and accomplish. His ability to work not only at what he's good at, but at what he needs to be better (at) — his all-around game is at its peak right now.
"He is in his prime and proving it. But Connor McDavid will have his time."
Crosby, 30, has been the league's consensus top player for much of his career, winning three Stanley Cups and the Hart Memorial Trophy as league MVP twice.
McDavid led Edmonton to the playoffs last season and is the reigning MVP. The 20-year-old phenom is the poster boy for the new NHL, which emphasizes speed and skill.
"McDavid's still new to it, but he's a dynamic player," Hnidy said. "One of the best ways I like to reference it is, McDavid will be (the NHL's best), but at this point right now, Crosby is coming off back-to-back Stanley Cups; he's the best player in the world, just for his all-around game.
"I think McDavid is the best offensive player in the world, just his sheer skill, his ability, his speed. I believe one day he will be the best. But I don't know if he's ready to leap Crosby yet."
Offside challenge
The NHL's Board of Governors approved a rule change last week that will make it tougher for coaches to challenge an offside call.
Rather than losing a timeout for a failed challenge, teams this season will be assessed a two-minute minor penalty. The threat of a two-goal swing is intended to prevent coaches from making frivolous challenges.
The rule came into play Thursday when Red Wings coach Jeff Blashill unsuccessfully challenged Alex DeBrincat's power-play goal with 11:44 to play that gave the Blackhawks a 3-2 lead.
Chicago went right back on the man advantage, and afterward, Blashill said he lost radio communication with his coaches in the press box and wouldn't have made the challenge during the regular season.
"There's been a lot of challenges, obviously, and they're trying to eliminate some of that," Knights coach Gerard Gallant said. "They want to make sure we're right. So, you're going to be penalized hard and there's going to be a lot of tough calls, and you better make sure you're right."
Boyle garners support
New Jersey center Brian Boyle could practice with the team for the first time this week, and the veteran still hopes to be ready for the Devils' season opener Oct. 7.
Boyle, 32, was diagnosed with chronic myeloid leukemia during a physical at the start of training camp.
"He's a well-respected guy throughout the league," said Knights defenseman Jason Garrison, who played two-plus seasons with Boyle in Tampa Bay. "You can tell by how much support he's had. It's a humbling thing to hear about, for sure."
Contact David Schoen at dschoen@reviewjournal.com or 702-387-5203. Follow @DavidSchoenLVRJ on Twitter.
Sidney Crosby vs. Connor McDavid
Crosby
Age: 30
Seasons: 12
Goals: 382
Assists: 645
Points: 1,027
McDavid
Age: 20
Seasons: 2
Goals: 46
Assists: 102
Points: 148