Social media still buzzing about William Karlsson's epic goal
Updated April 1, 2018 - 4:29 pm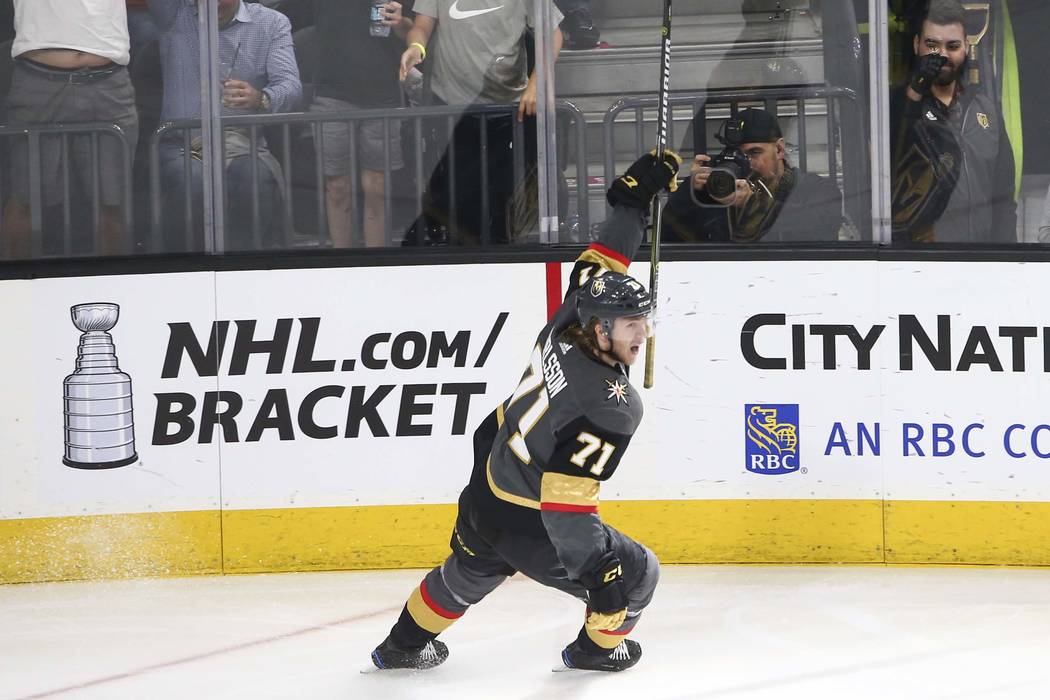 It wasn't just any goal.
It was a through-the-legs, top-shelf, division-clinching, ankle-breaking goal.
Social media on Sunday is still talking about William Karlsson's spectacular score that proved decisive in allowing the Golden Knights to clinch NHL's Pacific Division on Saturday night at T-Mobile Arena.
We believe San Jose Sharks goaltender Martin Jones will have surgery on both ankles sometime soon. It's just some of what they're saying about the goal on Twitter:
Deadspin is calling it the "goal of the year."
William Karlsson's shorthanded, unassisted, between-the-legs goal is one of this year's best: https://t.co/I3aGXJA2ps pic.twitter.com/del6JWGmec

— Deadspin (@Deadspin) April 1, 2018
NHL GIFs used all caps and made mention that it was a "shorty."
Not to mention it was a shorty. pic.twitter.com/LkDGGlIpis

— NHL GIFs (@NHLGIFs) April 1, 2018
It made NBC Sports California's Brodie Brazil, who does pre-game and post-game shows for the Sharks, break his rule to not acknowledge opponent goals.
I usually NEVER tweet opponent goals, but WOW this was one heck of an individual effort by William Karlsson, 42nd goal on the season. pic.twitter.com/alGKHeB1qJ

— Brodie Brazil (@BrodieNBCS) April 1, 2018
Carrlynn Bathe of Fox Sports West took to self-depricating humor to describe the goal.
Me if I tried to score that William Karlsson goal pic.twitter.com/zrGZMJeznF

— 🍦Carrlyn Bathe🍦 (@CarrlynBathe) April 1, 2018
The Golden Knights own Twitter account just described it with a bunch of cowboy emoji's, a tip of the hat to Karlsson's nickname, "Wild Bill."
🤠

🤠

William Karlsson broke the single season goal scoring record with his 40th of the season tonight

That mark was previously held by William Karlsson

🤠

🤠

— y – Vegas Golden Knights (@GoldenKnights) March 27, 2018
Former NHL enforcer George Laraque seemed to be in awe of the play.
Shorthanded game winning goal by Karlsson that clinch the 1st position in the Pacific division for Vegas! NHL goal of the year! https://t.co/RzshiwtdQO

— Georges Laraque (@GeorgesLaraque) April 1, 2018
Sports bookmaker Brian Blessing, who watches a lot of hockey, gave it his own accolades.
Shorthanded goal of the year nominee by Karlsson. 3-2 #Vegasborn @TMobileArena in a frenzy.#NHL pic.twitter.com/f7mqAK2v67

— Brian Blessing (@BrianBlessing) April 1, 2018
One fan was particularly upset that the goal was not No. 1 on ESPN's SportsCenter Top 10 plays on Saturday night.
How did some lame ass soccer goal get SC #1 play over Karlsson's between the legs, short handed, game winning, Pacific division clinching goal last night!?

— x – Matt Gutierrez (@SportsAdrenalin) April 1, 2018
And NBC Sports California reported that Sharks captain Joe Pavelski took the blame for giving up Karlsson's breakaway.
Joe Pavelski talks about tonight's loss and the short-handed goal by Karlsson

"Our mistakes were big…" pic.twitter.com/Y2sK5IwoW4

— Sharks on NBCS (@NBCSSharks) April 1, 2018
Even former Florida Panthers goalie Robert Luongo had a take that will get the attention of Chicago Blackhawks fans.
Scott Foster stops that while filing his client's tax returns https://t.co/DwmMP1lrzi

— Strombone (@strombone1) April 1, 2018
By the way, that goal also was Karlsson's 42nd of the season and tied him with Tampa Bay Lightning 1992-93 player Brian Bradley with the most goals in the first year with an expansion franchise.
He has three more games to break that mark.
More Golden Knights: Follow all of our Golden Knights coverage online at reviewjournal.com/GoldenKnights and @HockeyinVegas on Twitter.
Bill Bradley can be reached at bbradley@reviewjournal.com or 702-387-2909.