Sports books don't expect betting ban on NHL's Las Vegas team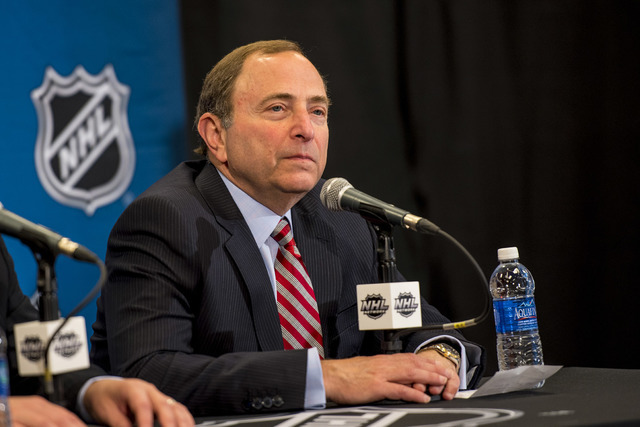 Apparently, his last name is not false advertising. Gary Bettman is a betting man.
The NHL commissioner is gambling on Las Vegas, finally signing off on the deal to put the first major league franchise on the Strip. The specter of dealing with legal sports wagering — something that scared off other leagues for several years — no longer seems to be a problem.
All signs point to the NHL showing a willingness to play by Las Vegas' rules. There has been no hint of the league requesting a betting ban on the local team.
Jay Rood, sports book director for MGM Resorts, which owns the team's new T-Mobile Arena, said he's not aware of discussions regarding any type of betting blackout.
"I would think if the NHL is coming to Vegas, they would embrace it," Rood said. "My opinion would be that we should go ahead and book it. We don't have an ownership interest. It's just a facility relationship."
Westgate sports book director Jay Kornegay is a hockey fan, and he believes the Las Vegas team will be a successful venture.
But in no way is he ready to entertain the idea of not booking the games. He sees it as an unnecessary concession.
In 2001, the Nevada Gaming Commission lifted a long-standing betting ban on the state's college teams. That action was in response to the NCAA's endorsement of a bill headed for Congress that would prohibit wagering on college sports.
The state's sports books began accepting bets on UNLV and UNR basketball and football to help exhibit the integrity of regulated wagering.
"I would hope there would be no such restrictions because we would be sending the wrong message," Kornegay said. "We have been booking UNLV and UNR games for almost 15 years now. It would not make sense at all to book local colleges and not the pro team.
"We should have our local college teams on the board. There's nothing wrong with that. It's just another game. It doesn't attract more attention than any other game.
There has not been a problem in 15 years, and I certainly believe there would be no problems booking a local pro team. I certainly believe we should have the NHL team on the board."
It might not be an issue at all. The debate is anticipatory, with the expectation that NHL representatives could raise concerns before the Las Vegas team hits the ice in 2017.
"I have not heard the possibility of some kinds of restrictions or guidelines," Kornegay said.
Brian Blessing, a Las Vegas radio host who formerly covered the Buffalo Sabres, is confident the NHL does not fear a closer relationship with sports books.
"I've said all along, don't bring the team here if you take betting off the board," said Blessing (Sportsbookradio.com). "But I can't believe they would even go down that road."
In reality, hockey could use the bump it would get if the sport becomes more popular with bettors. Most bookmakers say hockey accounts for only about 2 percent of the annual wagering handle.
"It's a very small percentage," Kornegay said. "If the percentage of our handle on hockey is 2 percent, I can't imagine it being over 3 percent with a local team. I think it would be a very small boost.
"I think the team is going to have a very solid fan base, but the interest and handle at the betting windows won't see a significant increase, even though I do believe the local market will support the team."
Blessing is more optimistic. He talks a lot about the NHL, unlike most radio hosts who ignore it, and he's guessing it will catch on with the betting public.
"More people will start following it. Everybody is going to pay more attention to it," Blessing said. "Maybe it's not dramatic, but I would think (the handle) has to go up. Once there are games here, with the Chicago fans and L.A. fans coming in, maybe 2,000 more people put a bet on the game."
The inevitable next step is to wonder how far fans will take it. With phone accounts widely available and in-game wagering offered by most books, will fans in the arena be betting by phone between periods?
Why not? It's legal. And the NHL has an opportunity to get ahead of the wagering curve.
NBA commissioner Adam Silver has made it clear he understands the potential benefits betting can offer. Betting and fantasy leagues keep fans more in tune with the games.
Bettman will be the first commissioner to experience it up close.
As Rood said, "The interest level and attendance would be so much better if people can make a bet and go to the game."
Contact reporter Matt Youmans at myoumans@reviewjournal.com or 702-387-2907. Follow him on Twitter: @mattyoumans247

NHL in Vegas
Complete coverage of hockey in Las Vegas