Stanley Cup chase continues to fuel Golden Knights GM George McPhee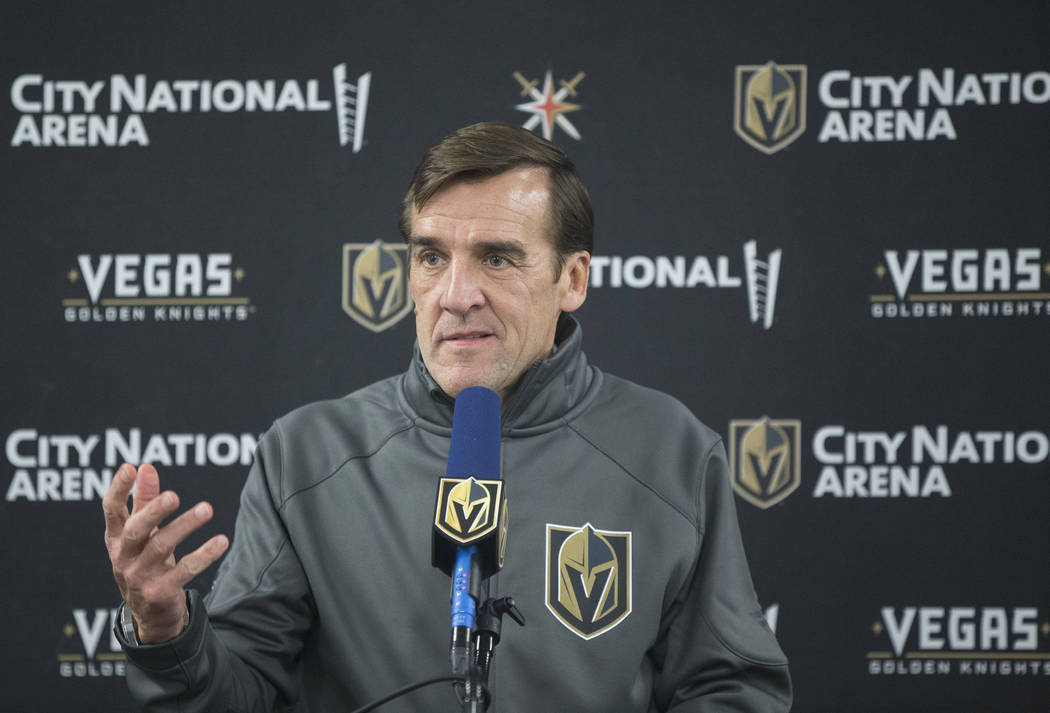 The sound of George McPhee's finger tapping on his desk can be heard on the other end of the phone. He's becoming impatient.
This is when McPhee normally shuts down, preferring to keep details of his job private. But on occasion, the Golden Knights general manager offers a glimpse behind the curtain.
And this was one of those rare times.
"I remember going to a (Bruce) Springsteen concert once and he came out and the place went wild and he performed and they went wild all concert long," McPhee said. "And then he closed and it was euphoric, and it almost felt like, 'This must be what it's like to play in the seventh game of the Stanley Cup finals knowing you're going to win.'
"Springsteen's going to win every night."
Unlike "The Boss," the man in charge of the Knights lives in a constant state of nervousness.
McPhee is the consummate worrier.
He agonizes the hour before every game. Until the first-year club clinched the Pacific Division title, he spent much of the season fearing it would all "turn to dust."
"You almost feel like you're this jockey on this massive animal and sort of responsible for developing it," he said, "but how it behaves or performs, sometimes things get in the way. Sometimes it's out of your control."
But that anxiety also serves as fuel for the intensely competitive McPhee.
The Western Conference champion Knights begin their second season at 7 p.m. Thursday when they host Philadelphia at T-Mobile Arena.
And the 60-year-old reigning GM of the Year will not relax until he brings a Stanley Cup to the NHL's newest city.
"From a management standpoint, I'm always nervous before the season, hoping that the right decisions were made for the team," McPhee said. "Maybe when you're younger, you're in this because you love the sport … and you want to win because it must be really neat to win.
"I think as you get a little older, you really understand what it's all about, and delivering something like this to your community — you're serving this community and you delivered. You did your job. That would feel great."
'Deep thinker'
McPhee was raised in a blue-collar family in Guelph, Ontario, and decided early in his hockey career he wanted to be the first person in his family to attend college in the U.S.
"I thought education was maybe a way out or a way to a better life," he said.
McPhee starred at Bowling Green and won the Hobey Baker Award, given to college hockey's most outstanding player, as a senior in 1982.
Despite going undrafted, McPhee spent parts of seven seasons with the New York Rangers and New Jersey Devils and was regarded as one of the toughest players in the league despite standing 5 feet, 9 inches tall and weighing 170 pounds.
His feisty nature also carried over to the front office.
In 1999 while he was general manager of the Washington Capitals, McPhee confronted Chicago coach Lorne Molleken following an exhibition game that featured five fights and 113 minutes in penalties.
Angered by what he perceived as dirty play by the Blackhawks, McPhee punched Molleken in the face, sparking a full-scale melee outside Chicago's locker room. McPhee was suspended for one month and fined $20,000 by commissioner Gary Bettman.
"If you go back to his career as a player, that was a big part of what made him an NHL player," Knights assistant general manager Kelly McCrimmon said. "A lot of people in the hockey industry, that competitiveness is what draws people to sports. And in George's case, it's a big part of who he is today."
The competition draws McPhee to the job, and despite the accompanying tension, it also provides what he calls "intellectual stimulation."
During the tail end of his playing career with the Rangers, McPhee interned on Wall Street. He graduated from Rutgers law school in 1992 and also served as a clerk for a judge with the U.S. Court of International Trade.
"He seems like he's a real deep thinker," Los Angeles Kings general manager Rob Blake said. "I don't think he's going to rush into any decision. He's going to make sure he understands all the information on both sides before he makes a decision."
McPhee spent 17 years in Washington and won seven division titles, but he was fired in 2014 after the Capitals missed the playoffs for the first time in seven seasons.
At the time of his dismissal, McPhee was the third-longest-tenured general manager in the NHL. The average tenure in that job as of 2016 was 5½ years, according to healthgeomatics.com.
McPhee spent one season as a special adviser with the New York Islanders. When he was hired by the Knights in 2016 from a pool of seven candidates, the expansion process provided a new puzzle to solve.
"He put together a diverse group of people and brought them together with a common philosophy," owner Bill Foley said. "What he really has done is he's very analytical and he listens to his scouts in terms of what we're looking for and what they would bring to the operation. He really understands where we may be lacking and where we may be strong and tries to figure out who is the person to make our team better."
Chasing a championship
Cody Eakin has a long history with McPhee.
Eakin was drafted by Washington in the third round in 2009 and was traded by McPhee to Dallas three years later.
When he was selected by the Knights in the expansion draft, Eakin knew what to expect from the general manager.
"He's a competitor, man," Eakin said. "He'll fight for you every chance he can. That's the kind of guy you want to play for. I've been extremely lucky to play on two different clubs with him."
McPhee's mastery of the expansion draft instantly turned the Knights into a Stanley Cup contender for the foreseeable future.
And he spent the offseason upgrading after the Knights finished 51-24-7 and set an NHL record for points by an expansion team with 109.
McPhee added a five-time 30-goal scorer (Max Pacioretty), a proven second-line center (Paul Stastny) and a steady defenseman (Nick Holden).
"I can't imagine that there'd be many people that could accomplish what he has here," McCrimmon said. "Again, there's lots of tremendously capable people working in the National Hockey League. But when you look at the broadness of the challenge of building the entire organization, that takes a great deal of experience. That takes a great deal of insight. That takes great understanding of people. That takes any number of traits that are acquired to put something like this together.
"It's leadership, and that's where, for me, George separates himself. He's got great leadership ability, and that's what this job required."
But that's not enough to satisfy McPhee.
His finger is tapping the desk once again, and it's not likely to stop until he delivers a championship.
"What we're looking forward to with this team is, what kind of growth will we have from one year to the next, individually and collectively?" McPhee said. "It's an amazing sort of experience to go through every night. You do it year after year after year, it doesn't get any easier. I don't know that you ever get used to it.
"I think that's what keeps you competitive and keeps you on your toes. That sort of never giving in, never giving up, trying to put a good team out there."
More Golden Knights: Follow all of our Golden Knights coverage online at reviewjournal.com/GoldenKnights and @HockeyinVegas on Twitter.
Contact David Schoen at dschoen@reviewjournal.com or 702-387-5203. Follow @DavidSchoenLVRJ on Twitter.
George McPhee bio
Title: Golden Knights general manager
Age: 60
Birthplace: Guelph, Ontario
Experience: vice president, director of hockey operations, Vancouver Canucks (1992-1997); general manager, Washington Capitals (1997-2014); special adviser to the general manager, New York Islanders (2015-16)
Playing experience: forward, New York Rangers, 1982-87; forward, New Jersey Devils, 1987-89
Family: wife, Leah; children, Adelaide, Graham and Grayson