Suspended Nate Schmidt practices for Golden Knights
Updated November 7, 2018 - 6:21 pm
OTTAWA, Ontario — Nate Schmidt sent a group text message a week ago, cautioning his Golden Knights teammates that the volume at practice and in the locker room was about to get cranked up.
"These guys aren't going to have a whole lot of silence here the next 10 to 12 days," Schmidt said.
The gregarious defenseman, who is serving a 20-game league suspension for testing positive for a performance-enhancing substance, was reunited with the Knights on Wednesday and wasted little time making good on his promise.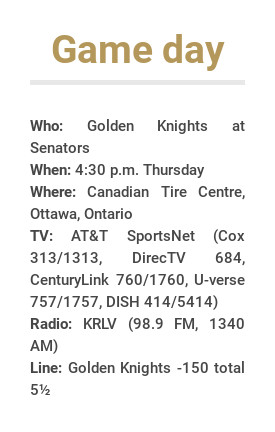 Schmidt participated in practice at Canadian Tire Centre, and his voice could be heard throughout the arena during the 45-minute workout.
"I think they put (my locker) over here for a reason with no one else around me so that I wouldn't chew anybody's ear off this morning," said Schmidt, who spoke publicly for the first time since the suspension. "It's just awesome to be back with the guys."
Schmidt skated with the Knights during training camp then spent the past month practicing with the Vienna Capitals, a professional team in Austria, while serving his suspension.
Suspended defenseman Nate Schmidt is back at Golden Knights practice. He is eligible to play starting Nov. 18 at Edmonton. #VegasBorn pic.twitter.com/NtGx1vd8J5

— David Schoen 📰🗞🏒 (@DavidSchoenLVRJ) November 7, 2018
The league's collective bargaining agreement permits players to return to their team 10 days prior to the conclusion of the suspension. Schmidt is eligible to play starting Nov. 18 at Edmonton.
"I was happy to see Nate back," coach Gerard Gallant said. "We love Nate. He's the heartbeat of the dressing room in there, and the guys love having him back and having him around. It was really good to see him."
Schmidt's presence provided a timely lift for a team that has lost five of its past seven , including Tuesday's 3-1 setback at Toronto.
The Knights (6-8-1) sit two points out of last place in the Pacific Division entering Thursday's game against the Ottawa Senators.
"He was talking lots, as he always does, and hyper as ever, but it's great to have him back," defenseman Colin Miller said. "He always brings that positive energy and a smile on his face, so it's great to see him."
Schmidt maintained his innocence Wednesday, while also accepting his share of responsibility for the suspension.
The CBA prevents Schmidt from disclosing the substance for which he tested positive, but he said he does not know how it got into his system.
Schmidt cited "environmental contamination" in his statement that was released Sept. 2 by the NHL Players' Association and implied that again Wednesday.
"About a month ago, I got to go hunting at home," Schmidt said. "I got myself a deer, and that's where my meat will be coming (from) for the foreseeable future."
Schmidt also declined to disclose when he tested positive — "I've gotten fined enough in the last month and a half," he said — but alluded to the issue hanging over his head during the Knights' run to the Stanley Cup Final.
"You worry about the things you can," Schmidt said. "The whole time you go through it, it's tough. No matter what you do, you think about it. Try and walk away, try and go home and make dinner and do this or that, it still comes up as much as you try to live your life."
Schmidt signed a six-year, $35.7 million contract extension Oct. 24 while he was in Vienna.
The long-term deal was a relief for Schmidt, who would have been an unrestricted free agent after the season and worried whether the suspension would affect his bargaining power.
"To have that type of backing from a guy (general manager George McPhee) that I have a lot of respect for, and to have it be there — our practices in Vienna were pretty tough — it's almost a scrap of good news," Schmidt said. "Words aren't just to be said, they're backed up by actions as well."
Schmidt said it was difficult for him to watch Knights games, which often start at 3 or 4 a.m. in Vienna.
He also downplayed his impact once he returns, but referred to himself as "Novocain" that can help dull the pain of the slow start.
"I think right now it's been a tough schedule, it's been a tough go for our guys," Schmidt said. "No one guy is going to change anything. But I think on the ice and in the locker room, I think I can help the atmosphere out a little bit when things happen. I'm fresh. I feel great."
More Golden Knights: Follow online at reviewjournal.com/GoldenKnights and @HockeyinVegas on Twitter.
Contact David Schoen at dschoen@reviewjournal.com or 702-387-5203. Follow @DavidSchoenLVRJ on Twitter.
Three storylines
1. Stay healthy. The Knights had the minimum 12 forwards and six defensemen at practice Wednesday. Barring any reinforcements arriving from the American Hockey League, the club can't afford any more injuries with two games remaining on the road trip.
2. Special teams work. The Knights spent a large portion of their time at practice working on the power play. The unit is tied for last in the league with Nashville at 11.8 percent (6-for-51), and there could be changes in personnel. William Karlsson was working with the No. 2 group Wednesday.
3. Up and down. The Senators recovered from their Uber video scandal to rout New Jersey 7-3 on Tuesday behind a five-point game from Mark Stone. Goaltender Craig Anderson left with five minutes remaining in the third period with an undisclosed injury, but coach Guy Boucher said he will start against the Knights.
David Schoen Review-Journal