Team speed puts Golden Knights on verge of sweep over Kings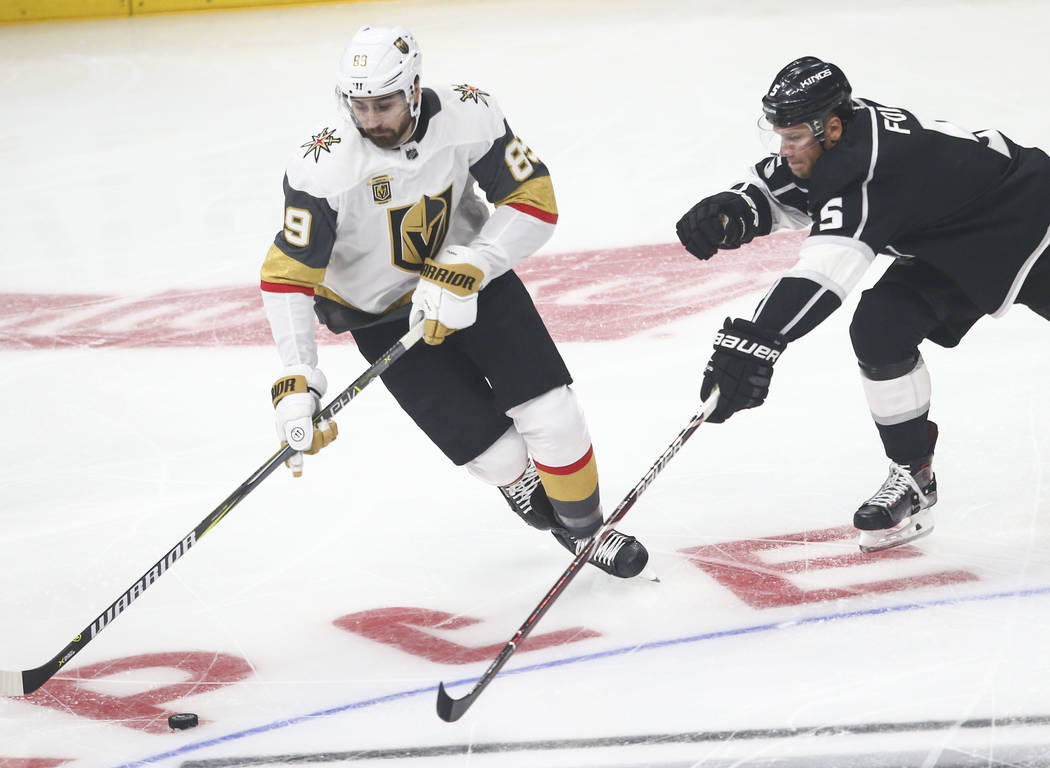 LOS ANGELES — Jonathan Marchessault's philosophy on winning in the playoffs is similar to the refrain of that old TV commercial about eating a Reese's Peanut Butter Cup.
There's no wrong way to do it.
But the Golden Knights forward does prefer one method over the other.
"We want to be a fast team," he said Monday. "And I would rather be a fast team than a heavy team in 2018. That's what we have."
The prevailing storyline at the start of this Western Conference quarterfinal series was whether the Knights, who relied on their speed to capture the Pacific Division title, would hold up to the physical pounding that historically comes with playing in the postseason.
So far, the answer has been clear.
The Knights own a 3-0 lead over the Los Angeles Kings and can become the first franchise in NHL history to sweep a Stanley Cup playoff series in its inaugural season (excluding total-goals series featured prior to 1936-37) at 7:30 p.m. Tuesday at Staples Center.
"I think just in general, the game over the last three, four years is all about speed," said wing James Neal, who scored the go-ahead goal Sunday in Game 3 with 5:37 remaining in the third period.
"You've got to be able to play a combination of games in the playoffs. We can play a fast game, but we also play a physical game, as well. We're out there giving it back just as much as we get it. You've got to do both if you want to move on."
The Kings used their tight-checking style to capture Stanley Cups in 2012 and 2014, but they haven't won a playoff series since.
And through the first three games of this series, they've been unable to log enough time in the offensive zone to wear down the smaller, quicker Knights.
Dustin Brown, the Kings' second-leading scorer in the regular season, has one assist. Norris Trophy candidate Drew Doughty is scoreless in two games, while center Jeff Carter's line has yet to produce a point.
Similarly, San Jose's team speed has made Anaheim look pedestrian in their series as the Sharks own a 3-0 lead.
It's been Google Fiber against a dial-up modem.
Snapchat over MySpace.
Speed rules in 2018.
"I think this is the way the game is going. You have to have a mixture," defenseman Nate Schmidt said. "Your big guys have to be able to skate, have to be able to move, have to be able to create chances. You have to have four lines of guys that can play.
"And I hate to use them … but Pittsburgh, they've been able to roll their four lines over of guys that can score. I think if you're not trying to model your game after the new age, what they're trying to do, they're the team that's won the last two years; I think that's the way it's going to have to be."
The Knights rope-a-doped their way to a 3-2 victory in Game 3, as they withstood 28 hits from Los Angeles in the first period and became the third team in NHL history to win their first three playoff games.
But they expect Los Angeles' best effort of the series on Tuesday. The Kings rallied from a 3-0 series deficit against San Jose in the opening round on the way to the Stanley Cup in 2014 and are one of four franchises in history to overcome a three-game deficit.
"There's a lot of new players in that room, but the core has done it," Knights defenseman Brayden McNabb said. "It's going to be hard to finish this series out. Every game's been really tight, and it's going to be a battle. We've got a long ways to go here yet. We can't get ahead of ourself. We have to play hard and do everything we've been doing to try to finish it."
Contact David Schoen at dschoen@reviewjournal.com or 702-387-5203. Follow @DavidSchoenLVRJ on Twitter.
Three storylines
1. Finish it off. The Golden Knights were the first team to clinch their division, and they can become the first team to move into the second round of the postseason with a victory. The Kings, of course, famously came back from a 3-0 hole in 2014 before winning the Stanley Cup.
2. Stay disciplined. The Knights took six minor penalties in Game 3, matching their high during the regular season. Los Angeles has nothing to lose Tuesday and the Knights can't get baited into giving the Kings chances on the power play.
3. Canceled out. Los Angeles had the No. 1 penalty-killing unit in the regular season and killed 10 of 11 chances in the postseason. But the Knights have matched that effort, preventing the Kings from getting back into the series.
David Schoen Review-Journal