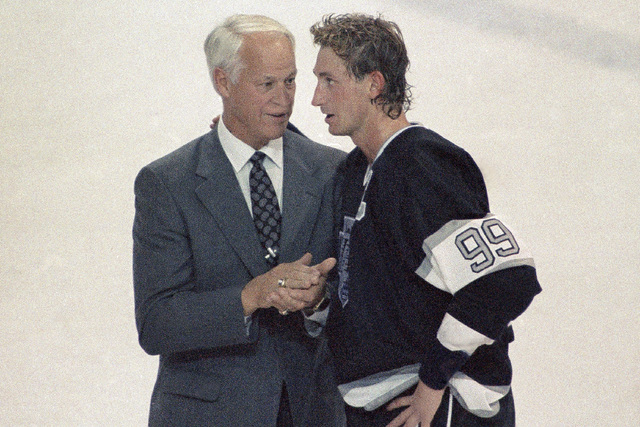 LOS ANGELES — Three guys are sitting at a podium talking hockey. Someone asks if any of them considers himself the greatest player of all time.
Wayne Gretzky, one of the three, didn't hesitate.
"Gordie," he said, referring to Gordie Howe.
Bobby Orr and Mario Lemieux, the other two legends, concurred.
"It's Gordie," Orr said. "I'm not sure we'll ever see another one."
"He was the best," Lemieux said of Howe, who died in June at age 88. "He was a special player. He could play any way you wanted out there."
The three shared their thoughts before the NHL released its list of its top 100 players of all time. The list, unveiled Friday as part of the NHL's Centennial Celebration, did not rank the players 1 to 100. On Jan. 1, the first 33 were revealed. On Friday, the other 67 were named. Among the 67 were Gretzky, Orr and Lemieux. Howe was on the list of 33.
The top 100 was chosen by a panel of 58 hockey writers and broadcasters, former players and executives.
"Listen," Gretzky said, "we talk about this all the time. That's what makes sports great, and that's what makes hockey wonderful. I think we're all pretty much in agreement that Gordie was pretty special."
Gretzky then turned to Orr and Lemieux and said, "These two guys here were pretty special, too."
Gretzky, who holds 60 NHL records, including most goals in a season (92) and points in a season (215), said he doesn't deserve the credit he gets for having made the NHL successful in Southern California and extending to other markets such as San Jose, Florida, Texas and Arizona.
"I've said it before, I came at the right time," Gretzky said. "Everybody had a hand in it, and timing is everything.
"I was a small part of it, as was Bobby in the '60s in Boston, as was Gordie in the '50s and '60s in Detroit. Everybody had a hand in it."
Orr, who revolutionized the position with his rink-long rushes that helped the Boston Bruins win two Stanley Cups, had his 12-year career cut short by injuries. But he said he wouldn't have minded sharing the ice in a 3-on-3 format with Gretzky and Lemieux.
"I would have liked it," he said. "I don't know if I would have wanted to play against them. If I had any disappointments, I probably wish I could have played a little longer."
Lemieux, who revived the Pittsburgh Penguins' fortunes in the late 1980s and helped win two Stanley Cups as a player, has won two more as an owner. He also has on his payroll the player considered the best in today's NHL — Sidney Crosby.
"He wants to win; he wants to be the best," Lemieux said. "His passing ability is probably the best in the league, and his vision is also one of the best. He's just a special player that comes along not too often."
Gretzky said of Crosby: "He's the best player in the game. He's earned that mantle, and his work ethic is as good or better than anybody in hockey.
"I know Bobby is close to Connor (McDavid), and Connor seems him in his vision. But right now, Crosby is the best player, and you have to earn your stripes. Until someone knocks him off the castle, that's the way it's going to be."
Gretzky said he's humbled to be part of the Top 100. And when someone asked what it would take to break his record of 92 goals, Gretzky said with deadpan humor — "93."
Contact Steve Carp at scarp@reviewjournal.com or 702-387-2913. Follow @stevecarprj on Twitter.