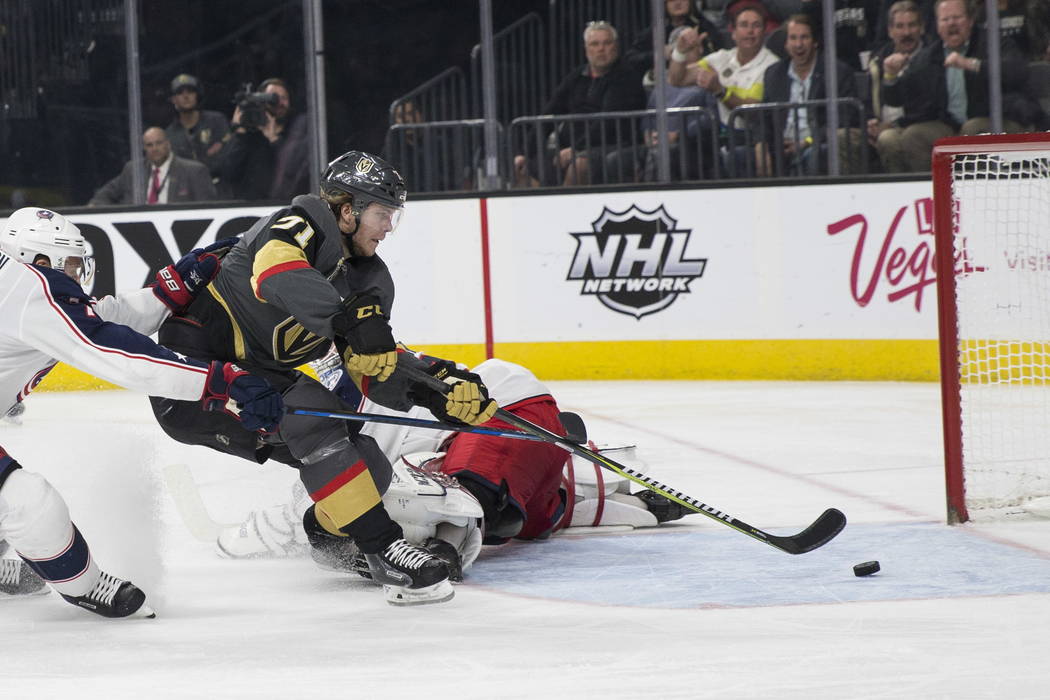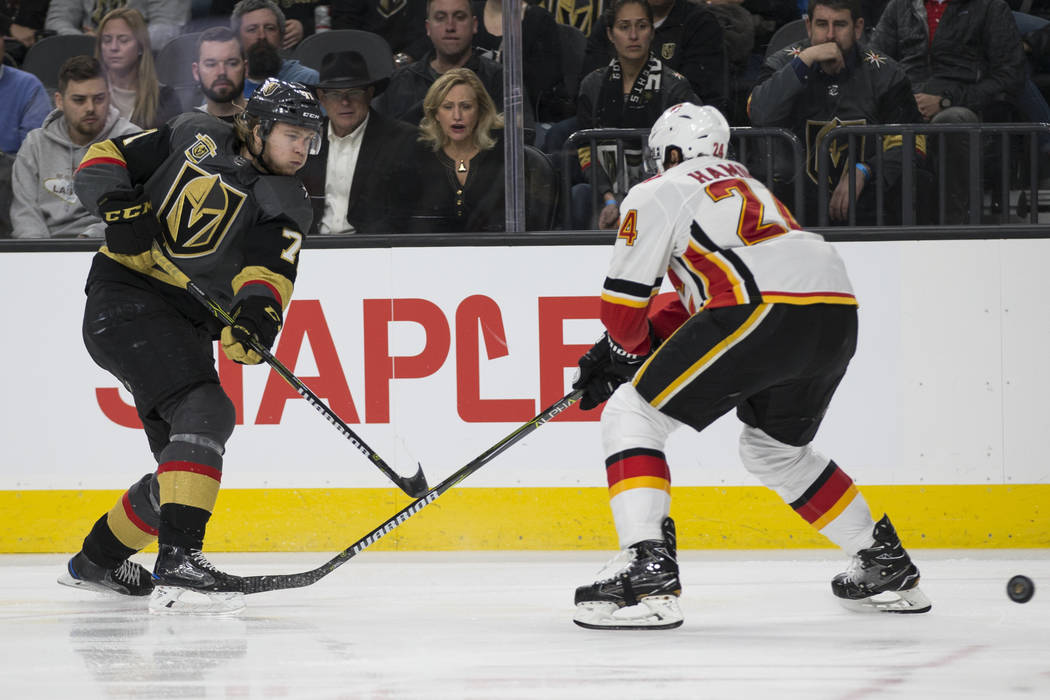 COLUMBUS, Ohio — When William Karlsson steps onto the ice Tuesday for the first time since leaving the Columbus Blue Jackets, people will no doubt be surprised at the 35 goals he has scored for the Golden Knights.
After all, Karlsson scored just 16 goals in two-plus seasons with the Blue Jackets. But as good as the 25-year-old Karlsson has been offensively — and he's having a career season — his defense has not suffered at the expense of beating opposing goaltenders.
He leads the NHL in plus/minus with a plus 39. The statistic measures a player in even-strength situations; when his team scores, it counts as a plus, and when his team is scored upon, it's a minus.
Karlsson has been an excellent penalty killer working with linemate Reilly Smith, helping to pick up opposing forwards, regain control of the puck and transition the Knights from defense to offense.
"It's something I take a lot of pride in," Karlsson said. "I've always tried to play both ends of the ice and maybe with all the goals I've scored, my defense gets overlooked sometimes."
Not by Knights coach Gerard Gallant.
"He's an honest hockey player," Gallant said of Karlsson. "He doesn't cheat the game. He's always in the right position and he makes plays all over the ice."
Karlsson's defensive prowess should put him in the conversation for the Selke Trophy, which goes to the NHL's top defensive forward, along with the Lady Byng, which is given to the most gentlemanly player. Karlsson is among a handful of players in the league with fewer than 10 penalty minutes, having been whistled for only eight in 65 games.
"I've always tried to be a student of the game and learn," Karlsson said. "You always want to get better as a player, and for me playing good defense is part of being a complete player.
"I think I read the play pretty well and anticipate what they're going to do and it helps me a lot, where to position myself when they have the puck."
Karlsson said his teammates have played a big part in his strong defensive play as the Knights take a 42-18-5 record and 89 points into Tuesday's game with the Blue Jackets (33-28-5, 71 points).
"I think we clicked right away," he said of playing with Smith (plus 34) and Jonathan Marchessault (plus 32), who are right behind Karlsson in plus/minus at Nos. 2 and 3 among the NHL leaders. "On the penalty kill, I think we've worked together pretty well and we're both pretty quick."
Karlsson said winning awards in June would be nice, but it's not his focus. He's a restricted free agent at the end of the season, and as he builds his numbers and the Knights keep winning, his value only increases. Karlsson, who was plucked from Columbus in June's NHL expansion draft, is making $1 million in the final year of his contract.
"If I had any defensive flaws, I probably worked on them in my two years with Columbus," Karlsson said. "I was in a defensive role there and it helped me become a two-way player, trying to take care of our end, then try to score."
Karlsson said playing good defense is more of a mindset than anything else.
"It's no fun when the other team has the puck," Karlsson said. "You do what you can to knock them off the puck and go the other way. If you get them off the puck and you get the puck, it's way more fun."
Contact Steve Carp at scarp@reviewjournal.com or 702-387-2913. Follow @stevecarprj on Twitter.
Game day
■ Who: Golden Knights at Blue Jackets
■ When: 4 p.m. Tuesday
■ Where: Nationwide Arena, Columbus, Ohio
■ TV: AT&T SportsNet (Cox 313/1313, DirecTV 684, CenturyLink 760/1760, U-verse 757/1757)
■ Radio: KRLV (98.9 FM, 1340 AM)
■ Line: Golden Knights -110; total 6 under -120
Three storylines
1. Staying on track. The Knights snapped their three-game losing streak Sunday in New Jersey. Can they build on that momentum for the second of the team's five-game Eastern Conference road trip? Marc-Andre Fleury is coming off one of his best games of the season and he'll likely remain in net.
2. Playoff hockey. The Blue Jackets find themselves in a battle to make the playoffs. Columbus was the second wild card team in the Eastern Conference heading into Monday's play, but only a point ahead of the Florida Panthers.
3. Defense chips in. When the Knights' defensemen are active in the offensive end, it usually means success. Sunday, four of the team's six defensemen had a point in the 3-2 win over the Devils. Gerard Gallant would like to see more of that.