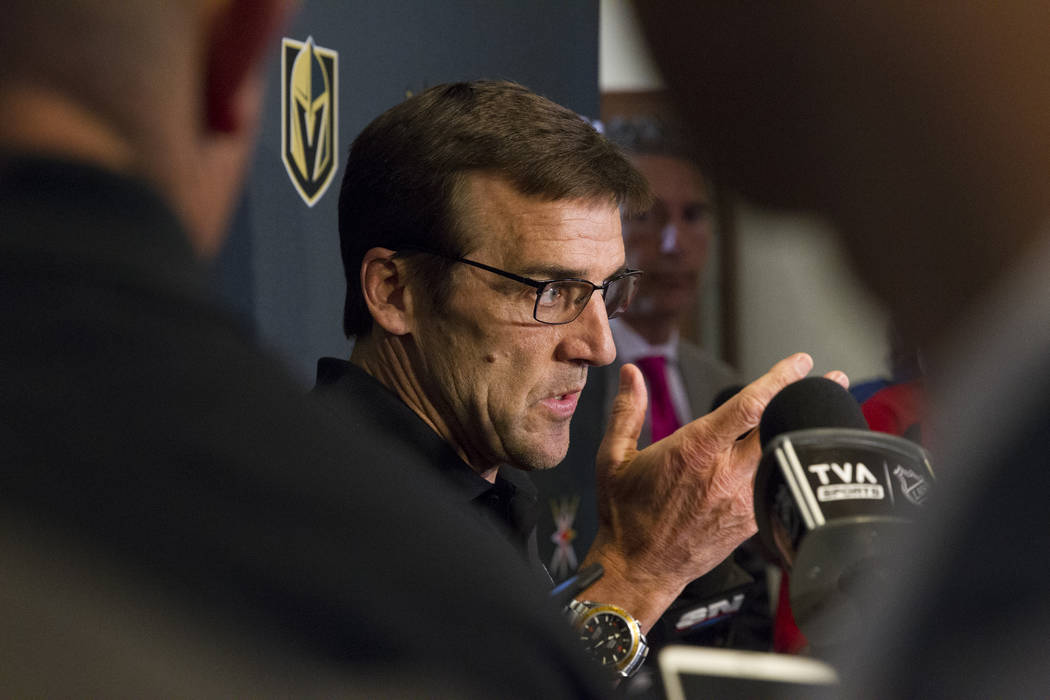 The Golden Knights announced multiple trades during the NHL Expansion Draft on Wednesday.
And general manager George McPhee might not be finished.
With teams willing to wheel and deal to prevent the Knights from drafting key unprotected players, McPhee netted a bushel of draft picks and players for the first-year franchise.
The biggest deal involved the New York Islanders, who dealt forward Mikhail Grabovski, defenseman Jake Bischoff, a 2017 first-round pick and a 2019 second-rounder to the Knights.
They also nabbed first-round picks from the Winnipeg Jets and New York Islanders, giving the Knights three of the top 15 picks in the entry draft that takes place Friday and Saturday in Chicago.
"We had two objectives. The first was to put a team on the ice that was entertaining and competitive and one that the NHL and Las Vegas could be proud of," McPhee said. "The second objective was to acquire prospects and surplus draft picks that could help us draft our way to success. Time will tell if we met those objectives, but we're certainly delighted with the way that it went."
The Knights acquired from Tampa Bay the rights to Russian forward Nikita Gusev, a second-round pick in 2017 and a fourth-round selection in 2018.
They sent a fourth-round pick to Florida in exchange for forward Riley Smith, and also picked up a fifth-round pick from Carolina and Buffalo's sixth-rounder in this year's draft.
The Knights also picked up forward David Clarkson and a 2019 second-round pick from Columbus, defenseman Shea Theodore from Anaheim and forward Alex Tuch of Minnesota.
The NHL trade moratorium expires at 5 a.m. Thursday, allowing McPhee to make additional trades.
Strike that, reverse it
Foley was so eager to make one of the Knights' picks that he got a little ahead of himself.
Rather than make the team's selection from Detroit, Foley skipped the Red Wings and announced the pick of forward Cory Eakin from the Dallas Stars.
After a few laughs, Foley eventually told the crowd that the Knights selected Red Wings forward Tomas Nosek.
Expansion talk quiet
Unlike a year ago when expansion talk was all the rage, there was virtually no discussion of adding a 32nd team during Wednesday's Board of Governors meeting at Encore.
Commissioner Gary Bettman said there has been no talk of reopening discussion on Quebec City.
As for Seattle, Bettman said, "It was mentioned, but nobody mentioned pursuing expansion. But we're monitoring what's going on."
Bettman also said the ownership restructuring in Arizona is a positive step and he believes it will lead to a resolution.
"There's no timetable," Bettman said. "We believe this will make the Coyotes franchise stronger and eventually lead to getting a new arena."
Trading resumes Thursday
Things figure to get a bit frenetic as the NHL trade moratorium is lifted at 5 a.m. The league's Entry Draft is Friday and teams, including the Golden Knights, will be looking to move assets around in preparation for the weekend in Chicago.
Some teams are trying to get extra picks. Some are trying to unload surplus picks. Others, like Minnesota, are just trying to get into participating. As of Wednesday afternoon, the Wild did not have a first-round or a second-round selection. Anaheim also doesn't have a first-round pick.
More Golden Knights: Follow all of our Golden Knights coverage online at reviewjournal.com/GoldenKnights and @HockeyinVegas on Twitter.
Contact David Schoen at dschoen@reviewjournal.com or 702-387-5203. Follow @DavidSchoenLVRJ on Twitter. Contact Steve Carp at scarp@reviewjournal.com or 702-387-2913. Follow @stevecarprj on Twitter.
Golden Knights NHL Entry Draft picks
The Knights own 12 picks in the NHL Entry Draft on Friday and Saturday in Chicago.
First round: 3
Second round: 2
Third round: 1
Fourth round: 1
Fifth round: 2
Sixth round: 2
Seventh round: 1
Note: As of Wednesday night
Las Vegas might be site for NHL All-Star Game, entry draft
The fact Las Vegas has an NHL team will not be a detriment for a return of the awards show.
"It doesn't impact the Awards Show," NHL commissioner Gary Bettman said prior to this year's event at T-Mobile Arena. "Las Vegas has been a great host for the Awards Show and we haven't decided what we're doing about next year.
"But I'm guessing at some point we'll be here for the (Entry) Draft and for the All-Star Game. However, with the weather (Wednesday), I'm not sure about an outdoor game."
Unlike last year, there wasn't quite the drama in the room Wednesday during the Board of Governors meeting. Bettman said the meeting was fairly routine, noting Golden Knights' owner Bill Foley's attendance for the first time as an owner while going over economics, including the recent decision to raise the salary cap from $73 million to $75 million.