Troy Terry, Tyler Parsons star again as US wins junior hockey title
January 5, 2017 - 10:32 pm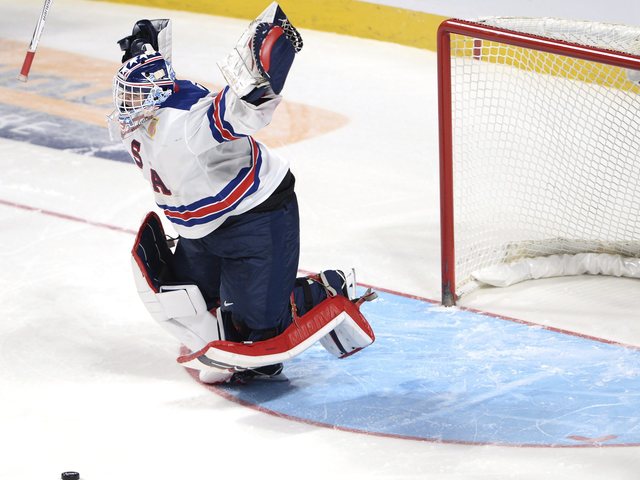 MONTREAL — Different day, same heroes.
Troy Terry scored the winning goal in the shootout for the second straight day, and goaltender Tyler Parsons blanked Canada in the shootout as the United States won the World Junior Hockey Championship with a 5-4 victory over host Canada on Thursday at the Bell Centre.
It was the first gold medal in the under-20 event for the Americans since 2013 and the fourth overall. The USA was the only team in the 10-team event to go undefeated, finishing 7-0.
"It's a shootout, so he's a little bit of a wizard," USA coach Bob Motzko said of Terry. "There's something special about him in that situation."
Despite having home ice and a raucous crowd behind it, Canada could not hold a 4-2 third-period lead. Team USA rallied with goals from Kieffer Bellows and Colin White 2:23 apart to pull even.
"I wasn't having a lot of luck, but I kept working hard and going to the net, and things finally happened for me," said Bellows, a first-round pick of the New York Islanders in 2016. "Nobody got discouraged on the bench. We had come back from 2-0, so we knew we could come back from 4-2."
White, who plays at Boston College and was a first-round pick of the Ottawa Senators in 2015, said there was a calmness among the U.S. players.
"Nobody panicked at 2-0 or 4-2," he said. "We have a lot of talent on this team, and everyone kept working and we were rewarded."
Both teams had great chances in overtime. The U.S. had three stabs at a loose puck in front of Carter Hart late in OT but could not beat him. At the other end, Mitchell Stephens had Parsons at his mercy, but was unable to finish in front with seven seconds left.
In the shootout, neither team scored during the first three rounds. But in the fourth, Terry, a fifth-round pick of the Anaheim Ducks in 2015, beat Hart for a 5-4 lead. He had scored three times in Wednesday's seven-round semifinal shootout win over Russia.
That left it up to Parsons, a second-round selection of the Calgary Flames in 2016. He had made a big save in the sixth round of the Russia game and was clutch again against Canada. He stopped Anthony Cirelli in the fourth round, then clinched the victory with a pad save of Nicolas Roy as his teammates jumped off the bench and mobbed one another in celebration.
"He was amazing," said White of Parsons, who had 46 saves. "To stop all five shooters was unbelievable."
Motzko said of Parsons' play: "What he did during the shootout was very special. You don't see that very often. He was the story."
The Canadians obviously were crushed.
"Our kids worked so hard, and to leave the rink empty-handed is very tough," Canada coach Dominique Ducharme said. "As a coach and as a staff, we were proud of our guys. We wanted them to play with energy, buy into the team concept and give everything they had, and they did that."
The U.S. players hope their gold-medal performance might help turn around public perception of the national team after the American pros got drubbed in the World Cup of Hockey last fall.
"I hope there were kids watching us that will want to play the game," Bellows said. "You see the game developing all over in places like Arizona and California, and maybe people will see what this team did, and it will help grow the sport all over the country."
In the bronze medal game, Russia defeated Sweden 2-1 in overtime.
Contact Steve Carp at scarp@reviewjournal.com or 702-387-2913. Follow @stevecarprj on Twitter.
RELATED
Golden Knights staff saw plenty of quality hockey at World Juniors
Tyler Parsons, Troy Terry spark U.S. to World Junior Hockey final