Tuch's late goal caps Knights rally for 4-3 win over Capitals
February 4, 2018 - 12:07 pm
Updated February 4, 2018 - 4:48 pm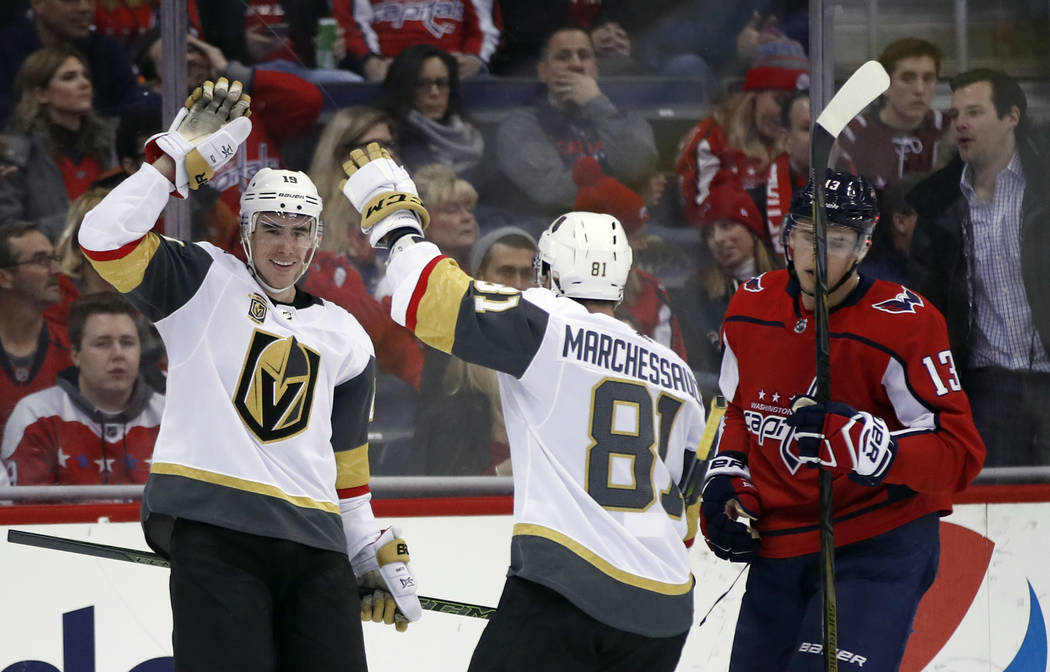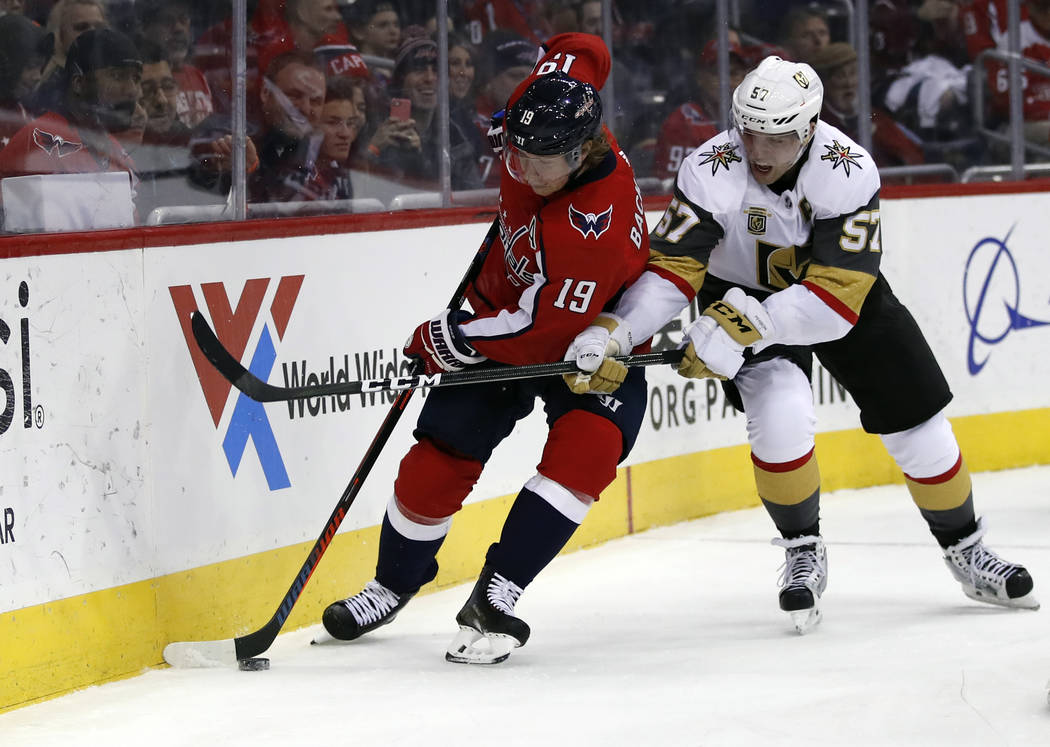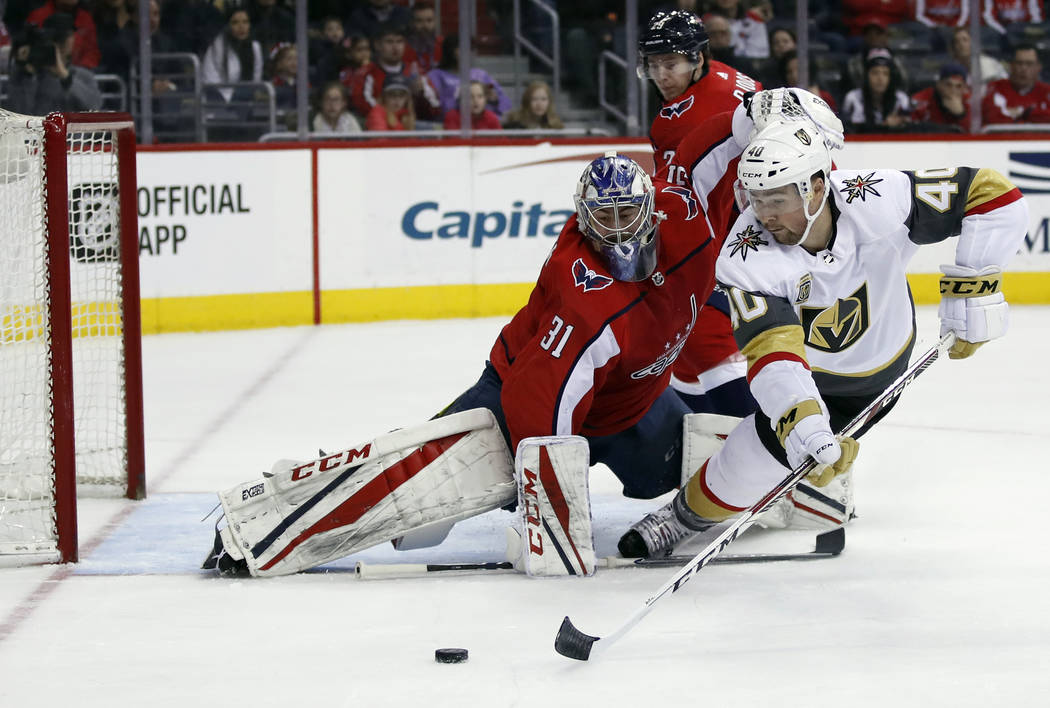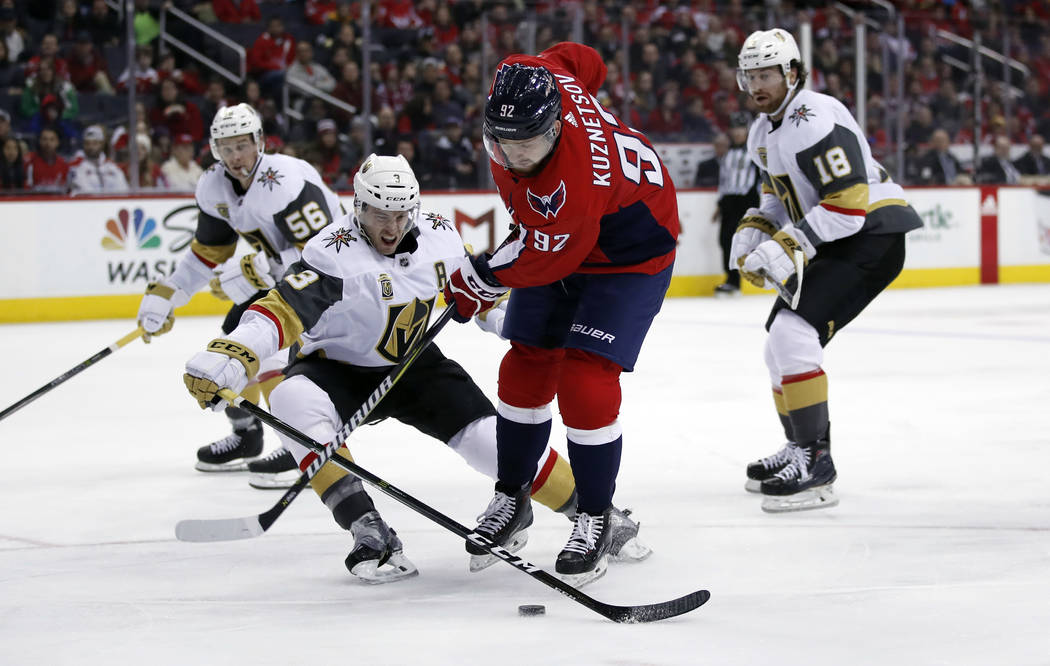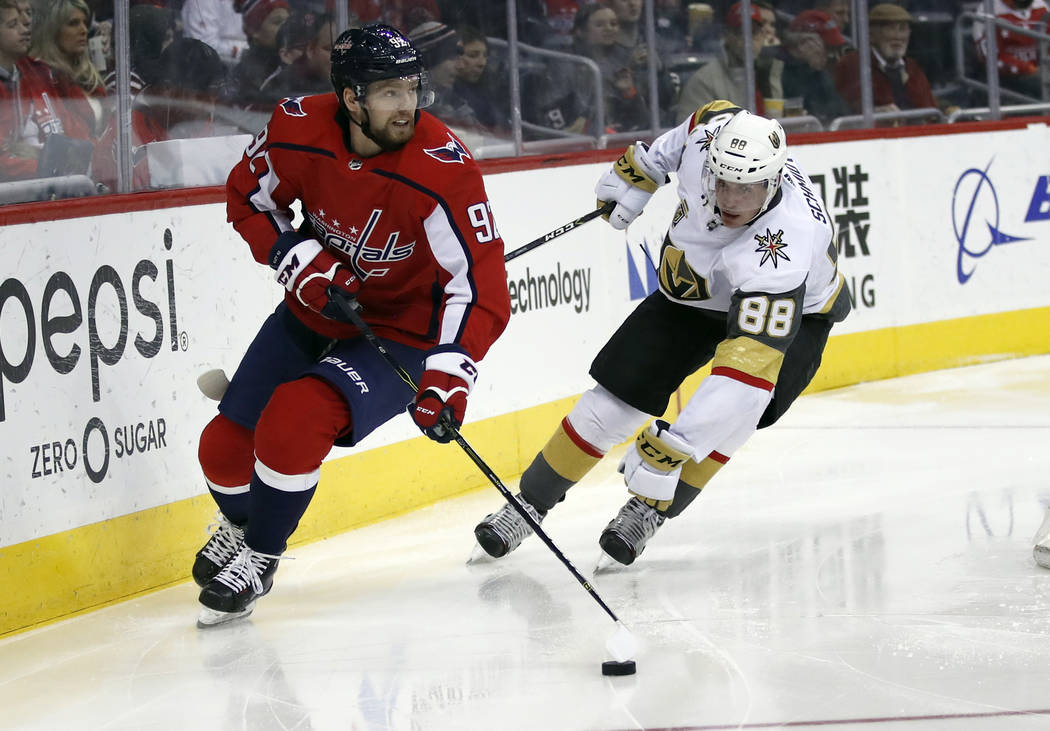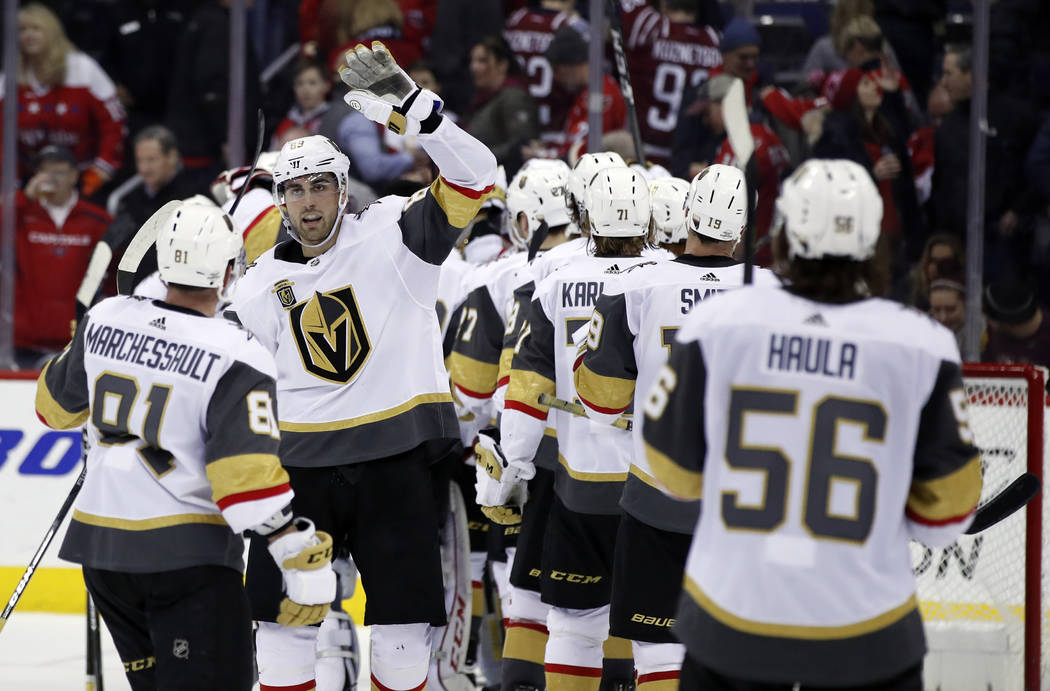 WASHINGTON — By now, you should be used to it.
The Golden Knights fall behind, come back to tie. Fall behind again, rally and eventually find a way to pull out a win.
That trend was in play once again Sunday as the Knights trailed three different times before Alex Tuch delivered with 5:12 remaining and lifted the Knights to a 4-3 win over the Washington Capitals at Capital One Arena.
The win, the team's 35th of the season, puts it at 3-1 on the current six-game road trip, which continues Tuesday in Pittsburgh.
"We have a lot of resilient players in this room, guys who put their head down and work really hard," said Tuch, who got his 10th of the season and first since Jan. 5 when he kept the play alive in the Washington end, then slid the puck past Philipp Grubauer after Reilly Smith had tied the game 3-3 with his second of the game at the 9:21 mark. "We just kept battling and we knew pucks were going to go in. I got a little lucky when it went off my stick and snuck between his legs."
The Capitals challenged the goal, claiming Tuch interfered with Grubauer. But after the play was reviewed, the goal stood, disappointing the sellout crowd of 18,506.
"It seems like we have different people stepping up every night for us," said Smith, whose first goal came on a second-period power play, the seventh straight game the Knights have scored with a man advantage. "We had a lot of pace to our game and it seemed we had a lot more jump (Sunday). Having the day off (Saturday) probably helped."
The Knights were indeed faster than in Friday's 5-2 loss to Minnesota. And even though they had to battle from behind throughout Sunday, coach Gerard Gallant thought it was one of his team's better efforts this year.
"It was a big bounce-back game for us," Gallant said. "After our last game it was a real tough loss and we didn't play that well. But everyone competed, everyone played the game we're supposed to play and it's a huge win for us."
It was a game reminiscent of the win in Chicago Jan. 5. The Blackhawks scored 30 seconds into the third period and appeared to have momentum, only to see the Knights rally and pull out a 5-4 win. And when Nicklas Backstrom scored 52 seconds into the third period to give the Caps a 3-2 lead, it looked like Washington was on its way to victory.
But plenty of time remained for the Knights, who swept the season series from Washington with goaltender Marc-Andre Fleury getting both wins. Sunday, he stopped 20 of the 23 shots he faced.
"I thought we controlled the play for a good portion of the game," Tuch said. "We were skating well and moving the puck and getting chances. It was just a matter of time."
The Knights also managed to keep Alex Ovechkin, the NHL's leader in goals with 32, off the scoresheet again. Ovechkin had just one shot on goal, though he had four shots miss the net and six others blocked by the Knights' defense. He failed to gain a point in the two games vs. the Knights.
"Nate (Schmidt) did a great job on (Ovechkin)," Gallant said. "But it was a team effort."
For the Capitals, it was an opportunity lost as they try to stay atop the competitive Metropolitan Division.
"I thought we were too passive midway through the third and we let them back in the game," Backstrom said. "We're usually pretty good at shutting teams down when we have the lead. Up or down a goal, we have to play the same way."
Contact Steve Carp at scarp@reviewjournal.com or 702-387-2913. Follow @stevecarprj on Twitter.
Three takeaways
1. Smith stays hot. Reilly Smith continues to find the back of the net as his two goals Sunday gave him 16. He was having trouble hitting the net as recently as two weeks ago. But he's locked in, skating well and making plays.
2. Collisions aplenty. For a game that had a lot of up-and-down to it, there were also some nasty collisions. One saw Tom Wilson wipe out teammate Evgeny Kuznetsov inside the Washington blue line with just under three minutes to go in the second period. Kuznetsov was slow to get up, but he came back for the third period.
3. Fleury scare. Anytime Marc-Andre Fleury gets hit in the head, there should be cause for concern. Madison Bowey's slap shot caught Fleury flush in the facemask with 7:49 left to play, but Fleury was able to stay in the game and was fine afterward.