Vancouver Canucks are off to their best start in 24 years
October 22, 2016 - 7:29 pm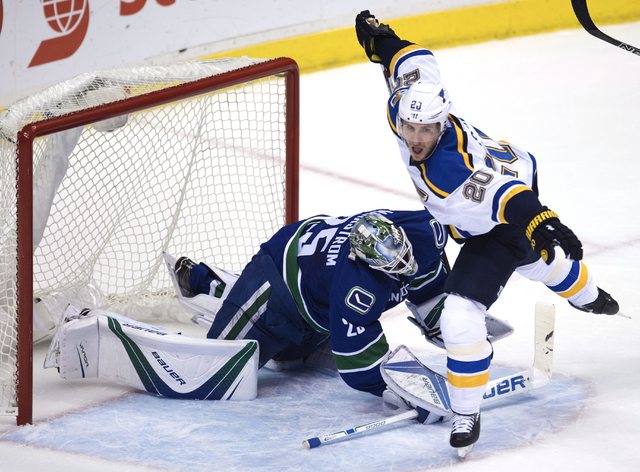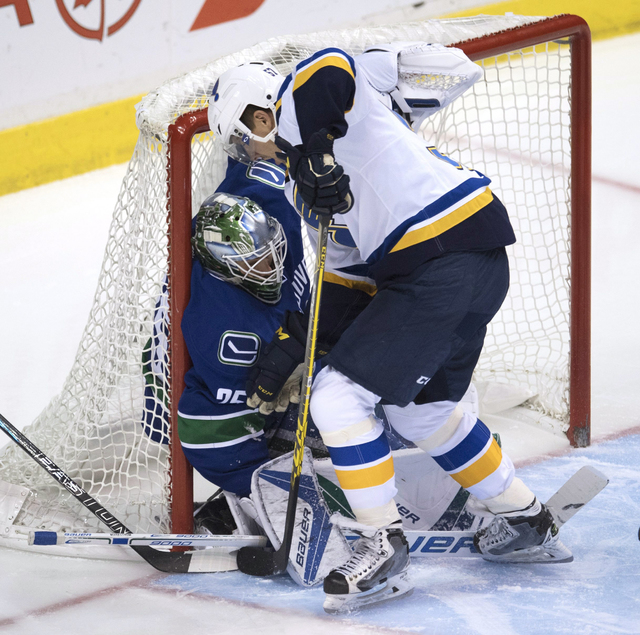 Few NHL fans probably thought the Vancouver Canucks would be in first place at any point this season.
Vancouver was a long shot to win the Stanley Cup before opening night on Oct. 12. And while there's a lot of hockey to be played, the Canucks' 4-0 start was one of the early feel-good stories.
The Canucks, who equaled their best start from 1992, played at the Los Angeles Kings on Saturday night.
"We're really buying into what we say we're going to do, and it gets results," goaltender Jacob Markstrom said. "It's a lot of fun to play hockey right now."
Same for Colorado. The Avalanche went 6-0 in the preseason and started the regular season 2-0 before losing at Washington on Tuesday. But after blanking Tampa Bay on Thursday to improve to 3-1, maybe Colorado also was being underestimated.
"We believe in each other," Avs captain Gabriel Landeskog said in Las Vegas after the final preseason game on Oct. 8. "It feels like we're catching on."
Landeskog was referring to first-year coach Jared Bednar, who was hired in August after Patrick Roy abruptly quit. Bednar wants his players to take care of their own jobs, keep things simple and outwork the other team. That formula has been successful.
In Vancouver, it's a similar philosophy. The Canucks are playing responsibly in their end, getting good goaltending and scoring at the opportune time.
SMITH'S LATEST INJURY
Poor Mike Smith.
The Arizona Coyotes veteran goalie is hurt again and could be out for a while. Smith, 34, injured his left leg in Tuesday's 7-4 loss to Ottawa. A year ago, he missed three months with a core body injury that required surgery.
If Smith misses any significant time, it could be trouble for the Coyotes. Last year, Louis Domingue filled in, playing 47 games, posting a 2.80 goals against average and a .910 save percentage while recording two shutouts.
His debut Thursday in Montreal was shaky, as he allowed four goals and was pulled in Arizona's 5-2 loss. Carey Price was back in net for the Canadiens, getting his first NHL action since Nov. 25 when he injured his knee. Price missed Montreal's first three games with the flu.
CHARITY CASES
Two donations were made for worthy causes this past week.
In Montreal, a doctor who is a big fan of former Canadiens defenseman P.K. Subban donated $250,000 to the Montreal Children's Hospital, where Subban's Helping Hand Fund has raised millions. Dr. Charles Kowalski pledged the money and took out a full-page ad in the Montreal Gazette blasting Canadiens management for trading Subban to Nashville last summer for Shea Weber.
"Now, I feel anger, disappointment and embarrassment over the treatment of P.K. Subban by team management: the same sentiments that many felt after the Patrick Roy trade," Kowalski said in the ad. "You are an amazing and influential role model for my children, and I am going to miss not having you as a Montreal Canadien."
The NHL Players Association announced that an auction of the goalie mask that Washington's Braden Holtby wore during the World Cup of Hockey fetched $27,000, with the money going to the Gord Downie Fund for Brain Cancer Research.
Holtby's mask features the unique maple leaf crest of the Team Canada jersey on the right side, and the image adorning the left side is a collage of Canadian music icons, The Tragically Hip. Downie is the group's lead singer and was diagnosed with a primary brain tumor last summer.
FIGHTING CANCER
Saturday was Hockey Fights Cancer Night in Dallas, where Stars announcer Dave Strader continues his battle with bile duct cancer.
Strader, 61, was diagnosed in June. He hopes to return to work this season. On Saturday, the Stars wore lavender warmup jerseys that were to be auctioned off after their game with Columbus. Strader's son Trevor sang the national anthem, and the team will wear a special sticker on the back of their helmets to support Strader.
This is the 18th season the NHL has held the event in every arena, and the initiative has raised more than $15 million.
Contact Steve Carp at scarp@reviewjournal.com or 702-387-2913. Follow @stevecarprj on Twitter.
THE WEEK'S THREE STARS
1. Patrik Laine, Winnipeg. The No. 2 pick in the 2016 draft rallied the Jets with a hat trick and OT win over No. 1 selection Auston Matthews and Toronto.
2. Jacob Markstrom, Vancouver. The Canucks goalie has come up big in the net with three wins.
3. Joe Pavelski, San Jose. The veteran center had six points in three games, but the Sharks went 1-2.