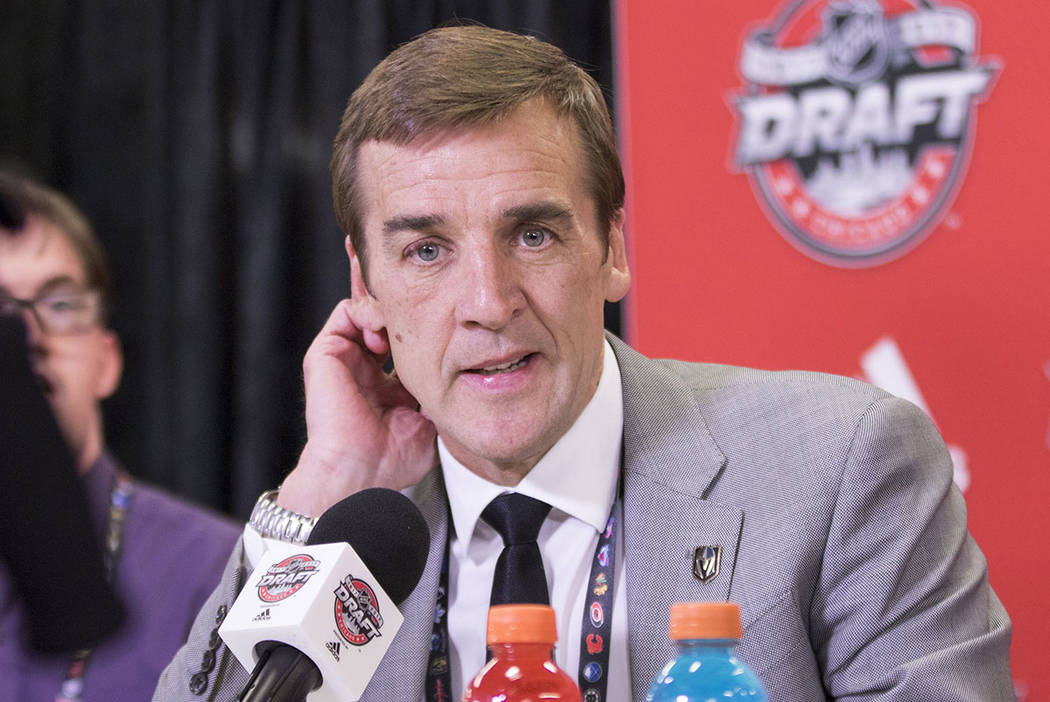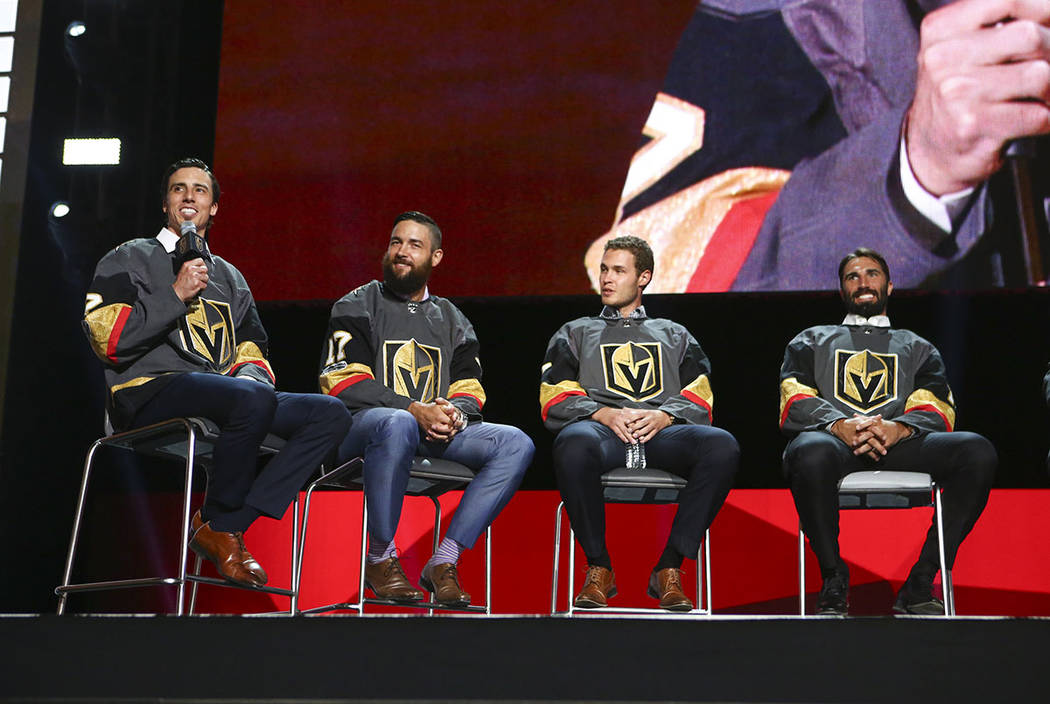 CHICAGO — It started in a big meeting room in Summerlin and ended with a plane ride home from Chicago.
In four days, the Golden Knights went from three to 37 players, then to 48 after two were traded for draft picks. It pushed the limits of general manager George McPhee and his operations staff, and took fans on a wild ride as they learned the names of players who will wear the steel gray, black, gold and red home sweater.
And with free agency looming Saturday, the Knights are in a prime position with their present roster and future players.
"I think they deserve an A-plus," McPhee said of his staff. "There was a calmness about the way they went about things and how we were prepared. I don't think we could have done any better."
McPhee was referring to the Entry Draft. But he might as well have been talking about the Expansion Draft. With 10,000 people inside T-Mobile Arena hanging on every word, McPhee and majority owner Bill Foley took turns announcing the team's 30 choices. Many were lauded by the crowd. Some were met with an eerie quiet as fans tried to decipher who had just been picked.
But then came the big names. Marc-Andre Fleury. James Neal. David Perron. All were greeted with rousing applause, particularly Fleury, the former Pittsburgh Penguins goaltender.
"There's more talent there than I expected," head coach Gerard Gallant said afterward. "It's a pretty impressive group."
After flying to Chicago late Wednesday, the staff gathered at a hotel and went through their lists again and again.
The Knights had targeted Portland Winterhawks center Cody Glass for months. And when he was still available at No. 6, he made history as the franchise's first-ever draft pick.
"It's unbelievable to be part of it," Glass said.
McPhee was quickly back to work as the team had two picks coming at No. 13 and 15. At 13, they took Nick Suzuki, a speedy center from the Owen Sound Attack who had 96 points last season. Two picks later, they selected defenseman Erik Brannstrom of Sweden, who is only 5 feet 9 inches tall but was considered one of the top defensemen in the draft.
Day Two saw size and strength added in 6-f6 defenseman Nicolas Hague and 6-2 forward Keegan Kolesar, who was obtained in a trade with Columbus.
The Knights also found two goalies for down the road in Maxsim Zhukov and Jiri Patera.
'A pretty good team'
"We want to put a competitive team on the ice now, but we have to look forward, too," McPhee said. "Are they going to be able to help us three or four years from now? We want to start at a certain level and keep going up. I think it's a pretty good team."
Bob Lowes, the team's assistant director of player personnel, said doing two drafts within days of each other is a taxing exercise. But the fact the staff was ready helped make it easier to get through.
"A lot's been accomplished in a short period of time," Lowes said. "It speaks to George's plan back in August when he and Kelly (McCrimmon, the assistant general manager) said, 'Let's get some boots on the ground' and we hit the ground running sending our scouts to watch games all over the world.
"We were organized and prepared and everyone did a great job."
Someone suggested to McPhee on Saturday that he take a day off. That wasn't happening. Sunday was spent contacting potential free agents to gauge their interest. The team's inaugural development camp is Tuesday at the Las Vegas Ice Center, and McPhee expected most of the 13 players obtained during the weekend to participate.
He also has an opportunity to move players from the expansion roster, an ongoing process since Thursday. So any days off will have to wait.
"There'll be some activity," McPhee said. "How much, I don't know. But there's still plenty of work to do."
More Golden Knights: Follow all of our Golden Knights coverage online at reviewjournal.com/GoldenKnights and @HockeyinVegas on Twitter.
Contact Steve Carp at scarp@reviewjournal.com or 702-387-2913. Follow @stevecarprj on Twitter.
Five key Golden Knights acquisitions
Between Wednesday's NHL Expansion Draft and the weekend's Entry Draft, the Golden Knights selected 47 players. Five of the most important acquisitions:
1. Marc-Andre Fleury, goaltender — The team's starting goalie was selected in the Expansion Draft from Pittsburgh and quickly became a fan favorite. He is embracing his role as face of the franchise.
2. James Neal, left wing — He's going to be leaned on heavily for scoring, and has scored 20 or more goals in each of his nine NHL seasons. He'll also be one of the leaders in the locker room given his success in Nashville.
3. Cody Glass, center — The team's first-ever amateur draft pick at No. 6 overall. He's a dynamic skater who sees the game brilliantly and makes the guys playing with him better. When he gets to T-Mobile Arena a couple of years from now, he'll be there to stay.
4. Erik Brannstrom, defenseman — Don't let his 5-foot-9 size scare you. The 18-year-old from Sweden has the kind of game that fits today's NHL. Think Nashville defenseman Ryan Ellis, who's just 5-10 but more than holds his own. Some say Brannstrom was the steal of the draft after being selected at No. 15 overall.
5. Jonathan Marchessault, center — It's not easy to find 30-goal scorers, but the Florida Panthers exposed the 26-year-old and couldn't make a deal to have the Knights not take him. A top-six player who will play with some pretty good wingers, Neal perhaps.