Vegas Golden Knights fans pack T-Mobile Arena for watch party
Updated June 4, 2018 - 8:11 pm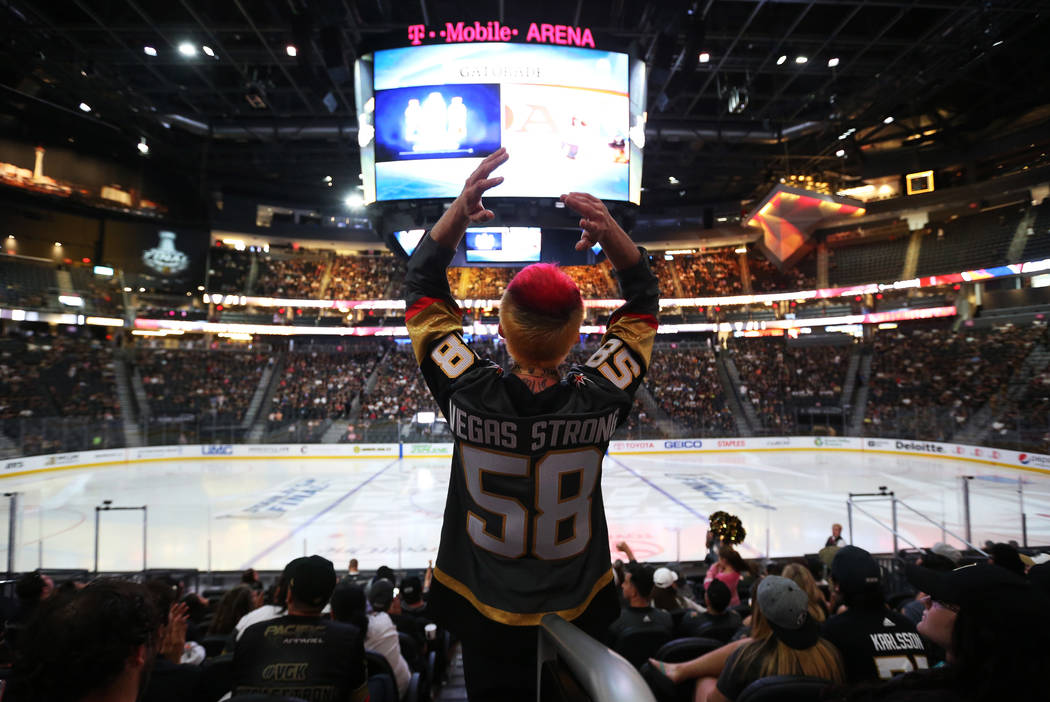 As temperatures climbed well above 100 degrees Monday afternoon on the Strip, thousands of cheering fans readied for the air-conditioned comfort of the first Golden Knights watch party inside T-Mobile Arena.
Fans sprinted inside as the doors opened at 3:30, grabbing free "Vegas Born" rally towels, posters and, most importantly, good seats to watch Game 4 of the Stanley Cup Final against the Washington Capitals.
Anna Horvath, 19, of Las Vegas has been to playoff road-game watch parties outside the arena at Toshiba Plaza, and she welcomed the change of scenery.
"It's always been really hot," Horvath said. "There's always been a lot of crowds. But it's really nice that it's inside, it's cool, we get to watch it up on the big screen."
She was one of many fans who tweeted at the arena's Twitter account to lobby for an indoor party. If T-Mobile hadn't opened its doors, Horvath said, she probably would have attended the outdoor watch party at Downtown Las Vegas Events Center.
The National Weather Service issued an excessive heat warning for the valley Monday, and the temperature reached 107. The record for June 4 is 109, set two years ago, the weather service said.
Because of the heat, "we wanted to provide an indoor option for our official Game Four viewing party," team President Kerry Bubolz said in a statement.
An estimated 10,000 people attended, according to Katharine Sherrer, public relations manager for MGM Resorts International.
Among them was Las Vegas resident Charles Lynch, who grabbed seats for himself and four friends minutes after the doors opened. Clad in a yellow and black, plaid kilt and black, yellow and silver face paint, Lynch said he was inspired by Lee Orchard, the "Golden Knight" who opens every home game.
"He challenged me to get a kilt and step up my playoff game, so me and my roommate wear kilts now because he told us to," said Lynch, who attended 15 regular-season games and every Knights watch party during the playoffs. "I can't change my routine. It's a thing."
But he was glad that this one was inside, especially after he started wearing the kilt.
"I've been bringing an entire case of water with me to give away to people, so at least I didn't have to do that today," Lynch said.
When the telecast started at 5, images of Washington Capitals players flashed on-screen: red jerseys skating on home ice, followed by a close-up of captain Alexander Ovechkin.
The arena boomed with boos.
The sound quickly turned into screams and cheers when the black and gold was shown, along with some familiar faces: Marc-Andre Fleury. William Karlsson. Ryan Reaves.
Once the game started, the crowd roared every time the puck neared the Capitals' goal.
Then came the groans.
Ten minutes in, T.J. Oshie scored the first of Washington's three opening-period goals. The Capitals would win, 6-2, and take a 3-1 series lead.
Though the Knights lost, Monday was still a memorable experience for Las Vegas resident Zaira Contreras and her family, who made their first visit to the arena.
"As soon as we heard they were having (an indoor watch party), we got off of work early so we could come here," she said.
And the experience wasn't lost on her 3-year-old daughter, Mia.
"I'm super, super, super, super, super excited," she said.
Contact Madelyn Reese at mreese@reviewjournal.com or 702-383-0497. Follow @MadelynGReese on Twitter.
Raining on the parade
Clark County made an about-face Monday when it deleted a county commission agenda item regarding a parade to celebrate the Golden Knights' inaugural season.
Commissioners were scheduled to vote Tuesday on a 3.5-mile-long parade route on the Strip between Sahara and Tropicana Avenues, but commission Chairman Steve Sisolak said the team asked him to scrap the discussion.
"They do not want to talk about this," Sisolak said. "Hopefully the time will come for this discussion at a later date, but all they want to talk about right now is the games they have left to play."
Michael Scott Davidson/Las Vegas Review-Journal