Vegas Golden Knights look to future with 3 first-round picks
Updated June 22, 2017 - 7:42 pm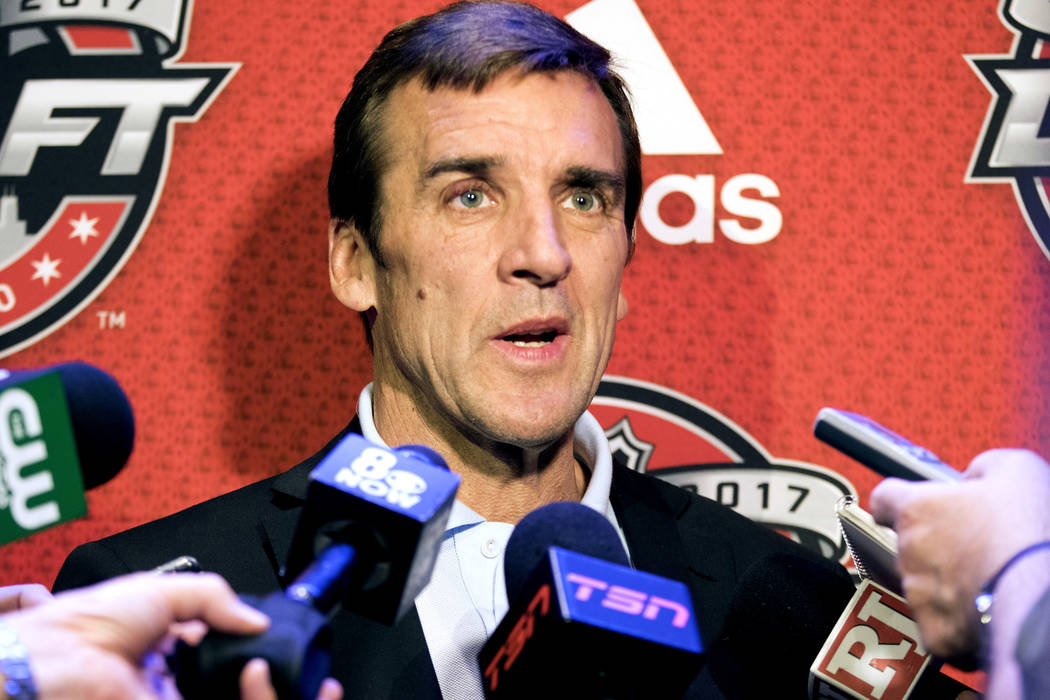 CHICAGO — For the Golden Knights, Wednesday's NHL Expansion Draft was about the present.
Friday's NHL Entry Draft is all about the franchise's future.
The Knights will look to create a nucleus for success with three picks in the top 15 of the first round at the United Center. They have their own selection at No. 6, the Winnipeg Jets' pick at No. 13 and the New York Islanders' No. 15.
Three pieces of gold. And if general manager George McPhee and his staff get it right, the dividends it could pay five years from now could be huge. They've been scouting players since August, traveling the world to identify the best 18 year olds who they project will be future NHL stars.
"I'm not sure what we're going to do," McPhee said Thursday. "It's a hard draft. Going through it, it's a harder draft than most. It has taken some time to identify the players we'd like to get.
"When you have three picks, it's a lot to manage. You really have to focus. When you have one pick in one round, you're looking at a certain guy and how do you get him? When you've got three, it's harder. But it's a good problem to have."
At the top of the board are centers Nolan Patrick and Nico Hischier. Both are expected to be taken by the time the Knights' turn comes at No. 6. The New Jersey Devils have the No. 1 pick with the Philadelphia Flyers owning the second spot.
But after Patrick and Hischier, there's a group of players who are fairly close in ability and could be taken anywhere from No. 5 to No. 18. That's where McPhee and his staff will do their shopping.
Craig Button, an analyst for TSN in Canada and a draft expert, said while there's no generational players in this draft, there are plenty of talented individuals.
"When you are an expansion team, you're looking for everything," Button said. "George is coming into this draft with lots of currency. He's got his hand on the steering wheel and he can take it any direction he chooses.
"George has always taken a chance on skill. I think there's a number of players who display the skill that he is looking for."
Best available player
The conventional wisdom has the Knights looking for offense with the first pick. Although they have a glut of defensemen from the expansion draft, it still would not be a surprise to see one their other picks come at that position.
Finland's Miro Heiskanen might be one of those defensemen who's still available. He was rated the fourth-best skater among Europeans by the NHL's Central Scouting Bureau and he's moving up a lot of mock draft charts. Same for Cale Makar, a defenseman from the Brooks Bandits of the Alberta Junior Hockey League.
But there's probably going to be an onus on offense. That's where Portland's Cody Glass, Windsor's Gabriel Vilardi, Tri-City's Michael Rasmussen, Martin Necas of the Czech Republic and Minnesota high school star Casey Mittelstadt figure to be targeted at No. 6 and No. 13.
McPhee said teams sometimes fall into the trap of trying to balance out their selections, and that it's a formula that usually backfires.
"It's always been about the best player," McPhee said of his philosophy. "When you have three picks and you take a forward here, a defenseman here and a speed guy there, that's not how to approach it. You take the best player at the time, then you take the next best player the next time and the next best player with the next pick.
"It's not a clearly defined draft. Sometimes things fall into place. This one does not. But we have three picks and we're focused on drafting three players."
Contact Steve Carp at scarp@reviewjournal.com or 702-387-2913. Follow @stevecarprj on Twitter.
They could be Golden
Top prospects for the Golden Knights in the first round of the NHL Entry Draft on Friday:
— Cody Glass (Center, age 18, Winnipeg, MB, 6-1, 177, Portland Winter Hawks, 32 G, 62 A, 94 Pts.)
Why him?: He has a high hockey IQ. and a scorer's touch. Also an underrated passer. The puck seems to find him.
— Gabriel Vilardi (Center, age 17, Kingston, ON, 6-2, 202, Windsor Spitfires, 29 G, 32 A, 61 Pts.)
Why him?: A natural leader who helped his team win the Memorial Cup, Canada's junior hockey championship. Consistent performer who makes his linemates better. Played for Chicago Wolves coach Rocky Thompson at Windsor.
— Cale Makar (Defenseman, age 18, Calgary, AB, 5-11, 187, Brooks Bandits, 24 G, 51 A 75 Pts.)
Why him?: Has dominated in the Alberta Junior Hockey League, which is a notch below the WHL. But he's a dominant player, who transitions from defense to offense quickly. His game is built like a modern-day NHL defenseman's.
— Casey Mittelstadt (Center, age 18, Eden Prairie, MN, 5-11 1/2, 198, Eden Prairie HS, 21 G, 43 A, 64 Pts.)
Why him?: Does a lot of things well. Has committed to playing at the University of Minnesota so if the Knights take him, they'll likely have to wait a couple of years to get him to Las Vegas.
— Michael Rasmussen (Center, age 18, Surrey, BC, 6-5 1/2, 221, Tri-City Americans, 32 G, 23 A, 55 Pts.)
Why him?: Has size, a bit of a mean streak in him and can shoot. He's coming off a broken wrist and his detractors, of which there are many, don't like parts of his game such as his skating and 5-on-5 abilities.
Steve Carp/Review-Journal