Vegas Golden Knights president knows who he would like to score first goal
September 14, 2017 - 1:53 pm
Updated September 14, 2017 - 7:59 pm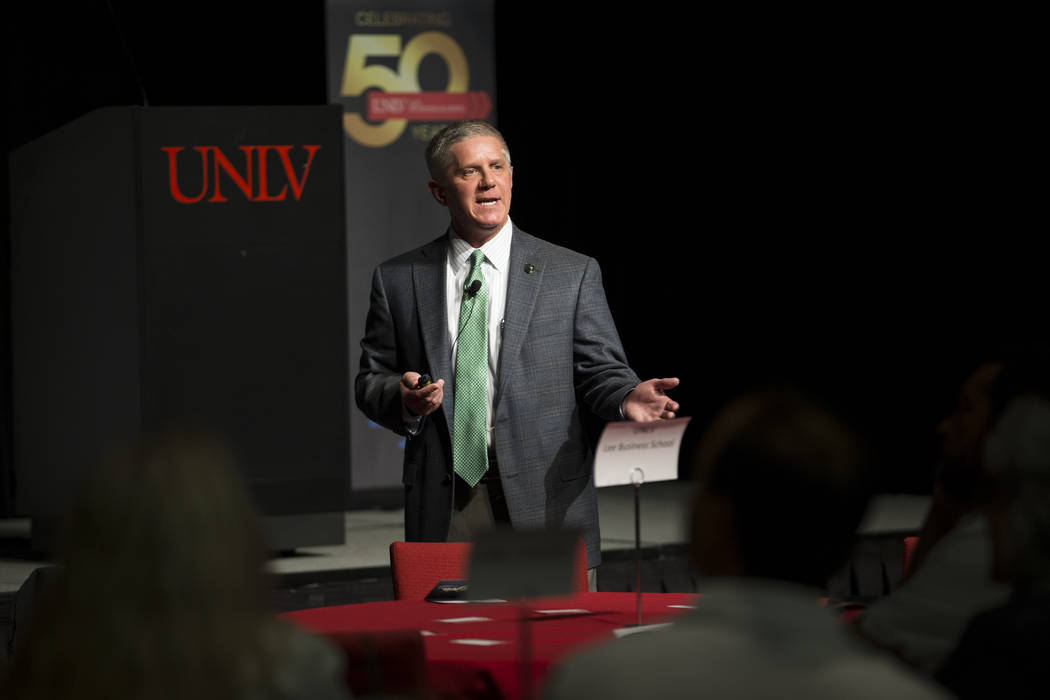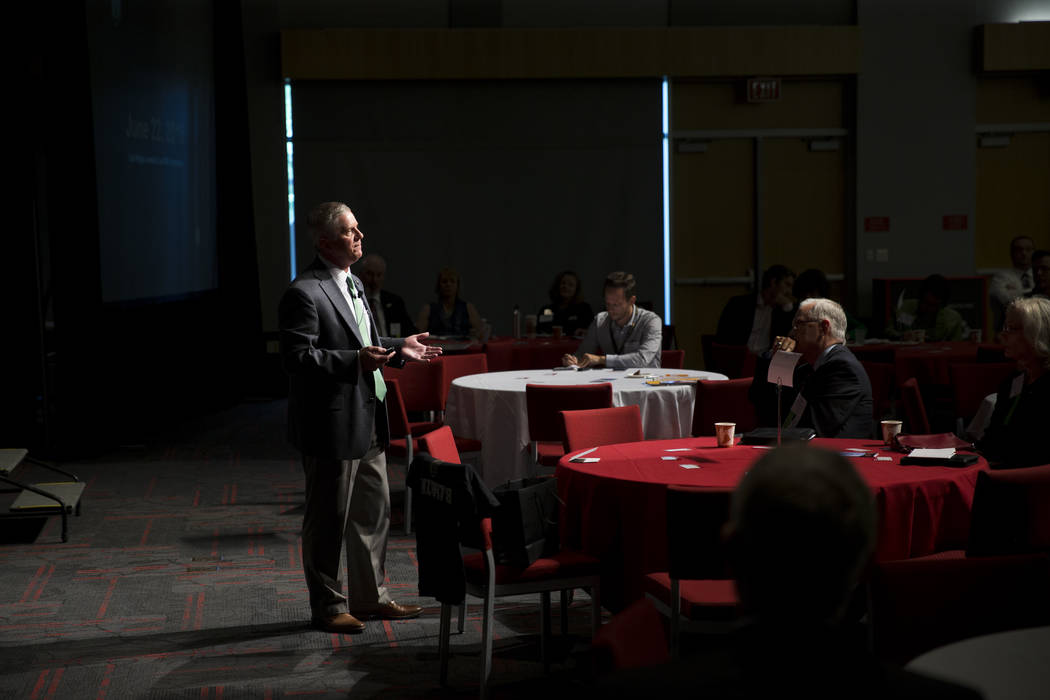 Vegas Golden Knights President Kerry Bubolz knows who he'd like to see score the team's first goal: Deryk Engelland.
It would be "special," he said to have a longtime Las Vegas resident — and the only player on the team with a history in Las Vegas — score first for the NHL's newest franchise.
Bubolz addressed an audience of around 200 state business leaders during his keynote Tuesday at the Nevada Economic Development Conference, during which he said the brand is already having economic impact.
Bubolz said the Vegas Golden Knights employ 170 full-time employees, 70 percent of whom relocated, which translate to home sales for the area.
Employees — including players, scouts, the business team and front-office personnel — will have a combined annual payroll of $100 million, Bubolz said.
Ticket sales forecast a full house for each game, he said, with about 14,000 seats already sold for every game. The T-Mobile arena seats 17,000 for hockey.
Anticipating traffic, Bubolz said he is working with partners on the Strip and the Regional Transportation Commission of Southern Nevada to ensure smooth and efficient movement.
He said so far there are about four areas in the works where people will be able to park and then take a Vegas Golden Knights express shuttle directly to the T-Mobile arena, for $2.50 each way.
Each televised game is a "commercial for Las Vegas," Bubolz said. All games will be televised back to 30 other NHL markets, and five games will be nationally televised.
The brand has an opportunity to not just be a Las Vegas team, but also a regional team, he said, given Las Vegas' projected population growth.
State demographer Jeff Hardcastle reported last October that Clark County could see an increase of about 15 percent by 2035, a growth of about 315,065 people to 2.5 million.
The new report comes out Oct. 1. "Estimated growth has exceeded projections in the past couple of years," Hardcastle told the Review-Journal.
With Las Vegas' population growth, and the city's addition of the Raiders on top of the sports already here, like the Ultimate Fighting Championship, collegiate sports and NASCAR races, Las Vegas can become the "Sports and Entertainment Capital of the World," Bubolz said.
Contact Nicole Raz at nraz@reviewjournal.com or 702-380-4512. Follow @JournalistNikki on Twitter.