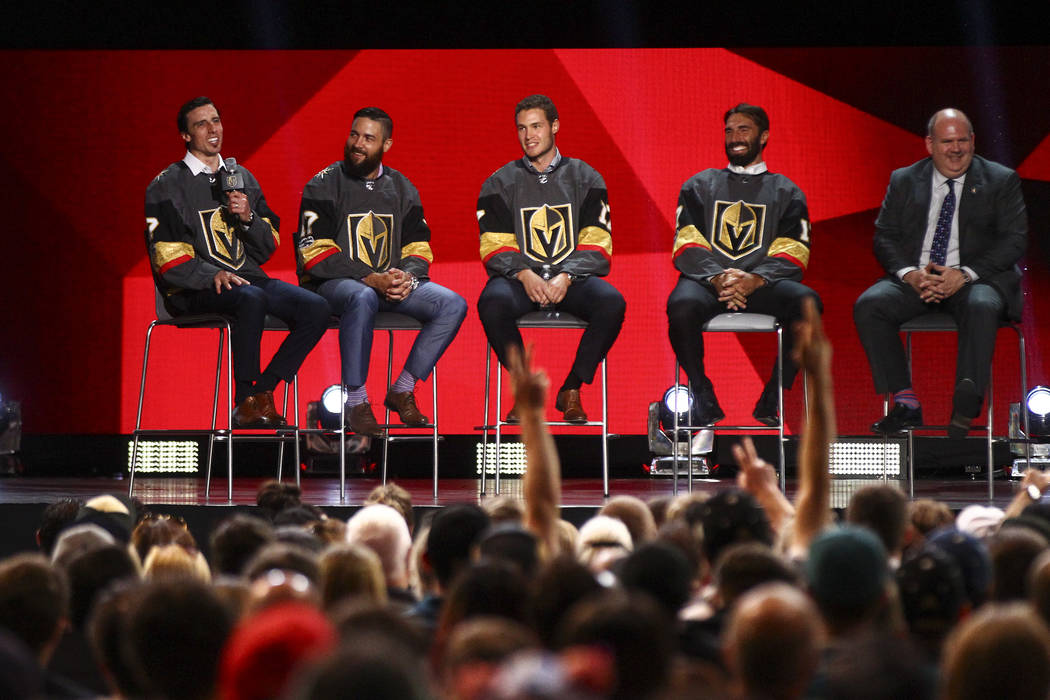 Save the dates.
The Golden Knights' regular-season schedule was released by the NHL on Thursday and is highlighted by two seven-game homestands at T-Mobile Arena.
The expansion franchise opens its inaugural season on the road at Dallas (Oct. 6) and Arizona (Oct. 7) before the home opener Oct. 10 against Arizona.
That is followed by home games against Detroit (Oct. 13), Boston (Oct. 15), Buffalo (Oct. 17), St. Louis (Oct. 21), Chicago (Oct. 24) and Colorado (Oct. 27).
The Knights also have a seven-game homestand in February, hosting Philadelphia (Feb. 11), Chicago (Feb. 13), Edmonton (Feb. 15), Montreal (Feb. 17), Anaheim (Feb. 19), Calgary (Feb. 21) and Vancouver (Feb. 23).
"We had too many dates in October, so we took one out and moved some things around," general manager George McPhee said while in Chicago for the entry draft that starts Friday. "But for the most part it's a pretty good schedule.
"We need to figure out in the next couple of years which nights work best in our market for our fans. We put it together without too much emphasis on certain dates, and we'll study what happens and determine what dates work best for the future."
A few other tidbits:
■ A rivalry could develop as Arizona and Vegas face off six times. (The Knights play their other Pacific Division rivals — Anaheim, Calgary, Edmonton, Los Angeles, San Jose and Vancouver — four times each.)
■ Expect emotional homecomings for goaltender Marc-Andre Fleury (Feb. 6 in Pittsburgh) and forward James Neal (Dec. 8 in Nashville).
■ Vegas coach Gerard Gallant returns to Florida on Jan. 19 after being fired by the Panthers last season.
■ The Knights host Toronto at noon on Dec. 31. Happy New Year! The game should end well before officials close the Strip.
■ Twelve of the 41 home games are scheduled for Tuesday.
■ The team's bye week takes place Jan. 8-12.
■ Vegas begins the preseason schedule Sept. 17 at Vancouver, the first of four consecutive road games. The team's preseason home opener takes place Sept. 26 vs. Los Angeles.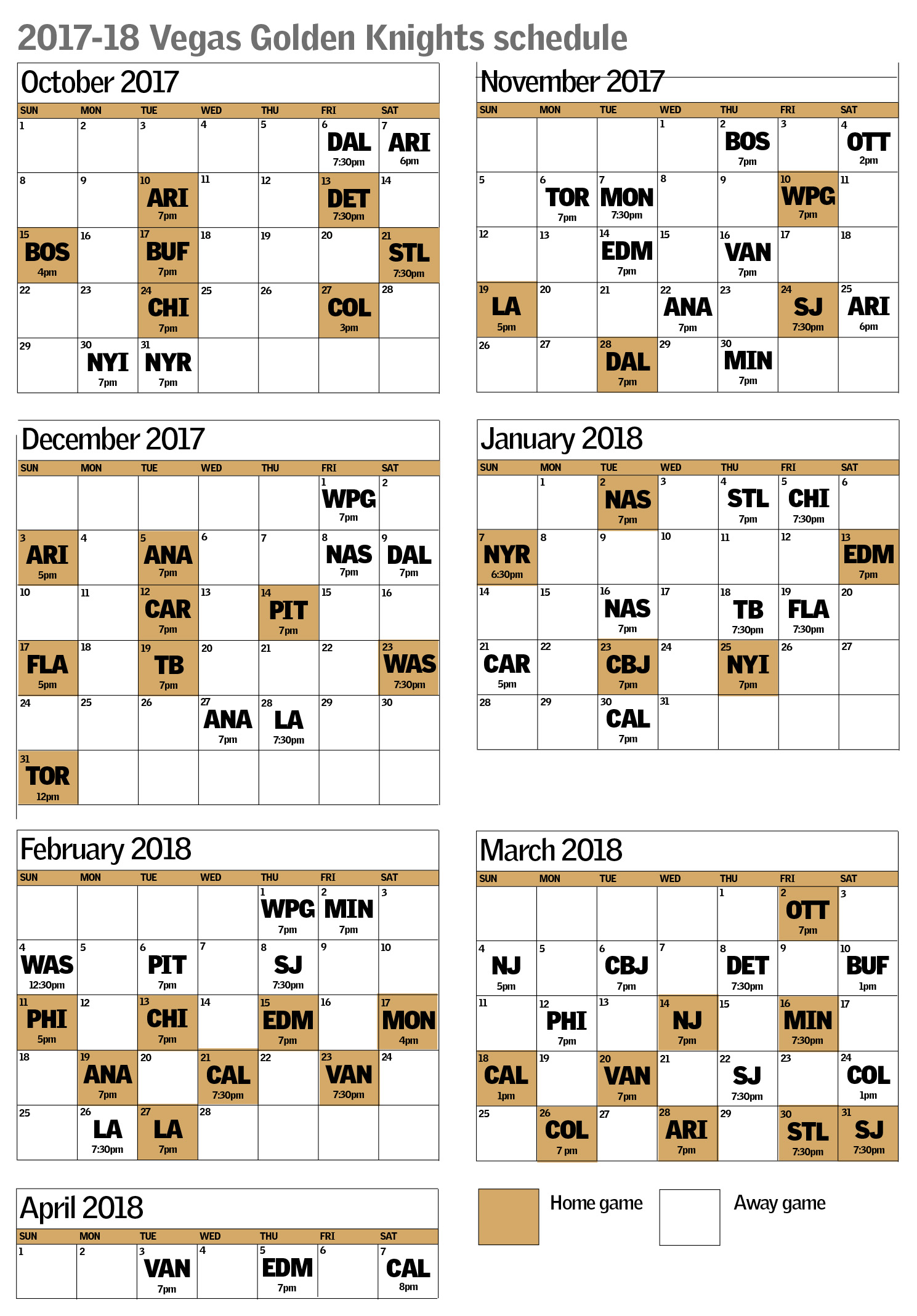 Reporter Steve Carp contributed to this report. Contact David Schoen at dschoen@reviewjournal.com or 702-387-5203. Follow @DavidSchoenLVRJ on Twitter.
Knights 2017-18 schedule
By the numbers
Longest homestand: 7 games. (Oct. 10-Oct. 27).
Longest road trip: 6 games (Oct. 30-Nov. 7).
By month:
October: 11 (7 home, 4 away).
November: 13 (4 home, 9 away).
December: 13 (8 home, 5 away)
January: 12 (5 home, 7 away)
February: 14 (8 home, 6 away)
March: 15 (8 home, 7 away)
April: 3 (0 home, 3 away)