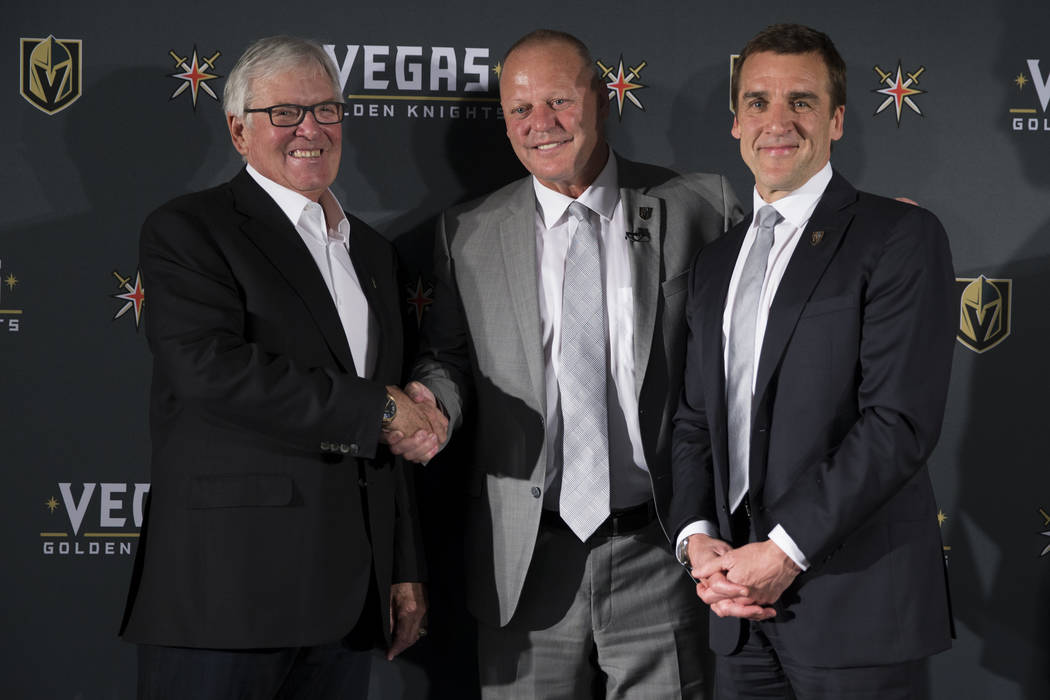 Hundreds of thousands of miles have been traveled with a similar amount of money spent. The data obtained since September has been recorded. The big board is set up. The dress rehearsals are finished.
The time has almost arrived for the Golden Knights to go through a once-in-a-franchise experience — the NHL Expansion Draft.
"It's an exciting time," general manager George McPhee said Monday. "We've put a lot of time and an extraordinary amount of work into this and we're ready."
The pro side of the hockey operations staff comes to town Wednesday. Beginning Sunday and concluding the morning of June 21 — when the final list must be submitted to the league — McPhee and his staff will sit in a meeting room at the team's Summerlin offices and begin the selection process of taking one player from each of the NHL's 30 other teams. There will likely be caveats with other teams, thanks to trades and side deals that McPhee has either already made or is pondering.
The team said Sunday it will not be making any comment or confirmation regarding a trade or a side deal until after the Expansion Draft announcement at T-Mobile Arena on June 21. McPhee said Monday he was not discussing any potential transactions or individual players.
That hasn't stopped the rumor mill from churning with the Knights reportedly involved in transactions with several teams, including the Chicago Blackhawks (Marcus Kruger/Trevor van Riemsdyk), the Buffalo Sabres (Matt Moulson) and the Columbus Blue Jackets (David Clarkson).
The Knights must select a minimum of three goaltenders, nine defensemen and 14 forwards as part of the 30-man process. The team must also spend 60 percent of the 2017-18 salary cap, which will likely be at $73 million. Working with that $73 million number, the salary floor for the Knights to reach is $43.8 million.
That won't be hard to reach. Even if the Knights take on some bad contracts, they'll still have enough room under the cap to pursue free agents or make trades.
In addition to making the 30 picks, the team will also be pursuing unrestricted free agents during the same time period. McPhee said it was still to be determined if any negotiations with those free agents will be in person or not.
With the process about to begin, McPhee has one true nemesis — time. The 72 hours will go by quickly and he and his staff have to make the most of the hours they've got.
"It's still a very tight window," he said. "There's a lot of negotiating taking place. That's the only concern I have."
Contact Steve Carp at scarp@reviewjournal.com or 702-387-2913. Follow @stevecarprj on Twitter.
Golden Knights' draft room
The decision-makers for when the Golden Knights select the 30 players in the NHL Expansion Draft beginning Sunday:
— General Manager George McPhee
— Assistant GM Kelly McCrimmon
— Senior vice president Murray Craven
— Director of player personnel Vaughn Karpan
— Assistant director of player personnel Bob Lowes
— Head coach Gerard Gallant
— Director of player development Wil Nichol
— Director of hockey operations Misha Donskov
— Pro scouts Kelly Kisio, Jim McKenzie, Vaclav Nedomansky, Mike Foligno and Vince Williams
— Hockey operations analyst Tom Poraszka
— Hockey operations assistant Robert Foley
— Director of legal affairs Andrew Lugerner