Vegas Rookie Faceoff offers look into Golden Knights' future
Updated September 7, 2018 - 9:03 pm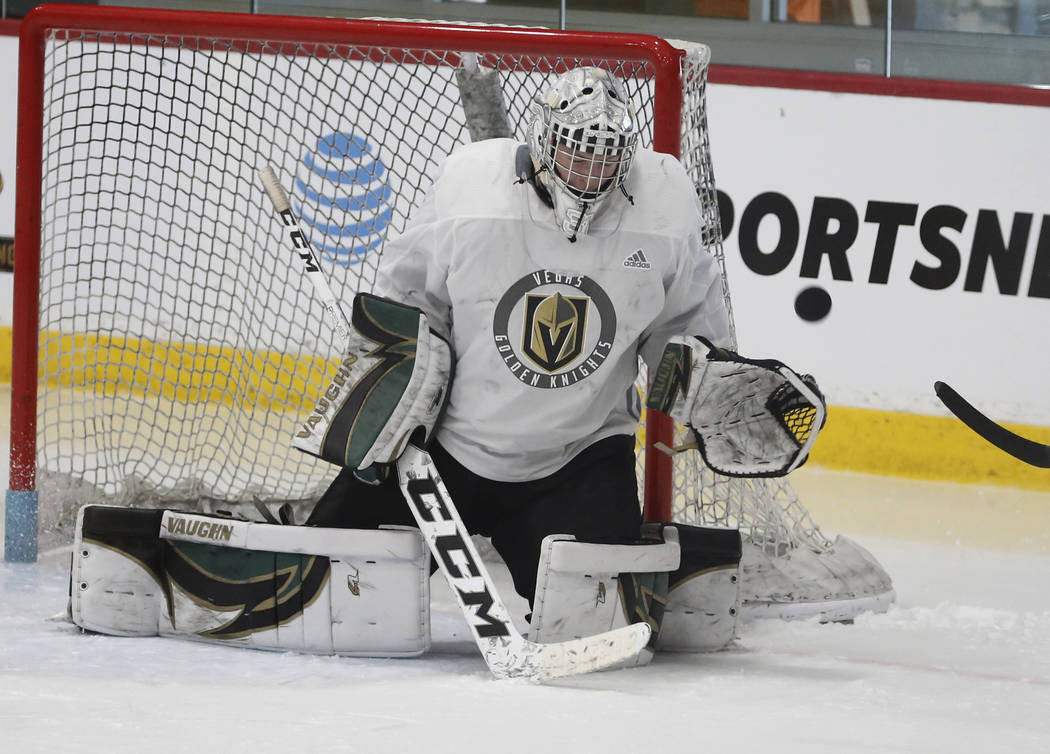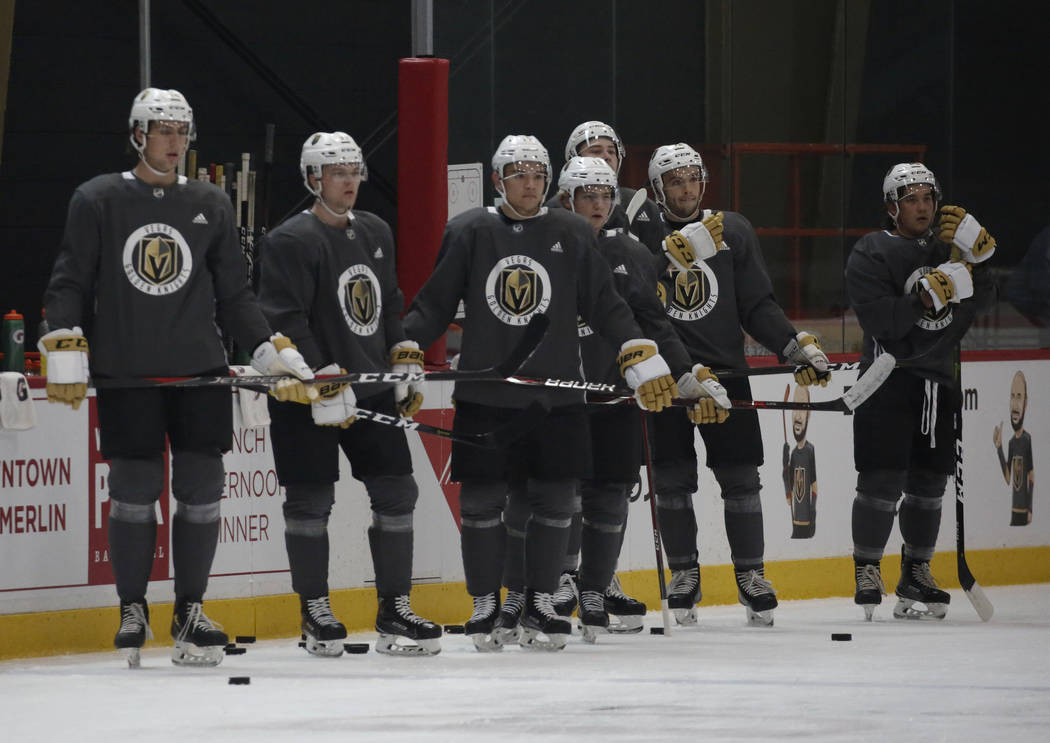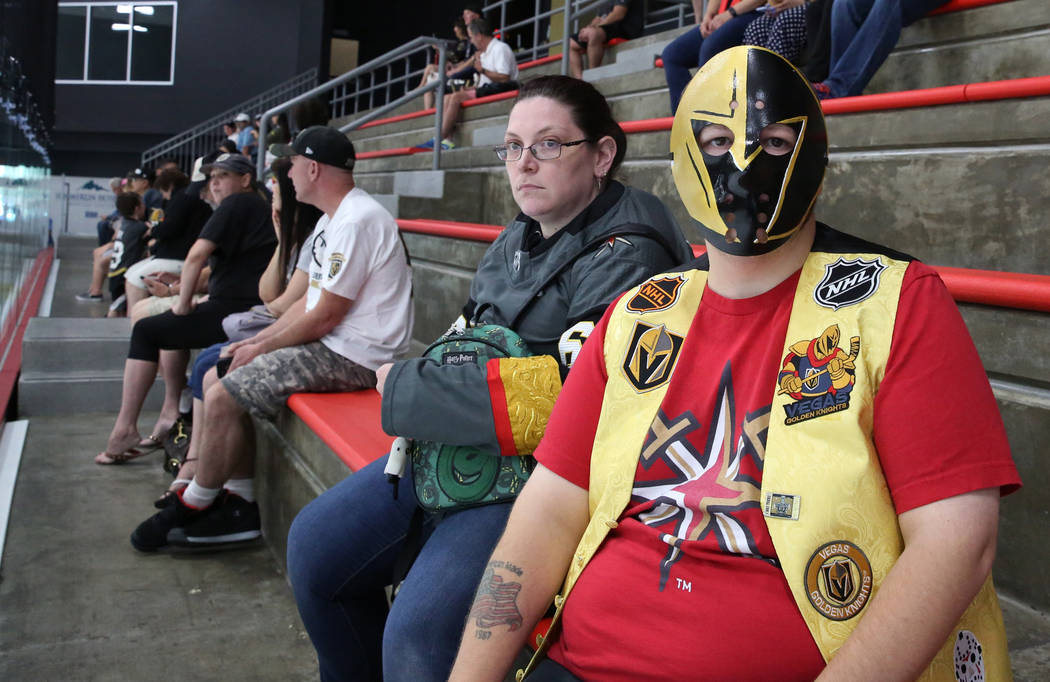 NHL rookie camp games provide a franchise's young players the opportunity to show how far they've come in their development.
The new Vegas Rookie Faceoff at City National Arena, which begins with three games Saturday, gives the Golden Knights a chance to see how their future stars match up with the rest of the division.
Last season, the rookies traveled to Los Angeles and went 1-1 against Los Angeles Kings rookies. This format of this four-day event, which features six teams and includes a practice day Monday, should give the organizations an even better look at their young players.
"(This event is) exciting for the town, obviously," director of player development Wil Nichol said Friday. "It's a great thing for the fans in Vegas. But for the players, it's great because you're not seeing the same team twice. We're going to see three different teams, and with that comes different styles. It's also a short turnaround, which goes along with preparing for the pro game. Sometimes you play back-to-back nights against different teams, so that should help the guys with that as well."
Pacific Division rivals Arizona, San Jose, Los Angeles and Anaheim are represented in the event, along with Colorado from the Central Division. Rocky Thompson, the coach of the Knights' American Hockey League affiliate in Chicago, will coach Vegas.
The event, which will be hosted by the Ducks next season, came together when several teams started discussing a way to get their young players experience in a competitive environment.
"We spoke to the other teams involved, and there was a lot of interest in having a tournament, but nobody at this point was ready to host something like this, so we said we would do it," Knights assistant general manager Kelly McCrimmon said. "It's been a pretty big initiative for the organization in terms of the preparation and execution over the next few days, but we're really excited about playing host here."
Interest from the community has been overwhelming. Tickets for all sessions sold out almost immediately. Tickets are required to even get inside City National Arena, which is generally open to the public.
"It's going to be beyond a full house," McCrimmon said. "This is a real big initiative, but we're well prepared for it."
Every team in the league is participating in either a rookie tournament or series of games in the next few days.
The NHL Prospects Tournament in Traverse City, Michigan, is the most well known. Now in its 20th season, the field for 2018 includes Detroit, Dallas, Carolina, Columbus, Chicago, Minnesota, St. Louis and the New York Rangers.
Other events are taking place in New York, Buffalo, New York, and Estero, Florida, along with three sites in Canada.
The players the Knights hope make up their future core are excited to play before what figures to be a raucous crowd.
Defenseman Nicolas Hague, a 2017 second-round pick who was named the top defenseman in the Ontario Hockey League last season, has big plans for the three games.
"I want to go out and show what I can do," he said after Friday's practice. "I don't want to blend in. I want to be a standout and show the management I have the mindset that I'm fighting for a spot, and I want to make the team out of camp. I just have to go out and play my game and do everything in my power to show that."
The Knights open play at 7 p.m. Saturday against the Avalanche.
More Golden Knights: Follow all of our Golden Knights coverage online at reviewjournal.com/GoldenKnights and @HockeyinVegas on Twitter.
Contact Adam Hill at ahill@reviewjournal.com or 702-277-8028. Follow @AdamHillLVRJ on Twitter.
Vegas Rookie Faceoff
All Golden Knights games will stream through vegasgoldenknights.com and air on KRLV-AM (1340).
Saturday
Game 1 — Coyotes vs. Sharks, 3 p.m.
Game 2 — Kings vs. Ducks, 5 p.m.
Game 3 — Avalanche vs. Golden Knights, 7 p.m.
Sunday
Game 4 — Kings vs. Coyotes, 3 p.m.
Game 5 — Avalanche vs. Ducks, 5 p.m.
Game 6 — Golden Knights vs. Sharks, 7 p.m.
Tuesday
Game 7 — Ducks vs. Coyotes, 11 a.m.
Game 8 — Sharks vs. Avalanche, 11:30 a.m.
Game 9 — Kings vs. Golden Knights, 2:30 p.m.