Wayne Gretzky believes Golden Knights will be successful on and off ice
August 11, 2017 - 9:51 am
Updated August 12, 2017 - 4:48 pm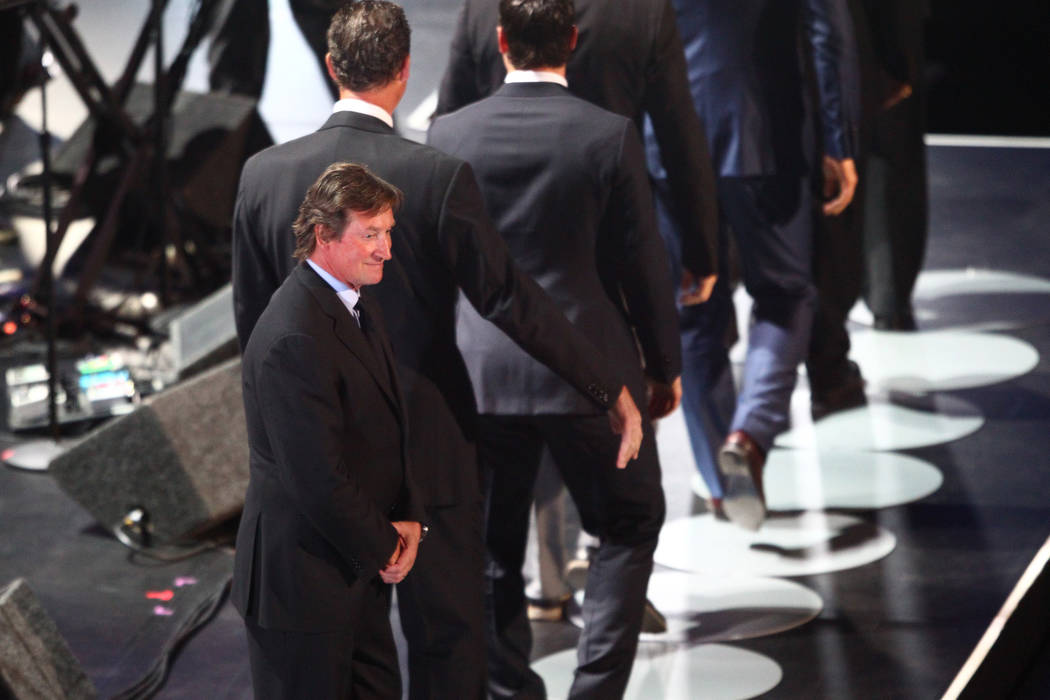 The Great One thinks the Golden Knights can be pretty good.
In a recent interview on the NHL Network, Wayne Gretzky was asked about the league's newest team and the impact it can have on hockey in the Southwest.
"Well, first of all, you've got to have good ownership, and it looks like they have strong, good, solid ownership," Gretzky said Wednesday. "Then they have to have good leadership, and Murray Craven is a tremendous man, and I know he understands the importance of youth hockey in the area. He's gonna do everything he can to expand and grow youth hockey in Vegas and in the surrounding area.
"Then you have to have a workaholic general manager, and I think George McPhee's record speaks for itself. What he's done in the past and how hard he works and how dedicated he is to making his teams the best teams that they can be.
"You know, now that I'm back in that division with Edmonton, I hope they don't get too good. I do pull for people who are good people, and it is a good organization."
Gretzky, who was traded from the Oilers to the Los Angeles Kings in 1988, said it would be smart for the Knights to look at past formulas for success and try applying them to their operation.
"We stole Mr. Ed Snider's blueprint in Philadelphia. … He wrote a book about (how) you can't have gimmicks, you can't give away cars and you can't give away prizes," he said. "The way to attract people is A, you have to have a good team, and B, most importantly, you have to have players that want to be out in the community and understand that youth hockey is important.
"You have to grow the sport. So, we stole the blueprint of the Philadelphia Flyers in LA, and hopefully, I'm sure the Vegas organization is gonna do the same thing."
Road trip
The Golden Knights are hitting the road.
A group of selected players, coaches, team executives and owner Bill Foley will spend next week promoting the team in Utah, Idaho and Montana beginning Tuesday. The tour is reaching areas that will be part of the team's TV coverage on AT&T SportsNet.
The first stop will be Tuesday in Coeur D'Alene, Idaho. Then it's on to Whitefish, Montana, on Wednesday; Bozeman, Montana, on Friday; and Salt Lake City on Saturday. There will be clinics, meet-and-greet opportunities and giveaways at all four stops.
"Once the season begins, our players will be very active in the Las Vegas area and participate in numerous community appearances and charitable events in our market," team president Kerry Bubolz said in a statement. "This is an opportunity for our players to visit other cities that we may not be able to reach during the season."
AT&T-Cox/CenturyLink update
Foley said progress is being made in negotiations between AT&T SportsNet and Cox Communications to get the network on the cable company's system.
"There's been some good back and forth discussions," he said. "They've had some productive talks, and they're continuing to talk."
The owner said he's not worried about the sides reaching a deal in time for the Knights' inaugural NHL season, which begins Oct. 6 in Dallas.
"I talked to the AT&T people, and they're very confident of working out a deal with Cox," he said.
A CenturyLink spokesman said in a statement: "CenturyLink and AT&T SportsNet continue to discuss the potential carriage of the AT&T SportsNet service on Prism TV in Nevada. We hope to reach an agreement soon."
Announcing teams
Foley said the Knights have settled on their broadcast teams for TV and radio, and an announcement could come as early as Monday.
He wouldn't say who will be calling the games on Fox Sports Radio 1340 AM and AT&T SportsNet.
Remembering Murray
The hockey world was mourning the death of longtime coach and general manager Bryan Murray, who died Saturday at age 74 after a three-year battle with colon cancer.
The Golden Knights released a statement from general manager George McPhee on Murray:
"We woke to the sad news of Bryan's passing today. He was a fine man, and an accomplished hockey executive. One whose timely wit and humor was always welcome.
"Personally, and on behalf of the Vegas Golden Knights organization, our thoughts and prayers go out to Bryan and his family."
More Golden Knights: Follow all of our Golden Knights coverage online at reviewjournal.com/GoldenKnights and @HockeyinVegas on Twitter.
Contact Steve Carp at scarp@reviewjournal.com or 702-387-2913. Follow @stevecarprj on Twitter.