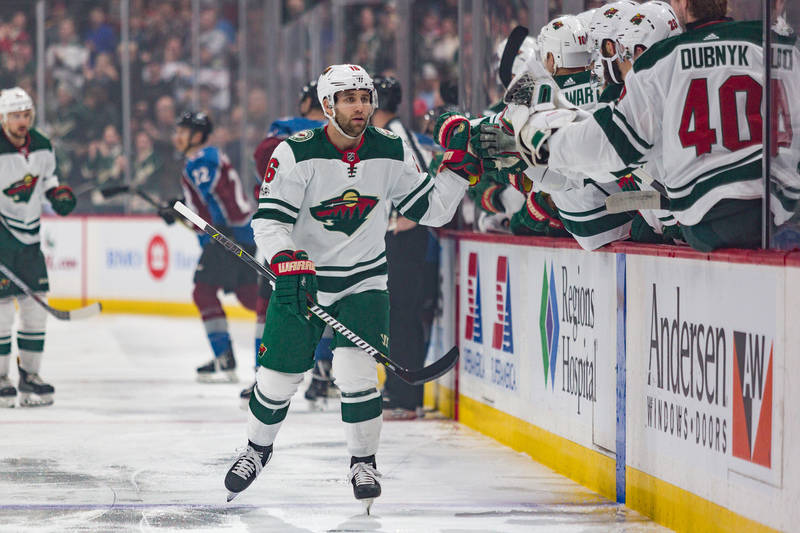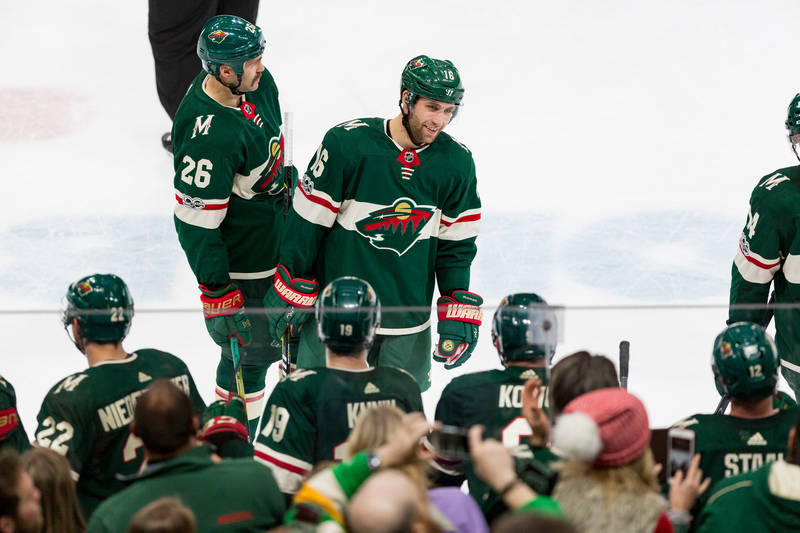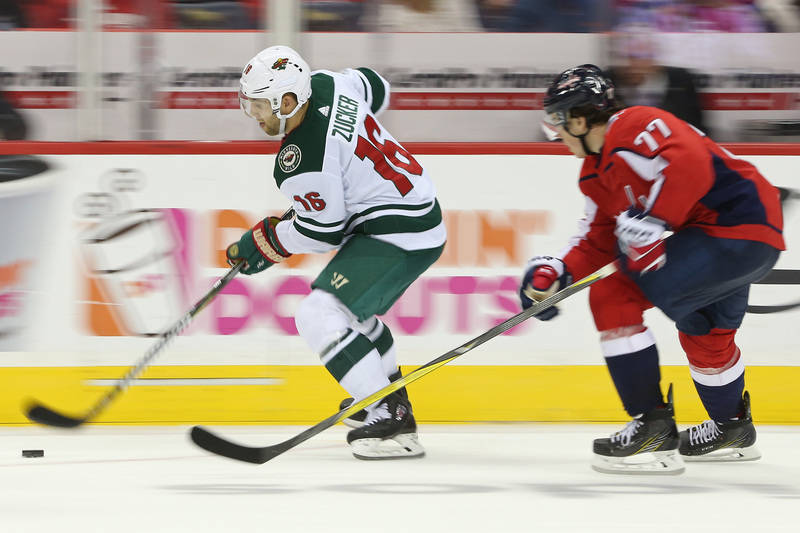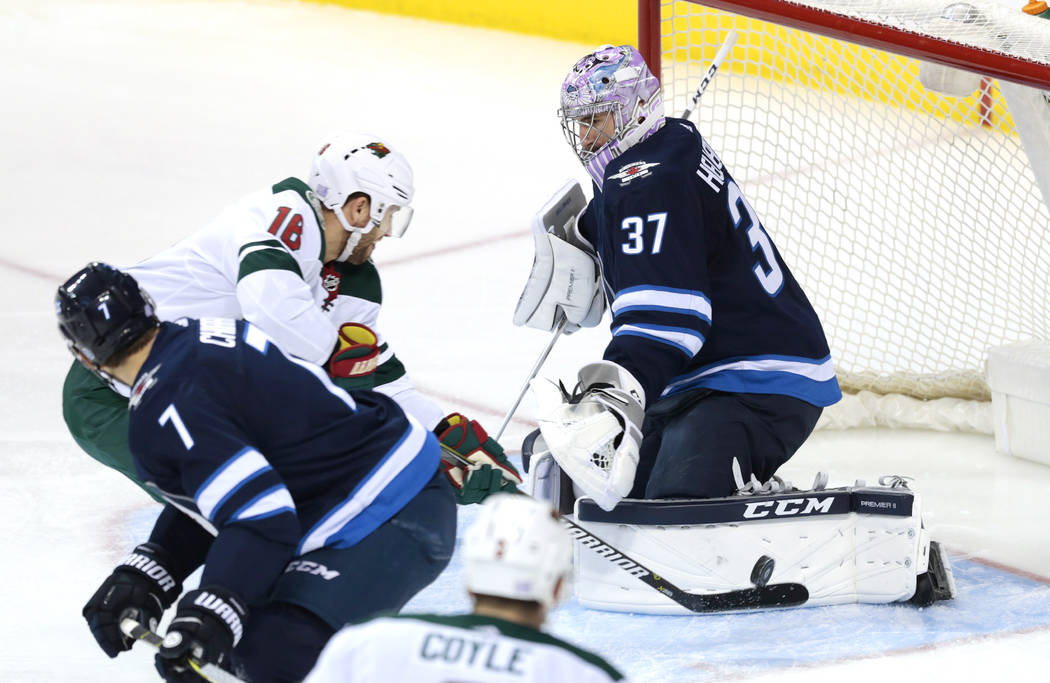 Jason Zucker's sleep pattern was the subject of intense speculation last month.
The Minnesota Wild forward is happy to report he's been getting enough Zs lately.
"My wife's doing a great job making sure I get plenty of sleep," he said with a laugh before Thursday's game against his hometown Golden Knights.
Zucker and his wife, Carly, had their first son, Hendrix, on Oct. 27 while the Wild were in the middle of a six-game homestand. Zucker then went scoreless in the Wild's next four games.
That sent the Twitterverse into a frenzy, as fans theorized the reason for Zucker's drought was a lack of sleep due to having a newborn in the house.
Coincidentally(?), Zucker went on a goal-scoring tear during the Wild's next road trip.
He scored six consecutive goals in a three-game stretch, becoming the first player to score six straight goals for his team since Boston's Glen Murray in 2004, according to the Elias Sports Bureau.
That's when the slumber meme took off, with Carly Zucker leading the trolling.
When Zucker scored twice in a 4-2 loss at Toronto on Nov. 8, Carly Zucker tweeted, "NEVER COME HOME! GET ALL THE SLEEP!"
NEVER COME HOME! GET ALL THE SLEEP! https://t.co/r6ri9KQkcI

— Carly Zucker (@CarlyAplin) November 9, 2017
The following night, Zucker notched the first hat trick of his career to help the Wild win 3-0 at Montreal. He had the lone goal in Minnesota's 1-0 win at Philadelphia on Nov. 11, which prompted Carly to tweet, "The doors are locked. It's been a good run, husband. You're never allowed home."
The doors are locked. It's been a good run, husband, but you're never allowed home https://t.co/t6y6YG8LhQ

— Carly Zucker (@CarlyAplin) November 12, 2017
"Obviously, it's always nice to have a great family life at home, and that's what I have," Jason Zucker said. "I'm very blessed to have a great wife and a beautiful little girl (stepdaughter Sophia) and a healthy young boy right now. Everything's great, and it definitely makes you feel a little bit better when you're heading to the rink every day."
The 25-year-old Zucker is coming off his best season as a pro when he had 22 goals and 25 assists to help the Wild reach the playoffs.
Zucker, who grew up in Las Vegas, had an assist on Mikael Granlund's second-period goal in the Wild's 4-2 victory over the Knights on Thursday.
He led the Wild in goals (13) and was second on the team with 21 points entering Saturday's game against St. Louis.
"For me, I'm just trying to get better every day," Zucker said. "I feel like I've made some jumps in my game, but I still think there's some work to do. I think we can all say that in this room, and I think we're looking to have some better performances as a team here."
Cashing in
Ottawa defenseman Erik Karlsson told reporters last week he won't take a hometown discount when he becomes an unrestricted free agent in 2019.
That's bad news for the small-market Senators, who could be forced to trade the two-time Norris Trophy winner if they can't negotiate a new contract this summer.
"When I go to market, I'm going to get what I'm worth," the 27-year-old Karlsson said, "and it's going to be no less, no matter where I'm going."
Karlsson, who helped the Senators reach the Eastern Conference finals last season, is in the sixth season of a seven-year contract that pays him an average annual salary of $6.5 million. He's expected to command more than $10 million per season in a new deal.
Nashville's P.K. Subban is the highest-paid defenseman in the league with a $9 million salary cap hit, according to CapFriendly.com.
Brothers in arms
Vancouver's Daniel Sedin recorded his 1,000th career point when he scored during the third period of the Canucks' 5-3 victory at Nashville on Thursday.
Sedin and his identical twin, Henrik, are the only brothers in NHL history to join the exclusive 1,000-point club. Fittingly, Henrik picked up an assist on Daniel's goal.
Heading into Saturday's game against Toronto, Daniel Sedin had a franchise-record 376 goals along with 625 assists in 17 seasons with the Canucks. Henrik had 1,035 points.
"It's been special playing with him for so long on the same team," Daniel Sedin said.
Contact David Schoen at dschoen@reviewjournal.com or 702-387-5203. Follow @DavidSchoenLVRJ on Twitter.