Will Golden Knights buy, sell or stand pat as NHL deadline nears?
February 22, 2018 - 6:06 pm
Updated February 22, 2018 - 7:53 pm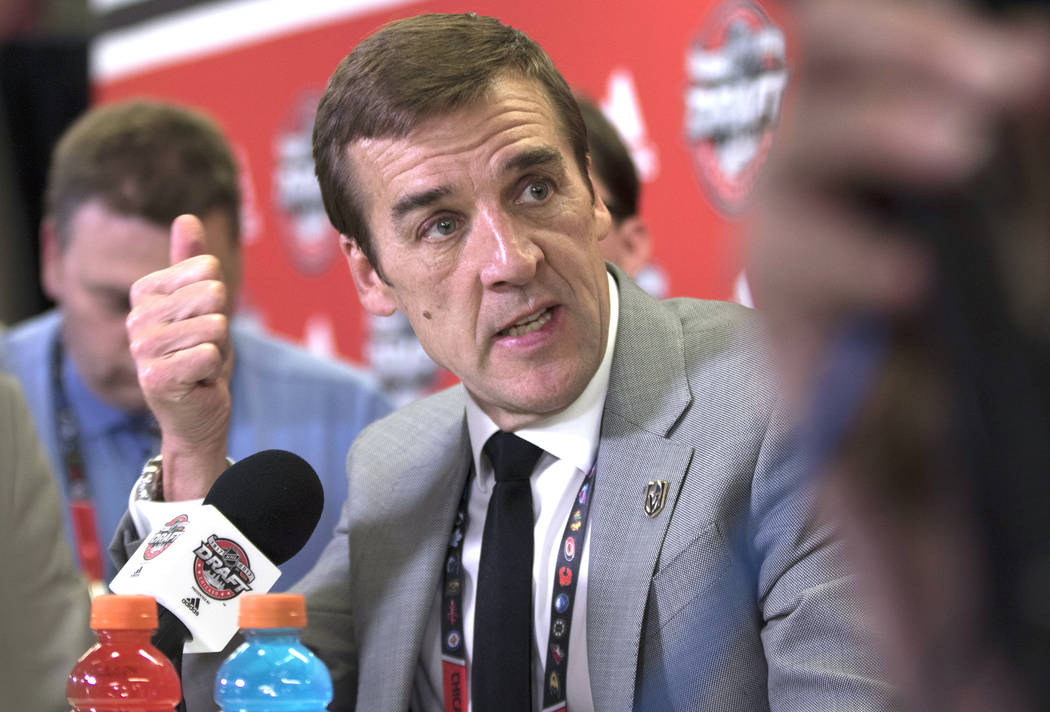 By now, Golden Knights general manager George McPhee has a feel for what his team may need to make a long playoff run.
McPhee won't offer any clues. But as the Knights wrap up their seven-game homestand Friday at T-Mobile Arena against the Vancouver Canucks — and with the NHL trade deadline looming at noon Monday — McPhee and his hockey staff have been meeting all week to discuss their options.
Do they try to pick up a little more scoring? With their corps of defensemen almost intact, is now the time they maybe move one of the eight on the roster?
McPhee isn't likely to deal away any draft picks or prospects. He's also aware of the solid chemistry in his team's locker room.
Forward James Neal and defenseman Shea Theodore are expected back as early as Friday after battling illnesses. In addition, forward Will Carrier, center Pierre-Edouard Bellemare and goaltender Malcolm Subban should return in the coming weeks in time for the playoffs, which begin the second week of April.
"Unless there's some bite to a blockbuster deal for (Ottawa defenseman) Erik Karlsson, I don't see George doing anything," said Gord Stellick, a former Toronto Maple Leafs general manager and former assistant GM with the New York Rangers who hosts a national talk show on SiriusXM and also appears on Rogers Sportsnet. "They've got everything going their way right now and you don't want to upset the guys in the room."
As for the players, they know what time of the year it is, and they talk to their agents.
"Obviously there's always a chance," defenseman Luca Sbisa said of the Knights making a move by Monday. "You think guys are safe and you figure there's no chance they're going to get traded and then you see them get traded and sometimes it goes the other way; guys you think are certain to get traded don't go anywhere."
Sbisa, 28, is an unrestricted free agent at the end of the season and makes $3.6 million. He could be someone of interest to teams that need help on the blue line. He has struggled with his health this year, spending three different stints on injured-reserve. But when he has been healthy, he has played well. He had a goal and an assist in Wednesday's 7-3 win over Calgary.
"It has crossed my mind for sure," Sbisa said of being traded. "You'd be naive not to think that. But I talked to my agent and we haven't heard anything. So I'm just going to focus on playing and not worry about things that are out of my control."
Fellow defenseman Brad Hunt felt the same way.
"It's part of the game," he said of trade rumors. "I think it's always in back of guys' minds. But you're here to play hockey and I think that's where everyone's focus is here."
If the Knights do look to make a move, perhaps they try to pick up some speed and scoring help for the bottom two lines.
Ottawa center Derick Brassard is rumored to be available. Maybe the New York Islanders are looking to move center Brock Nelson. Edmonton might be willing to part ways with veteran center Mark Letestu.
If the Knights are looking for defensive help, maybe Detroit's Mike Green or Jack Johnson of Columbus could be obtained at a reasonable cost. Both could help on the power play, though Colin Miller and Nate Schmidt have performed well all season in that capacity.
Coach Gerard Gallant said he never worries about the trade deadline.
"I just coach who they give me," he said. "If they ask my opinion on a player, I'll give it. Otherwise, I stay out of the process."
More Golden Knights: Follow all of our Golden Knights coverage online at reviewjournal.com/GoldenKnights and @HockeyinVegas on Twitter.
Contact Steve Carp at scarp@reviewjournal.com or 702-387-2913. Follow @stevecarprj on Twitter.
Game day
Who: Canucks at Golden Knights
When: 7:30 p.m. Friday
Where: T-Mobile Arena
TV: AT&T SportsNet (Cox 313/1313, DirecTV 684, CenturyLink 760/1760, U-verse 757/1757)
Radio: KRLV (98.9 FM, 1340 AM)
Line: Golden Knights -260; total 6 -110
Deal or No Deal?
Will the Golden Knights be active with the NHL trade deadline looming at noon Monday? Four players they might consider.
1. Derick Brassard, center, Ottawa Senators — He has 17 goals and 36 points. But Brassard has scored as many as 27 goals in a season. He's 30, and still has some tread left. But he makes $5 million and that's a lot for a third-line center.
2. Mike Green, defenseman, Detroit Red Wings — GM Ken Holland is in sell mode as witnessed by his moving goaltender Petr Mrazek to Philadelphia. Green has scored only six goals, but maybe a change of scene would ignite a spark. George McPhee drafted him when he was in Washington.
3. Mark Letestu, center, Edmonton Oilers — Yes, he's 33 and he's struggled offensively, scoring just eight goals. Still, that's more than Oscar Lindberg, Cody Eakin, Brendan Leipsic and Tomas Nosek. Plus he'd be a good person to have in the locker room.
4. Brock Nelson, center, New York Islanders — He's a big, rangy guy who has been a 20-goal scorer three times in his five seasons with the Islanders. He has 14 goals this year as a third-line center and at 6-foot-3-inches, 212 pounds, he'd give the Knights some bulk up front, which will come in handy during the playoffs.