Zucker family enjoys homecoming as son faces Golden Knights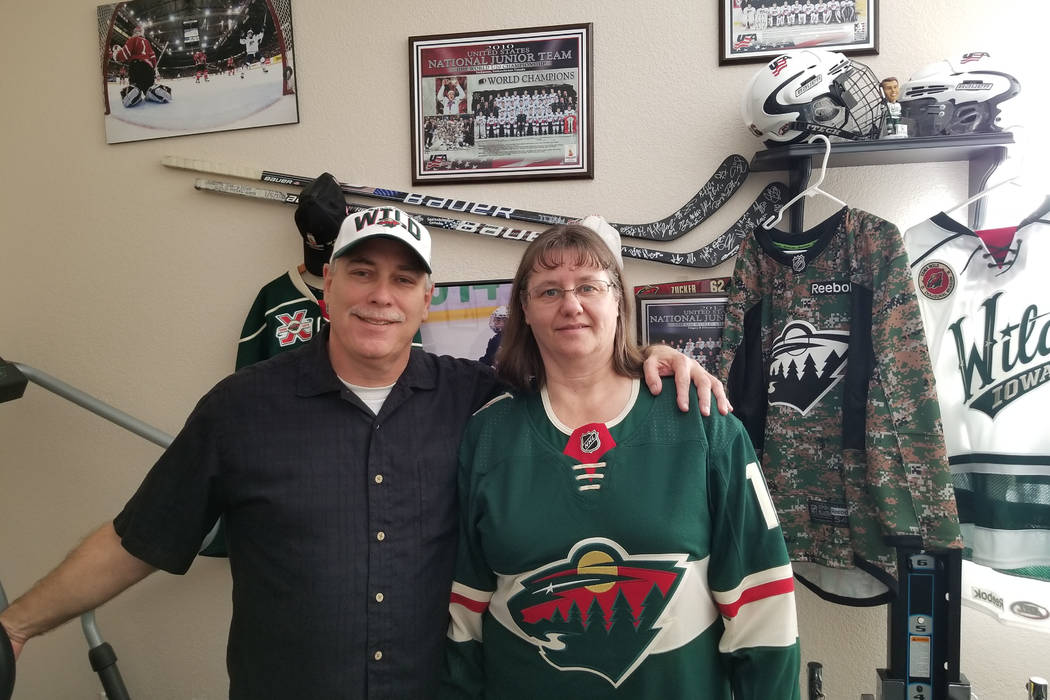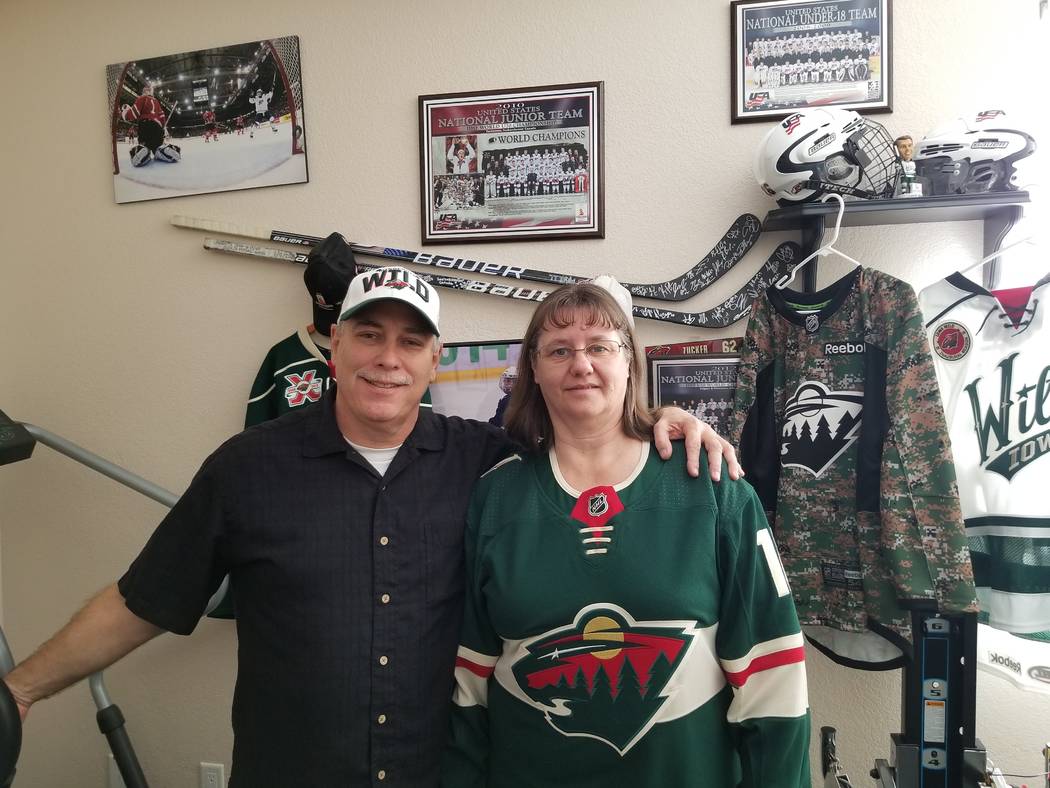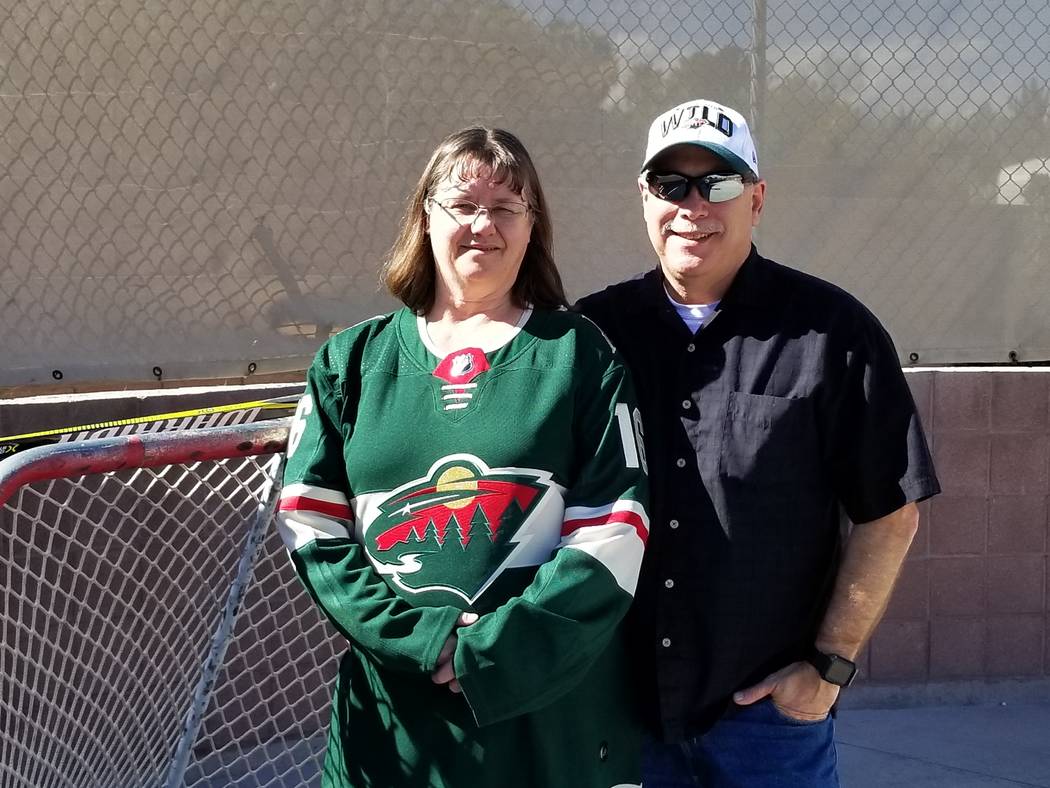 Hanging on the wall of the entrance to the kitchen in Scott and Natalie Zucker's Las Vegas home is a large plaque in the shape of the NHL logo.
The piece is adorned with pucks from all the other teams in the league and includes the date their son Jason Zucker of the Minnesota Wild scored his first goal against each club.
Of the 30 pucks on display, only one team's is missing a date — Zucker's hometown Golden Knights.
"I want him to score because it's the last team he hasn't scored (against) yet," Natalie Zucker said this week. "But it's just going to be awesome to have everyone together."
It's been a memorable season for the first family of Las Vegas hockey, from the Oct. 1 mass shooting that touched the Zucker family and the success of the expansion Knights — Scott and Natalie are season-ticket holders — to a career year for their son.
The culmination comes Friday as Jason Zucker plays at home for the first time as a pro when the Minnesota Wild (39-24-7, 85 points) meet the Knights (45-20-5, 95 points) at 7:30 p.m. at T-Mobile Arena in a pivotal game for both teams.
"I think it's going to be a little bit weird," Jason Zucker said Thursday after the Wild's practice. "I think they're sitting in their season-ticket seats, so they're usually cheering for the Knights. I think they're pretty excited about it. It should be pretty fun."
Jason Zucker is the first player raised in Nevada — he was born in Newport Beach, California — to play in the NHL and is expected to have hundreds of friends and family at Friday's game.
Among those expected to be in attendance is UNLV assistant hockey coach Nick Robone, who was shot in the Oct. 1 attack and is a close friend of the Zucker family.
Scott Zucker, who is the president of the Nevada Amateur Hockey Association, said he has received dozens of text messages this week from people hoping Jason scores a hat trick and the Knights emerge victorious.
"We're Knights fans 79 games a year," Scott Zucker said. "And those other three games, we're Wild fans."
Jason Zucker's homecoming comes as the Knights and Wild each have 12 games remaining and are fighting for playoff position.
Minnesota sits third in the Central Division and could meet the Pacific Division-leading Knights in the opening round of the Western Conference playoffs. The Wild are 2-0 against the Knights.
Natalie Zucker rolled her eyes and laughed at the possibility of a potential playoff series between the Knights and Wild.
"I look at the standings every day. She doesn't," Scott Zucker said. "I absolutely pay attention to where the Knights are and could that be the first-round matchup. That would be fantastic to catch multiple games. That would be great."
Jason Zucker, who is set to become a restricted free agent, is in line for a hefty raise following his best season as a pro.
Skating on Minnesota's top line alongside Hart Trophy candidate Eric Staal, the 26-year-old left wing is third on the team in scoring and has career highs in goals (28), assists (26) and points (54) in 70 games.
Jason Zucker has one assist in two games against the Knights.
"Obviously, the Knights fans are going to cheer for the Knights," Scott Zucker said. "It'll be very interesting to see what kind of reception he gets, especially if we're fortunate enough and he scores a goal. It would be really interesting to see how that goes."
Contact David Schoen at dschoen@reviewjournal.com or 702-387-5203. Follow @DavidSchoenLVRJ on Twitter.
Game day
■ Who: Golden Knights vs. Wild
■ When: 7:30 p.m. Friday
■ Where: T-Mobile Arena
■ TV: AT&T SportsNet (Cox 313/1313, DirecTV 684, CenturyLink 760/1760, U-verse 757/1757)
■ Radio: KRLV (98.9 FM, 1340 AM)
■ Line: Knights -165; total 5 1/2 over-115
Three storylines
1. Mental hurdle. The Golden Knights were outscored 9-4 in two road losses to Minnesota, with center Eric Staal notching four of those goals. These teams could meet in the postseason, and a win would help prove the Knights match up with the Wild just fine.
2. Goaltending dilemma. Marc-Andre Fleury looked fatigued in Wednesday's loss to New Jersey and was pulled 2:31 into the second period. He was given Thursday off, and with Malcolm Subban set to return from IR, the Knights have a tough decision on their starting goalie.
3. Crumbling castle. The Knights remain one of the best home teams in the Western Conference (24-8-2). But they've lost three straight in regulation at home and need to re-establish their dominance at T-Mobile Arena heading into the playoffs.
David Schoen Las Vegas Review-Journal