1 injured Golden Knights player practices, but 2 others sit out
Updated September 29, 2021 - 4:15 am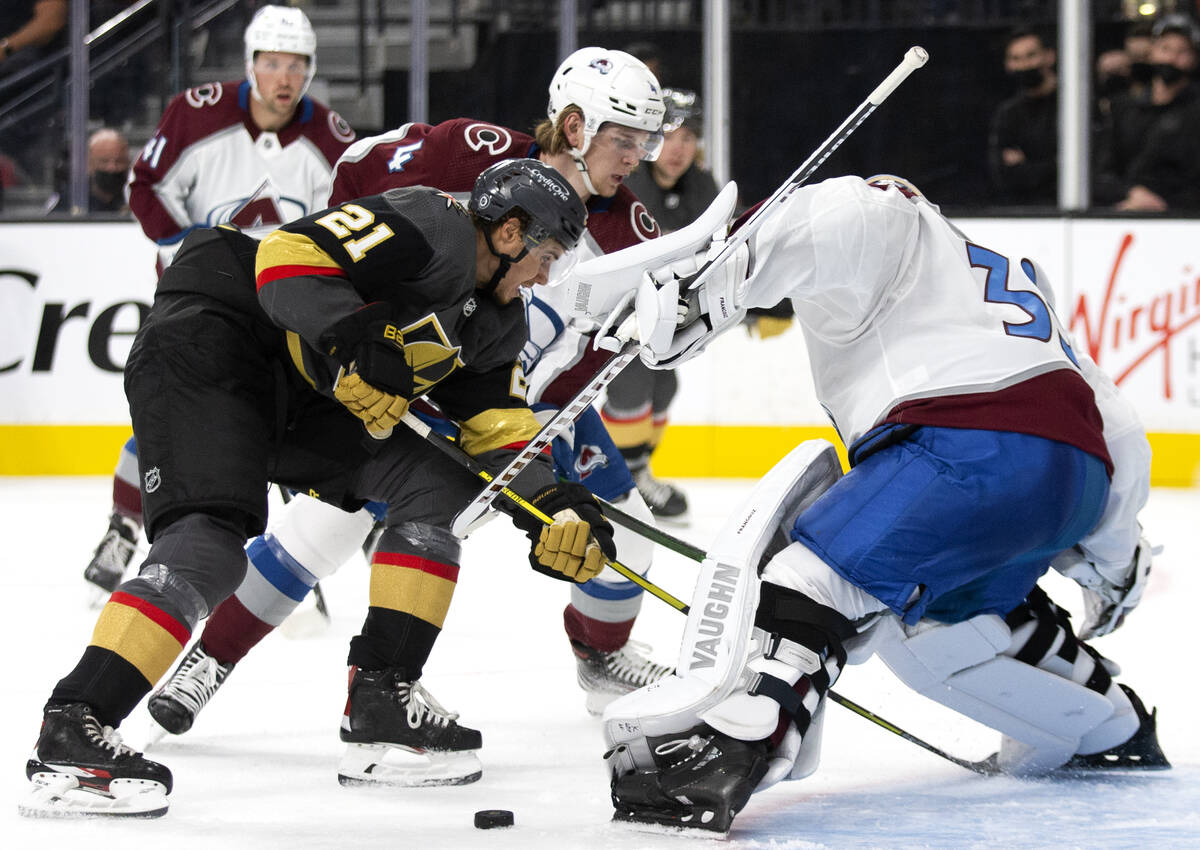 The Golden Knights are still feeling the effects of their first preseason game Sunday.
Knights captain Mark Stone practiced Tuesday after leaving a 4-2 loss to the San Jose Sharks at T-Mobile Arena, but defensemen Brayden McNabb and Shea Theodore did not practice. Stone was hit in the face with a puck in the first period and didn't return mainly as a precaution, coach Pete DeBoer said Sunday. DeBoer said Tuesday that Stone was fine.
Theodore, who did not play in the third period Sunday, is considered day to day, DeBoer said. McNabb, whose last shift ended with 9:10 remaining, appeared to have muscle spasms and has nothing wrong structurally, DeBoer said.
Theodore and McNabb comprise the Knights' second defense pairing and have been key figures on the team since its inaugural season. Theodore has finished sixth in the Norris Trophy voting each of the last two seasons.
The two have plenty of time to heal before the Knights' Oct. 12 regular-season opener, but the blue line has been hit hard at training camp. The team had 11 healthy defensemen Tuesday with Layton Ahac and Jake Bischoff hurt and Ian McCoshen, who is on a professional tryout agreement, working his way back from offseason surgery. McCoshen, who has played 60 NHL games, has yet to be cleared for full contact.
The absences allow for extra ice time to younger defensemen Peter DiLiberatore and Kaedan Korczak, who played in the Knights' second preseason game Tuesday against the Colorado Avalanche at T-Mobile.
"We've got some defensemen dropping like flies here, so it's a good opportunity to see guys," DeBoer said.
Coghlan returns more confident
Defenseman Dylan Coghlan played in his second preseason game Tuesday after signing a two-year contract with an average annual value of $762,500 before camp.
The 23-year-old said he's eager to build off his rookie season, when he scored six points in 29 games.
"Those 29 games really helped," Coghlan said. "The start of the year, I wasn't really sure what to expect. I wasn't really that confident at the start. Just trying to get my game right and up to speed with some of the other guys around the league. I felt great toward the end. My confidence is pretty good right now."
DeBoer discusses "Ted Lasso"
Count DeBoer among the many who have watched the Apple TV+ show "Ted Lasso" about a fictional American coach in the English Premier League.
Even though DeBoer's resume is far more extensive than the ultra-positive Lasso's, he said he still took some things away from watching the show.
"I think Ted Lasso is a version of where today's coaching is going," DeBoer said. "It's to an extreme, obviously. But there was no Ted Lassos in the Bill Parcells era, and I think what it shows, and we all know, is the modern athlete now expects to be coached a little bit differently and we have to add some of those layers to our coaching. Not to that extent, but for sure there's a message in there."
Contact Ben Gotz at bgotz@reviewjournal.com. Follow @BenSGotz on Twitter.