10 players ejected during fight in Golden Knights' OT win
Updated March 9, 2023 - 11:07 pm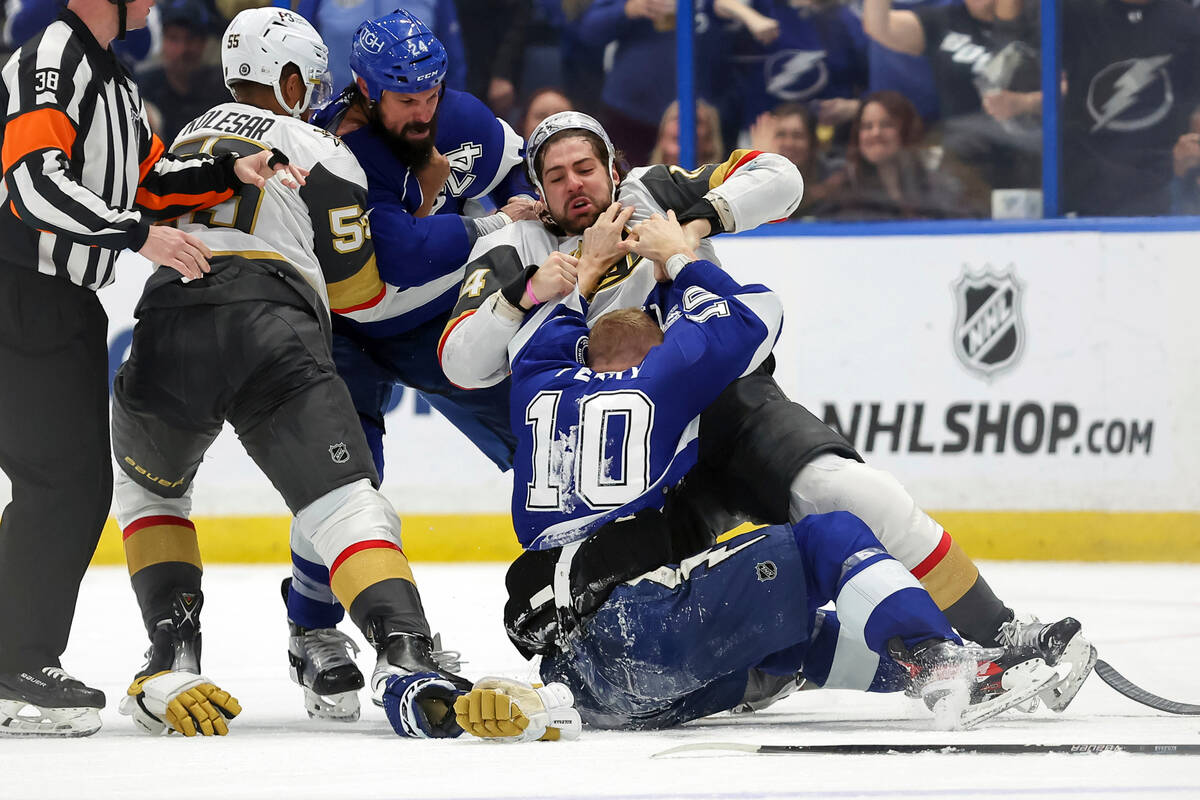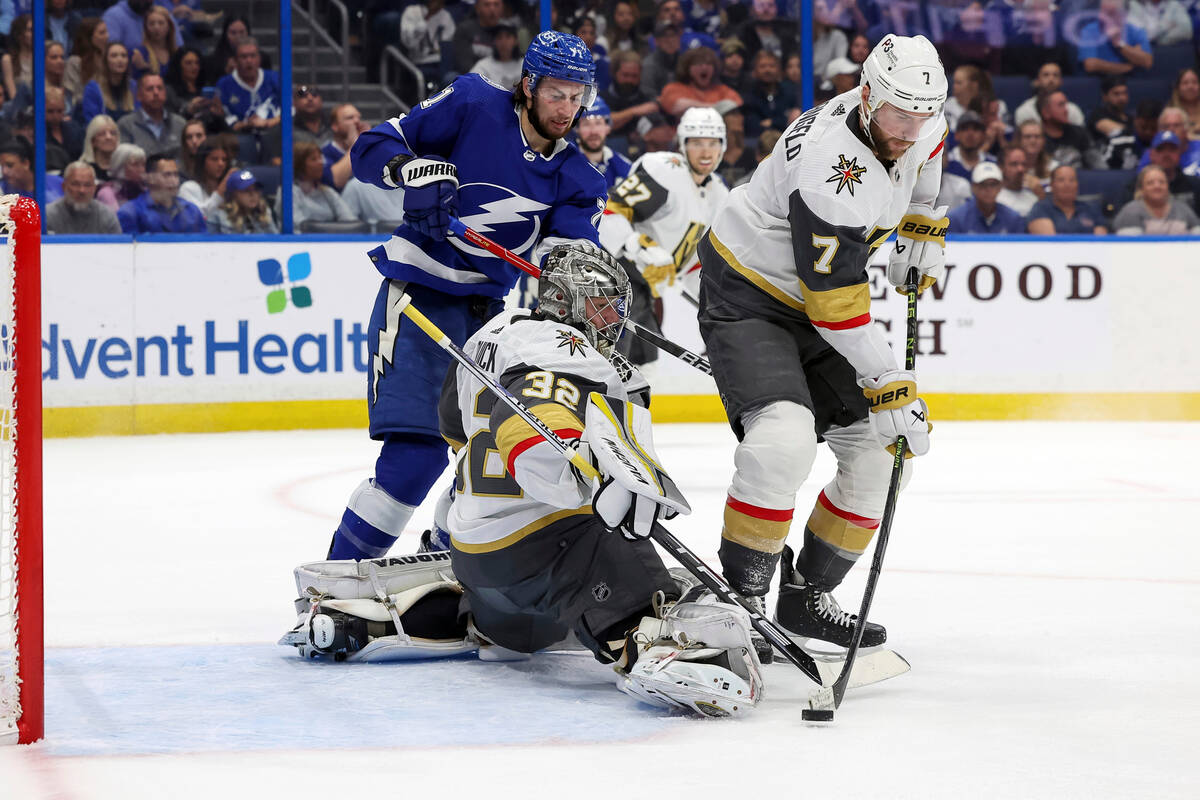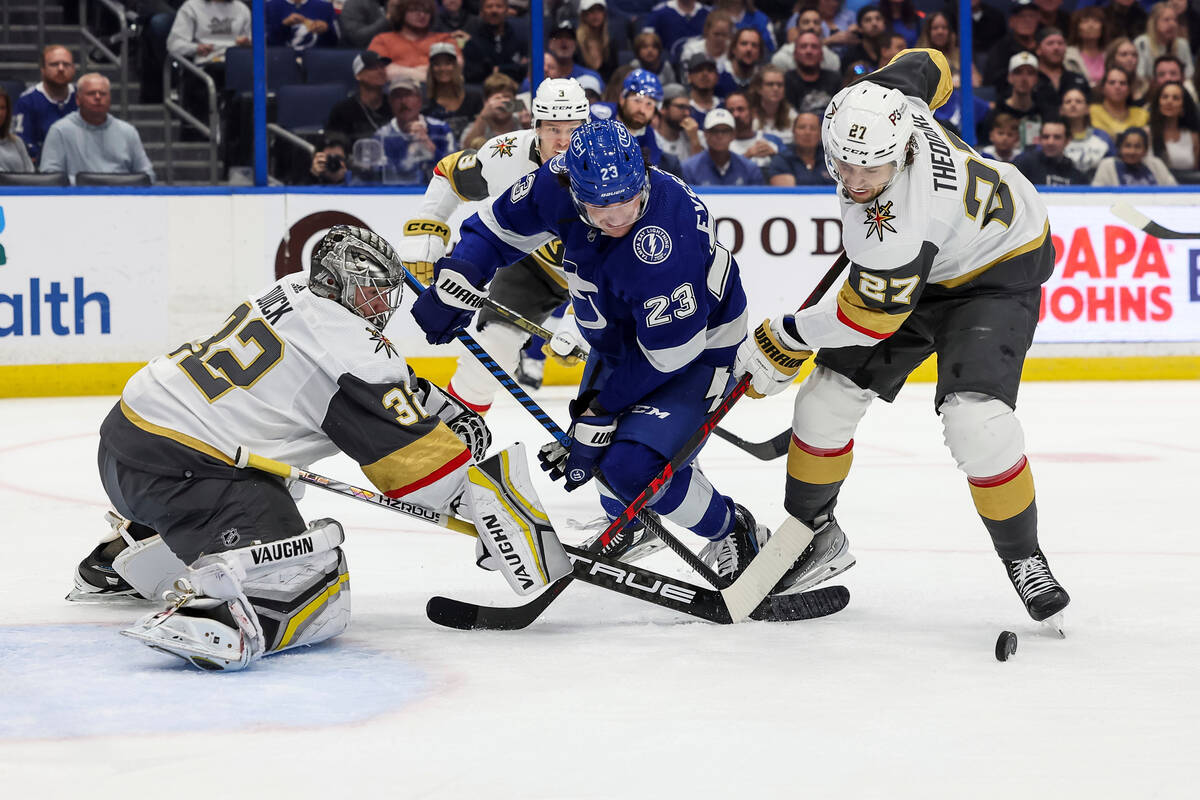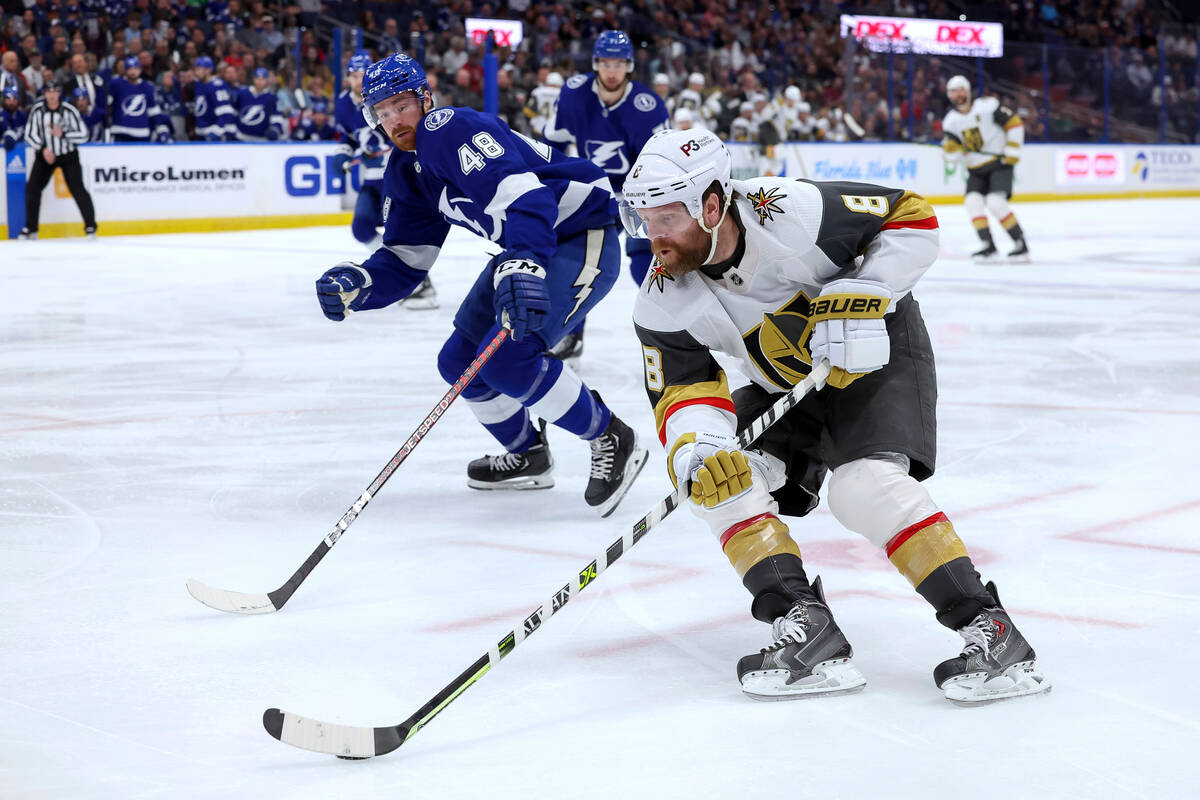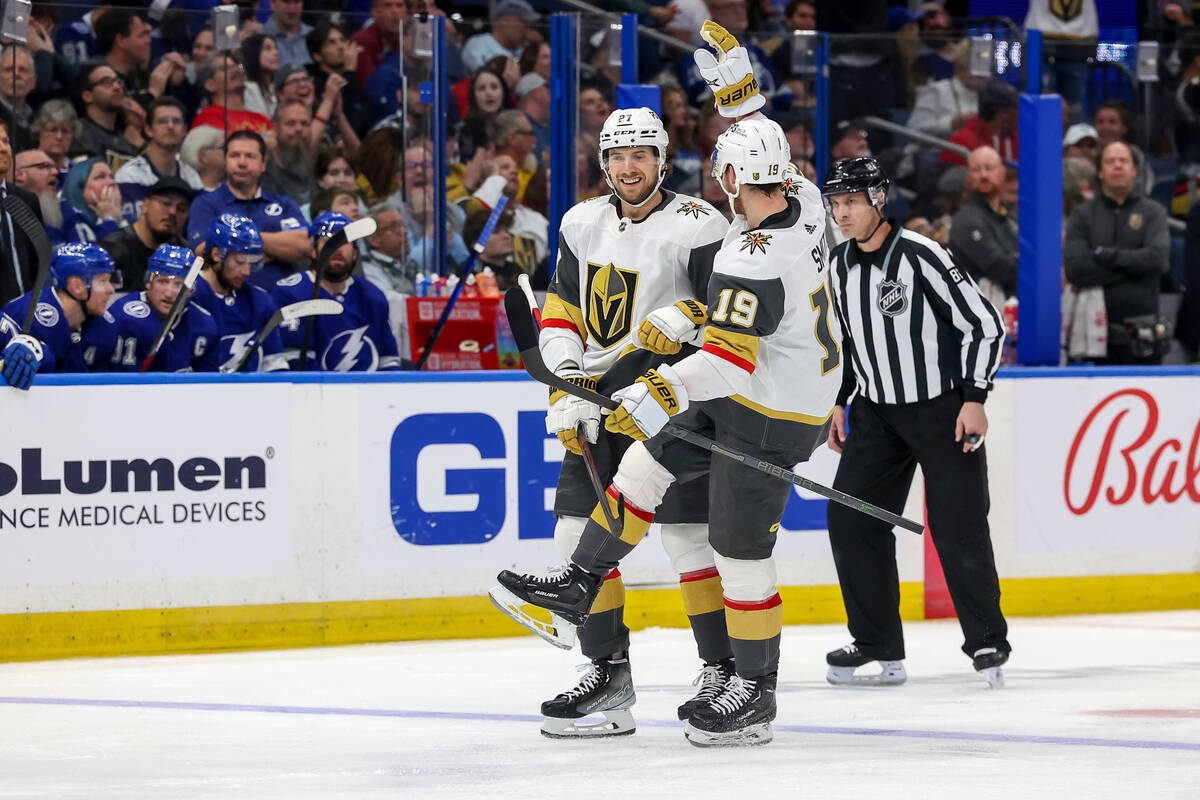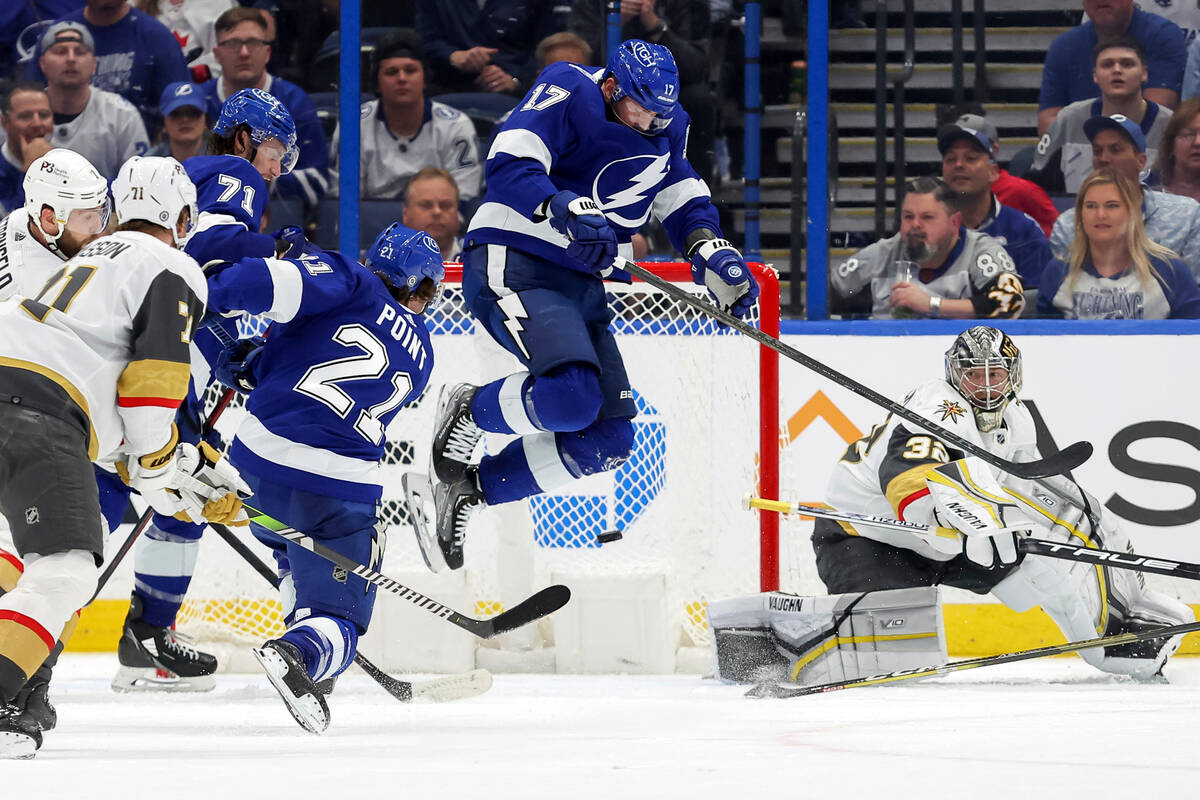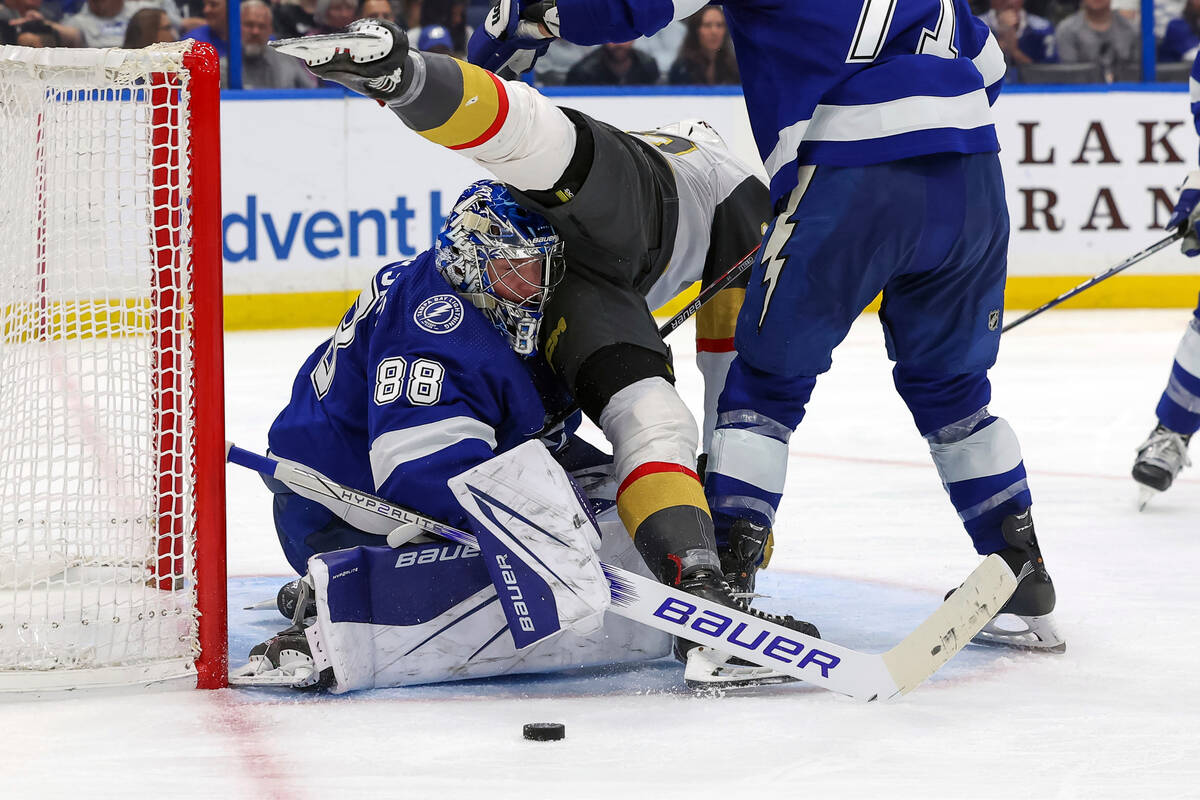 The Golden Knights, when they tell the story of Thursday's 4-3 overtime win at Tampa Bay long after they've hung up their skates, won't be believed.
That's impossible, their audience will say. There's no way that much action, mayhem and magic could fit into 63 minutes, 6 seconds of hockey.
But somehow, it did.
Alec Martinez's fourth career overtime goal was only the start. There was a stolen signature move. A 10-skater scrum that led to 10 skater ejections. A furious Lightning comeback that nearly cost the Knights a point at Amalie Arena.
Martinez's dive to poke a puck past the goal line finished one of the most madcap games in franchise history. The win, the Knights' fourth in five games, kept them atop the Pacific Division and Western Conference standings.
"It was pretty wild," Martinez told AT&T SportsNet. "That's probably one of the weirder games I've been a part of."
The Knights were fortunate to have a chance entering the third period.
Right wing Keegan Kolesar's opening-shift goal gave them the lead 27 seconds in, but Tampa Bay center Brayden Point responded 4:01 later.
The Lightning then dominated the puck until the second intermission. Tampa Bay had a 19-9 edge in shots entering the third.
Center William Karlsson then flipped the game on its head by scoring a short-handed goal. And he did it by accidentally pulling a "Kucherov," the maneuver named after Lightning star Nikita Kucherov.
The breakaway move involves a skater faking a shot near the crease and moving laterally to draw the goaltender out of position. The shooter then leaves the puck behind to let its own momentum carry it into the net. Karlsson wasn't trying to do that. But it happened anyway when Lightning defenseman Mikhail Sergachev tripped Karlsson below the faceoff dots on a breakaway and the puck got by goaltender Andrei Vasilevskiy.
After crashing in the corner, Karlsson said he didn't know he had snapped a 15-game goal drought until linemate Reilly Smith told him.
"I'm sure you could tell that I was pretty happy," he said. "That was a great feeling."
Center Chandler Stephenson broke a 12-game slump 3:12 later. His power-play goal gave the Knights a 3-1 lead.
The next set of fireworks went off along the wall instead of in front of the net. Tensions between the teams were simmering all game.
Knights defenseman Brayden McNabb and Lightning left wing Tanner Jeannot fought with 5:22 left in the second period after Jeannot delivered a hard hit to center Jack Eichel away from the puck. Center Steven Stamkos was given a cross-checking penalty when the second period was over for taking exception to what he thought was a late trip on Kucherov by defenseman Alex Pietrangelo.
Everything boiled over when Kolesar gave left wing Pat Maroon a little shove after the whistle with 7:44 to play. Maroon threw his gloved fist in Kolesar's face. Soon, everyone on the ice was involved. Kolesar and defenseman Nic Hague, who was harassed at the bottom of a pile by Lightning right wing Corey Perry, came away with bloody lips.
The officials issued game misconducts to all 10 skaters. That meant each team played five men short the rest of the way.
"We basically had no one on our bench," Martinez told AT&T SportsNet. "(Assistant coach John Stevens) was calling out D pairings, but he didn't really have to because there's only two of us left to go."
The Lightning still found a way to claw back. Kucherov scored off a one-timer with Vasilevskiy out of the net with 2:07 left in regulation. Point tied the score with 28 seconds remaining after a Stephenson high-sticking penalty gave Tampa Bay a six-on-four.
The late collapse brought back memories of the Knights' recent defeats to Chicago and Dallas in the past three weeks.
But the team didn't buckle in overtime.
Eichel fired a shot from the slot from 41 feet away 3:05 in. The puck squeaked through Vasilevskiy's pads, and Martinez was the first to notice. He beat Vasilevskiy to the puck and poked it over the goal line — giving himself a "pretty good charley horse" in the process before crashing into the net.
"At the end of the day, we found our emotional needle in this game," coach Bruce Cassidy said. "That little scrum, whatever, probably drags us into it, even though we lose key players. I just think a couple of those shifts really got us engaged."
Goaltender Jonathan Quick made his second start for the Knights, replacing Adin Hill, who has a lower-body injury. Hill returned to Las Vegas, according to AT&T SportsNet.
The Knights called up goaltender Jiri Patera from Henderson, the sixth goalie to dress for them this season, a franchise record.
Contact Ben Gotz at bgotz@reviewjournal.com. Follow @BenSGotz on Twitter.