3 takeaways from Golden Knights' win: 2 rookies get NHL firsts
Updated March 12, 2023 - 9:21 pm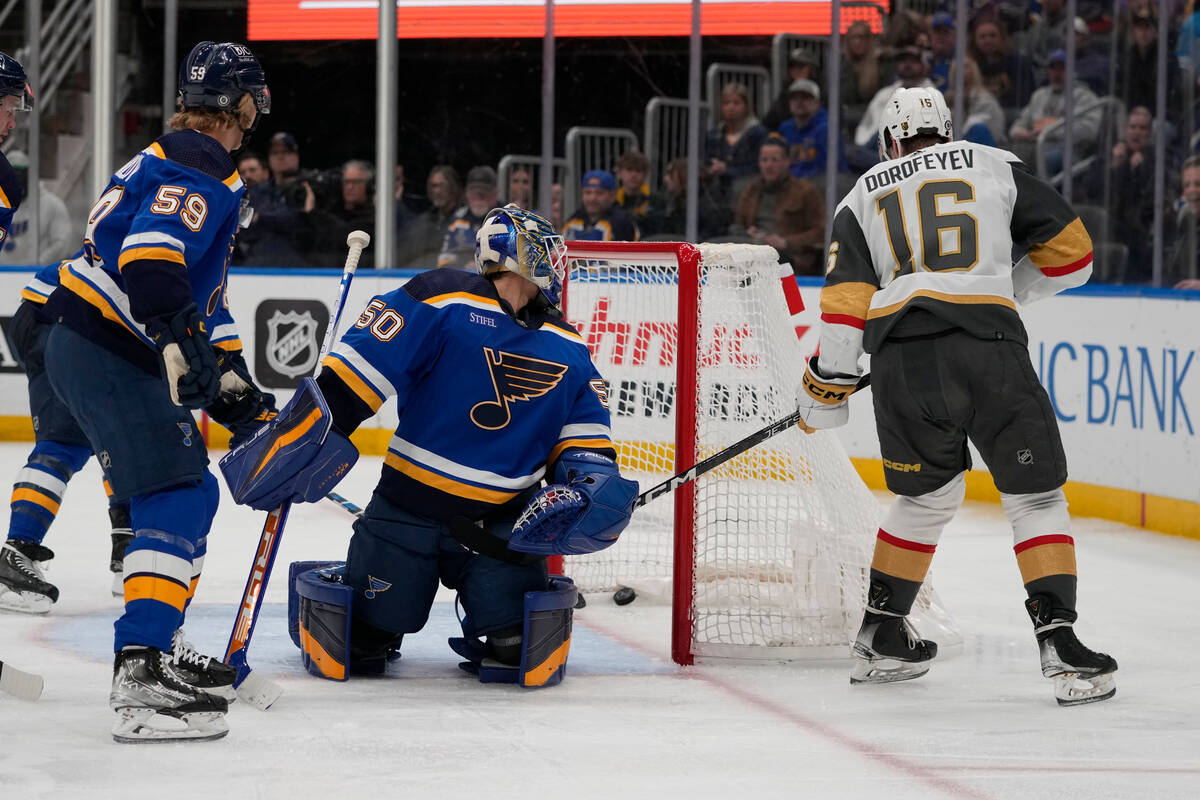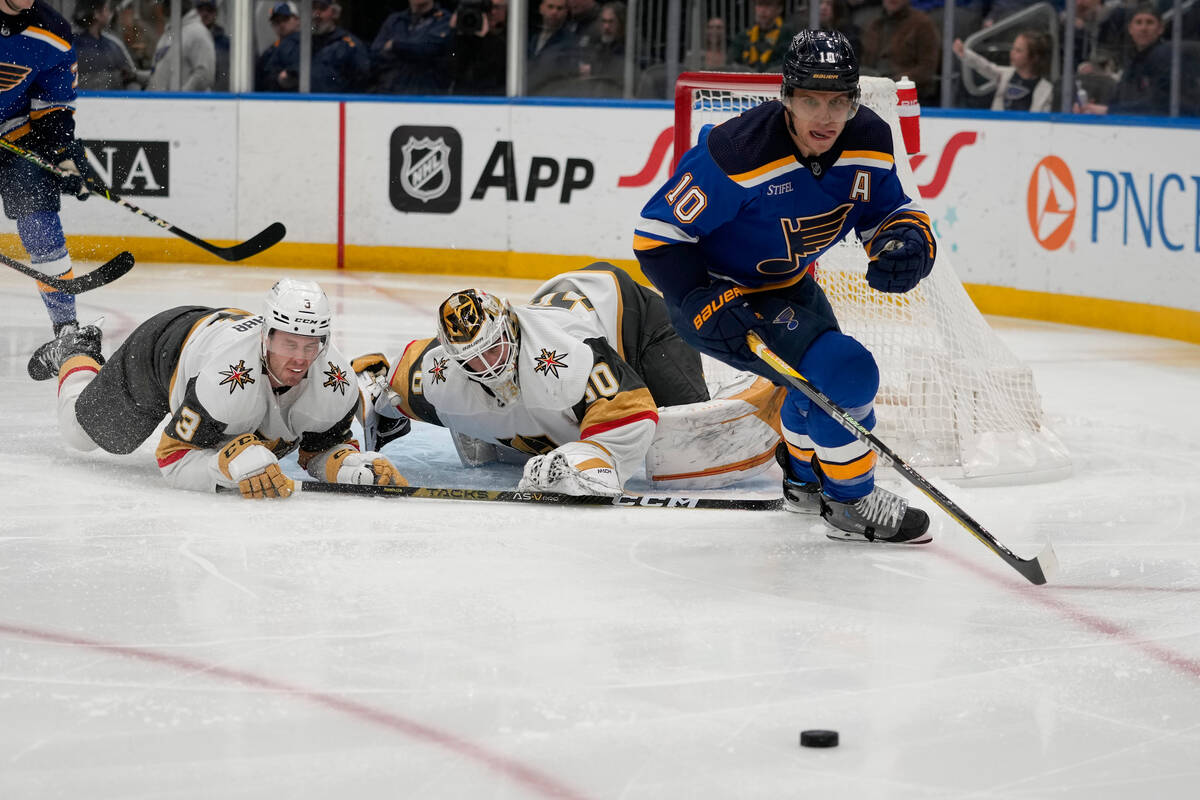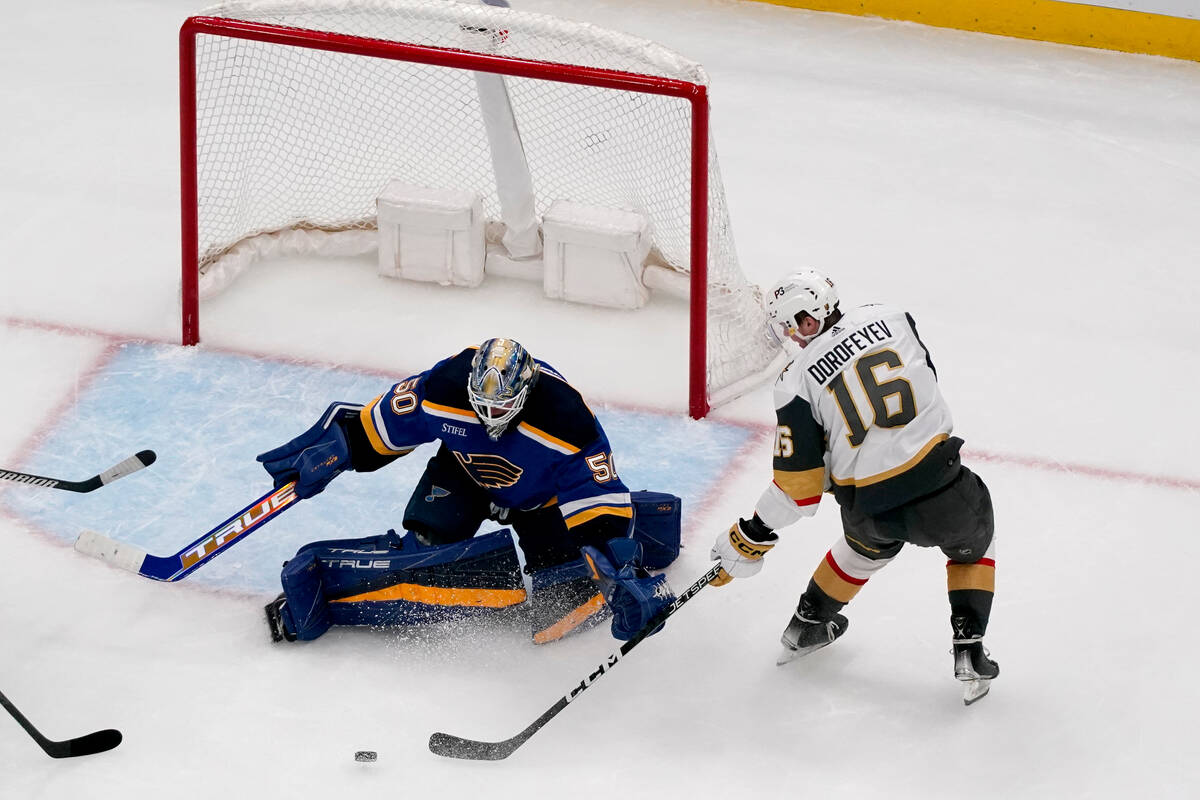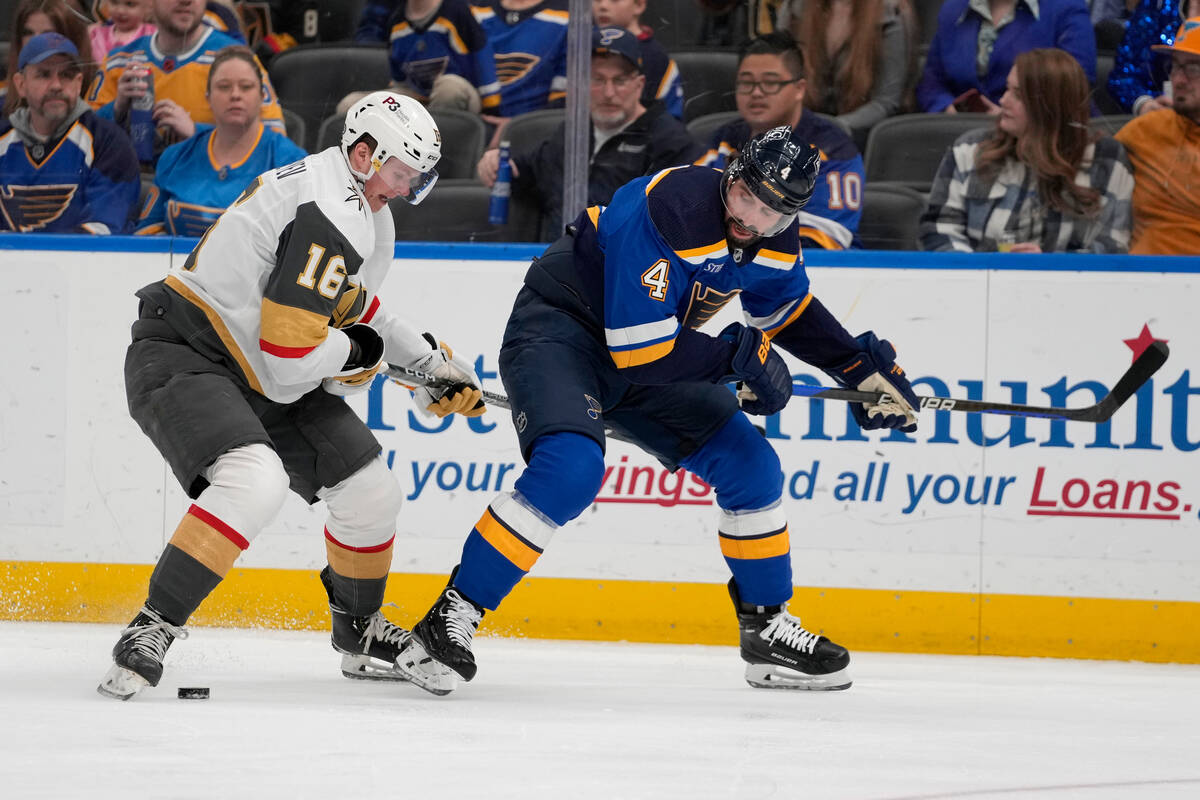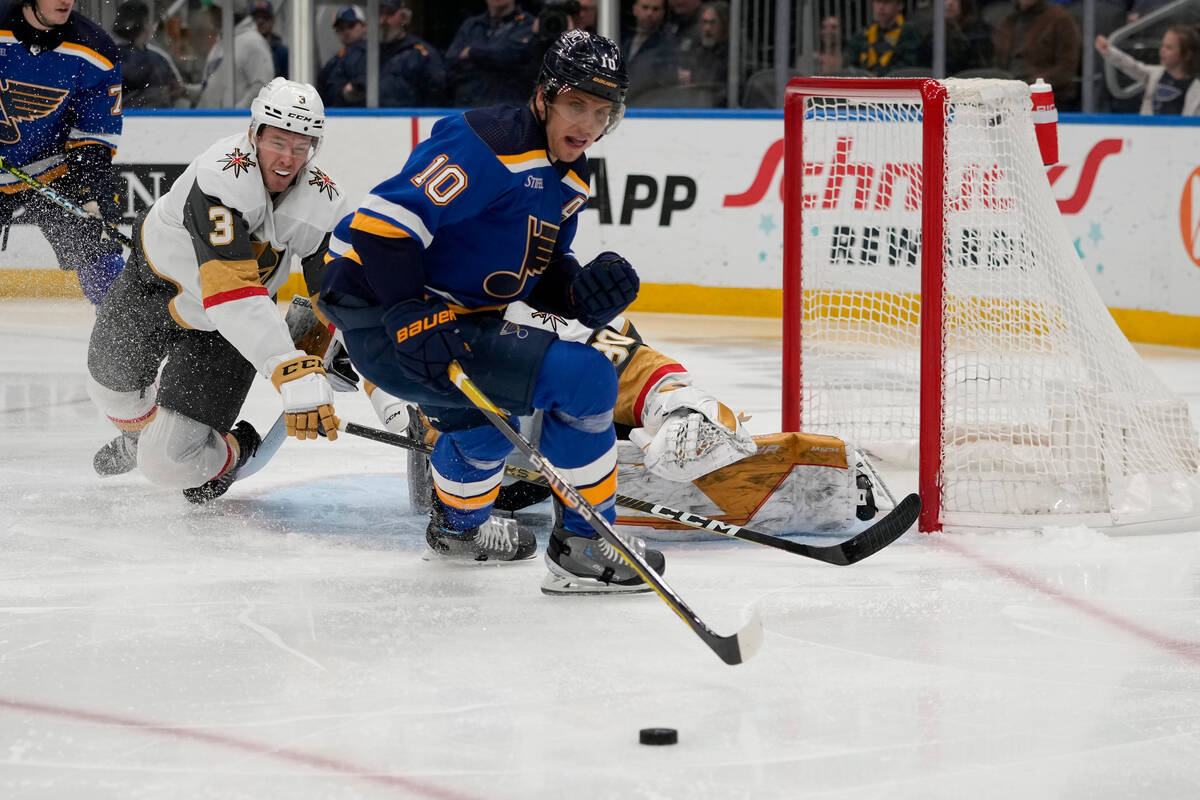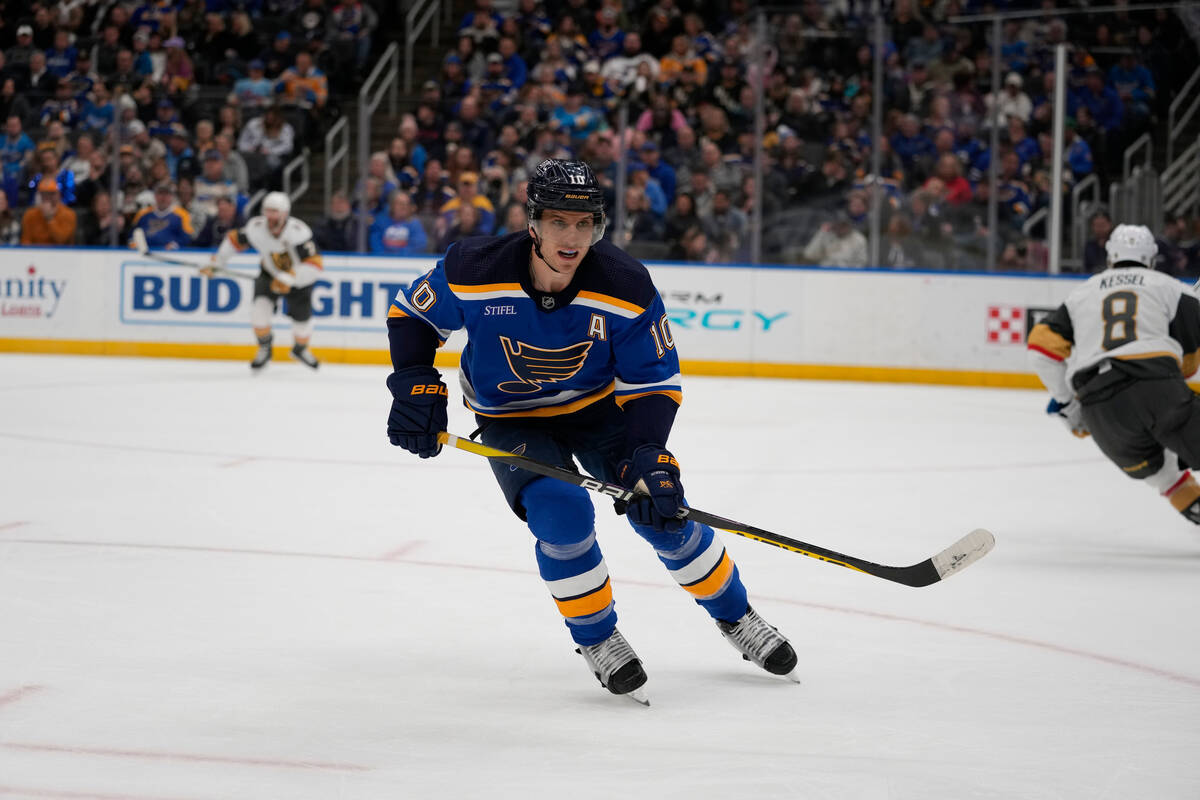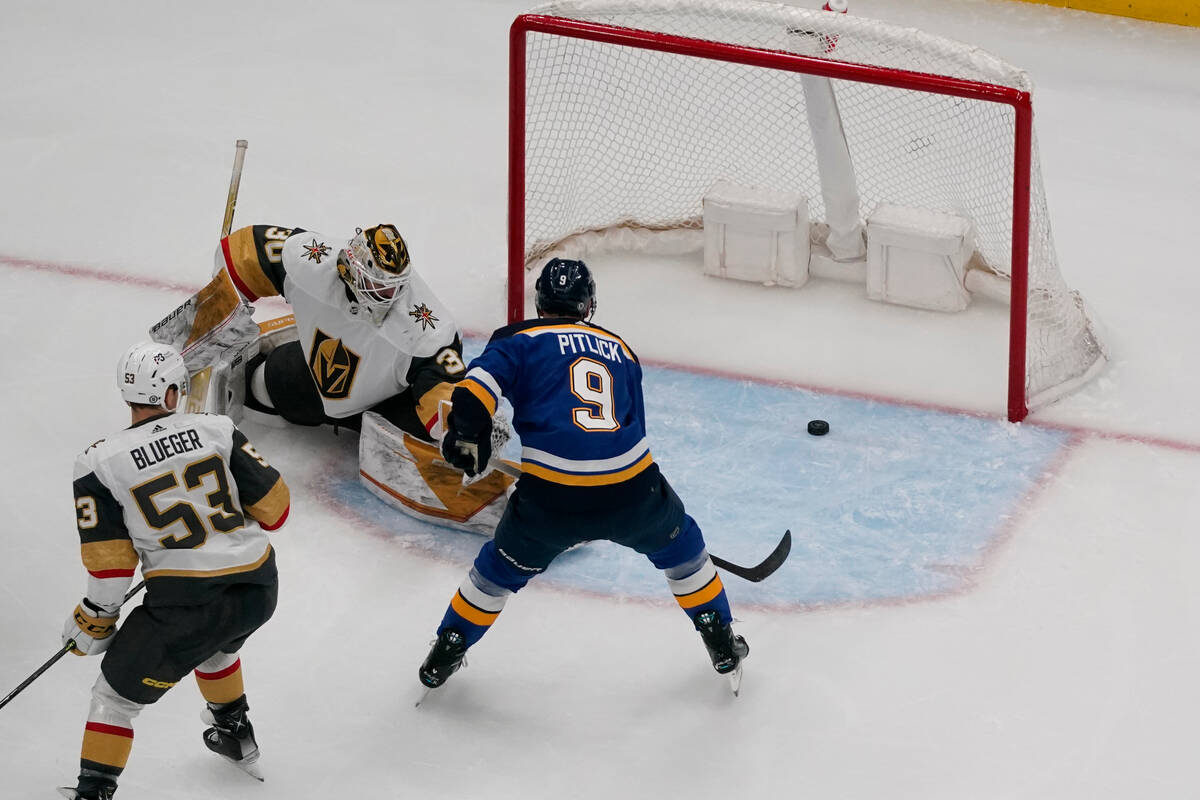 Pavel Dorofeyev laughed and slapped his visor with his right hand before celebrating with his teammates.
He had waited his entire career for his first NHL goal. And, after having numerous chances to do so the conventional way Sunday against the St. Louis Blues, he decided to get it the most memorable way possible.
Dorofeyev scored when the puck bounced off his helmet 5:23 into the third period. It was a finish that would have made a soccer striker proud. It also was the game-winner in the Knights' 5-3 victory over the Blues at Enterprise Center.
Dorofeyev's goal was one of many firsts in the game. Knights goaltender Jiri Patera made 30 saves in his NHL debut. Left wing Ivan Barbashev made his first visit to St. Louis since being traded Feb. 26.
The Knights (41-20-6) got strong performances from all of them to win their third straight.
"It's been a dream come true," Patera said on AT&T SportsNet. "Get the first win in the first start, it's unbelievable."
Patera became the fifth goaltender to start for the Knights this season. That set a franchise record and tied Ottawa for the most starters used this season.
But, like Logan Thompson, Adin Hill, Laurent Brossoit and Jonathan Quick before him, Patera showed he could play well behind the Knights' strong team defense.
The 24-year-old also made several impressive stops. He made a great save diving to his left against defenseman Nathan Walker 6:45 into the second period. He denied left wing Sammy Blais from 15 feet away 9:17 later.
Patera, a sixth-round pick in 2017, became the first goaltender drafted by the Knights to start and win a game.
His skaters helped him out by staking him to an early lead. Right wing Michael Amadio's goal made the score 3-1 2:10 into the second period. The Knights scored three times on their first eight shots.
The Blues (29-32-5) fought back despite being on pace to miss the playoffs for the first time in five seasons. Right wing Jordan Kyrou's 30th goal cut St. Louis' deficit to 3-2 with 4:41 left in the second.
Right wing Tyler Pitlick redirected a pass from defenseman Marco Scandella in front of the crease 3:41 into the third to tie the game at 3.
Dorofeyev got his moment 1:42 later. The 22-year-old was added to the lineup because right wing Keegan Kolesar was out with an upper-body injury.
Dorofeyev did his best to make an impression. He had four shots on goal, tied for the most in the game, and got his first NHL point by assisting center William Karlsson's first-period goal.
Karlsson returned the favor in the third period. He tried to jam a puck into the net from 9 feet out. Goaltender Jordan Binnington made the save, but the rebound bounced off Dorofeyev's helmet and into the net.
The 2019 third-round pick, however it happened, was on the board in his sixth NHL game.
The Knights held on from there to improve to 3-1 on their five-game road trip with one stop remaining Tuesday in Philadelphia. Former Blues captain Alex Pietrangelo added an empty-net goal to seal the win.
"Happy for (Dorofeyev)," coach Bruce Cassidy said. "He had a really good game. Scores off his head. That's one to remember."
Here are three takeaways from the win:
1. Barbashev's return
Barbashev received a video tribute and standing ovation during the first media timeout.
The 27-year-old spent seven seasons in St. Louis and was part of the Blues' 2019 Stanley Cup-winning team.
Barbashev almost greeted his former club with an early goal. He stole the puck from Binnington 4:12 in, and the goaltender made a desperate stick save.
"There was quite a few guys chirping me," Barbashev said. He said some of his former teammates were telling him "not today."
2. Karlsson's milestone
Center William Karlsson had some accomplishments of his own to celebrate.
His 13th goal came in his 600th NHL game. He is the seventh player on the Knights to reach that mark.
Karlsson finished with a goal and an assist to extend his point streak to three games.
3. Back-to-back stats
The Knights improved to 2-2-2 when playing for the second time in two days. They play on back-to-back days once more this season.
They played on consecutive days 10 times during the 2021-22 season.
Contact Ben Gotz at bgotz@reviewjournal.com. Follow @BenSGotz on Twitter.